Merck Well-Positioned for Further Growth
Merck, expects to deliver continued profitable growth in the coming years despite a challenging market environment. Today at its virtual Capital Markets Day, the company presented to analysts and investors the progress made in realizing the growth and expansion phase of its strategy for the period until 2022.
"Our ambition is clear: We want to be the vibrant science and technology company. We have made significant progress on this journey in recent years," explained Stefan Oschmann, Chairman of the Executive Board and CEO of Merck. "In recent months, the strengths of our business model with three innovation-driven business sectors have become particularly evident during the Covid-19 crisis," said Oschmann. As previously reported, Merck expects slight to moderate organic growth of net sales and EBITDA pre in 2020. The company continues to expect Group sales of between € 16.9 billion and € 17.7 billion as well as EBITDA pre in a range of € 4.45 billion to € 4.85 billion.
All three business sectors of Merck have moved forward in delivering on their strategic priorities in recent years. Healthcare has seen increasing sales contributions from the medicines Bavencio and Mavenclad and has made good progress with its development pipeline. The Life Science business sector continues to deliver above-market growth and has been operating more profitably than most of its competitors. With the acquisition of Versum Materials, Performance Materials has shifted its portfolio to focus on the high-growth semiconductor business and has generated high margins. "The transformation of Merck in recent years and our clear focus on science and technology have paid off. All our business sectors operate in highly attractive markets. That's why this company has excellent prospects for the future," said Oschmann. "Our Healthcare pipeline, our Process Solutions business with products and services for drug manufacturing and our Semiconductor Solutions business will be the main growth drivers of Merck in the coming years." Merck will continue to stand for steady earnings growth, high margins and a low risk profile, Oschmann added.
Following the Versum acquisition last year, Merck is giving priority to organic growth while rapidly lowering its debt and pursuing a sustainable culture of cost consciousness in the period until 2022. In addition, the company announced a further development of its portfolio strategy. "We don't rule out large transformative deals as of 2022, yet in view of our strong business portfolio, at present the likelihood is higher that we will complement our businesses through a number of smaller to medium-sized acquisitions after 2022," said Oschmann.
For the Healthcare business sector, Merck underscored its ambition to achieve around € 2 billion in sales from its pipeline by 2022. In view of highly promising development projects, Merck also sees further significant growth potential beyond 2022. The company expect sales performance in its core business to remain at least stable through to 2022.
In recent years, Healthcare has accelerated its organic growth, with increasing contributions from Mavenclad and Bavencio. Used to treat certain forms of multiple sclerosis, Mavenclad has already been approved in 80 countries, including the United States. In spring, the market environment for Mavenclad was temporarily heavily impacted by the Covid-19 crisis. However, signs of recovery emerged in June.
On June 30, the U.S. Food and Drug Administration (FDA) approved the immuno-oncology medicine Bavencio for the maintenance treatment of patients with locally advanced or metastatic urothelial carcinoma (UC) that has not progressed with first-line platinum-containing chemotherapy. Just a few days earlier, on June 22, Merck announced that the European Medicines Agency (EMA) had validated and accepted for review the Type II variation application for Bavencio for first-line maintenance treatment of patients with locally advanced or metastatic UC.
In March, the Japanese Ministry of Health, Labour and Welfare (MHLW) approved the oncology drug tepotinib for the treatment of patients with unresectable, advanced or recurrent non-small cell lung cancer (NSCLC) with METex14 skipping alterations. Moreover, on August 25 Merck announced that the FDA had accepted and granted Priority Review to the New Drug Application for tepotinib for the treatment of adult patients with metastatic NSCLC.
Merck is making excellent progress with its development pipeline. In May, positive results from the Phase II open-label extension study were presented on the long-term efficacy and safety profile of investigational evobrutinib in adult patients with relapsing multiple sclerosis. In June, the MHLW granted SAKIGAKE 'fast-track' designation for the investigational bifunctional fusion protein bintrafusp alfa as a potential treatment for patients with biliary tract cancer. Merck is currently investigating bintrafusp alfa in multiple clinical trials.
For the Life Science business sector, Merck expects average annual organic sales growth of 6% to 9% in the medium term, significantly above the expected growth of the life science industry of 5% to 6%. For the three Life Science business units, namely Process Solutions, Applied Solutions and Research Solutions, the company expects organic growth to be stronger than that of the respective market. In the coming years, the margin of Life Science is also likely to be significantly higher than the market average. This above-market growth is based on an advantageous portfolio as well as continued very favorable business performance.
The Process Solutions business unit, which markets products and services for the entire pharmaceutical production value chain, is likely to remain the key driver of sales growth within Life Science. For Process Solutions, Merck expects annual organic sales growth in the low teens percentage range in the coming years. The business is benefiting from strong growth of the market for biopharmaceuticals, the increasing number of active pharmaceutical ingredients as well as the rapid growth of new therapeutic approaches such as gene and cell therapies. In April, Merck announced plans to expand its site in Carlsbad, California, USA, by adding a second viral vector facility to support viral and gene therapy manufacturing. In September, the company announced plans to expand its facility near Madison, Wisconsin, USA, where it manufactures antibody-drug conjugates.
Merck expects annual organic sales growth in the low single-digit percentage range in the coming years in its Research Solutions business unit, which provides products and services to support life science research for pharmaceutical, biotechnology and academic research laboratories. In the coming years, the business should benefit from increasing research activities in the biotech sector, among other things. For the Applied Solutions business unit, which offers a broad range of products for researchers as well as industrial and scientific laboratories, Merck expects annual organic sales growth in the mid single-digit percentage range for the coming years, among other things thanks to higher demand for testing in many fields, for example food safety.
With the acquisition of Versum, the Performance Materials business sector achieved a key milestone in its Bright Future transformation program last year. Merck is making good progress with the integration of Versum. The company confirms the cost synergy target of € 75 million as of 2022 and expects faster realization this year, along with additional sales synergies as of next year.
The business portfolio is now clearly targeted to the electronic materials field. In the first half of 2020, the Semiconductor Solutions business unit already accounted for 56% of Performance Materials net sales. Against this background, for the Performance Materials business sector Merck expects average annual organic sales growth of 3% to 4% along with an EBITDA pre margin of around 30% in the medium term.
For Semiconductor Solutions, Merck expects annual organic sales growth in the mid to high single-digit percentage range in the coming years. Semiconductor Solutions is thus expected to be the fastest-growing business unit of Performance Materials. In addition to the expected market growth, the business unit should benefit from its favorable product and service portfolio as well as from the synergies arising from the Versum integration.
In view of the continuing price pressure in the Liquid Crystals business, Merck expects an annual organic decline in sales in the low single-digit percentage range for the Display Solutions business unit in the coming years. Display Solutions comprises the business with liquid crystal and OLED materials, photoresists and liquid crystal windows. By contrast, the company foresees annual sales growth in the low single-digit percentage range for its Surface Solutions business unit in the coming years. Surface Solutions offers functional and decorative solutions for automotive coatings, cosmetics and industrial applications.
New belt press range for the environment industry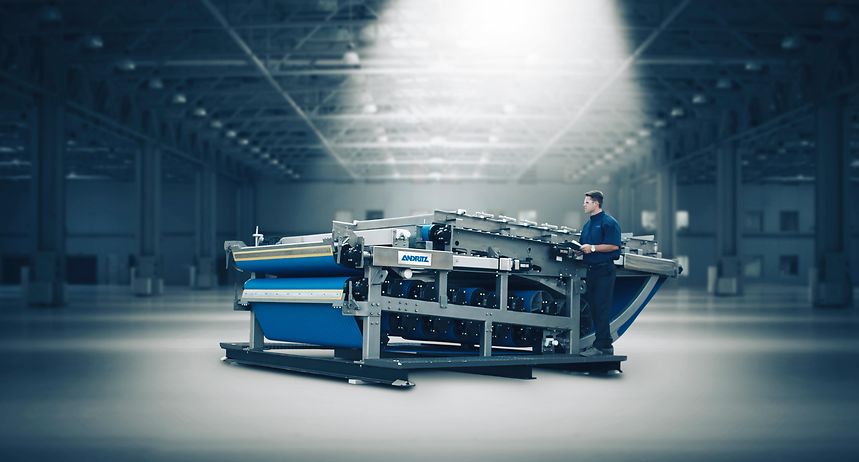 International technology group ANDRITZ presents the SME-Q and the SMX-Q, the new belt presses for the environment industry reflecting the very latest state of the art. Due to their low-profile components, they are extremely operator-friendly and feature high quality design with low maintenance needs, thus ensuring maximum performance in terms of dryness and throughput.
Different Models for a wide range of requirements
The medium-pressure belt filter presses in the new SME-Q range are suitable primarily for standard and medium duty performance levels, while the high-pressure belt presses in the SMX-Q series were developed for medium to heavy-duty performance levels where each individual machine must achieve high throughputs. The two machines include the same features in terms of design and have an extra-long thickening zone, a camber wedge for a steady, optimized pressure increase, a low profile, and an open, stainless steel frame structure for easy access. Both models will provide excellent operating availability and reliability in operation.
Investement versus throughput and perfomance
Compared to the SMX-Q, the medium-pressure belt press SME-Q provides a smaller footprint at lower investment cost and has been specifically developed for small to medium-sized sewage treatment plants and for industrial applications. The investment costs are low due to its optimized structural weight. In addition, the innovative design of the belt press makes it possible to dismantle parts of the machine quickly and easily so that it can be transported in conventional containers or on standard-size trucks.
The high-pressure belt press SMX-Q delivers highest throughputs thanks to its large filtration and pressing area. Its robust frame structure generates high belt tension and high pressure on the sludge to provide the best dewatering performance for a belt press. The specific features of the SMX-Q enable this machine to be adapted to almost any application – even with the most challenging dewatering requirements.
Among the advantages of the new ANDRITZ belt presses are the lower investment costs (SME-Q) compared to other products currently available on the market, perfect dewatering results, highest throughputs, and lowest residual moisture. They offer the right technical solution for municipal and industrial sludge treatment plants, for thickening and dewatering in a single stage (thanks to the efficient thickening zone or combination with a gravity table) and for achieving high efficiency in specific applications such as pulp and paper, manure, biogas, slaughterhouse and chemical sludges.
ANDRITZ SEPARATION
Provides mechanical and thermal technologies and services for solid/liquid separation, serving the chemical, environmental, food, mining and minerals industries. The customized, innovative solutions focus on minimizing the use of resources and achieving highest process efficiency, thus making a substantial contribution towards sustainable environmental protection. In addition, the business area offers technologies and services for the production of animal feed and biomass pellets.
Polycarbonate


SABIC partners with Elkamet
Sittard, The Netherlands, September 15, 2020 – SABIC, today announced its partnership with Elkamet Kunststofftechnik GmbH, an industry leader in the plastics processing industry. Elkamet will be using SABIC's LEXAN™ polycarbonate (PC) resin based on certified renewable feedstock in several end applications for the lighting industry.
In October 2019, SABIC launched its polycarbonate based on certified renewable feedstock – an engineering thermoplastic resin that is part of the company's TRUCIRCLE™ solutions for certified renewable products. The polycarbonate provides SABIC and its direct and ultimate customers with more sustainable solutions and associated benefits. Based on our cradle-to-gate peer-reviewed LCA study, use of SABIC's LEXAN polycarbonate resin can potentially result in reductions in carbon footprint of up to 61% and fossil depletion reduction of up to 35%.
"Our polycarbonate (PC) based on certified renewable feedstock solution supports the pursuit of a more circular economy, one that prioritizes resource conservation and environmental sustainability, recycling and recovery technologies, allowing us to capture the greatest value from materials that have traditionally been discarded", said Mark Vester, Circular Economy Leader at SABIC. "We are delighted to be partnering with Elkamet, part of our ongoing commitment to our customers who are increasingly looking for more sustainable solutions in response to consumer requirements," Vester continued.
"Elkamet is the first in the lighting industry to offer an alternative for our customers in order to keep up with the trend towards more sustainability in the development of plastic components," said Lukas Platt, Sales, at Elkamet. "Diffusors/covers are one of the biggest parts of a luminaire that are made of plastic. By producing them using renewable resources, lighting manufacturers can make a huge sustainability impact. We are very happy to partner with SABIC, whose polycarbonate based on certified renewable feedstock ensures that the customer does not have to make a compromise between sustainability and material properties. In addition, a huge benefit of this solution is that design and application requirements for Elkamet profiles made of SABIC's material remain the same," concluded Platt. 
Elkamet has also been ISCC certified, in order to give SABIC and Elkamet's common customers a consistent proof of a sustainable supply chain.
"Since the launch of our renewable PC at K2019 trade show in Dusseldorf last year we have had a lot of interest shown in the solution from a broad range of industries. We are delighted to have Elkamet onboard. A further step towards transforming the value chain together – to realize a more responsible value chain, creating positive impact on environmental challenges," said Lennard Markestein, Director Engineering Thermoplastics at SABIC.
SABIC's TRUCIRCLE portfolio and services for circular solutions span; design for recyclability, mechanically recycled products, certified circular products from feedstock recycling of used plastics and certified renewables products from bio-based feedstock.
Equipment


New increase capacity to conduct stability studies at Labofine
Labofine – a Tentamus company has announced that it has added state-of-the-art, fully mapped walk-in stability chambers in its new Montreal area location
, situated at 5600 Trans-Canada Hwy, Quebec, Canada.
"This is welcome news for our local and international clients", said Dr. M. Mancini, Labofine's Director of Corporate Development, "since it increases our capacity to provide storage conditions for long-term, accelerated or intermediate studies for the three classes of label storage claims and the conditions required by the five climatic zones meeting ICH and WHO guidelines."
"By adding state-of-the-art equipment, we are beyond excited to continue building momentum with our expansion, which we believe is an excellent representation of the way Labofine views our partnerships with our customers," added CEO Dr. G. Sammane.
Labofine first entered the Canadian testing market in 2014 with the opening of its Laval, Quebec location. Since then, it has seen tremendous growth, including the opening of operations in California in 2017 to offer extensive coverage of the North American market. After joining the Tentamus Group in 2019, Labofine continues to expand its reach to better serve its Canadian customers in the domain of supplements, pharmaceuticals, cosmetics and food products.