Battery Show Europe


Materials for the Battery of Tomorrow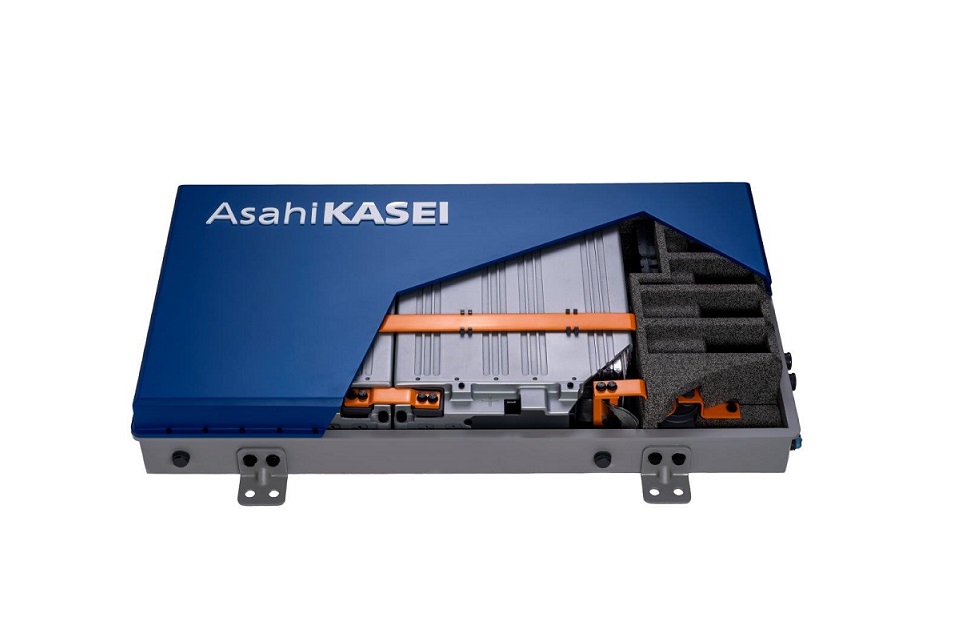 From 7 to 9 May, Asahi Kasei and its US subsidiary Celgard presented a wide range of high-performance materials for automotive batteries at the Battery Show Europe 2019 in Stuttgart, Germany.
A highlight at Asahi Kasei's booth was the model of a lithium-ion battery, containing, among other things, high-performance plastics and separators. With this exhibit, the company demonstrates the range of its products for safe, efficient as well as compact structural parts and components for batteries.
This includes the high-performance plastic m-PPE (modified polyphenylene ether) as an innovative material solution for structural components of the battery housing. The m-PPE thermoplastic Xyron is electrically non-conductive and is characterized by its low density and resistance to electrolyte fluids. This makes it a suitable material for lightweight and compact battery housings.
With the m-PPE particle foam SunForce, Asahi Kasei offers a product that is distinguished by a high flame retardance (UL94 V-0), high formability and high thermal insulation properties. The engineering plastic thus contributes to the compact design of the battery housings and increases the safety and efficiency of the batteries. At the same time, the material is highly processable: The foam beads are manufactured with steam moulding. In contrast to other materials processed by injection moulding, tooling costs can thus be kept low.
In addition to m-PPE, the company – as one of only four fully integrated suppliers of polyamide 6.6 worldwide – presents the product grades SN and SG of the Leona PA 6.6 series as materials for battery components that contribute to reducing costs and weight.
Since Dr. Akira Yoshino, research associate at Asahi Kasei, developed the very first functional and safe prototype of a lithium-ion battery in the early 1980s, the company has been a pioneer in the field of lithium-ion battery research. As world market leader in lithium-ion battery separators, the Asahi Kasei Group is today considered as a substantial material supplier for the battery industry.
Packaging performance


Greater flexibility and advanced performance
For its packaging and forming machines as well as grinding and cutting equipment, Gea developed different Toolings to make sure the machines always fulfill their demands. Whether it affects the shape, size, taste, quality, or safety and economic needs for the end product, Toolings bring the latest innovations and developments to meet all those new requirements. The main advantages are reduction in manufacturing costs, extended lifetime of new tools and greater flexibility to get new products to market as well as enlarging the product range. Toolings are quickly available with a minimum capital investment and a very short implementation time. At the upcoming IFFA trade fair in Frankfurt (Germany), the experts will inform about the wide range of Gea Toolings for its several food processing machines.
Precision engineered to match forming machines
With the original Gea FormPlates, customers can make every gram of their product count. OEM quality ensures minimized give-away and optimized shape, quality and portion weight of formed products. In addition to regular form plates, the company is also able to design customized ones and with that responding quickly to customers' demands and seasonal trends. The  FormPlate Creator is a unique free service that contains a huge variety of shapes that can be turned into a custom form plate. After receiving some details, including the machine type, choice of raw material, choice of plate material, average product weight, and proposed production volume, a PDF drawing of the form and form plate and a cost estimate is available within minutes. With this service from Gea, customers can turn their creative ideas into business realities and manufacture products with extra appeal.
Hand crafted for unmatched quality and lifetime
With Geas bag forming sets for SmartPackers customers can lower their operational costs. High tech composites used for Gea Shoulders ensure lower wear rates and up to 10 times longer life as compared to stainless steel shoulders. In addition, the shoulders can easily be repaired in case of damage. The new standard forming set is delivered as a fiberglass-reinforced version with an insert. This version is stronger than the conventional forming set and therefore ensures less wear, extra protection and longer operational life. An insert also makes it possible to produce both overlaps and tucked seams with one and the same shoulder. Finally, each forming set is equipped with a rigidized surface to ensure smooth running in a moist/wet environment. In short Gea Shoulders provide complete peace of mind with unique design, high tech composite materials, simpler maintenance, lower operational costs and increased reliability.
Perfection down to the smallest detail with knives for CutMasters
Gea TopCut is a self-contained knife head system for Gea CutMasters that combines high speed cutting with performance benefits in terms of handling, hygiene and product quality. It is available on all CutMaster bowl cutters and can be fitted as a field upgrade to existing machines. Designed to increase productivity and be more user-friendly, the patented TopCut knife system delivers consistent quality for a wide range of products. Fine emulsions are produced in combination with a removable sliding plate, while removing the plate enables coarser cuts to be produced without smearing. In addition, a range of universal and special knives is available for CutMasters.
Fresh food


Sustainable packaging solution
In order to meet the demand from the market for alternative packaging materials, the two companies Leipa Georg Leinfelder and Koehler Paper Group have developed in conjunction with Multivac a cardboard composite, which can be used for packing fresh food such as meat for example. This innovative solution based on paper fibre packaging material was presented at IFFA on the Multivacstand and run on a compact thermoforming packaging machine. The packs are designed in such a way, that the end user is able to separate the cardboard backing from the plastic barrier layer and then put it into the paper recycling.
Multilayer composite for skin packs
When developing this material, the challenge was to produce a cardboard composite with high barrier properties and a suitable sealing medium, which has the stiffness of a flat pre-cut card sheet but is also capable of being wound onto a roll, so that it can be run on a thermoforming packaging machine. The first results show that the Leipaflat multilayer composite is excellent at meeting all the requirements. This material can be used on a thermoforming packaging machine to produce skin packs, which not only package the product securely but also present it attractively to the consumer. As a strategic development partner in the board sector, Koehler provides Leipa with the material for manufacturing Leipaflat.
"Leipaflat is made of up to 90 percent renewable raw materials. Compared to the conventional packs used for these products, the features of this packaging material are its appearance and feel of a paper pack, and this contributes significantly to product differentiation in the chill cabinet," explains Matthias Haux, Commercial Head of Flexible Packaging at Leipa. "This solution meets the high aspirations and demands of consumers, who are conscious of both quality and the environment. The cardboard offers not just the required stiffness, but it can also be run particularly well on thermoforming packaging machines thanks to its ease of winding on rolls. This solution can generally also be used on existing machines and dies. If requested, we are always willing to give customers advice on site about the optimum settings for their equipment."
Danny Köppl, Product Manager for Films & Consumables at Multivac, adds: "This sustainable packaging solution, which was launched at FachPack 2018 and marketed under the Multivac PaperBoard range, has already received a very positive reception from professionals in the trade. Now we are receiving a large number of enquiries from the market, particularly against the background of the EU Plastics Strategy, and these are coming not only from Germany and Western Europe but also from many other regions such as Eastern Europe, North America and Oceania. We are currently carrying out a large number of sample productions for a wide range of customers."
"We see great potential for this project, which has begun very successfully, and we are convinced that we can address the future of packaging in conjunction with our highly qualified partners, who embody the same collaborative ideas as we do," says Dr. Markus Wildberger, Corporate Director of Technology at Koehler. "As part of our own ideas on sustainability, this project supports our aims of replacing plastics in packaging with paper-based materials, where it is sensible and practical to do so. This means that a product made from renewable raw materials is used, one for which closed-loop recycling has already been developed. We see in this and other collaborative projects the opportunity to develop and market further innovative solutions in the sector of flexible and rigid board packaging." Dr. Wildberger also emphasizes that this could involve developments in the non-food as well as food sector.
"Based on today's knowledge of the planned harmonisation of the EU regulations on plastic disposal, we assume that Leipaflat will lead to significant cost benefits in the context of the packaging fee for companies," says Matthias Haux from Leipa. "And last but not least, the environment as well as consumers also benefit from this solution."
PaperBoard
The PaperBoard portfolio comprises a wide range of solutions for producing MAP and vacuum skin packs from paper fibre-based materials. In conjunction with leading manufacturers, the company has developed suitable packaging materials, which can be run on standard machines. By using different functional layers, it is possible to produce packs from paper fibre-based materials, which also meet the barrier requirements of the most sensitive products. The packs can be designed in such a way, that the end user is able to separate the cardboard backing from the plastic barrier layer and then put it into the paper recycling.
French fries production


Energy savings with freezer control system
Gea has recently concluded tests proving the effectiveness of its award-winning Callifreeze system which improves product quality and provides energy savings by automatically controlling and monitoring the condition of frozen products as they exit the freezer. Because Callifreeze uses Aquantis sensors, frozen food processors can ensure accurate product quality control and avoid product wastage. The system calibrates freezer parameters through the continuous measurement of a product's level of frozenness (Lof). This allows retention time, air temperature and fan speed to be controlled so that the required and precise level of freezing can be achieved with minimum energy consumption. To-date, Callifreeze is the world's first in-line system to autonomously monitor and control frozen product quality in this manner, helping Gea customers meet their Industry 4.0 strategies as well as their environmental targets.
Tests on different french fries varieties
The Callifreeze tests, which took place in January 2019 at Bergia Frites, a market-leading french fry manufacturer in Roermond, The Netherlands, were performed on 7mm x 7mm shoestring, 9mm x 9mm straight-cut and 13mm x 13mm crinkle-cut fries. The results prove that savings can be achieved when freezing french fries by increasing the evaporating temperature and via the continuous monitoring and control of the Lof conditions according to quality targets.
Automatic setting of the optimum evaporation temperature
The Callifreeze system was installed at the exit of the Gea Iqf tunnel freezer to continuously monitor the Lof. The technology was able to measure the percentage of frozen water in a 80 to 120mm product layer conveyed from the freezer to the packing area. The evaporating temperature of the CO2 refrigeration installation, also provided by the company, was controlled according to optimized settings defined by the Callifreeze system.
The results show that crinkle-cut fries are sufficiently frozen when the evaporation temperature is increased by 3 degrees Celsius (-33 C to -30 C) with the original retention time. For 7mm x 7mm straight-cut fries, the evaporation temperature could be increased by 5 degrees Celsius, which represents a 15% energy savings in refrigeration supply, without a reduction in Lof.
Taking into account the ability to increase the evaporation temperature by 3 C for crinkle-cut fries, for example, the reduced energy usage would result in savings of roughly € 41,000 per year, for a company operating a 10 tones/hour plant, without affecting product quality. This would mean a 18-month Return on Investment (Roi) period for the Callifreeze equipment; for larger plants the savings would be even greater and the Roi much quicker. This level of energy reduction represents an important contribution to the sustainability of a plant and can make a significant contribution in reducing industry's overall energy usage if applied globally.
It was also demonstrated that product Lof variation followed the same trend as product temperature. With continuous measurement and logging of product Lof, and the correlation between Lof and temperature, Callifreeze was shown to provide a solution for in-line product quality tracking. This significantly reduces the product waste often associated with batch systems operating via manual control.