Onshore gas extraction


Market presence in the Middle East
Lewa , based in Leonberg, Germany, has been working with its subsidiary Lewa Nikkiso Middle East for several years now to increase its market share in oil and gas extraction in the Middle East region. Through multiple successful projects in past years the firm has improved its market position substantially and made itself an ideal candidate for additional orders. The pump experts are currently manufacturing 40 pump skids for a gas field located 160 km southwest of Abu Dhabi. The goal is to use these skids to increase the production capacity of the field. The company won this project over many renowned competitors. Delivery has been announced for July 2019.
When a globally active oil and gas corporation wanted a solution for disposing the byproducts and waste created during production, it commissioned Lewa to supply 20 LDG5, 10 LDHB and 10 LDF3 ecoflow process diaphragm pumps. "With the help of our 40 pump skids, the fluids that occur are directed straight to the flare for combustion. Other waste materials are stored temporarily in tanks and disposed of as soon as the tanks are full," explains Klaus Figgle, Project Manager of Engineering Oil & Gas at Lewa. At a maximum pressure of 43 bar, the three pump types achieve a flow rate of 5,000 l/h (LDF3), 18,000 l/h (LDG5) and 22,000 l/h (LDHB). Since the pumping medium has a high proportion of hydrogen sulfide, which makes it very corrosive and caustic, the pumps had to be built with Super Duplex stainless steel. The design also had to be able to handle the high vapor pressure of the gas and the high ambient temperatures. In addition to the extraordinary operating conditions, special technical solutions were also required. "For example, to account for the low pressure at the suction head, an angle valve was installed on the intake side of the pumps. We were able to satisfy all of the customer's requirements in accordance with technical specifications and really demonstrate the advantages we provide over the competition," reports Figgle.
Two additional production halls


Expansion of capacities for the production of consumables
The Eppendorf Group is expanding its production capacity at the Oldenburg in Holstein site in Germany by building two additional production halls. As a result, Eppendorf Polymere GmbH, a wholly owned subsidiary of Eppendorf AG, will increase its total capacity by around 30 percent from 2021. A milestone for this targeted expansion was reached May 14, 2020 with the topping-out ceremony for the second hall currently under construction. The first hall has already been completed and will start production operations this month.
In Oldenburg, Eppendorf produces laboratory consumables made of high-quality plastic such as pipette tips and tubes, microtiter plates and single-use bioreactor vessels. Currently, these products are in particularly high demand from diagnostic laboratories and vaccine manufacturers around the world who are researching vaccines against the corona virus or carrying out Sars Cov-2 tests.
"We are registering a steady increase in demand for consumables from Eppendorf. The current global battle against the corona virus is just reinforcing this trend," says Dr. Wilhelm Plüster, Chief Technology Officer at Eppendorf AG. "With the construction of the two new production halls we are responding to this trend, which has been continuing for years. In addition, sustainability was taken into account in the construction of the buildings." continues Plüster. The two production halls will be heated and cooled by an existing combined heat and power plant. This will considerably reduce energy consumption.
News story hub


Standing Up To Covid-19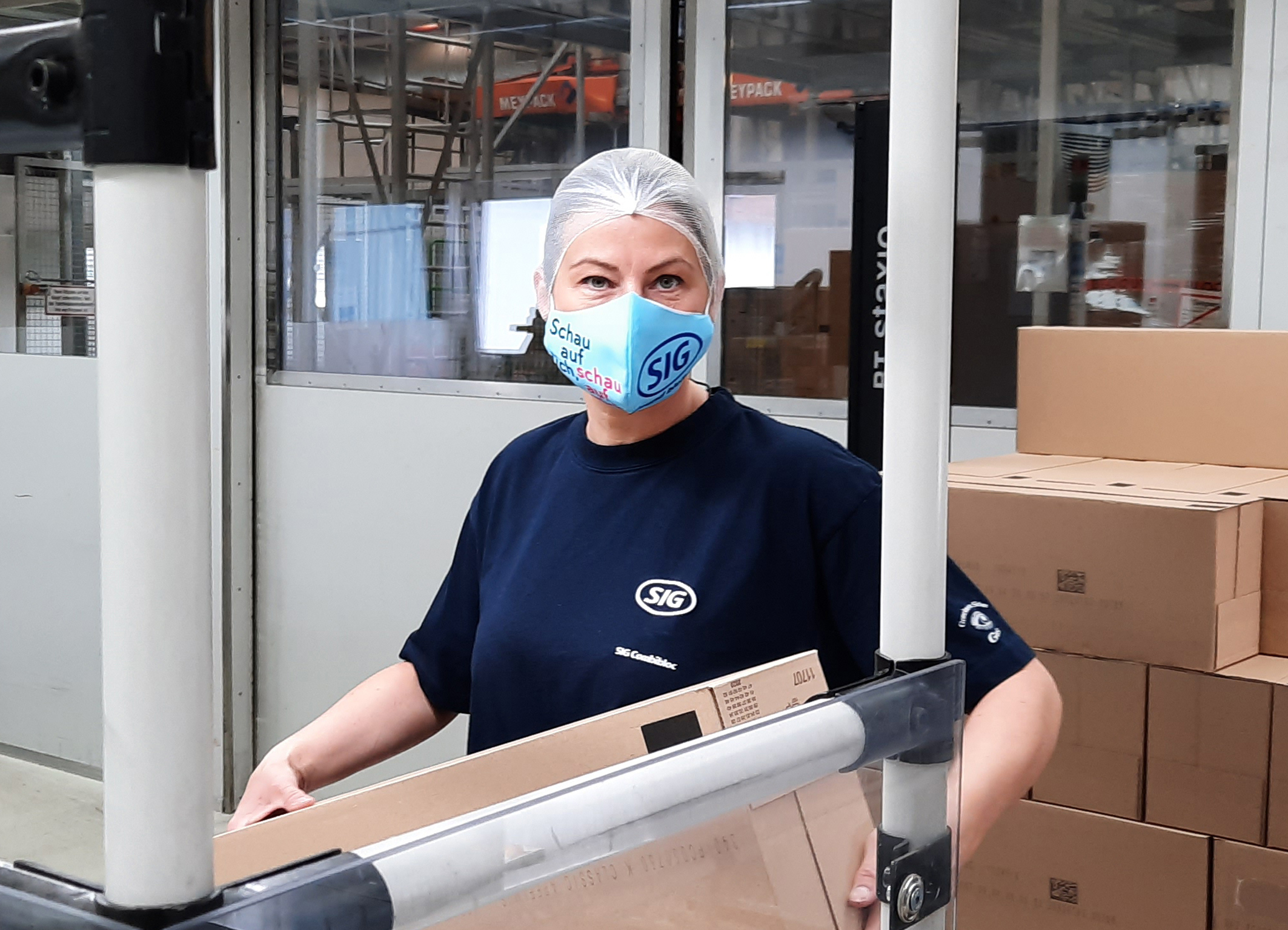 SIG has launched a new online story hub, featuring the latest activities and actions the company is taking as part of a global response to the ongoing Covid-19 pandemic. The story hub is now live at www.sig.biz and will be updated in the coming weeks and months as the company continues to act and respond to the new Covid-19 reality.
Since the start of the Covid-19 outbreak, SIG has been taking decisive action in a number of ways as individuals, communities and a global company. This has included immediate actions to protect its employees and customer supply chains, together with various community projects and donations in the regions it operates.
The new story hub has been designed to gather all these global efforts and initiatives into one easy-to-navigate platform with three main story themes: employee stories, food supply stories, and community stories.
Keeping people safe and secure
With health and safety its highest priority, SIG has been working to protect the health and wellbeing of employees across its plants, offices and facilities. This has included everything from immediately enacting a global pandemic preparedness plan and ensuring all employees adhere to the strictest hygiene guidelines, to working remotely when and where possible as well as organising social distance and online workouts.
"The safety of SIG employees is always our highest priority. Around the world, our local teams and task forces are not only following official guidance from all relevant health authorities. They're often going above and beyond to protect the health and safety of colleagues throughout our plants, offices and facilities," said Ian Wood, Chief Supply Chain Officer, and Leader of SIG's Global Corona Response Team.
Ensuring food stays safe and available
In many countries where it has production facilities, SIG is among the businesses defined as critical infrastructure. This means the company can continue providing essential services to society at a time when reliable food supply is more important than ever. And to keep up with the current demand, SIG has been operating at near full capacity to ensure its customers can deliver a continuous supply of food and beverage products to consumers.
"All over the world, businesses have had to quickly change how they work, adhering to lockdowns and social distancing," added Wood. "For those providing essential services for society, such as food and beverage companies, this has proved particularly challenging. So, at SIG, we've been doing everything we can to keep food supply running as normal."
Serving communities for the better
During Covid-19, SIG has recognised that its contribution to local communities is more important than ever. As a result, the company has been carrying out and supporting a number of additional community projects. This has included donating face masks to hospitals and medical centres, providing essential food and hygiene items to disadvantaged families, and partnering with producers to deliver food and drink products to frontline healthcare workers.
"At SIG, we know the importance of being part of a community. And now more than ever, we need to continue providing community support where and when we can – from helping our healthcare heroes on the frontline to ensuring children in need receive essential food and aid packages during this time of uncertainty," said Wood.
Read SIG's Covid-19 stories at: https://www.sig.biz/en/company/standing-up-to-covid19/
Lithium Ion Secondary Battery


Judgment of Patent Infringement Litigation
In August 2018, Asahi Kasei Corporation had filed a patent infringement lawsuit based on the Chinese patent of separator for lithium ion secondary battery (Patent No.: ZL200680046997. 8) owned by Asahi Kasei with the Shenzhen Intermediate People's Court. The lawsuit is directed against Shenzhen Xu Ran (旭冉) Electronic Co., Ltd. and Shenzhen Xu Ran (旭然) Electronic Co., Ltd. as joint defendants (hereinafter "Xu Ran Electronic"), two sellers of separator film for lithium ion secondary battery in Shenzhen, China, which act in China as distributors of W-SCOPE Co., Ltd.. With the lawsuit, Asahi Kasei is requiring Xu Ran Electronic to stop selling their "single-layer W-scope" battery separators in China and compensate Asahi Kasei for damages.
It is hereby notified that, the above claims of Asahi Kasei for patent infringement were supported by the court with judgment of April 2020 and Xu Ran Electronic was ordered to stop the sale of the infringing products indicated above and make compensation for the related damages. The judgment of the court is not final and can be appealed by Xu Ran Electronic.