Market launch


New filling and closing machine
As part of an exclusive machine presentation in Crailsheim from September 18 through 29, 2017, Bosch Packaging Technology introduced the latest addition to its AFG series. The filling and closing machine for pharmaceutical powders in glass vials offers manufacturers a wide range of options. "During development, our main focus was on flexibility," explains Dieter Bandtel, product manager at Bosch Packaging Technology. "With the AFG 5000, customers can choose between several different versions and various features. In addition, we have significantly increased the output rate in the high-performance segment.
New variable transport system
Based on a single machine platform, the system can accurately fill both large and small amounts of powder. Customers have the choice between one filling point for an output of 160 containers per minute through to three filling points for up to 480 vials per minute. Thanks to the vacuum-compressed-air filling system, the output remains high even with small filling amounts. For all versions, customers can choose between statistical or 100% in-process control of dosing weights.
"To optimize efficiency, we have developed a new, flexible transport system for the AFG 5000," says Bandtel. "While the vials are continuously fed into the machine, the transport system adjusts the speed of the following processes to precisely match the rhythm of the individual work stations." Whether filling, weighing or closing of vials – each stage is optimally paced. The new vertical transport system was designed to prevent idle time or bottlenecks. Rotating carrier systems, known as shuttles, transfer the vials quickly and safely to the respective work station. Once the vials have been sealed and taken out of the system, the shuttles quickly return to the infeed, ready for the next transport run.
Compact and efficient design
In addition to flexibility, we particularly focused on compact design during the development of the AFG 5000. "Our customers' powder filling takes place in class B cleanrooms, where every centimeter counts in terms of operating, maintenance and cleaning costs," explains Bandtel. Apart from the vertical design, the separation of the compact filling station from the intake and output reduced the amount of space that must be cooled and cleaned with sterile, dry air. A further space-saving feature is the optional air-treatment system, which can be installed outside the sterile area.
All components that come into contact with the product can easily be disassembled for cleaning and sterilization. The result is an easy-to use machine with only few format parts, offering customers substantial space- and cost-savings. In line with Bosch's pharmaceutical line competence, the AFG 5000 can be combined with upstream cleaning machines and sterilizing tunnels, as well as downstream capping equipment to create a complete line for safe and reliable filling processes for pharmaceutical powders.
Cleaning of walls and ceilings


How cleanroom ceiling cleaning becomes ergonomic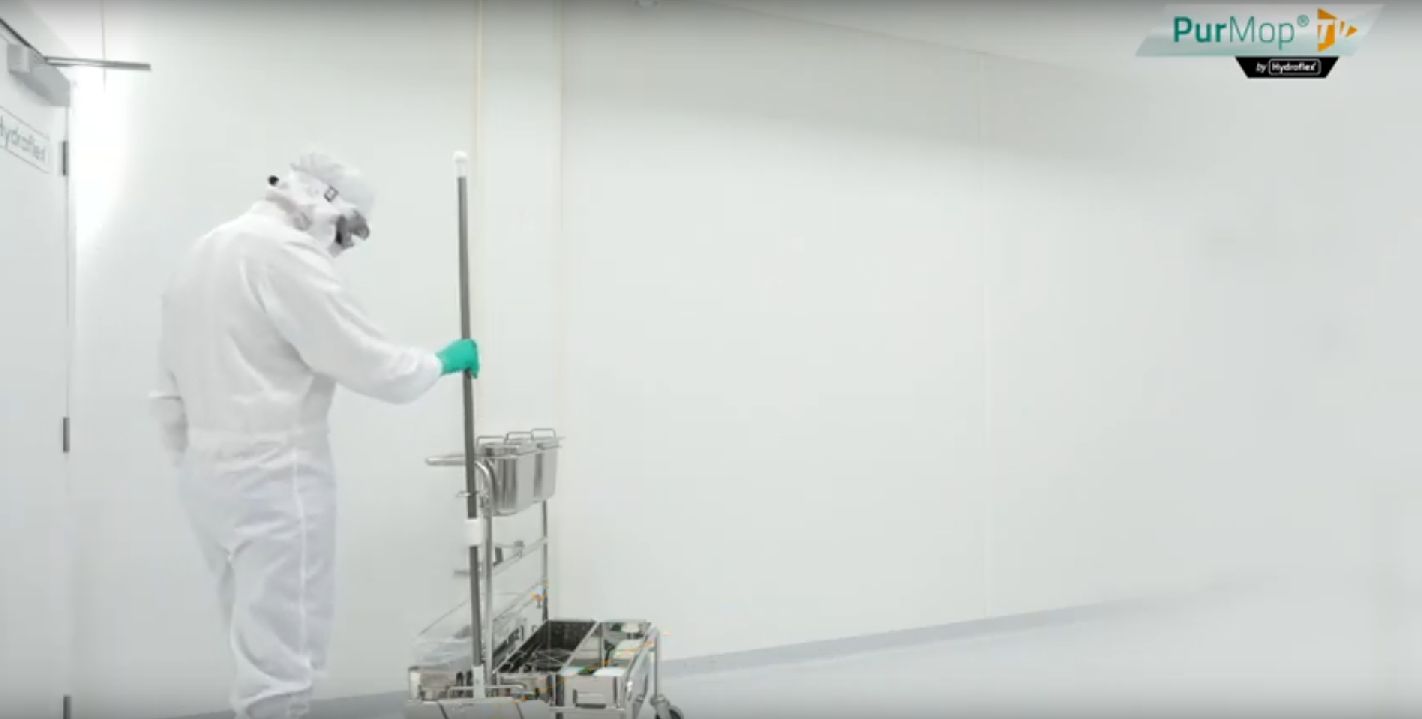 Even if cleaning of walls and ceilings in cleanrooms is difficult, it is required. We make your daily work easier with individually adjustable handles and lockable mop frames for overhead cleaning. This is what ceiling cleaning can look like.
Data in Multiple Cancers at ESMO 2020


Merck Advances Oncology Portfolio and Pipeline
Merckabstracts today announced more than 30 abstracts will be presented at the European Society for Medical Oncology (ESMO) Virtual Congress 2020 from September 19-21. The abstracts span the Company's clinical program in oncology across several innovative modalities and mechanisms that have the potential to advance treatment across a range of tumor types including biliary tract, lung and urothelial (bladder) cancers.
"Our oncology ambition is to discover innovative therapies with transformative results. The data being presented in urothelial cancer demonstrate this approach in action, where we are seeing promising results for a new first-line maintenance therapeutic option with BAVENCIO® in this form of cancer," said Luciano Rossetti, Global Head of Research & Development for the Biopharma business of Merck. "In addition, long-term follow up data in advanced lung cancer from two of our in-house developed mechanisms—our oral MET inhibitor, tepotinib, and our first-in-class bifunctional fusion protein immunotherapy targeting TGF-β/PD-L1, bintrafusp alfa—continue to show sustained impact in one of the leading causes of cancer mortality."
(Presentations #699O; 704MO; 745P). Primary results from the JAVELIN Bladder 100 study demonstrated an overall survival (OS) benefit for BAVENCIO vs. best supportive care in the first-line maintenance treatment of advanced urothelial carcinoma, making BAVENCIO the first and only immunotherapy to significantly prolong OS in this setting. Three new abstracts from the JAVELIN Bladder 100 study will be presented at ESMO:
An oral presentation during the Proffered Paper 1 – GU, non-prostate session scheduled on September 19, 2020 at 5:28pm–5:40pm CEST/11:28am-11:40am EDT, will highlight associations between clinical outcomes and exploratory biomarkers (Presentation #699O)
Two other abstracts provide more information on prespecified subgroup analyses, as well as patient-reported outcomes.
(Presentation #910O). Primary results from this Phase III study will be presented. The study is a demonstration of our commitment to develop options for patients with squamous cell carcinoma of the head and neck, and the results increase understanding in the field of the role of immunotherapy.
(Presentations: #1283P; 1286P; 1347P). Three posters from the largest study in patients with non-small cell lung cancer (NSCLC) harboring METex14 skipping treated with tepotinib—an oral, once-daily, highly selective MET inhibitor. Data presented will highlight:
Durable clinical activity that has been consistent across clinically relevant subgroups both in treatment-naïve and in previously treated patients as well as in patients with brain metastases as assessed by liquid biopsy or tissue biopsy (Poster #1283P)
Health-related quality of life (HRQoL) has been shown to be maintained, with clinically meaningful delays in the time to deterioration of cough, dyspnea, and chest pain (Poster #1286P)
A safety profile consisting of mostly mild to moderate adverse events with few treatment discontinuations.
The INSIGHT 2 study assessing the combination of osimertinib and tepotinib in patients with EGFR-mutant NSCLC that has developed resistance to first-line osimertinib treatment due to MET amplification is ongoing and actively recruiting patients (Poster #1415TiP).
Data from the INTR@PID clinical trial program for first in-class bintrafusp alfa, an investigational bifunctional fusion protein, targeting both TGF-β and PD-L1 pathways, shows promising and durable responses across multiple tumor types including NSCLC and biliary tract cancer (BTC) with a manageable safety profile in Phase I expansion cohorts.
Two long-term follow-up studies assessing efficacy and safety from the INTR@PID clinical trial program will be presented as posters at ESMO 2020:
In addition, preliminary analysis will be presented in a mini-oral presentation (#616MO) from a trial conducted by the National Cancer Institute (NCI), the Quick Efficacy Seeking Trial (QuEST) investigating a triple combination therapy (BN-brachyury [BVax] + bintrafusp alfa + N-803) in castration-resistant prostate cancer. Available on demand from September 18 at www.ESMO.org.
For the Company's first biology-driven leader ERBITUX, a number of investigator-sponsored studies (ISS), including in combination with BAVENCIO (avelumab), continue to demonstrate its steady role across the continuum of care in metastatic colorectal cancer, and backbone of treatment of squamous cell carcinoma of the head and neck. Data demonstrating the role of ERBITUX as a promising combination partner include an oral presentation investigating avelumab plus cetuximab in pre-treated RAS wild type metastatic colorectal cancer patients as rechallenge strategy: the Phase II CAVE (cetuximab-avelumab) mCRC study. This will be presented during the Proffered Paper GI – colorectal session scheduled on September 19, 2:49pm-3:01pm CEST/8:49am-9:01am EDT (Presentation #397O)
*BAVENCIO is under clinical investigation for the first-line maintenance treatment of advanced UC and not yet approved in any markets outside of the US.
†Tepotinib is the International Nonproprietary Name (INN) for the MET kinase inhibitor MSC2156119J. Tepotinib is currently under clinical investigation in NSCLC and not yet approved in any markets outside of Japan.
‡Bintrafusp alfa is currently under clinical investigation and not approved for any use anywhere in the world.
BAVENCIO is a human anti-programmed death ligand-1 (PD-L1) antibody. BAVENCIO has been shown in preclinical models to engage both the adaptive and innate immune functions. By blocking the interaction of PD-L1 with PD-1 receptors, BAVENCIO has been shown to release the suppression of the T cell-mediated antitumor immune response in preclinical models. In November 2014, Merck and Pfizer announced a strategic alliance to co-develop and co-commercialize BAVENCIO.
The European Commission has authorized the use of BAVENCIO in combination with axitinib for the first-line treatment of adult patients with advanced renal cell carcinoma (RCC). In September 2017, the European Commission granted conditional marketing authorization for BAVENCIO as a monotherapy for the treatment of adult patients with metastatic Merkel cell carcinoma (MCC).
In the US, BAVENCIO® (avelumab) is indicated for the maintenance treatment of patients with locally advanced or metastatic urothelial carcinoma (UC) that has not progressed with first-line platinum-containing chemotherapy. BAVENCIO is also indicated for the treatment of patients with locally advanced or metastatic urothelial carcinoma who have disease progression during or following platinum-containing chemotherapy, or have disease progression within 12 months of neoadjuvant or adjuvant treatment with platinum-containing chemotherapy.
BAVENCIO in combination with axitinib is indicated in the US for the first-line treatment of patients with advanced renal cell carcinoma (RCC). Additionally, the US Food and Drug Administration (FDA) granted accelerated approval for avelumab (BAVENCIO®) for the treatment of adults and pediatric patients 12 years and older with metastatic Merkel cell carcinoma (MCC). This indication is approved under accelerated approval based on tumor response rate and duration of response. Continued approval for this indication may be contingent upon verification and description of clinical benefit in confirmatory trials.
BAVENCIO is currently approved for patients with MCC in 50 countries globally, with the majority of these approvals in a broad indication that is not limited to a specific line of treatment.
The special warnings and precautions for use for BAVENCIO monotherapy include infusion-related reactions, as well as immune-related adverse reactions that include pneumonitis and hepatitis (including fatal cases), colitis, pancreatitis (including fatal cases), myocarditis (including fatal cases), endocrinopathies, nephritis and renal dysfunction, and other immune-related adverse reactions. The special warnings and precautions for use for BAVENCIO in combination with axitinib include hepatotoxicity.
The SmPC list of the most common adverse reactions with BAVENCIO monotherapy in patients with solid tumors includes fatigue, nausea, diarrhea, decreased appetite, constipation, infusion-related reactions, weight decreased and vomiting. The list of most common adverse reactions with BAVENCIO in combination with axitinib includes diarrhea, hypertension, fatigue, nausea, dysphonia, decreased appetite, hypothyroidism, cough, headache, dyspnea, and arthralgia.
APC C250


Pharmapaktor Product Line
Discover the features of the Pharmapaktor product line. These compactors are developed for the needs of the pharma industry.
Applications:
Pharmaceutical production
Pilot operation and development (galenics)
In the case of frequently changed products
In the case of temperature sensitive products
Insulator application