Switching to NSK


Linear guide life boosts
A UK-based manufacturer of hygienic wipes (wet wipes) is enjoying the benefits of replacing standard linear guides with those manufactured by NSK. After experiencing persistent and expensive breakdown situations, the company opted to upgrade by fitting NSK linear guides, which thanks to their stainless steel sliders and specially coated rails, have delivered a nearly nine-fold increase in working life. Installed within the framework of an NSK Added Value Programme AIP, the move has resulted in improved machine performance, as well as reduced maintenance and downtime costs.
The company makes wet wipes for domestic and cosmetic use. However, the plant was having an issue with its converting, cutting and stacking line, which sections and compresses the wet wipes ready for packaging. Here, frequent failures were occurring of the linear guide found on the 'stacker feet' section.
The 'stacker feet' section uses a linear guide with the slider held stationary, while the rail with a foot mounting is driven up and down in quick succession to compress the wet wipes. It could be observed that the material used to manufacture both the rail and slider elements of the linear guide was high-carbon bearing steel, with standard seals attached to the slider.
Unfortunately, the impact of linear guide failure was proving costly for the plant, with increased maintenance and unplanned downtime. Each failure, which on average occurred every two weeks (26 times a year), would result in downtime costs of around €410 per hour. For every failure event, an engineer would require 30 minutes to replace the guide.
Understandably, the company wanted to find a solution to improve machine performance and extend linear guide life. NSK's engineering team was duly invited to visit the site and review the application. This process revealed that the existing linear guides were frequently failing due to corrosion and the ingress of chemical fluid, causing seizure from grease washout.
Following the review, the engineers recommended replacing the standard linear guides with NSK linear guides featuring stainless steel sliders and specially coated rails. Since implementation, breakdown events have been reduced significantly. Whereas the plant was previously experiencing 26 breakdowns a year, the company has witnessed just three in 12 months using the NSK linear guides – an impressive 88% decrease. In turn, the company has achieved significant savings in linear guide, downtime and repair costs.
Pharmaceutical packaging


Everything from a single source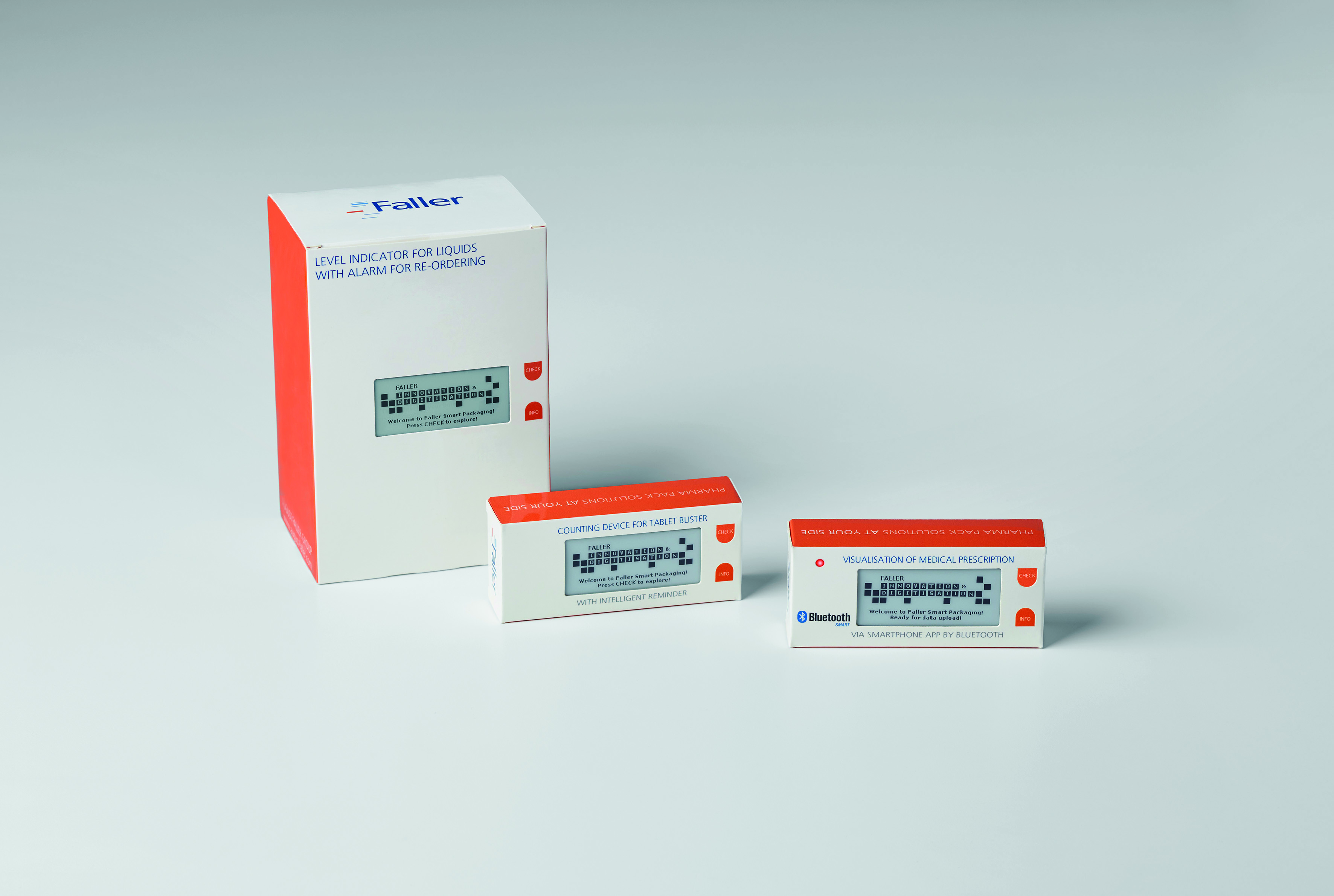 How can we further improve the functionality of pharmaceutical packaging? How can we ensure comprehensive safety? Packaging expert August Faller presents its concrete solutions to these major challenges at Pharmapack 2019 in Paris.
August Faller is known as an expert partner to the pharmaceutical industry for secondary packaging. As a system supplier, the company offers folding boxes, leaflets, adhesive labels and combined products from a single source. It also puts its decades of experience and expertise to good use in the development of customised solutions.
One of the focuses for the August Faller Group at Pharmapack 2019 is the expansion of the communication space on medication packs. An example of this is the "Zoom Box", to be presented by the company to trade fair visitors. The folding box combines most of the August Faller solution portfolio in a single product, including information carriers, multi-page adhesive labels and NFC for digital communication. This expanded communication space is advantageous for all pharmaceutical companies that have to meet information requirements while also communicating successfully with doctors, pharmacies and consumers.
The company will also present its smart packaging product range at the trade fair, using the various solutions to demonstrate the enormous potential offered by interactive and intelligent packaging. Safety, therapy adherence and success can be significantly improved in this way.
Protection of patients from counterfeit goods is another area of increasing importance for the pharmaceutical industry. Here, August Faller can offer special tamper-evident labels that prevent manipulation of folding boxes. Upon request, the company can print serialised codes on the packaging during production to ensure simple and reliable product traceability.
August Faller at Pharmapack 2019: Hall 7.2, Stand D28
Multivac


New building complex in Enger for labelling and inspection systems
Last Friday Multivac Marking & Inspection inaugurated a new production and office building during a celebratory opening ceremony – and at the same time it celebrated 25 years as part of the Multivac Group. The official speakers included Christian Traumann, Director and CFO of Multivac, Volker Gerloff, CEO of Multivac Marking & Inspection, and Thomas Meyer, Mayor of Enger. A large number of guests took part in the event, including Inge Nienhüser, Head of Town Planning, Development and Marketing for Enger, architect Frank Ebeler from Kenterplan GmbH and Guido Spix, Director and CTO/COO at Multivac, as well as employees and members of the press.
After the initial greeting ceremony and the symbolic opening of the new building with the cutting of the tape by the company management, the guests were led through the new building and shown the state-of-the-art assembly and logistics processes. The afternoon was spent celebrating in a winter-themed marquee with a buffet and music.
"We are delighted to be able to officially open with you today the new building complex, which will house the new warehouse as well as manufacturing and pre-assembly departments over an area of 1,600 square metres. Thanks to the completely renovated production hall areas, it will be possible to expand the production capacity, particularly in the sectors of conveyor belt labellers and inspection systems. The investment amounted to around three million euros," said Christian Traumann. "In addition to this, there is another reason to celebrate: it is now 25 years that Multivac Marking & Inspection has been part of our Group. Our subsidiary is an extremely important part of the Multivac Group, and it is a leading supplier of innovative labelling, marking and inspection solutions in the market."
"In the course of the building work we have also used this opportunity to further optimise our logistics and assembly processes," explained Volker Gerloff. "This involved reorganizing all the process sequences in Goods Inward and Stores, as well as in the Manufacturing, Assembly and Dispatch departments. We are also introducing a shopfloor management system as the cornerstone of our lean management drive. The objective is to achieve more efficient planning and monitoring of operating processes, as well as a higher level of transparency, shorter reaction times and improved handling of resources."
There are currently around 200 staff in total employed at Multivac Marking & Inspection in Enger. Following completion of the new building, the overall operating area has increased to 7,400 square metres. Around 900 square metres are taken up by the new Assembly/Production and Logistics areas, while 300 square metres are dedicated to other manufacturing such as machining and welding. In addition to this, some 30 new office spaces were created on the top floor.
Packaging Equipment Market Past $78 Billion by 2022


Technology Innovation Spurs Food & Beverage Processing
Growth in the global food and beverage processing and packaging equipment market looks promising over the next four years. Frost & Sullivan's latest analysis reveals that improved economic conditions in emerging nations, changing dietary preferences globally, and a rising demand for nutritious and ready-to-eat food products are driving demand for food processors and boosting growth in the packaging equipment market. The global food and beverages processing and packaging equipment market is expected to expand at a CAGR of 4.1% from 2017 until 2022 and reach $78.6 billion.
"With increasing food and beverages product demand and a growing emphasis on food safety, food processors are reliant on equipment manufacturers to provide processing and packaging equipment that is agile and utilizes advanced technologies to minimize energy usage, operate at a higher efficiency, and improve yield," said Arun Ramesh, Team Lead, Agriculture and Nutrition, Visionary Science, Frost & Sullivan.
The global demand for food products has led equipment manufacturers to acquire, merge, and partner with companies to leverage technology innovation. To remain competitive in an evolving market, Ramesh recommends that players create smarter products by investing in new capabilities such as advanced data and analytics, robotics and automation, and extend their capabilities to offer full solutions, including installation, monitoring, services, and integration. Additional factors imperative to growth include:
Equipment manufacturers upgrading to advanced machinery for processing and packaging to cater to changing consumer preferences and consumption patterns
Using machine learning and other tools to predict process delays, make improvements to engineering and optimize equipment design
Refreshing operating models with an emphasis on enhanced after-sales and growth-focused strategies
Global Food and Beverages Processing and Packaging Equipment Market, Forecast to 2022 market intelligence examines global growth opportunities in the food and beverages processing and packaging equipment market in detail with an emphasis on key growth factors across end-application segments, global and regional market trends, technologies, and product innovations.