Reliable pipeline protection


Laying method in water
For the rehabilitation of a drinking water pipeline in the district of Aalen, 200 km north-east of Munich, Germany, the DEKOTEC GmbH protects weld seams from corrosion very quickly and efficiently using a new laying method that floats in water.
For this method, the pipeline was first laid in the water: Just ten minutes after applying the BUTYLEN-AS50 tape system to the weld seam, the pipe was pushed into a tunnel flooded with water. The pipeline was then drained four months later. This is impressive as pipelines are normally not immediately and permanently exposed to corrosive media. The test results provided by the "Verband der Fernwasserversorgung" (Remote Water Supply Association) prove: The standard requirements of DIN EN 12068 for a high-quality protection of the weld seams are satisfied.
Direct flooding and extended operation in water are major challenges for field joint applications. This unprecedented method shows: The three-ply BUTYLEN tapes fuse together very rapidly. A diffusion-resistant protective hose is quickly generated, with reliable performance even when permanently exposed to fluids. The single-tape system was applied in at least a three-layer wrapping using the engine-driven DEKOMAT®-11 application device.
The drinking water pipeline is one of the region's main arteries. One of the two steel pipelines, with a nominal diameter of DN 1200, was restored for long-term use. Water flows through two parallel tunnels over almost two kilometres at 1,800 litres per second. The construction measure is expected to be completed in the spring of 2019.
Dialogue between manufacturers and users


Satisfied customers through integration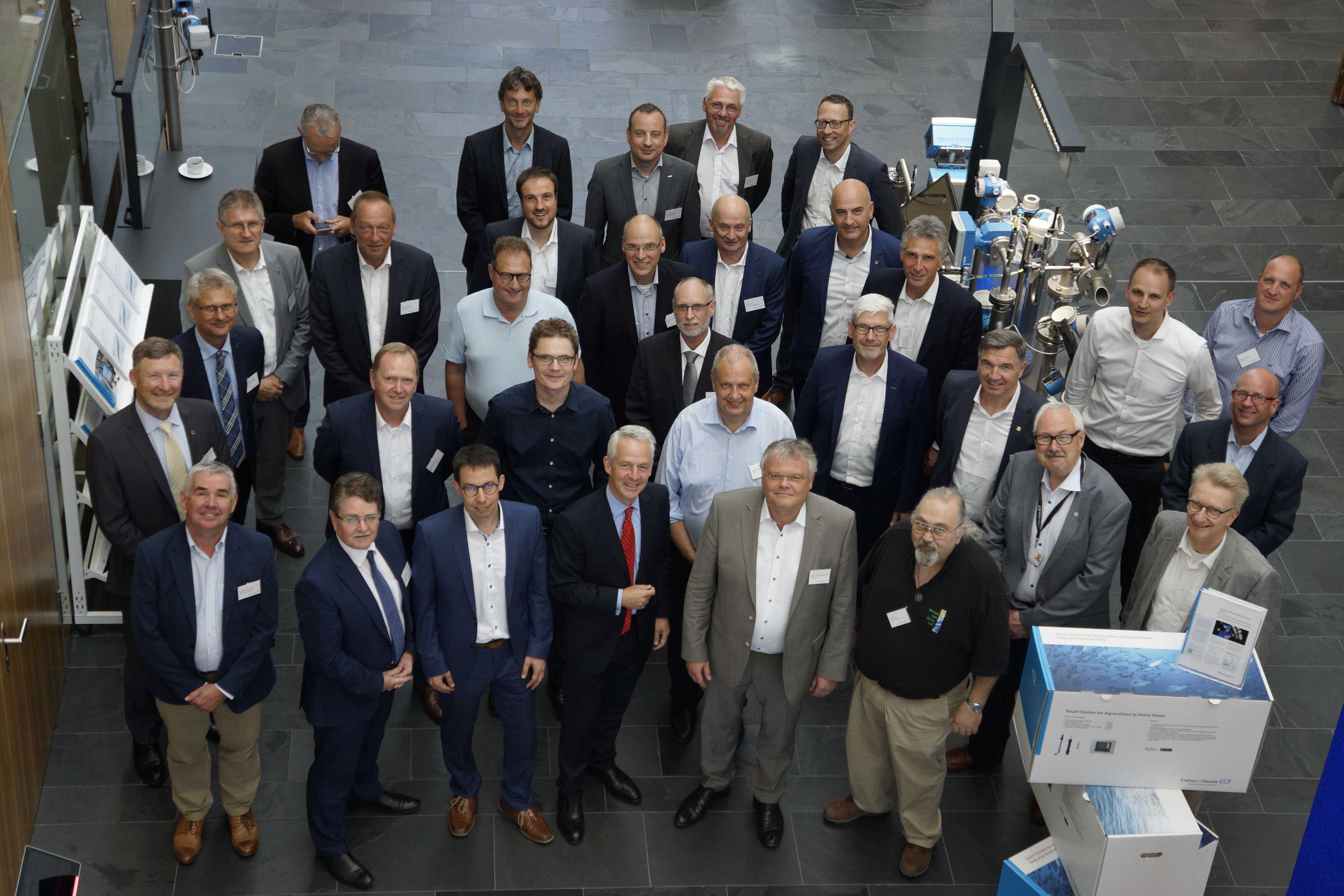 35 Open Integration partners gathered together at Endress + Hauser in Reinach, Switzerland, to share their experiences and thoughts for the first time. A highlight of the event was a presentation from representatives of the chemical and pharmaceutical industries outlining how they benefit from the partner program during digitalization of their processes – and what they would like to see in the future.
The goal of the Open Integration program initiated by Endress + Hauser can be summed up quickly: the simple, fast and manufacturer-independent integration of components and devices into various automation systems. And, almost more importantly, satisfied customers.
While it sounds simple in theory, when it comes to day-to-day system operation, it's far from that. Even the most experienced automation specialists have great respect for multi-vendor systems. That also applies to complete solutions "from a single source." After all, digital communications – a precondition for the extensive use of existing intelligence in field devices and systems – places serious demands on integration.
With its Open Integration partner program, Endress + Hauser is inviting providers of control technology, fieldbus infrastructure, measurement technology and actuator systems to test and document the interaction of their products even more extensively in the interests of their customers. The cooperation partners include Auma Riester, Bürkert, Festo, Flowserve, Hima Paul Hildebrandt, Honeywell Process Solutions, Mitsubishi Electric, Pepperl + Fuchs, Phoenix Contact, Rockwell Automation, Schneider Electric and Turck.
Open standards as a basis
The foundation of this effort is open communication standards (Hart, Profibus, Foundation Fieldbus, EtherNet/IP or Profinet), as well as open integration standards (FDT, EDD, FDI). With a nearly unlimited selection of options, the reference topologies represent practical combinations suitable for applications in the chemical, life sciences, food & beverage, oil & gas, power & energy, primaries & metal and water & wastewater industries.
The reference topologies take into account industry-typical requirements such as explosion protection, availability and redundancy. Each topology is thoroughly tested and documented in the lab in Reinach in conjunction with the partners, after which the recommendations are published.
Interoperability tests create added value
And how do customers benefit from the Open Integration partner program? Every problem that the integration experts discover prior to commissioning can be resolved at a much lower cost compared to fixing the issue in the field at some later point. Customers receive concrete, validated recommendations for automating their systems, which go well beyond established conformity and interoperability testing while ensuring seamless integration. Last but not least, they save time and money.
With developments such as IIoT and APL, users will face new challenges, plus integration testing will be given added weight. This makes it even more important for the Open Integration partners to work together over the long term. The participating customer and provider representatives were in full agreement on this point. Cyber security, in addition to the issue of connectivity, will play a key role in the future. They furthermore agreed that effective strategies need to be developed to counter new entrants in the automation industry such as IBM or Amazon.
Customer-driven developments
One thing was clear during the get-together in Reinach in early June: the process control industry wants open, interoperable systems instead of proprietary solutions. One of the users wants uniform, structured access to static information via QR- and RFID-supported type plates in accordance with DIN 91406. Standardized diagnostics in line with NE 107 is also at the top of the wish list.
In the near term, Endress + Hauser wants to work with its partners to address these and other open issues with the aim of utilizing Open Integration to offer customers even more value-add during digitalization of their processes. The common goal: satisfied customers who can extensively utilize the opportunities that digitalization brings with little risk.
Measuring the Density Factor


How to operate Flowave
Using the patented SAW technology the new Flowave flowmeters need no sensor elements in the measuring tube. So they provide reliable results even in challenging hygienic applications.
Switching product range


Basic and sealed microswitches
Herga Technology, the UK footswitch, hand controls and sensing component designer and manufacturer has expanded its product portfolio with a wide range of basic and sealed snap-action microswitches from Zippy Technology.
Manufactured in Taiwan to ISO9001 production and quality standards, the range includes 18 individual product types each with several electrical rating variants, switching types and connection options. Through the range current capability is from 0.1 to 26 amps at AC and DC voltages with function variants for SPDT, SPST and NO/NC. Operating force ranges from a few grams to over 300 grams whilst electrical termination includes leadwires, solder tag, 6.3 mm and more. Waterproof models include sealing to IP67. Certification for UL/cUL and Enec is available throughout the range.
The range is characterised by high reliability and competitive pricing with proven use globally in switching applications that include household appliances, medical equipment, business and industrial machinery as well as in the automotive and HVAC industries.