Fabrication and testing capabilities


Intermolecular stockholders approve acquisition by Merck
Merck, a science and technology company, announced that its proposed transaction with Intermolecular, was approved by the stockholders of Intermolecular at a special meeting held on July 17, 2019. On May 6, 2019, Merck had signed a definitive agreement to acquire Intermolecular through a subsidiary for $1.20 per share in an all cash transaction, representing an equity value of approximately $62 million.
"We are very pleased with this positive development of Intermolecular's stockholders approving our acquisition proposal. Uniting our existing strength in the materials business with Intermolecular's unique processes and R&D capabilities will allow us to create game changing innovations in the electronics material space. Together, we expect to provide our customers with an enhanced combination of material and process know-how strengthening our service provider capabilities," said Kai Beckmann, member of the Executive Board of Merck and CEO of Performance Materials.
The transaction is expected to close in the second half of 2019, subject to regulatory clearances and the satisfaction of other customary closing conditions. Intermolecular is a California-based company leading in advanced materials innovation. Intermolecular possesses application specific materials expertise, accelerated learning and experimentation platforms with powerful analytics infrastructure that perfectly complement the business and technology portfolio of Merck's Performance Materials business. Intermolecular's fabrication and testing capabilities allow for material combinations to be tested directly within the specific target application for semiconductors, consumer electronics, aerospace and many other industries. In comparison to conventional methods these capabilities translate to major time reductions in the development process, dramatically accelerated learning cycles and insights into novel material systems to provide customers with a unique service value.
Merck will acquire Intermolecular through its subsidiary EMD Group Holding II.
Optimized design


CVC from special urethane material
In the U.S., more than 5 million central venous catheters (CVCs) are inserted every year, which corresponds to 15 million days of treatment with CVCs. In Germany, this figure is 4.8 million in intensive care units alone. The use of these catheters is associated with some risks for the patient: the possible complications range from injured vessels and nerves to infections to pneumothoraxes, air embolisms and catheter sepsis, which can be fatal. In addition, these secondary diseases drastically increase health care costs. For this reason, efforts have long been made in medical technology to use new manufacturing methods to realize catheter designs that allow minimizing these dangers. For example, an international medical device company commissioned the experienced medical technology manufacturer Flexan to design catheters that facilitate insertion and positioning. To achieve this goal, the company chose a special urethane material that enters the body rigid but then becomes softer. This polymer was subsequently used to overmold thin-walled 5FR triple-lumen, 4FR double-lumen, and 3FR single-lumen small diameter PICCs. Flexan also designed and manufactured a 4FR catheter that has the same lumen as conventional 5FR catheters but a 14 percent smaller diameter. An overview of Flexan's manufacturing services and processes available for the manufacture of catheters will be presented at this year's Medica/Compamed.
Central venous catheters are catheters that are inserted into the upper or lower vena cava – just before the right atrium of the heart – via a large vein near the heart. The application of a CVC is actually a minimally invasive procedure, but it is still possible, among other things, to perform a malpunction, perforate a vein or damage nerves in the vicinity. This can cause complications that endanger the patient's health and consequently cause an increase in treatment costs. With new manufacturing technologies for central venous catheters, standardization of insertion techniques, and the use of ultrasound guidance, however, complication rates in the U.S. have already been reduced from 11.8 to 4 – 7 percent in recent years.
Special material and newly designed catheter tip reduce risk of complications
In order to further minimize these risks with its own products, an international medical device company has commissioned Flexan's experts to develop the critical manufacturing processes for a CVC with an optimized design that will significantly facilitate the insertion and correct positioning of its products. In support of the project, the U.S. contract manufacturer leveraged over two decades of specific PICC catheter design and manufacturing experience. For example, Flexan used a polyurethane material technology to fulfill the customer's requirements: "We were able to mold with a urethane material that is inserted into the body in a rigid state, but immediately becomes softer there due to the body temperature," says Eric King, V.P. and General Manager at Flexan. "This plays an important role in reducing complications in catheter positioning."
 For this project, Flexan was able to draw on a broad portfolio of processes, with which biomedical components made of polymer can be adapted to the desired application. For example, Flexan is able to design and manufacture thin-walled 4FR catheters that are 14 percent smaller in diameter than conventional 5FR catheters but still have the same lumen. The company has also been able to manufacture a 4FR thin-walled catheter that has a kink resistance comparable to that of a standard 5FR catheter with the same lumen size. Moreover, the company has extensive experience in shaping catheter tips. It employs the latest high frequency technology to design the tips in a way that reduces complications during insertion.
 Market growth opens up high future potential for new design
"Thanks to our previous experience and a very good cooperation with the client, we were able to achieve the specified project goal together," says King. "Within a project time of six to nine months, we succeeded in developing an optimized micro-catheter design, which significantly improves the functional performance of peripherally inserted central venous catheters." In addition, the Flexan team designed an efficient process control plan and inspection methods to ensure reliable binding between all vital catheter components. "This successful project for the development of a thin-walled catheter has paved the way for using the changed design for future orders. The potential is high as the global market for vascular access devices is expected to grow at an average annual rate of nearly 6.5 percent by 2023," concludes King.
Flexan at the Medica/Compamed 2019: Hall 8b, Stand F20-1
Compamed 2019


Plastic examples in medical device competence
During Compamed Spang & Brands , Friedrichsdorf, Germany, will exhibit a variety of different plastics engineering solutions for applications in medical technology, such as connectors, caps and closures with piercing membranes, implant components, and parts for minimally invasive medicine, plus components for infusions and blood reserves, as well as transition and connection systems (for instance with precisely defined predetermined breaking points or linking points). Visitors can see assembled systems and in-house produced complete systems with high-precision geometries and features ready-to-use.
Spang & Brands reacts consistently and quickly to the current demands of the market. Competence under one roof: Three years ago, medical device competence was bundled in the technology centre. Flat hierarchy: it improves the interdisciplinary communication, transparency, cooperation and efficiency of the individual divisions, i.e. development, sales, order processing, construction, materials management, quality assurance/certification, toolmaking, injection moulding, assembly/clean room, dispatch and after-sales service. This was accompanied by the restructuring on the basis of three focal points: Strengthening the range of market services from product development to validation, driving forward the development of proprietary products and expanding core competencies. The family business in the third generation builds its success on the advantage of medium-sized businesses and an organically grown network, in which partners in raw material producing companies, in special mechanical engineering firms, in IMM manufacturers' and IT companies play a target-oriented role in the exchange of complementary knowledge.
In view of high initial costs of medical devices customers expect speedy product development from an all-inclusive provider in order to reach validation, clinical trials, and introduction to market. Validation is one of the overriding topics in the medical device value chain of a company such as Spang & Brands that is certified according to DIN ISO 13485. Mould making for medical devices in plastic differs fundamentally here from toolmaking in automotive and white goods sectors, for example. An injection mould has to comply with typical regulations that are common in medical technology. "Process optimisation and traceability are essential. Looking at the patient, it is important to be able to prove the origin of the individual components and the various stable process stages on the way to fault-free medical devices", explains Friedrich Echterdiek, CEO of Spang & Brands GmbH. It is for this purpose that Spang & Brands appointed a validation officer in 2016 to work seamlessly with quality assurance and report directly to the company management. "Starting with the initial 3-D prototype or 3-D printed trial mould inserts, analysis of the prototype status leads to quicker and more flexible optimisation of the individual parts, components and assemblies – in respect of design to value and design for manufacturing and assembly", adds Friedrich Echterdiek.
Across the entire value-added chain of a medical devices specialist, Spang & Brands demonstrates ground-breaking R&D technology and, supported by a state-of-the-art tooling facility and machine park, i.e. the entire diversity of optimized plastics technological product ranges. Consequently, special plastics compounds, such as TPU, TPE, TPV, resomere materials, and polylactides are used. 'Employing multi-component injection moulding technology our starting point is to embrace increased comfort enhanced with innovative functions and benefits based on the very latest moulding technologies', emphasizes the CEO of Spang & Brands.
Spang & Brands has specialised in precision and cleanroom injection moulding technology for the medical and pharmaceutical industry for over 35 years. In addition to its own products, the company sees itself above all as a competent contract partner for customer projects. Product innovations at Spang & Brands go through all process stages – from the idea to the finished product, ready-to-use. The company ensures consistency of CAD tool data and maximum precision in CAM production of moulds for medical and pharmaceutical devices in its own technology centre. Spang & Brands has at its disposal latest equipment, as well as a team with a high level of competence and experience, which masters the technology: part development, mould design and construction, injection moulding with 70 mainly all-electric single and multi-component IMM, as well as the importance of cleanroom production. Fully automatic and manual assembly and packaging of parts and assemblies are located in cleanrooms – from pre-series or just-in-time batch sizes, extremely small series, and right up to full production running into millions of products. Strategically positioned control points and 3D measuring technology support quality assurance. The company is certified e.g. according to DIN ISO 13.485.
Spang & Brands at the Compamed 2019: stand 8a M33
For the polymers, chemical, pharma and food industry


Next Generation of High Accuracy Vibratory Feeding Technology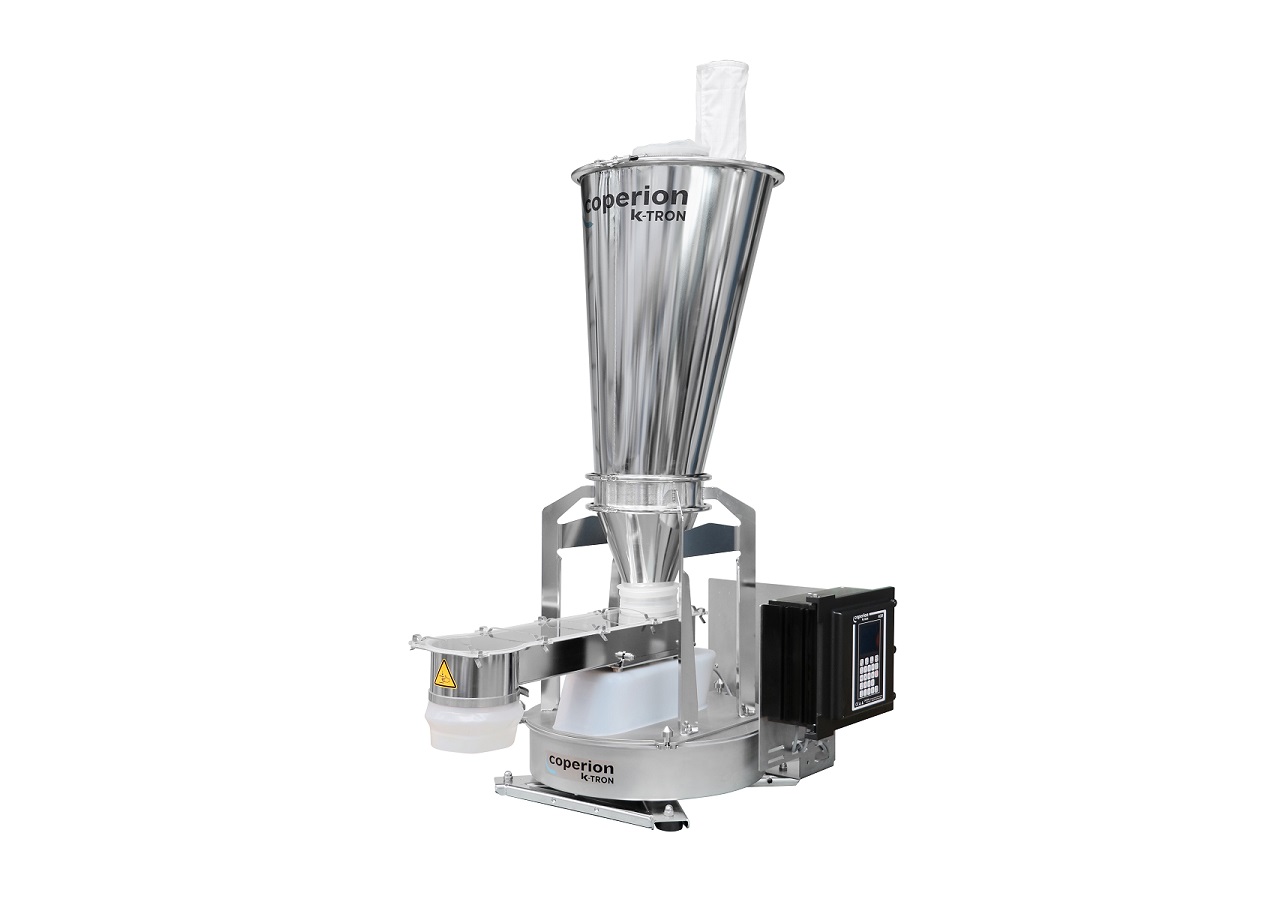 Coperion K-Tron is proud to announce a completely new K3 line of vibratory feeders for dry bulk solids.  The innovative new feeder design features a unique, patent-pending drive system combined with an advanced control package.  The new K3 vibratory feeder is able to achieve accuracies averaging 35% better over traditional vibratory technologies. This revolutionary new generation of Coperion K-Tron loss-in-weight vibratory feeders offers gentle handling of the bulk material, higher accuracy and faster product changeover, resulting in less product waste, less downtime and better end product quality as well as improved sustainability.
New technology brings significant advantages
These advantages are possible thanks to groundbreaking new technology. The key to achieving high accuracy is the ability to deliver a continuous, even product discharge with minimal pulsations. The new K3 vibratory drive is able to do this thanks to a completely new shock absorber design. Conventional vibratory feeders use rubber or spring shock absorbers, which allow movement of the drive in all directions, resulting in rotational motion. In contrast to these conventional shock absorbers, the new K3 line uses a unique flexible pendulum technology which provides shock absorption only parallel to the desired direction of motion, eliminating rotational movement. This parallel motion ensures an even material flow of the product along the entire length of the tray.
The advanced control system and feeder electronics include internal sensors which measure acceleration, displacement, load, current and temperature at rates of up to 25,000 times per second. The fast-acting controller then adjusts the vibratory drive signal to maintain clean sinusoidal displacement for optimal mass flow. The combination of this unique drive with the Coperion K-Tron SmartConnex control system also results in extremely low energy consumption as compared to other feeding technologies. Power consumption can be as low as 20 Watts for feed rates as high as 6,000 kg/h, thus making it ideal for improved production sustainability and minimal heat dissipation.
The typical feeder package consists of a feed hopper, vibratory tray and vibratory drive mounted on a weighing system featuring patented, high accuracy Smart Force Transducer weighing technology and combined with SmartConnex controls. The mechanical package is modular in design, and versatile in that it can accommodate custom tray configurations and lengths, offering the user more flexibility.  A special quick-release clamp mechanism on the feeder tray allows for quick product changeover. The absence of mechanical wear parts results in lower maintenance requirements and ensures gentle handling of the bulk material. In addition to the standard design, a line of hygienic, easy-clean configurations is also available. These include a hygienic silicone cover to enclose the complete drive assembly, making it also suitable for food and pharmaceutical applications.
Ideal for gentle handling of difficult bulk materials
Vibratory feeders are ideal for the gentle handling of a wide variety of materials, including friable products, abrasive products, products with non-uniform shapes, and glass fibers. They are ideally suited to applications such as the high accuracy feeding of finished food products to packaging lines, uncoated tablets to coating lines, as well as difficult feeding of pellets or regrind to plastic extrusion lines, for example in plastic recycling applications.. Vibratory feeders can often be a viable alternative to screw feeders for difficult materials, where gentle vibratory feeding may allow feeding without build-up which can occur on screws and screw tubes.
Coperion at the K 2019: Hall 14, Stand 14B19