More environmentally efficient and flexible production


Integrates cutting-edge technologies
Through innovations and the integration of cutting-edge technologies into the Digital Enterprise portfolio, Siemens helps companies from all sectors to achieve a more flexible and environmentally efficient production. "The Digital Enterprise portfolio is already well established globally in all industries for the implementation of Industrie 4.0. Many applications demonstrate the tangible benefits of these solutions for our customers," explains Klaus Helmrich, Member of the Managing Board of Siemens AG and CEO of Digital Industries. "Now we are taking the next step: with numerous innovations und cutting-edge technologies, we are taking the Digital Enterprise portfolio and therefore Industrie 4.0 to a new level.
At SPS, Siemens has showed numerous innovations and sector-specific applications that illustrate how these requirements can be met using new products, solutions and services from the Digital Enterprise portfolio. For example, a more precise and powerful digital twin helps to significantly reduce CO2 emissions in product development through the comprehensive simulation of real production. The analysis of production processes highlights potential savings for resources such as water and power. And last but not least, the use of innovative production methods – for example Additive Manufacturing – can save materials and prevent waste. With this portfolio, Siemens is paving the way for modular, highly flexible and above all environmentally efficient production flows.
Increasing requirements for greater flexibility and productivity cannot be met through conventional automation solutions alone. An integrated, scalable system is required from production to the Cloud. The technical prerequisites for this are already available in the form of end-to-end solutions across the entire value chain, which create an even more seamless connection between the virtual and the real world – for all discrete industry and process industries. This is achieved using platform innovations such as Sinumerik One, the first digital-native CNC system, the innovative web-based process control system Simatic PCS neo, the newly developed visualization platform Simatic WinCC Unified and the Xcelerator portfolio, which combines the entire spectrum of industry software, services and MindSphere with an extended Mendix platform for the development of low-code apps.
The trend toward flexible and modular production concepts also creates challenges for wireless communication: more devices, greater reliability and lower latency. The communicative networking of production and logistics elements is the key; from networked automation through to more flexible production. Industrial 5G is the basis for this as it offers ultra-reliable broadband transmission and ultra-low latency for networks with a large number of devices.
Another element for the next step in implementing digital transformation is the growing ecosystem for Industrial Edge and Cloud. This enables data integration from data analysis on the shop floor through the automation system to the Cloud. To this end, Siemens offers new Edge apps for machine tools. In addition, Siemens has acquired Edge technology from US company Pixeom, strengthening its portfolio for easy app management and central device updates even on distributed infrastructures
Digitalization is increasingly changing the face of industry: the more powerful connection of the virtual and the real world leads from the conventional showroom to the digital design and sales room, from the foreman's office on site to the simulation room in the factory and from linked automation to the flexible shop floor.
Improved production and batch transparency


New version of Braumat process control system
Siemens has showed a new version of the Braumat brewery process control system at the Brau Beviale 2019 in Nuremberg: The latest version 8.0 is based on the Simatic S7-1500 controller and has been optimized in the areas of reporting, weighing systems and security. Already installed Simatic S7-400 controllers can still be used, including in mixed operation. Existing Braumat installations can be expanded or modernized with Simatic S7-1500 controller. Production downtimes caused by new installations are thus avoided.
In order to enhance the reporting options, a batch report with a basic choice of process parameters has been integrated. Users can now create reports with the help of MS Excel. Braumat V8.0 is also now connected to the established PM-Quality option. This means that MES (Manufacturing Execution System) and MIS (Management Information System) functions are now available for calculating KPIs (Key Performance Indicators) such as plant availability. In the new version, storage location management is integrated together with dosage management in the recipe system, enabling the efficient and flexible automation of mixing processes. Recipes are automatically adjusted according to storage location availability and the quantity specifications of the batches to be produced. High-precision, self-optimizing weighing operations are fully automated with the integrated Siwarex weighing system. The Braumat V8.0 process control system continuously checks recipes and quantities for the individual production processes, thus reducing overdoses of malt, hops and diatomaceous earth. A combination of password protected Simatic S7-1500 controllers, encrypted communication on the terminal bus as well as extended user management and company ID registration via an RFID card reader increases security during the production sequences.
New Braumat V8.0 is available in both a standard and lean edition: With Braumat Lean, micro breweries and craft brewers can benefit from process automation from just a quantity of four units and one Simatic Open Controller. This can be expanded up to 40 units as required. Braumat Lean can also be operated as a compact, single user station or for remote areas of large breweries, such as laboratories. With the Standard edition, it is possible to create complex plant structures with redundant client-server features and server visualization. The Lean Edition of Braumat V8.0 can be expanded to the Standard Edition. After just a few days of training, users are able to configure new Braumat plants. For other food and beverage sectors such as dairies, cheese factories or soft drinks, the Sistar version 8.0 process control system is available.
As a long-term partner in the international brewing and beverages industries, Siemens is demonstrating at this year's BrauBeviale being held in Nuremberg from November 12 through 14 how its innovative brewery automation processes enable the first step into digitalization. Visitors to booth 419 in hall 7 can experience the path to digitalization themselves: Exhibits stretch from the lean version of the Braumat process control system for the automation of micro breweries, to a standard Braumat system with a Manufacturing Operation Management (MOM) solution and energy management, to cutting-edge technologies such as cloud and edge computing.
With maximum port density


Switches for industrial communication applications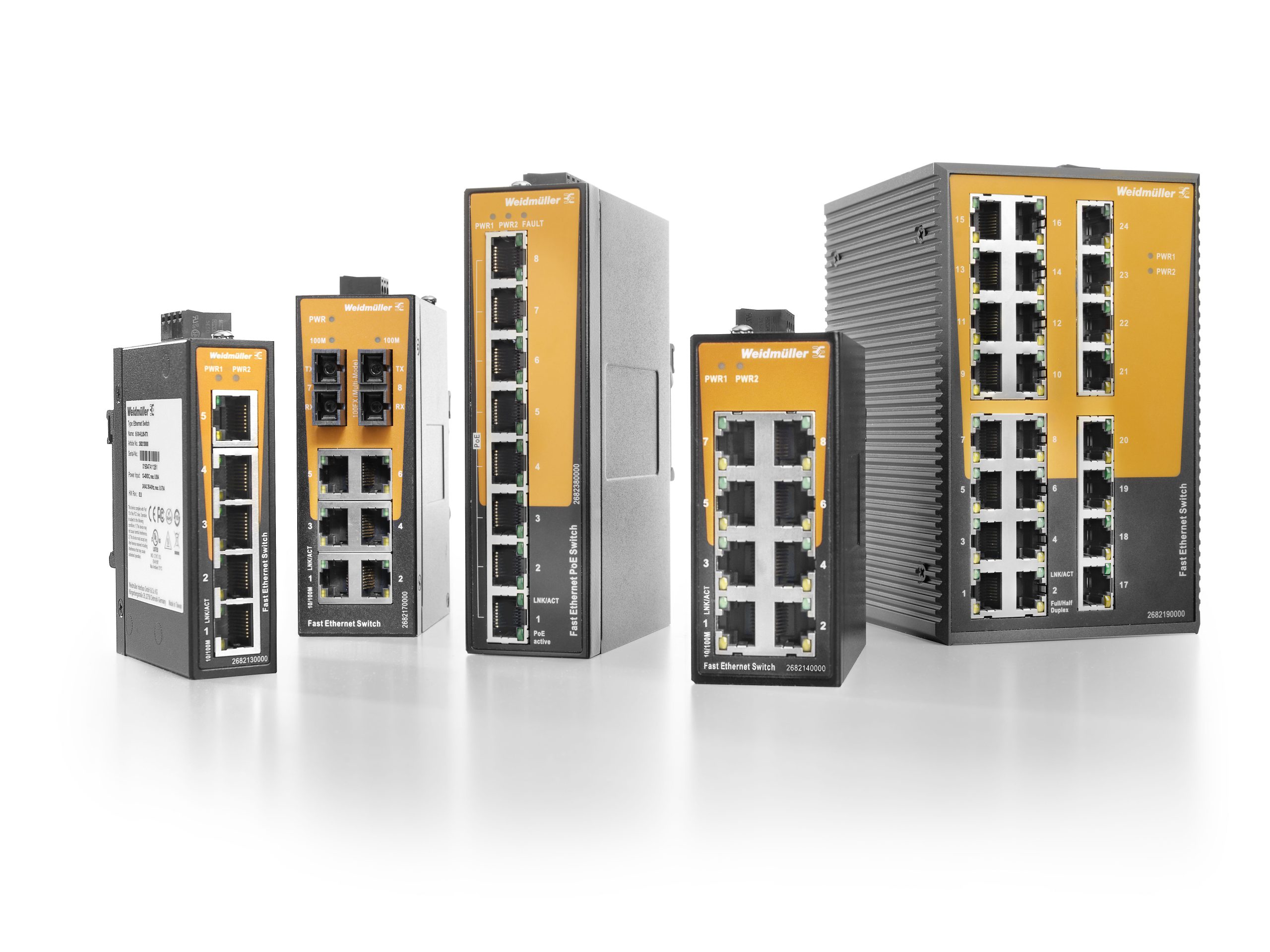 The future of industrial communication lies in a holistic approach – in a network. This brings about uninterrupted communication right down to production level and your machines and systems. When setting up these communication systems, it is important to connect devices to one another to create networks, and to transmit data as efficiently as possible. Seamless Ethernet communication simplifies and accelerates processes, creates transparency and reduces costs.
The new Ethernet Switches from Weidmüller have been specifically developed for small industrial networks. They offer secure and reliable communication between Ethernet-based machines and systems as well as allowing for the connection of Ethernet devices to a higher-level network.
The unmanaged Plug-and-Play switches mean that network connections can be directly extended to include multiple devices. The switches with 5 to 24 ports allow users to tap into the benefits offered by standardised Ethernet communication and industrial automation technology.
Depending on the particular version, the switches are fitted with a number of combinable copper or fibre-optic interfaces, meaning that different media can be used and large distances covered. All Ethernet switches have an industrial IP30 metal housing with integrated clip-in foot for easy installation on the terminal rail (TS35). The integrated clip-in foot has been specially optimised for simple installation. The sturdy housing design and the high port density combined with particularly compact dimensions means that the space in the control cabinet can be put to optimal use. This applies in particular to the 5-port switch, one of the smallest switches in terms of density and a switch that is particularly well-suited to the tight spaces in control cabinets. The largest configuration level contains 24 ports.
In addition to its high density, the switch is also characterised by its large temperature range. The switches can be used in environments from –40 to +75 °C. This allows for operation both within production and in the field. In line with the motto "an LED for each port", the integrated LEDs provide a simple display of the speed and status of the port.
Flexible and future-proof with SFP slots
Whether multi-mode or single-mode, 500 metre or anywhere up to 20 km – the SFP slots help guarantee flexible use. SFP stands for Small Form Factor Plug-In, and these slots make it possible to combine network components such as switches with optical cables. This allows them to convert electrical Gigabit signals to optical signals and vice versa. To do so, the matching transceiver simply needs to be plugged in. It is therefore also possible to change the technology at a later point in time.
The wirespeed-compatible switches support auto-negotiation, which is a procedure whereby two connected Ethernet ports automatically determine and configure the maximum possible transmission rate. The integrated auto-crossing function also ensures more simple installation while also preventing error sources as there is no longer any need for crossover cables. The switches with this standard detect the paired transmission and reception lines and automatically and correctly assign the pair internally.
The modules have input current limitation and reverse polarity protection. The Eco Line switches are connected via the removable 3 or 4-pin plug-in connectors. The comprehensive range contains Fast Ethernet and Gigabit variants as well as PoE models with 802.3 af.  Most variants have a redundant power input of 24 VDC. The 5 and 8-port copper models can also be operated with a 24 VAC power supply, making them suitable for use in building automation.
Thanks to their international approvals and conformity certificates in accordance with CE and UL, the Ethernet switches are suitable for industrial applications all over the world. The key benefits of the unmanaged switches include their good price-to-performance ratio as well as their particularly space-saving design.
E-Cockpit


Use Frames for Visualisation Templates