Process belt solutions


Integrated filtration expertise
Pioneering mesh designs presented byGKD – Gebr. Kufferath AG at Filtech. Whether for water processing in large industrial plants or continuous vacuum belt filter systems in the environmental and mining industry: At the leading international trade fair for filtration and separation technology, the company once again highlights its integrated solution competence for filter media and process belt solutions in Cologne. With its special mesh structure and seam technology, the Vacubelt filter belt range guarantees efficiency and safety in exacting dewatering processes. In process water filtration with particles larger than 500 μm, the relatively new spiral fabrics produced are also in high demand. Alongside large-format mesh samples, the knowledge of process requirements that the filtration and process belt specialists have gathered over many years makes them sought-after contacts for discussing specific issues and solution models.
In view of the growing global demand for phosphorous, potash, and lithium, expanding extraction capacities and improving production efficiency are critical to the success of the global mining industry. This is where the different belt types of the Vacubelt range, made of polyester monofilaments, are able to make a vital contribution. All Vacubelt filter belts share the core characteristics of robust transverse stability, low crease formation, smooth surface, good cake discharge, and excellent cleaning behavior. What's more, their improved seam design contributes to greater process reliability. Its minimal opening at the seam means that the extremely flat PAD seam reduces particle penetration. The company further decreases this seam opening by inserting filling threads, thereby further lowering the risk of particle penetration. These filler threads are supplied with the belt and inserted before the clamps are closed. This means that there is no need for the flaps required by other manufacturers. The advantages of the firm seam design are clear: wipers are not stressed by partial raised sections and the seam itself is also subject to less wear.
For dewatering of phosphogypsum, the firm offers three thermally treated single-ply vacuum filter belts specifically designed for particular processes and applications in the form of the belt types Vacubelt 3354, 3356, and 1003. With air permeability of 200 to 350 cfm and mesh apertures of 150 to 340 μm adapted to the respective plants, they guarantee constant high dewatering performance. As such, these belts in widths of up to 4.35 meters and lengths of up to 70 meters fulfill the highest service life and dewatering requirements.
In potash fertilizer production, the Vacubelt 5060 filter belt has proven its worth many times over. With apertures of up to 470 μm and air permeability of 290 cfm, this belt type reliably withstands the high temperatures and corrosive conditions that are typical of this process.
The Vacubelt 2015 filter belt has been the globally established standard in the field of FGDP gypsum dewatering for many years. The small aperture of 50 μm – coupled with air permeability of 55 cfm – justifies its superiority over conventional belts for dewatering the gypsum suspension produced during flue gas desulphurization. Faster dewatering, greater pore density, less tendency to clog, thermal resistance, and very good cleaning properties make the Vacubelt 2015 belt type the vacuum filter belt of choice for both new systems and retrofitting existing power plants.
The same belt type is currently also setting new standards in lithium dewatering in vacuum drum filters.
In cooling lubricant filtration, the robust Vacubelt 3354 filter belt made of polyester wires is a proven alternative to the usual polypropylene products available on the market. This belt type reliably retains swarf and particles abraded from the grinding wheel without the addition of filtration aids, even with thin filter cakes.
In industrial laundries, the spiral fabrics that GKD produces entirely in house are becoming something of an insider tip for process water treatment with particles larger than 500 μm. Thanks to their unusually high performance, this product range, which made its debut at last year's Filtech, is therefore also recommended for all other filtration processes requiring similar separation performance to washing water treatment in industrial laundries.
GKD at the Filtech 2019: Hall 11.1, Stand G3
For the polymers, chemical, pharma and food industry


Next Generation of High Accuracy Vibratory Feeding Technology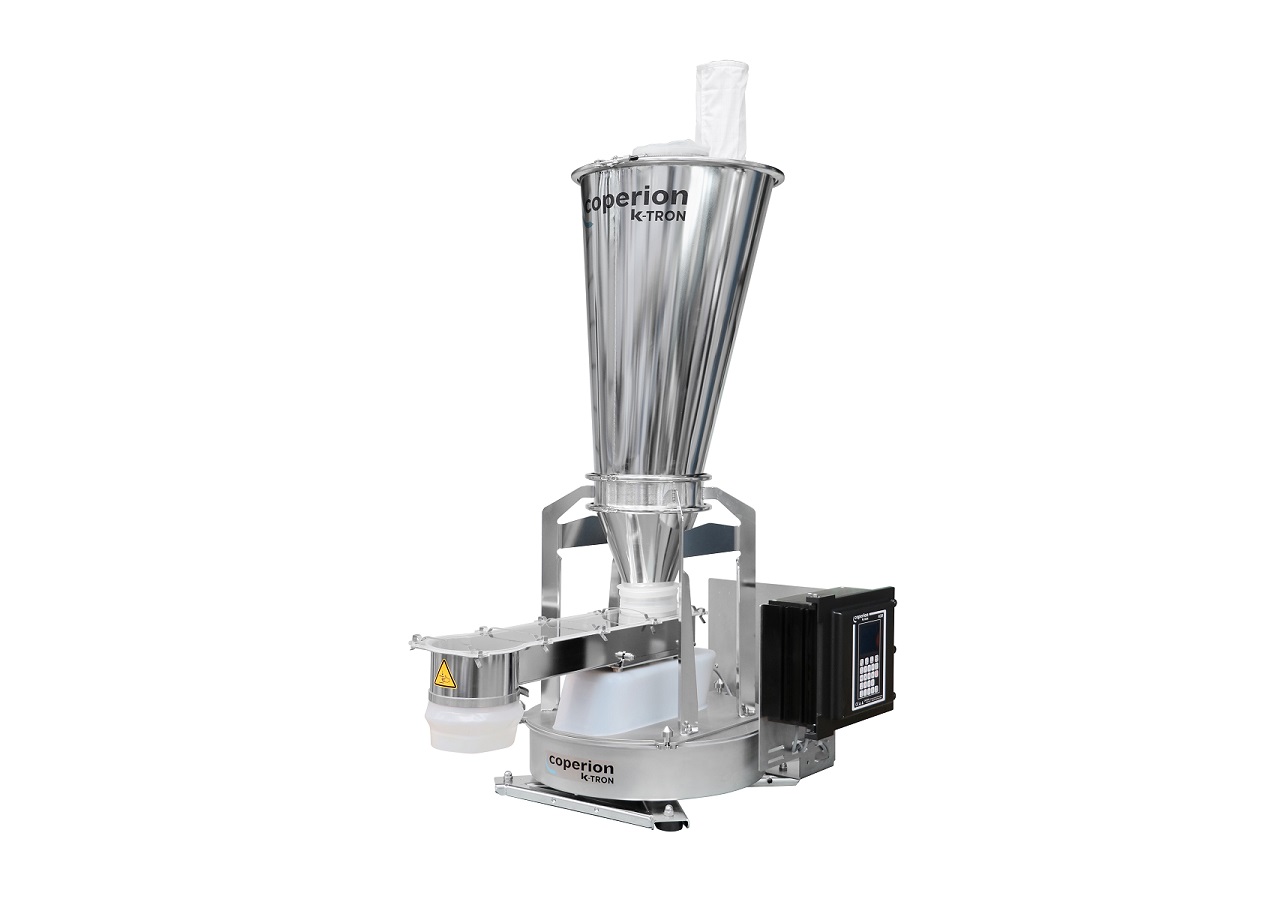 Coperion K-Tron is proud to announce a completely new K3 line of vibratory feeders for dry bulk solids.  The innovative new feeder design features a unique, patent-pending drive system combined with an advanced control package.  The new K3 vibratory feeder is able to achieve accuracies averaging 35% better over traditional vibratory technologies. This revolutionary new generation of Coperion K-Tron loss-in-weight vibratory feeders offers gentle handling of the bulk material, higher accuracy and faster product changeover, resulting in less product waste, less downtime and better end product quality as well as improved sustainability.
New technology brings significant advantages
These advantages are possible thanks to groundbreaking new technology. The key to achieving high accuracy is the ability to deliver a continuous, even product discharge with minimal pulsations. The new K3 vibratory drive is able to do this thanks to a completely new shock absorber design. Conventional vibratory feeders use rubber or spring shock absorbers, which allow movement of the drive in all directions, resulting in rotational motion. In contrast to these conventional shock absorbers, the new K3 line uses a unique flexible pendulum technology which provides shock absorption only parallel to the desired direction of motion, eliminating rotational movement. This parallel motion ensures an even material flow of the product along the entire length of the tray.
The advanced control system and feeder electronics include internal sensors which measure acceleration, displacement, load, current and temperature at rates of up to 25,000 times per second. The fast-acting controller then adjusts the vibratory drive signal to maintain clean sinusoidal displacement for optimal mass flow. The combination of this unique drive with the Coperion K-Tron SmartConnex control system also results in extremely low energy consumption as compared to other feeding technologies. Power consumption can be as low as 20 Watts for feed rates as high as 6,000 kg/h, thus making it ideal for improved production sustainability and minimal heat dissipation.
The typical feeder package consists of a feed hopper, vibratory tray and vibratory drive mounted on a weighing system featuring patented, high accuracy Smart Force Transducer weighing technology and combined with SmartConnex controls. The mechanical package is modular in design, and versatile in that it can accommodate custom tray configurations and lengths, offering the user more flexibility.  A special quick-release clamp mechanism on the feeder tray allows for quick product changeover. The absence of mechanical wear parts results in lower maintenance requirements and ensures gentle handling of the bulk material. In addition to the standard design, a line of hygienic, easy-clean configurations is also available. These include a hygienic silicone cover to enclose the complete drive assembly, making it also suitable for food and pharmaceutical applications.
Ideal for gentle handling of difficult bulk materials
Vibratory feeders are ideal for the gentle handling of a wide variety of materials, including friable products, abrasive products, products with non-uniform shapes, and glass fibers. They are ideally suited to applications such as the high accuracy feeding of finished food products to packaging lines, uncoated tablets to coating lines, as well as difficult feeding of pellets or regrind to plastic extrusion lines, for example in plastic recycling applications.. Vibratory feeders can often be a viable alternative to screw feeders for difficult materials, where gentle vibratory feeding may allow feeding without build-up which can occur on screws and screw tubes.
Coperion at the K 2019: Hall 14, Stand 14B19
Adding value with state-of-the-art separation technologies


Smart solutions for the beer-brewing process
International technology group Andritz is presenting its unrivalled range of separation and filtration technologies for the beer industry at BrauBeviale in Nuremberg, Germany, from November 12 to 14, 2019, hall 7, booth 7-421. Experts from Andritz will be on hand to provide specialist support for a wide range of brewing processes from mash filtration to yeast beer recovery and beer filtration.
The solutions cover a wide range of separation and filtration processes and equipment needed for beer production – from filter presses and dynamic crossflow filters to decanters and separators.
One special product designed exclusively for the brewing industry is the Art Brew beer clarifier, the latest version of which will be showcased at BrauBeviale. Combining efficiency and ease of maintenance, Art Brew is a high-quality and simple-to-operate beer clarification solution, which comes as a plug-and-play unit for the craft beer industry but also in large sizes for industrial beer production.It comprises a unique inert-gas sealing system known as KO2 (knock-out oxygen) that prevents unacceptable levels of oxygen pick-up between the clarifier inlet and outlet connections. Thanks to its small dimensions and custom configuration, the Art Brew is not only highly efficient, but also a very compact solution that is quick to install. The Art Brew range caters to brewers of any size, with a beer clarification capacity ranging from 50 to 700 hectoliters per hour. Visitors will be able to explore the Art Brew's control options and see the process clearly from close quarters.
Another separation technology that has proven its worth for producers of a wide range of beverages is the Andritz Dynamic Crossflow Filter (DCF). Its rotating membranes allow users to separate highly viscous sludges like surplus yeast up to yeast concentrations containing more than 25% by weight, thereby ensuring optimum yeast beer recovery with the highest filtration quality. Because breweries no longer have to dilute the yeast with water in order to process it, the filtered beer can be blended with the main stream without any impact on the quality or alcohol content. As a result, this method becomes an interesting alternative to traditional concentration technologies.
The membrane filter presses ensure that the effective filtration of mash is kept at a constant, high quality level. As filter press filtration is a sealed process, the risk of oxidation is kept to a minimum. Additional peace of mind comes from the fact that Andritz filter presses are not only easy to clean and come with the option of cleaning-in-place solutions, but the components also conform to FDA standards. In addition, brewery customers in particular benefit from the fact that Andritz filter presses can be adjusted to a variety of processes and recipes.
IIoT Technologies
With the development of Metris addIQ control systems, the company has taken the lead in IIoT (Industrial Internet of Things) solutions for solid/liquid separation processes and offers a wide range of innovative products and services under the Metris technology brand. These technologies allow the evolution of separation processes towards fully automatic operations. In addition to user-free operation, the biggest advantages lie in the fields of predictive maintenance and risk mitigation. The innovative automation solutions add a new dimension to the performance of production facilities by minimizing downtime and maximizing product yield, quality, and consistency – even for operations that are already up and running. Furthermore, they are completely scalable and backed by a specialist network of global automation experts.
One specific smart product that appeals to brewers is the intelligent filter press. Equipped with a Metris addIQ control system, the intelligent filter plate within the filter press is able to measure the residual moisture content in the spent grains while simultaneously monitoring this factor online. This means that the filtration process is always stopped at the ideal moment – gaining valuable filtration time and therefore a higher filtration capacity.
And the expertise doesn't end with technology – whether customers need spare parts, rentals, local service, repairs, upgrades, or modernization of equipment, Andritz is a full-service provider. From initial consulting through to service agreements, process optimization, and training programs, Andritz specialists are always looking for ways to minimize downtime and increase predictability in operations while raising overall production efficiency. The network of 550 service specialists and global service centers ensures that the firm will always be there to support its customers for many lifecycles to come.
Andritz at the Brau Beviale 2019: Hall 7, Stand 421
Product related and smart services


Customer focused solutions for smart engineering
Digital and product related services are also playing an increasingly important role in the drives industry. Against this background, Wittenstein alpha will unveil a value-added service portfolio – the web based "Wittenstein Service Portal" – which is individually tailored to the needs of fitters, maintenance technicians and commissioning and service engineers. As of November 2019, details of all standard products from Wittenstein alpha, Wittenstein cyber motor and Start-up Galaxie can be displayed on a Service Portal website for each individual product. All relevant product information such as technical data, video tutorials, documentation, add-on components and accessories, successor models can be accessed there easily throughout the lifecycle together with numerous other services. Gearboxes with cynapse – in other words, with an integrated sensor module and an IO-Link interface – are likewise incorporated along with smart services, so that the Service Portal simultaneously builds bridges to Wittenstein components used in IIoT environments.
The second generation of Wittenstein cyber motor's small servo drive system promises even more performance in terms of connectivity, configurability and compactness. The completely redesigned cyber simco drive 2, which is about 30 percent smaller and also forms part of the new, compact cyber dynamic system, is the principal highlight here. Integrated in the motor, it impresses with its connection to the PLC in real time via a multi-Ethernet interface as well as decentralized intelligence directly on the axis.
The ability to generate motions directly in the servo drive relieves the machine's automation system. Moreover, by integrating the electronics in the motor, a compact and installation-friendly design results while at the same time wiring is eliminated. The optional integration of multiturn encoders, holding brakes and planetary gearboxes further expands the functionality of the servo motors in the cyber dynamic line. In short, manufacturers profit from smart and totally new performance dimensions.
Wittenstein at the SPS 2019: Hall 4, Stand 221