Process belt solutions


Integrated filtration expertise
Pioneering mesh designs presented byGKD – Gebr. Kufferath AG at Filtech. Whether for water processing in large industrial plants or continuous vacuum belt filter systems in the environmental and mining industry: At the leading international trade fair for filtration and separation technology, the company once again highlights its integrated solution competence for filter media and process belt solutions in Cologne. With its special mesh structure and seam technology, the Vacubelt filter belt range guarantees efficiency and safety in exacting dewatering processes. In process water filtration with particles larger than 500 μm, the relatively new spiral fabrics produced are also in high demand. Alongside large-format mesh samples, the knowledge of process requirements that the filtration and process belt specialists have gathered over many years makes them sought-after contacts for discussing specific issues and solution models.
In view of the growing global demand for phosphorous, potash, and lithium, expanding extraction capacities and improving production efficiency are critical to the success of the global mining industry. This is where the different belt types of the Vacubelt range, made of polyester monofilaments, are able to make a vital contribution. All Vacubelt filter belts share the core characteristics of robust transverse stability, low crease formation, smooth surface, good cake discharge, and excellent cleaning behavior. What's more, their improved seam design contributes to greater process reliability. Its minimal opening at the seam means that the extremely flat PAD seam reduces particle penetration. The company further decreases this seam opening by inserting filling threads, thereby further lowering the risk of particle penetration. These filler threads are supplied with the belt and inserted before the clamps are closed. This means that there is no need for the flaps required by other manufacturers. The advantages of the firm seam design are clear: wipers are not stressed by partial raised sections and the seam itself is also subject to less wear.
For dewatering of phosphogypsum, the firm offers three thermally treated single-ply vacuum filter belts specifically designed for particular processes and applications in the form of the belt types Vacubelt 3354, 3356, and 1003. With air permeability of 200 to 350 cfm and mesh apertures of 150 to 340 μm adapted to the respective plants, they guarantee constant high dewatering performance. As such, these belts in widths of up to 4.35 meters and lengths of up to 70 meters fulfill the highest service life and dewatering requirements.
In potash fertilizer production, the Vacubelt 5060 filter belt has proven its worth many times over. With apertures of up to 470 μm and air permeability of 290 cfm, this belt type reliably withstands the high temperatures and corrosive conditions that are typical of this process.
The Vacubelt 2015 filter belt has been the globally established standard in the field of FGDP gypsum dewatering for many years. The small aperture of 50 μm – coupled with air permeability of 55 cfm – justifies its superiority over conventional belts for dewatering the gypsum suspension produced during flue gas desulphurization. Faster dewatering, greater pore density, less tendency to clog, thermal resistance, and very good cleaning properties make the Vacubelt 2015 belt type the vacuum filter belt of choice for both new systems and retrofitting existing power plants.
The same belt type is currently also setting new standards in lithium dewatering in vacuum drum filters.
In cooling lubricant filtration, the robust Vacubelt 3354 filter belt made of polyester wires is a proven alternative to the usual polypropylene products available on the market. This belt type reliably retains swarf and particles abraded from the grinding wheel without the addition of filtration aids, even with thin filter cakes.
In industrial laundries, the spiral fabrics that GKD produces entirely in house are becoming something of an insider tip for process water treatment with particles larger than 500 μm. Thanks to their unusually high performance, this product range, which made its debut at last year's Filtech, is therefore also recommended for all other filtration processes requiring similar separation performance to washing water treatment in industrial laundries.
GKD at the Filtech 2019: Hall 11.1, Stand G3
Optimized design


CVC from special urethane material
In the U.S., more than 5 million central venous catheters (CVCs) are inserted every year, which corresponds to 15 million days of treatment with CVCs. In Germany, this figure is 4.8 million in intensive care units alone. The use of these catheters is associated with some risks for the patient: the possible complications range from injured vessels and nerves to infections to pneumothoraxes, air embolisms and catheter sepsis, which can be fatal. In addition, these secondary diseases drastically increase health care costs. For this reason, efforts have long been made in medical technology to use new manufacturing methods to realize catheter designs that allow minimizing these dangers. For example, an international medical device company commissioned the experienced medical technology manufacturer Flexan to design catheters that facilitate insertion and positioning. To achieve this goal, the company chose a special urethane material that enters the body rigid but then becomes softer. This polymer was subsequently used to overmold thin-walled 5FR triple-lumen, 4FR double-lumen, and 3FR single-lumen small diameter PICCs. Flexan also designed and manufactured a 4FR catheter that has the same lumen as conventional 5FR catheters but a 14 percent smaller diameter. An overview of Flexan's manufacturing services and processes available for the manufacture of catheters will be presented at this year's Medica/Compamed.
Central venous catheters are catheters that are inserted into the upper or lower vena cava – just before the right atrium of the heart – via a large vein near the heart. The application of a CVC is actually a minimally invasive procedure, but it is still possible, among other things, to perform a malpunction, perforate a vein or damage nerves in the vicinity. This can cause complications that endanger the patient's health and consequently cause an increase in treatment costs. With new manufacturing technologies for central venous catheters, standardization of insertion techniques, and the use of ultrasound guidance, however, complication rates in the U.S. have already been reduced from 11.8 to 4 – 7 percent in recent years.
Special material and newly designed catheter tip reduce risk of complications
In order to further minimize these risks with its own products, an international medical device company has commissioned Flexan's experts to develop the critical manufacturing processes for a CVC with an optimized design that will significantly facilitate the insertion and correct positioning of its products. In support of the project, the U.S. contract manufacturer leveraged over two decades of specific PICC catheter design and manufacturing experience. For example, Flexan used a polyurethane material technology to fulfill the customer's requirements: "We were able to mold with a urethane material that is inserted into the body in a rigid state, but immediately becomes softer there due to the body temperature," says Eric King, V.P. and General Manager at Flexan. "This plays an important role in reducing complications in catheter positioning."
 For this project, Flexan was able to draw on a broad portfolio of processes, with which biomedical components made of polymer can be adapted to the desired application. For example, Flexan is able to design and manufacture thin-walled 4FR catheters that are 14 percent smaller in diameter than conventional 5FR catheters but still have the same lumen. The company has also been able to manufacture a 4FR thin-walled catheter that has a kink resistance comparable to that of a standard 5FR catheter with the same lumen size. Moreover, the company has extensive experience in shaping catheter tips. It employs the latest high frequency technology to design the tips in a way that reduces complications during insertion.
 Market growth opens up high future potential for new design
"Thanks to our previous experience and a very good cooperation with the client, we were able to achieve the specified project goal together," says King. "Within a project time of six to nine months, we succeeded in developing an optimized micro-catheter design, which significantly improves the functional performance of peripherally inserted central venous catheters." In addition, the Flexan team designed an efficient process control plan and inspection methods to ensure reliable binding between all vital catheter components. "This successful project for the development of a thin-walled catheter has paved the way for using the changed design for future orders. The potential is high as the global market for vascular access devices is expected to grow at an average annual rate of nearly 6.5 percent by 2023," concludes King.
Flexan at the Medica/Compamed 2019: Hall 8b, Stand F20-1
Compamed 2019


Plastic examples in medical device competence
During Compamed Spang & Brands , Friedrichsdorf, Germany, will exhibit a variety of different plastics engineering solutions for applications in medical technology, such as connectors, caps and closures with piercing membranes, implant components, and parts for minimally invasive medicine, plus components for infusions and blood reserves, as well as transition and connection systems (for instance with precisely defined predetermined breaking points or linking points). Visitors can see assembled systems and in-house produced complete systems with high-precision geometries and features ready-to-use.
Spang & Brands reacts consistently and quickly to the current demands of the market. Competence under one roof: Three years ago, medical device competence was bundled in the technology centre. Flat hierarchy: it improves the interdisciplinary communication, transparency, cooperation and efficiency of the individual divisions, i.e. development, sales, order processing, construction, materials management, quality assurance/certification, toolmaking, injection moulding, assembly/clean room, dispatch and after-sales service. This was accompanied by the restructuring on the basis of three focal points: Strengthening the range of market services from product development to validation, driving forward the development of proprietary products and expanding core competencies. The family business in the third generation builds its success on the advantage of medium-sized businesses and an organically grown network, in which partners in raw material producing companies, in special mechanical engineering firms, in IMM manufacturers' and IT companies play a target-oriented role in the exchange of complementary knowledge.
In view of high initial costs of medical devices customers expect speedy product development from an all-inclusive provider in order to reach validation, clinical trials, and introduction to market. Validation is one of the overriding topics in the medical device value chain of a company such as Spang & Brands that is certified according to DIN ISO 13485. Mould making for medical devices in plastic differs fundamentally here from toolmaking in automotive and white goods sectors, for example. An injection mould has to comply with typical regulations that are common in medical technology. "Process optimisation and traceability are essential. Looking at the patient, it is important to be able to prove the origin of the individual components and the various stable process stages on the way to fault-free medical devices", explains Friedrich Echterdiek, CEO of Spang & Brands GmbH. It is for this purpose that Spang & Brands appointed a validation officer in 2016 to work seamlessly with quality assurance and report directly to the company management. "Starting with the initial 3-D prototype or 3-D printed trial mould inserts, analysis of the prototype status leads to quicker and more flexible optimisation of the individual parts, components and assemblies – in respect of design to value and design for manufacturing and assembly", adds Friedrich Echterdiek.
Across the entire value-added chain of a medical devices specialist, Spang & Brands demonstrates ground-breaking R&D technology and, supported by a state-of-the-art tooling facility and machine park, i.e. the entire diversity of optimized plastics technological product ranges. Consequently, special plastics compounds, such as TPU, TPE, TPV, resomere materials, and polylactides are used. 'Employing multi-component injection moulding technology our starting point is to embrace increased comfort enhanced with innovative functions and benefits based on the very latest moulding technologies', emphasizes the CEO of Spang & Brands.
Spang & Brands has specialised in precision and cleanroom injection moulding technology for the medical and pharmaceutical industry for over 35 years. In addition to its own products, the company sees itself above all as a competent contract partner for customer projects. Product innovations at Spang & Brands go through all process stages – from the idea to the finished product, ready-to-use. The company ensures consistency of CAD tool data and maximum precision in CAM production of moulds for medical and pharmaceutical devices in its own technology centre. Spang & Brands has at its disposal latest equipment, as well as a team with a high level of competence and experience, which masters the technology: part development, mould design and construction, injection moulding with 70 mainly all-electric single and multi-component IMM, as well as the importance of cleanroom production. Fully automatic and manual assembly and packaging of parts and assemblies are located in cleanrooms – from pre-series or just-in-time batch sizes, extremely small series, and right up to full production running into millions of products. Strategically positioned control points and 3D measuring technology support quality assurance. The company is certified e.g. according to DIN ISO 13.485.
Spang & Brands at the Compamed 2019: stand 8a M33
Beverage industry


Multi-functional Visitron Filler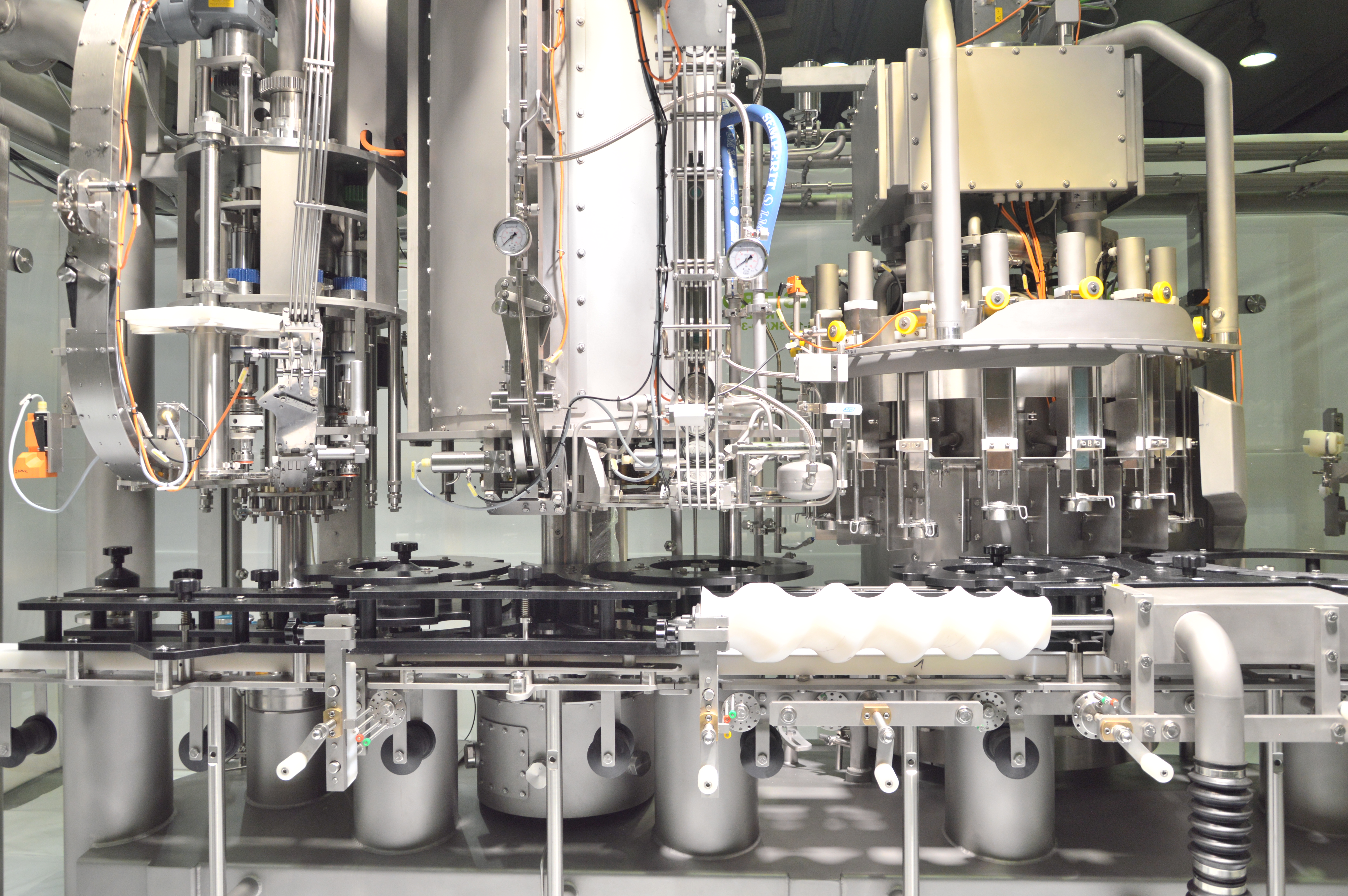 Gea will present its highly efficient, multifunctional processing technology for the beverage industry at this year's leading trade fair, BrauBeviale, in hall 7 under the motto: "Refreshingly Different." On display will be the Gea Visitron Filler All-In-One, which can fill bottles, cans and PET containers on a single filler. BrauBeviale in Nuremberg is a short stopover for the filler before it continues on its way to Australia – where Gea customer, Moon Dog Craft Brewery, is eager to integrate the ultra-flexible filler into its new plant.
Moon Dog Craft Brewery is independent, Australian-owned and fast approaching its 10th birthday. Originally set up in the Melbourne suburb of Abbotsford, Moon Dog has now outgrown that facility and is on the move to Preston where the team has just opened a 12,000 m2 facility. The site will house a unique 725-person venue with a large new brewing facility about to be commissioned, which will allow them to produce over 10 million liters per year. Moon Dog is known for pushing the limits with beer styles and flavours and the new facility with a designated souring kettle will allow them to continue to diversify and grow marketshare within Australia and globally. Seeing the need to bring more efficiency into its processes, Moon Dog ordered a Gea Visitron Filler All-In-One in August 2019, as well as a water deaeration system Varidox, a Dicar-B carbonation system, an Eco-Flash pasteurizer and a Plug & Win 100 centrifuge from the technology group.
Sustainable bottling and canning
Breweries are particularly interested in Gea Vipoll filling equipment because this sector typically has the highest demand for glass bottles and cans. Customers benefit from Gea's commitment to support and improve production processes end-to-end, from brewing to bottling and storage. Likewise, Gea offers many solutions to help breweries lower their CO2 emissions, which is critical for helping this high-consumption sector meet the ambitious climate protection goals it has set for itself. Highly efficient manufacturing as well as responsible packaging methods are therefore key, which means glass containers and cans will play an even greater role in global environmental strategies; refillable bottles will become a cornerstone of reuse initiatives and cans a valuable recyclable material
One for all
Gea Vipoll developed the All-In-One monoblock filler as a direct response to sustainability requirements and is a prime example of just how lean and flexible filling solutions can be: the compact All-In-One rinses, fills and caps products all within a small production footprint. Its sophisticated process design saves time during filling and format changeovers; within a matter of minutes, the machine can switch to handle different products and container formats. This is made possible by the All-In-One's multifunctional elements: the rinser is equipped with universal grippers; the filler uses an electro-pneumatic filling valve and a single capping turret is able to accommodate different closure types.
"We chose Gea because the company has a great reputation for manufacturing high quality machines. The All-In-One filler allows us to operate a single filling line for both cans and bottles with quick change over between formats. This gives us benefits in terms of floor space utilization, and simplicity in maintenance and operation," says Josh Uljans, Co-Founder and CEO of Moon Dog Craft Brewery.
"The All-In-One's multifunctional system is unique in the world, because it allows for an unprecedented level of flexibility; it can be used to fill glass, cans and PET containers; handle different formats and seal them with diverse cap types; can fill carbonated or still drinks, using a hot or cold fill method," points out Jakob Salamun, Sales Manager at Gea Vipoll.