Industry standard for cybersecurity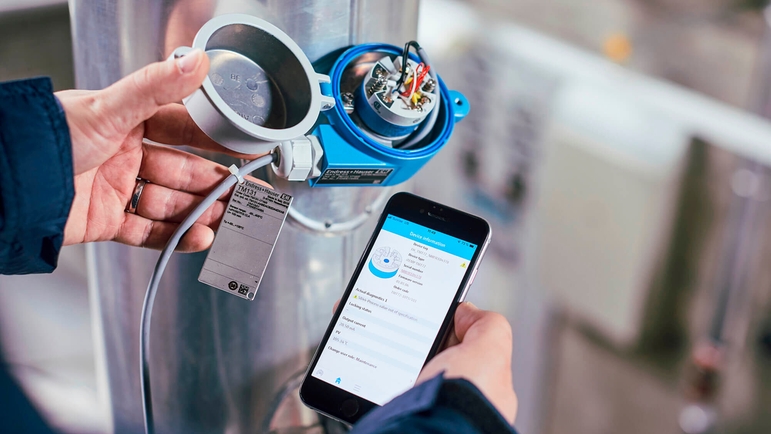 Endress+Hauser is investing in IEC 62443-4-1 certification to ensure cybersecurity in terms of product development processes and product life cycles. This has been confirmed by TÜV Rheinland through its certification. As a result of its compliance with certified guidelines, the company contributes to the reliable and safe operation of its products in its customers' plants.
The manufacturer's measuring devices and components ensure safe and reliable operation of process plants in countless processes. Cybersecurity for industrial plants and the Industrial Internet of Things (IIoT) are increasingly coming to the fore. In view of advancing networking and digitalization, it is essential to protect production plants and their automation technology from unauthorized access.
In order to protect customers' production facilities in the best possible way, Endress+Hauser lays the foundations for secure operation as early as the planning and development process for its products and services. The fact that this product development process, as well as the life cycle of the products, meet the highest international standards was confirmed by TÜV Rheinland in March with certification in accordance with the IEC 62443-4-1 standard.
"This is proof of the quality of our work, which we are very pleased about. In view of the technical advances – just think of the Advanced Physical Layer or IIoT products – it is very important to us not only to drive digitization, but to continue to ensure the security of our devices and software in lockstep. With this certification, we ensure that all colleagues involved work at the same security level. In this way, we are laying the foundation for being able to offer high-quality measurement technology, automation and IIoT products for networked production in the future as well."

– Mirko Brcic, Product Security Officer
Safe automation technology
Aligning companies' processes with IEC 62443-4-1 ensures, among other things, that products are developed from the start, taking into account all safety requirements, and that even supplied components do not pose a risk. In addition, there are code analyses and reviews as well as penetration tests and the provision of security updates. In total, eight different areas can be used to define what a secure development process for products should look like:
Security management
Specification of security requirements
Secure design guidelines
Secure Implementation
Verification and validation of security features
Vulnerability management
Creation and publication of security updates
Security product documentation
Strong innovation
Electrochemical sensors provide new possibilities
The opportunity to introduce an electrochemical sensor to the market is closer than ever. Metrohm DropSens produces customized electrochemical sensors through a scalable and cost-effective manufacturing process with no quantity limits. An idea, an application, or an incipient research task can be turned into a world-class, certified, market-ready solution that meets individual requirements, regardless of industry or specific need.
Metrohm DropSens' ability to develop and manufacture both customized and large-volume electrochemical solutions offers great opportunities for the development of sensors and biosensors on small sensor strips. Many projects and research work can gain new perspectives. thanks to the professional manufacturing, which, in addition to cost-efficient production, guarantees the highest product quality and stability, as well as delivery capability without the risk of delivery bottlenecks.
Thanks to the customizability of these sensors, a wide range of modifications and options are possible, such as spatial arrangement, shape, area, substrate and an extensive selection of different materials. This versatility allows the sensor to be adapted to applications from different market areas and sectors in order to measure a wide range of parameters. Suitable areas include health, food and beverage analysis, environmental analysis, water contamination, detection of drugs, viruses, agriculture and animal husbandry, to name a few.
Custom production and large-scale manufacturing of electrochemical sensors can be a suitable way to reach the market, respond to new analytical tasks and achieve high-performance, as well as accurate measurement results: a desired goal, for many fields and industries. From small-scale prototyping to large-scale sensor production, support is provided here throughout the entire process: from initial conception to in-depth prototype design and results with the highest quality standards, always accompanied by a global, reliable and competent service.
Cooperation for sustainable investment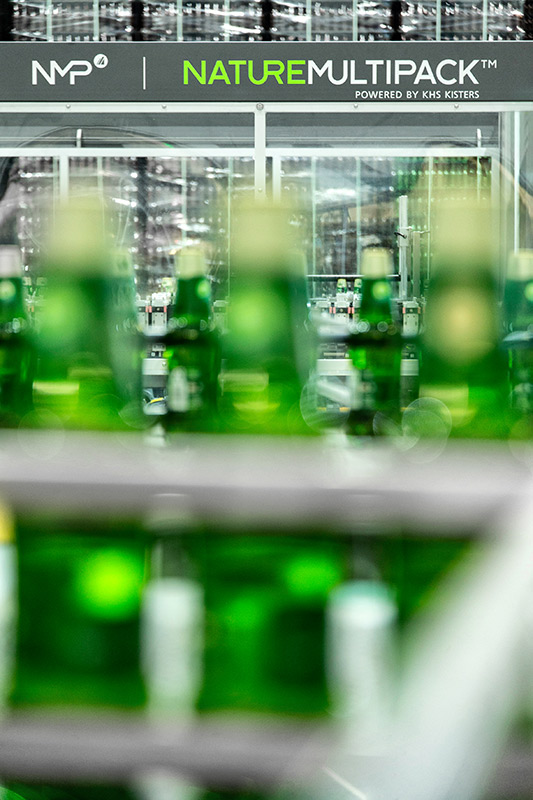 KHS and Martens are continuing their joint strategy for reducing packaging material. Just last year the traditional Belgian brewery invested in an Innopack Nature MultiPack machine which uses adhesive dots to join PET bottles into stable packs. Now the group is planning to purchase a second NMP machine, which processes cans, from KHS. Thanks to the expansion the brewery will have greater flexibility to meet the market's growing demand for environmentally friendly packaging. The NMP project is just one example of the Dortmund-based full-range supplier's steadily growing portfolio of sustainable packaging solutions.
Since 2020 the company has been relying on the material-saving Nature MultiPack from KHS. Together the long-standing partners implemented film-free six-packs made of PET bottles for the retail trade. The response to the alternative to classic shrink film has been very positive:
"We were able to convince both our customers and consumers. The high demand shows that environmentally friendly packaging is in high demand."

– Jan Martens, Brewery Manager
Into new markets with Nature MultiPack
Thanks to the new line, the Belgian beer producer will in future be able to process not only PET bottles but also cans into stable yet easily separable packs. This eliminates the need for shrink film or cardboard packaging and reduces material consumption by up to 90 percent. "This benefits both consumers and the environment," says the brewery boss.
While the brewery produces at an output of up to 54,000 containers per hour, which is sufficient for them, KHS now also offers the Innopack NatureMultiPack machine for the high-performance range. This further developed variant enables up to 90,000 containers per hour – and even up to 108,000 if the capacity is exceeded.
This should make it possible to penetrate new markets. "Retailers are increasingly looking for environmentally friendly packaging options. I am very confident that our resource-saving Nature MultiPack solutions will meet with great interest," predicts the brewery boss. Now his brewery has the necessary flexibility to meet the current needs of the trade in the best possible way.
Secondary packaging: KHS offers an extensive portfolio
The Nature MultiPack is just one example of the continuously increasing variety of sustainable and forward-looking secondary packaging from KHS. The Dortmund-based full-range supplier pursues a clear strategy of taking a holistic view, as Sören Storbeck, Global Product Account Manager Packaging at KHS, explains, "Our overriding aim Page 3 of 6 is to meet every need of our customers in the best possible way. We therefore rely on a comprehensive portfolio of line and packaging solutions, as well as on our global service network, which is available to our customers around the clock."
The line manufacturer's latest innovations include the Innopack Kisters Wraparound Shrink Paper Packer (WSPP A), which can pack cans either in paper, cardboard or film. This variety is made possible by the modular design of all Innopack Kisters machines. This allows existing models to be quickly and flexibly retrofitted with additional paper functionality. With its combination of different process modules, a WSPP A, for example, can process three different types of secondary packaging: the wraparound carton, the tray, and the pad, which can be wrapped either in paper or shrink film. As of now, it is also possible to process film made from 100 percent recyclate on Innopack Kisters machines – without any loss of quality or performance.
Another pioneering packaging alternative can be produced with the new Innopack Kisters CNP (Carton Nature Packer). This high-performance, flexible packer uses corrugated cardboard and solid board tops to join cans together to form rigid packs. KHS' development spirit doesn't stop there, however: "We're striving for even more efficient and sustainable solutions – whether in the field of primary, secondary, or tertiary packaging," says Storbeck. "Together with our customers and partners we're constantly working on conserving even more resources and further strengthening the recycling loop."
Innovation from proven technology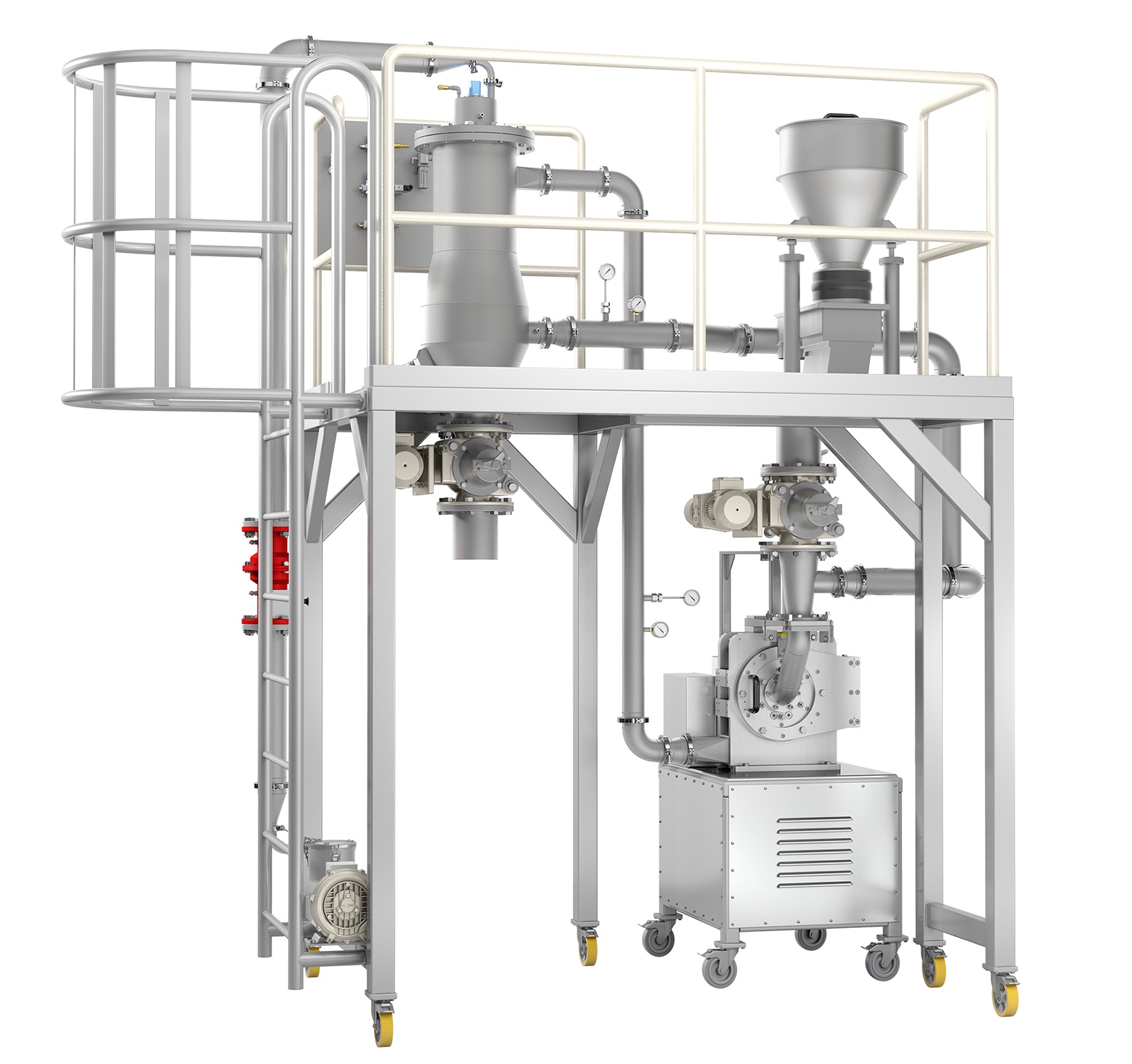 Because of the dust which arises when products are created, grinding places particularly high demands on the technology used. The design of a grinding plant with regard to safety, for both machines and their operators. The pressure shock resistant design of the complete grinding system up to an explosion overpressure of 10 bar(g) is the most frequently used version, which, however, is associated with a high level of equipment and corresponding space requirements.
Thanks to the ATEX-compliant Condux® Compact plant concept, the installation of a high performance grinding plant for numerous products is now much easier, since explosion protection valves or explosion suppression devices, explosion isolators, fans and even conventional dust filter systems are no longer required with the newly developed plant concept.
The idea of a compact grinding system is not new but existing solutions show significant disadvantages when it comes to cleaning efforts and hygienic design. NETZSCH has therefore improved the decisive points of its concept once again: The footprint or space requirement of the compact plant is 80 % less than that of comparable standard grinding plants with the same throughput capacities. This also has an effect on the investment costs, which are approximately 30 % lower. By using the newly developed CycloFil cyclone filter in the system, the integrated pre-separation of the grinding stock and the recirculation of the process gas allow a filter area that is over 90 % smaller than that of comparable mill sizes. With CycloFil, the degree of separation can be adapted to the operator's requirements by means of exchangeable immersion tubes.
These features of the new system result in various advantages. For example, the grinding system can be easily integrated into existing production systems thanks to the minimal space requirement, and the necessary cleaning when changing products is extremely quick thanks to easy access to the parts in contact with the product.
The well-proven Impact Mill Condux® is the basis machine of this grinding system. The products are ground within this mill mainly by impact and shearing action. For use with a wide variety of products and final finenesses, this machine is available in various executions, as either a blast mill, pin-disc mill or wing-beater mill.Press release – NETZSCH Grinding & Dispersing In contrast to conventional grinding plants, the processing gas in the streams in a circular motion. The product is fed directly to the mill via a pressureshock-resistant rotary valve and discharged after the grinding process via a separator with air lock. Parallel to this, the additional rinsing air fed through the valves and mill bearing is continuously discharged through the CycloFil to prevent a build-up of pressure. A subsequent aspiration system generates the vacuum needed to stabilise the system pressure.
Thanks to the innovative CycloFil cyclone filter, the supplied energy is dissipated via the product and the system surface, so that no additional cooling is required. The warmth produced by the grinding process is mainly compensated along with the product when it leaves the machine and to a smaller extent by the system surface, and is therefore throughput dependent.
The expected temperature increase, for e.g. of ground powdered sugar (d90 = 100 μm) is normally in the range of ∆T = 10-25°C. For a large range of products the warming has no influence on the quality or the downstream process. For the grinding of particularly temperature-sensitive products, the system can be additionally cooled with liquid nitrogen. Especially the degree of innovation of the System was confirmed recently by the Fi Europe Innovation Award jury, who awarded the fine impact mill Condux® Compact as the winner of the Food Tech Innovation Award for the most innovative technical processing solution for food ingredients.