Improved generation of cadastres for indirect dischargers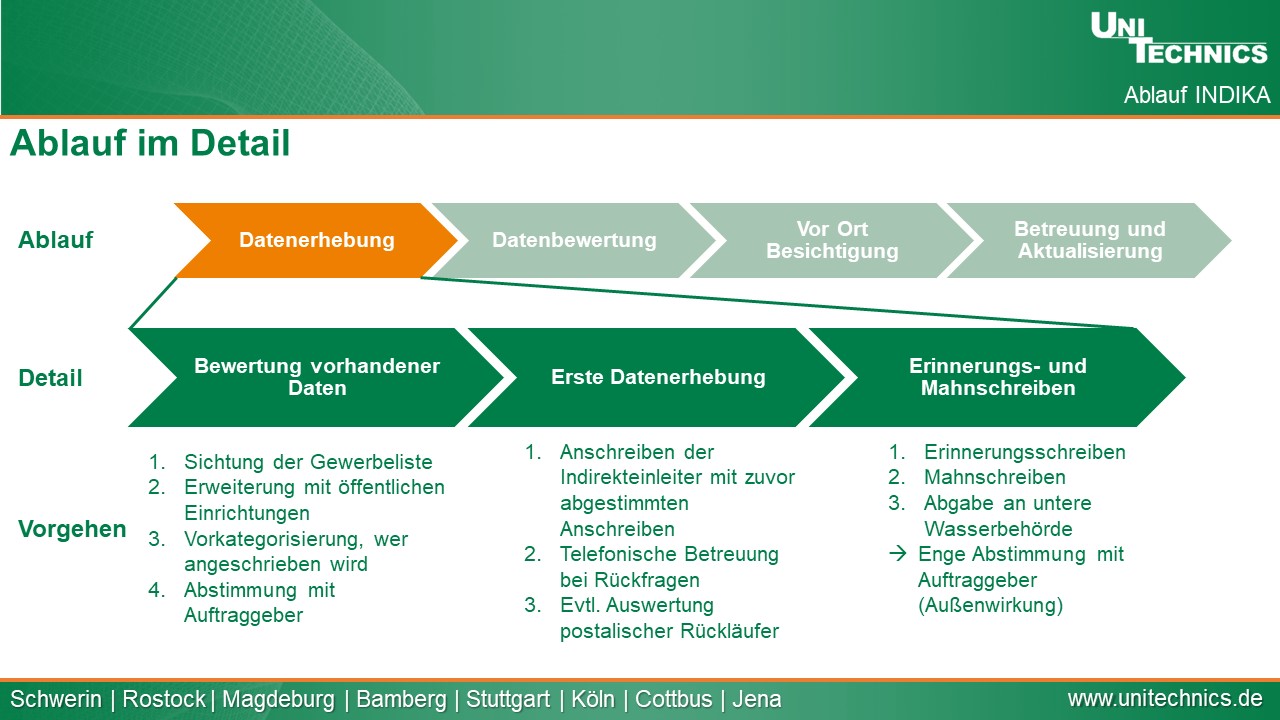 In addition to fulfilling legal obligations to comply with defined protection targets, plant operators increasingly appreciate opportunities that arise from maintaining up-to-date and complete indirect discharger registers. Among other things, they can influence the increase of operational and occupational safety, the optimization of operations, disposal safety and quality, economic efficiency as well as fee stability and, in general, the service for customers. Increasingly, the question of sustainability is also becoming a focus of interest.
UNITECHNICS has developed a web-based indirect discharger register (INDIKA). With this, operators achieve above-average response rates, optimize information processes and can work solution-oriented and efficiently with a digital cadastre version. The fact is: what may have sounded like science fiction when the first e-mail was sent in 1984 is now reality: our global world is fast and digitally networked.
Initial assessment
Since most of the indirect discharger registers kept in analog form were rather incomplete, it makes sense in many cases to start with an initial assessment. In this process, potential indirect dischargers are pre-categorized on the basis of a list of businesses and contacted by letter. With individual online access, the indirect dischargers then complete a questionnaire on the digital platform. Based on the answers given, they can then be divided into monitoring categories. According to the state of the art, plants that are highly worthy of monitoring should finally undergo a main assessment, which is also supported by the company.
Continuous monitoring
Since an indirect discharger register does not represent a snapshot, the indirect discharger register offers possibilities for permanent monitoring. In addition to the annual reconciliation of new and old business entries and the general re-query of data every two to five years, the operator can use an action and document management system to monitor his indirect dischargers in a partially automated and uncomplicated manner. In most cases, this communication takes place electronically, which can save both the indirect discharger and the operator a lot of time and effort.
Crucial: the personal connection in supplier selection
Companies that outsource subcontracting processes want a personal contact person on the part of the external service provider. This is one of the core findings of a qualitative study by Günther + Schramm and Hoberg & Driesch Processing. The two companies jointly surveyed 140 buyers, sales staff and production managers from the steel and steel pipe processing industry. The free study is now available for download to all interested parties.
The results of the study show that even during and after the crisis, a direct line to the supplier with a personal contact person is a decisive success factor. With the aim of reacting to changes at an early stage and maintaining a high level of supply capability, around 60% of those surveyed hope to receive regular up-to-date information on the market situation in the future. In view of this, just under half of all study participants would even like to see joint demand planning between sales, purchasing, production and the service provider for external subcontracting. The aim is to avoid additional costs with this strategic form of cooperation.
In the current exceptional situation caused by the Corona crisis, the focus is on security. Accordingly, 61% of the study participants stated that prefabrication, storage and on-call provision by the service provider is important to them. In this way, customers want to ensure availability and delivery capability even in crisis situations.
"Personal contact with an expert experienced in the industry on the part of the service provider was also important to the respondents here."

– Bernd Seibold, Managing Director at Günther + Schramm
Brandolf Schneider, Managing Director at Hoberg & Driesch Processing adds, "The survey showed how important it is to keep the administrative effort for customers as low as possible. This makes it much easier to facilitate short and flexible delivery times."
Addition to the family of angle sensors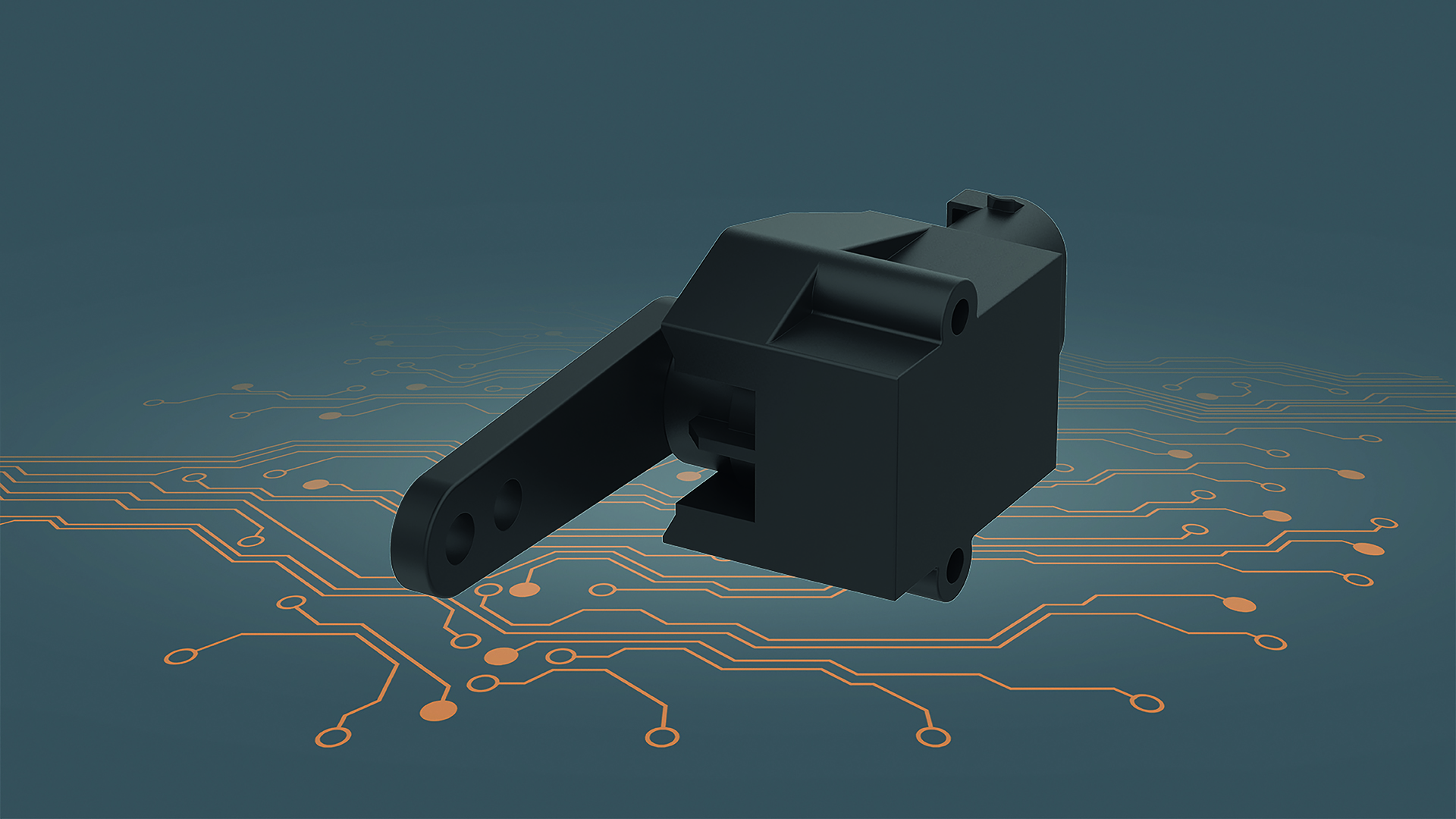 The elobau sensors from the 424 series are precisely tailored to their area of application. This is also the case with the latest addition to the angle sensor family: the 424S. This angle sensor was developed to measure the angle of pedals in agricultural machinery, tree rails and industrial trucks, among other things. The product's combined output signal sets it apart from the other variants, as the angle sensor has both an analog and a switching output. As a result, a single sensor can now output both signals.
Specialist for clutch pedals
The new variant is particularly interesting for use in clutches. Where previously an angle sensor and a position switch had to fit simultaneously in a confined space, the 424S now combines the output signal as a single sensor. This reduces the number of components, simplifies assembly and saves installation space. Machine manufacturers thus not only save on acquisition costs, but also subsequently on maintenance and servicing. Another advantage for manufacturers of mobile machines: The sensor can be precisely adapted at the factory for the respective requirement.
Technical details at a glance
The sensor is produced in a climate-neutral process. The temperature range from -40 °C to +85 °C as well as the IP67 protection class prove the resistance to harsh working conditions. The angle measurement range of the sensor is between 30° – 120° and achieves a resolution of 0.1°. The detection of this smallest possible change shows the precision with which the new angle sensor can work. In addition to the proven analog outputs, the switching output is possible as push-pull, high-side or low-side and switches up to 1.5 A switching current. The connection to the board electronics is easily realized by means of a DT04-6P Deutsch connector.
The company is a global manufacturer of non-contact sensor technology, level measurement and control elements for machine and plant engineering and mobile machinery. With its headquarters in Leutkirch in the Allgäu region of Germany and over 1000 employees, the company has made it its mission to offer sustainable solutions.
Efficient vacuum generator as compact version with integrated silencer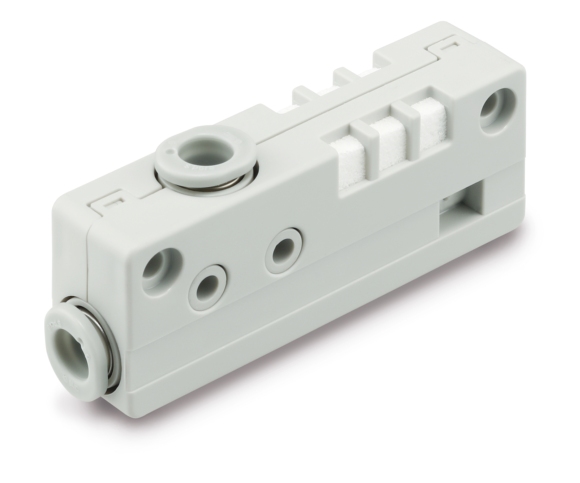 Across the industry, vacuum generation finds a wide variety of applications: from packaging and palletizing, to material handling and automatic assembly, to automated transport and pick-and-place. Here, process engineers face the challenge of achieving a small and lightweight machine design without sacrificing performance. To meet these high demands, SMC has now further developed its ZH-A series vacuum generator as a compact version. Thanks to a reduction in overall volume, this is a true lightweight and still has a larger total volume flow – ideal for use in mobile handling applications.
Whether in the semiconductor, electrical, automotive or food industries, in life science as well as a wide range of manufacturing and assembly equipment: Vacuum generators are part of the indispensable standard repertoire for a wide variety of applications – and must meet growing demands. To this end, SMC, the specialist in pneumatic and electrical automation, has developed a compact version of its vacuum generators. This provides process engineers with a solution that allows them to achieve an even more compact machine design while offering high performance with easy installation and maintenance. A particular advantage is that the reduction in weight improves efficiency, as robots, for example, can perform faster movements without compromising process reliability.
Small on the outside, powerful on the inside
SMC engineers have put the ZH-A series vacuum generator on a diet, creating a compact version. By reducing the connection height by up to 20% (-4.6 mm) and the total volume by up to 39% (-14.1 cm3), it is not only significantly more compact, enabling smaller and more cost-effective machine designs. The weight has also been reduced by up to 59% (-19.4 g) compared with its predecessor. This is now only between 28.7 g (1.5 mm nozzle Ø) and 46.4 g (1.8 mm nozzle Ø). Overall, this means that more output can be placed on the same area, which reduces the CO2 footprint and investment costs. On the other hand, faster cycle times can be realized thanks to the lower moment of inertia, which increases the output quantity.
At the same time, SMC has not skimped on performance: for example, the maximum achievable vacuum is -90 kPa and the maximum suction volume flow, depending on the nozzle size, is 78 l/m (1.5 mm nozzle Ø),128 l/min (1.8 mm nozzle Ø) and 155 l/min (2.0 mm nozzle Ø) – an increase of 11% for the smallest nozzle size compared to its predecessor. This enables faster evacuation when handling workpieces while at the same time increasing reliability and again shortening cycle times. An integrated silencer also ensures that venting noise is reduced, thus improving work safety.
Flexible installation and easy to distinguish
The compact version product is easy to install on different machine designs thanks to three mounting options: Process engineers can choose between direct mounting, mounting with L-fastener or DIN rail mounting. The same applies to the connection either as a plug-in connection or screw connection (G-/Rc-/NPT-thread) or as a combination between the two connection options.
In order to also comply with the Poka Yoke principle, the pressure ring has a color coding that immediately distinguishes between metric sizes (light gray) and inch sizes (orange). This not only makes it easy to identify the product, but also complies with the specifications of the US market, for example. Since the bore spacing for fasteners is the same as for the predecessor, the compact version of the series can be replaced without any problems – so nothing stands in the way of a machine update.