Hermetically tight design


Ideal technology for high-pressure homogenization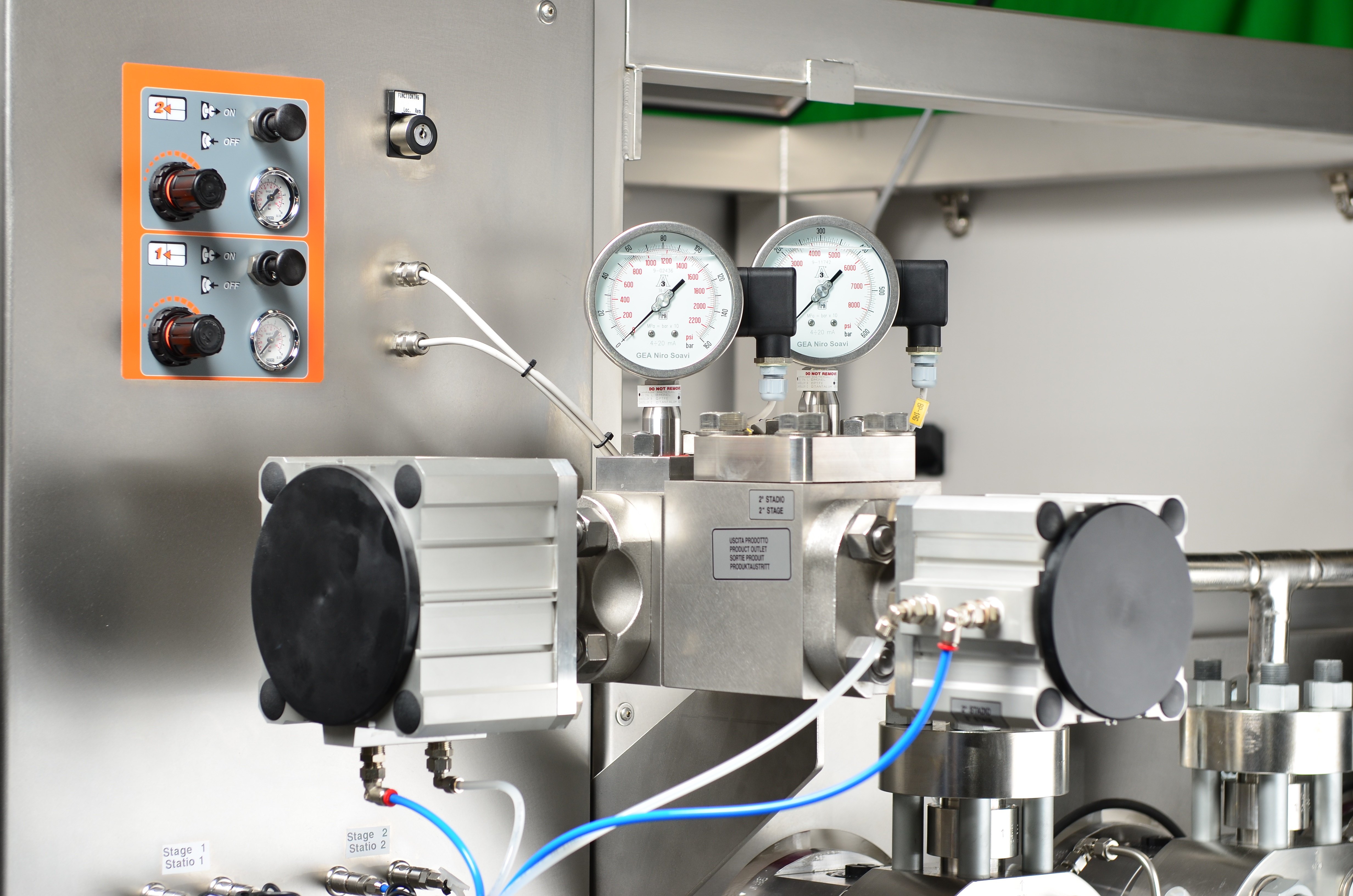 Short-term thermal treatment is used in the food industry for a wide range of products such as milk, mixed drinks or liquid foods. This treatment kills off any pathogenic micro-organisms and extends the shelf life of the products. Since high-pressure homogenization may not re-contaminate food products after thermal treatment, it must be ensured that all components being used have a hygienic or – even better – aseptic design, material selection and integration. To date, packed plunger pumps have primarily been relied upon as the type of pump technology installed in these applications. However, in terms of aseptic production safety, using these pumps is only the second-best choice. This is because, despite a design that accounts for plunger packing components with sterile barriers and flushing systems, there is a risk of recontamination after in-process CIP/SIP cleaning. Furthermore, the thermal load created here results in increased wear on the plunger and its sealing system. The consequence is a significantly reduced service life, especially when the food product being treated contains abrasive ingredients. One alternative is to use process diaphragm pumps. They feature a hermetically tight liquid end, which is hermetically separated from the hydraulic chamber and process environment by a diaphragm. This prevents the inside of the fluid chamber from becoming contaminated, ruling out any contamination of the process space—including the food product.
Listeria in cheese, E. Coli bacteria in meat and salmonella in baby formula—food scandals and recall campaigns by major manufacturers have become all too frequent in recent times, damaging the reputations of the manufacturers responsible. This phenomenon has been increasing customer awareness and putting more pressure on the industry. Especially for sensitive products and products with high hygienic standards, it is absolutely imperative to ensure hygienic production through flawless hygienic process steps, as this guarantees microbiological integrity. In doing so, the following points must be kept in mind: Safe and reliable aseptic manufacturing processes are necessary in achieving high microbiological quality and lasting stability while still meeting the customers' high expectations for aspects such as high taste quality , healthiness and sustainability of the product. Short-term thermal treatment (UHT processes) and consistent downstream aseptic technology present a possible solution to this problem using reliable food-processing technology.
New trends in the food and beverage sector such as unprocessed and innovative ready-to-eat products pose certain challenges to the food industry supply chain with regard to food safety. This applies to both increasing expectations for freshness and the additives and preservatives put into food, which make it necessary to invest in different technologies than those used in previous production processes. The production chain is further affected by crossover-products between the food and pharmaceutical sectors such as ready-to-drink "nutritional beverages," as they are called, which sometimes contain high proportions of abrasive solids (e.g. due to calcium and nuts) or ingredients with microbiological sensitivity. In producing such crossover products, empirical knowledge from the pharmaceutical GMP environment is advantageous. Here, nutritional supplements with functional milk protein sources, fruits and flavors are combined to form new beverages, which may require special attention during production depending on their acidity and pH values. These high requirements must be adhered to specifically when formulating baby foods and high-calorie clinical nutrition (liquid enteral/parenteral foods). During processing, there are key tasks that must be handled by the pump technology specifically, e.g. for feeding raw materials and creating formulations that match the recipe, including metering and mixing ingredients at the correct proportions. Since the end products are ideally stored at room temperature and are supposed to last for an extended time in shelf, short-term thermal treatment is recommended here as well. It is the optimal technology for killing off foreign germs at a high rate and should be followed by aseptic high-pressure homogenization using diaphragm pump technology. This prevents re-contamination and ensures gentle product treatment.
Freedom from residue and microbial safety in high-pressure homogenization
High-pressure homogenization is an application field that poses particular challenges to pump technology. The systems used in this field consist of a high-pressure pump used as a pressure generator in addition to a hydraulic consumer, which is called the homogenization valve. The purpose of the pump is to generate the energy for dispersion in the valve, to convey the fluid being dispersed and to ensure the exact flow rate in the process.
Working principles of high-pressure pumps for homogenization applications
The reciprocating high-pressure pumps that the high-pressure homogenization machines are equipped with are necessary for pumping the fluid from the suction side through a feed pump (usually a centrifugal pump) by increasing pressure on the homogenization unit (single-stage or two-stage valve). Homogenizer pumps are equipped with three to six pump heads. Process diaphragm pumps stand out for their robust mono-block design and because of the integrated worm gear with high hydraulic output thanks to very smooth running. Fluid valves with application-specific designs that have been optimized for wear and hygiene ensure reliable pumping on both the intake and discharge sides of the pump. Automated homogenization valves are controlled pneumatically and hydraulically. The droplet size during homogenization is determined mainly by the cavitation in the chamber of the second stage and is dependent on the pressure-drop there. Assuming incompressible fluids are handled, the flow rate of a reciprocating diaphragm process pump is reduced by a small amount as pressure increases and can be treated as a nearly constant value. Pressure fluctuations between a reciprocating pump and the homogenizer valve can be countered using pulsation-smoothing measures. This includes selecting suitable operating points for the pump and damping measures on the piping. Here, very specific dynamic simulation programs carried out within the scope of a pulsation analysis can provide support in the design.
For homogenization tasks following UHT treatment, the homogenization pump and the homogenization valve must consistently meet aseptic requirements so that the integrity of the products being treated remains ensured. However, many pumps still in use today are packed plunger pumps. For this type of unit, note that plunger packing components with sterile barriers and flushing systems must be incorporated into the design as a measure of preventing recontamination after in-process CIP/SIP cleaning. Moreover, contaminations caused by plunger abrasion in the packing area cannot be ruled out for this pump class. The preferable option for aseptic processes is thus to equip the homogenization steps with hermetically tight process diaphragm pumps.
Diaphragm pump technology eliminates fluid contamination
The diaphragm pump can be viewed as a successful evolution of the packed plunger pump. The diaphragm pump reaches an efficiency of up to 95 percent (in reference to what are called triplex diaphragm pumps, i.e. featuring three pump heads). The pump is set apart thanks to its low amount of wear and thanks to flow rates that are nearly independent of the discharge pressure. In homogenization applications, you benefit tremendously from the fact that diaphragm pumps are designed to operate without dynamic sealing systems. This guarantees a hermetically tight pump head, meaning zero emissions or substrate leaks from inside the system as well as zero ingress of germs from the outside. As a result, fluid contamination can be ruled out. This means that the diaphragm pump is the perfect solution for demanding applications. It is suitable for media that, for instance, have to be pumped with zero leaks and absolute operating reliability because they are hazardous or abrasive and must under no circumstances be released into the production environment, or media such as baby formula that have to remain sterile and free of contamination.
A hygienic or aseptic application requires additional special adjustments to the diaphragm pump head: A suitable pump head material such as stainless steel 1.4404 or, as an alternative, particularly corrosion-resistant austenitic materials such as 1.4439 or 1.4462 (Duplex), polished surfaces with an RA value < 0.8 µm and fluid chambers with minimal dead space and no gaps may make it possible to carry out CIP/SIP cleaning steps repeatedly and efficiently, thus ensuring sterile operation without dismantling. The design and installation of the pump should, however, allow for the cleaning results to be checked periodically while still minimizing the sterile interfaces in the pipe routing. Directives such as those of the European Hygienic Engineering Design Group (EHEDG) – specifically Document 17 ("Hygienic Design of Pumps, Homogenizers and Dampening Devices") – or the 3-A Sanitary Standards 44-03 ("Sanitary Standards for Diaphragm Pumps") and 04-05 ("Sanitary Standards for Homogenizers and Reciprocating Pumps") provide information on how pumps for the food industry are to be designed and installed. Hygienic design aspects regarding cleaning and drainability of the pumps, valves and piping of sterile systems for the design of aseptic process connections of diaphragm pumps can also be found in the ASME BPE Standard in the version that is valid for the specific application.
Beverage industry


Multi-functional Visitron Filler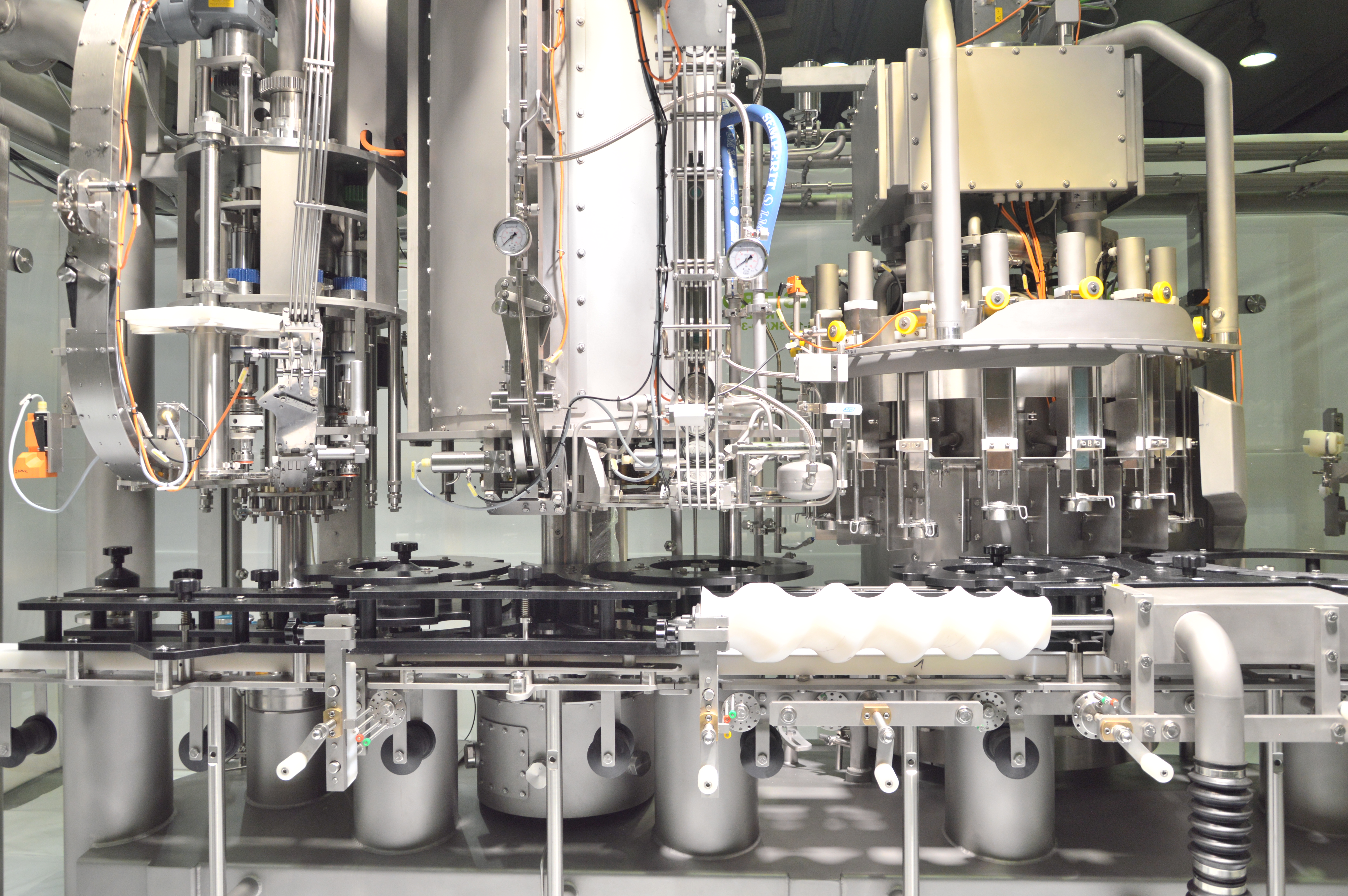 Gea will present its highly efficient, multifunctional processing technology for the beverage industry at this year's leading trade fair, BrauBeviale, in hall 7 under the motto: "Refreshingly Different." On display will be the Gea Visitron Filler All-In-One, which can fill bottles, cans and PET containers on a single filler. BrauBeviale in Nuremberg is a short stopover for the filler before it continues on its way to Australia – where Gea customer, Moon Dog Craft Brewery, is eager to integrate the ultra-flexible filler into its new plant.
Moon Dog Craft Brewery is independent, Australian-owned and fast approaching its 10th birthday. Originally set up in the Melbourne suburb of Abbotsford, Moon Dog has now outgrown that facility and is on the move to Preston where the team has just opened a 12,000 m2 facility. The site will house a unique 725-person venue with a large new brewing facility about to be commissioned, which will allow them to produce over 10 million liters per year. Moon Dog is known for pushing the limits with beer styles and flavours and the new facility with a designated souring kettle will allow them to continue to diversify and grow marketshare within Australia and globally. Seeing the need to bring more efficiency into its processes, Moon Dog ordered a Gea Visitron Filler All-In-One in August 2019, as well as a water deaeration system Varidox, a Dicar-B carbonation system, an Eco-Flash pasteurizer and a Plug & Win 100 centrifuge from the technology group.
Sustainable bottling and canning
Breweries are particularly interested in Gea Vipoll filling equipment because this sector typically has the highest demand for glass bottles and cans. Customers benefit from Gea's commitment to support and improve production processes end-to-end, from brewing to bottling and storage. Likewise, Gea offers many solutions to help breweries lower their CO2 emissions, which is critical for helping this high-consumption sector meet the ambitious climate protection goals it has set for itself. Highly efficient manufacturing as well as responsible packaging methods are therefore key, which means glass containers and cans will play an even greater role in global environmental strategies; refillable bottles will become a cornerstone of reuse initiatives and cans a valuable recyclable material
One for all
Gea Vipoll developed the All-In-One monoblock filler as a direct response to sustainability requirements and is a prime example of just how lean and flexible filling solutions can be: the compact All-In-One rinses, fills and caps products all within a small production footprint. Its sophisticated process design saves time during filling and format changeovers; within a matter of minutes, the machine can switch to handle different products and container formats. This is made possible by the All-In-One's multifunctional elements: the rinser is equipped with universal grippers; the filler uses an electro-pneumatic filling valve and a single capping turret is able to accommodate different closure types.
"We chose Gea because the company has a great reputation for manufacturing high quality machines. The All-In-One filler allows us to operate a single filling line for both cans and bottles with quick change over between formats. This gives us benefits in terms of floor space utilization, and simplicity in maintenance and operation," says Josh Uljans, Co-Founder and CEO of Moon Dog Craft Brewery.
"The All-In-One's multifunctional system is unique in the world, because it allows for an unprecedented level of flexibility; it can be used to fill glass, cans and PET containers; handle different formats and seal them with diverse cap types; can fill carbonated or still drinks, using a hot or cold fill method," points out Jakob Salamun, Sales Manager at Gea Vipoll.
Beer and CSDs


Newly developed glass filler
All over the world, small craft breweries and wineries, mid-tier filling plants and large beverage conglomerates put their trust in lines and solutions from the Krones Group. For the company, the Brau Beviale is the perfect platform for meeting and exchanging mutual feedback with clients both present and prospective.
One of the highlights on Krones' stand at this year's BrauBeviale is a newly developed glass filler for beer and CSDs, the Craftmate G. It can handle up to 24,000 bottles per hour, and can be combined with up to two closers for crowns, screw-caps or aluminium roll-on closures.  In technological terms, it resembles the fillers from Krones' field-proven series. For example, it operates with the HRS system featuring a vent tube, which guarantees accurate fill levels. In order to keep the filler as compact and simple as possible, however, there are also differences from the Modulfill series. For example, necessary gush-type jetting systems have been integrated, though exterior cleaning is performed manually.
The specialist for digitalisation, the Krones subsidiary Syskron, is also bringing along an innovation. With the design enhancement of Share2Act, it has created  a platform with multi-client capability in which not only can all machines in the production operation be mutually linked and imaged, but the classic functionalities of MES systems can also be united on a single user interface.
Krones at the Brau Beviale 2019: Hall 7A, Stand 510
Brau Beviale 2019


Efficient pressure performance
Boosters are needed when, for production-related reasons, compressed air is required at a higher pressure than network pressure. With innovative speed-controlled all-in-one systems, Kaeser Kompressoren is proud to open a brand new chapter in booster compression.
Kaeser's new boosters provide the ideal solution for compressed air users in the brewery industry who require higher pressure air.  As the first all-in-one booster system, the DNC series from Kaeser is now also available with variable speed control and with motor powers from 22 – 45 kW. As a result, the compressor flow rate is matched to actual air demand, which means that only as much energy is consumed as is needed to produce the supply of higher pressure compressed air.  The system is therefore also especially efficient in the partial load range since the compressor switches to idle operation when air demand drops below the control range. Compressor operating speed and energy consumption are consequently kept to a minimum.
The DNC SFC system is delivered ready to connect complete with sensors and frequency converter.  All systems are CE and EMC certified and thereby minimise planning, construction, certification, documentation and commissioning cost for operators and equipment manufacturers.  The efficient compressor unit, the compact enclosure and the entire electrical system are mounted on a space-saving base frame. Moreover, the highly effective sound insulation panelling helps ensure low-noise operation with low compressed air discharge temperatures. Connection of the booster system to an advanced master controller, such as the Sigma Air Manager 4.0, is made possible by the integrated Sigma Control 2 controller. This technology also enables integration of the booster package into Industrie 4.0 production environments.
Kaeser's new CNC series machines are the ideal choice for breweries with smaller air delivery requirements. With motor capacity from 7 to 22 kW, they will also be available both as standard and frequency-controlled versions in all power ratings.
Efficient solutions in the low pressure range
With a motor capacity of 7.5 to 22 kW and flow rates of 2.3 to 12.2 m³/min, the CBS rotary screw blower provides the perfect solution for users, for example, who require air for wastewater treatment in operational clarification plants with a pressure differential of up to 1100 mbar. The blower also shines through with its many benefits when it comes to liquid aeration, flotation, fluidisation and bioreactor applications.  It is up to 35 percent more efficient than comparable conventional rotary lobe blowers and even offers significant energy advantages in the double-digit range compared with many other rotary screw blowers on the market. In fact, a rotary screw blower is so powerful that it can easily and effectively cover the control range of two to three rotary lobe blowers.
Kaeser at the Brau Beviale 2019: Hall 4, Stand 441