Hermetically tight design


Ideal technology for high-pressure homogenization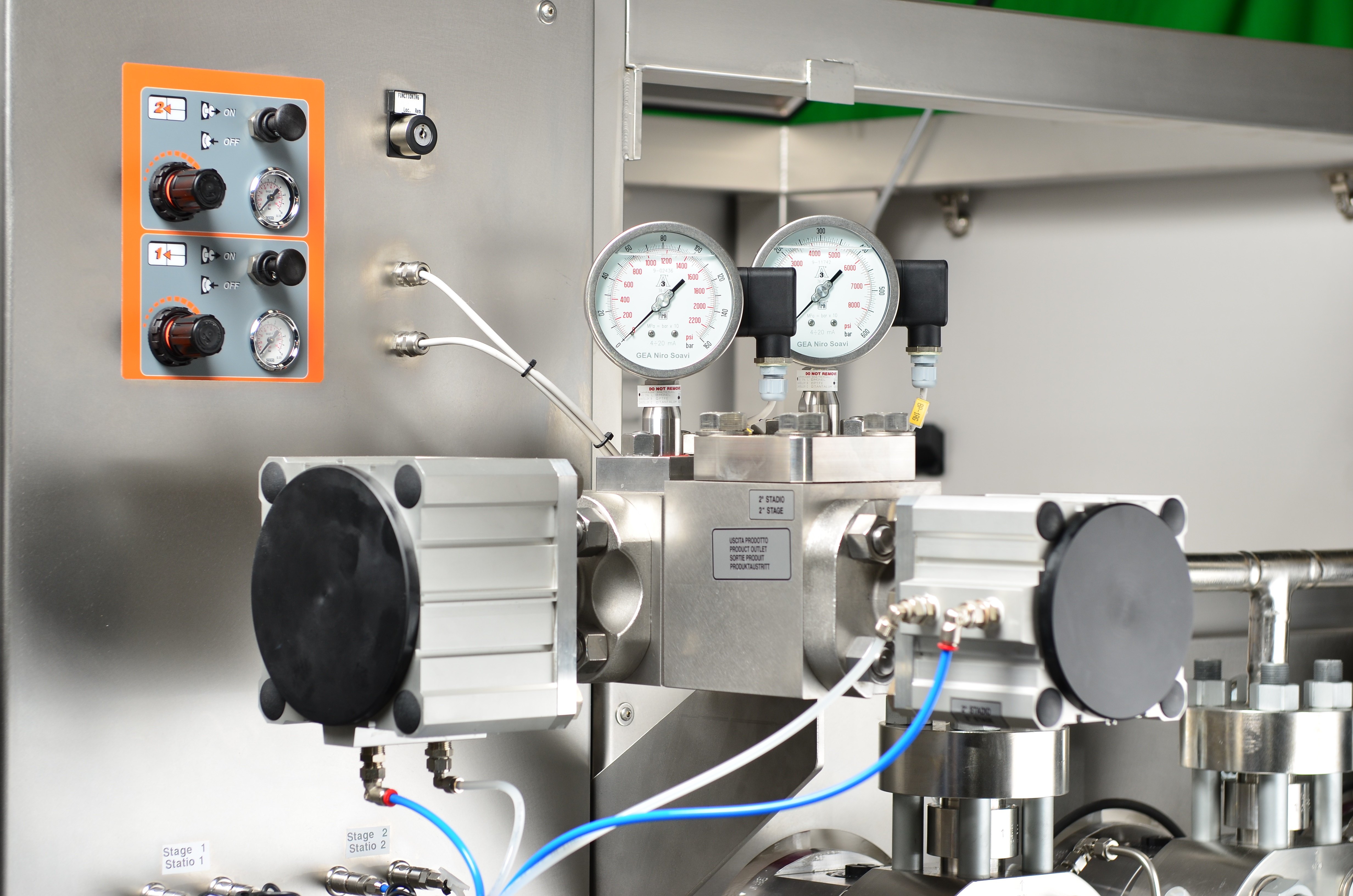 Short-term thermal treatment is used in the food industry for a wide range of products such as milk, mixed drinks or liquid foods. This treatment kills off any pathogenic micro-organisms and extends the shelf life of the products. Since high-pressure homogenization may not re-contaminate food products after thermal treatment, it must be ensured that all components being used have a hygienic or – even better – aseptic design, material selection and integration. To date, packed plunger pumps have primarily been relied upon as the type of pump technology installed in these applications. However, in terms of aseptic production safety, using these pumps is only the second-best choice. This is because, despite a design that accounts for plunger packing components with sterile barriers and flushing systems, there is a risk of recontamination after in-process CIP/SIP cleaning. Furthermore, the thermal load created here results in increased wear on the plunger and its sealing system. The consequence is a significantly reduced service life, especially when the food product being treated contains abrasive ingredients. One alternative is to use process diaphragm pumps. They feature a hermetically tight liquid end, which is hermetically separated from the hydraulic chamber and process environment by a diaphragm. This prevents the inside of the fluid chamber from becoming contaminated, ruling out any contamination of the process space—including the food product.
Listeria in cheese, E. Coli bacteria in meat and salmonella in baby formula—food scandals and recall campaigns by major manufacturers have become all too frequent in recent times, damaging the reputations of the manufacturers responsible. This phenomenon has been increasing customer awareness and putting more pressure on the industry. Especially for sensitive products and products with high hygienic standards, it is absolutely imperative to ensure hygienic production through flawless hygienic process steps, as this guarantees microbiological integrity. In doing so, the following points must be kept in mind: Safe and reliable aseptic manufacturing processes are necessary in achieving high microbiological quality and lasting stability while still meeting the customers' high expectations for aspects such as high taste quality , healthiness and sustainability of the product. Short-term thermal treatment (UHT processes) and consistent downstream aseptic technology present a possible solution to this problem using reliable food-processing technology.
New trends in the food and beverage sector such as unprocessed and innovative ready-to-eat products pose certain challenges to the food industry supply chain with regard to food safety. This applies to both increasing expectations for freshness and the additives and preservatives put into food, which make it necessary to invest in different technologies than those used in previous production processes. The production chain is further affected by crossover-products between the food and pharmaceutical sectors such as ready-to-drink "nutritional beverages," as they are called, which sometimes contain high proportions of abrasive solids (e.g. due to calcium and nuts) or ingredients with microbiological sensitivity. In producing such crossover products, empirical knowledge from the pharmaceutical GMP environment is advantageous. Here, nutritional supplements with functional milk protein sources, fruits and flavors are combined to form new beverages, which may require special attention during production depending on their acidity and pH values. These high requirements must be adhered to specifically when formulating baby foods and high-calorie clinical nutrition (liquid enteral/parenteral foods). During processing, there are key tasks that must be handled by the pump technology specifically, e.g. for feeding raw materials and creating formulations that match the recipe, including metering and mixing ingredients at the correct proportions. Since the end products are ideally stored at room temperature and are supposed to last for an extended time in shelf, short-term thermal treatment is recommended here as well. It is the optimal technology for killing off foreign germs at a high rate and should be followed by aseptic high-pressure homogenization using diaphragm pump technology. This prevents re-contamination and ensures gentle product treatment.
Freedom from residue and microbial safety in high-pressure homogenization
High-pressure homogenization is an application field that poses particular challenges to pump technology. The systems used in this field consist of a high-pressure pump used as a pressure generator in addition to a hydraulic consumer, which is called the homogenization valve. The purpose of the pump is to generate the energy for dispersion in the valve, to convey the fluid being dispersed and to ensure the exact flow rate in the process.
Working principles of high-pressure pumps for homogenization applications
The reciprocating high-pressure pumps that the high-pressure homogenization machines are equipped with are necessary for pumping the fluid from the suction side through a feed pump (usually a centrifugal pump) by increasing pressure on the homogenization unit (single-stage or two-stage valve). Homogenizer pumps are equipped with three to six pump heads. Process diaphragm pumps stand out for their robust mono-block design and because of the integrated worm gear with high hydraulic output thanks to very smooth running. Fluid valves with application-specific designs that have been optimized for wear and hygiene ensure reliable pumping on both the intake and discharge sides of the pump. Automated homogenization valves are controlled pneumatically and hydraulically. The droplet size during homogenization is determined mainly by the cavitation in the chamber of the second stage and is dependent on the pressure-drop there. Assuming incompressible fluids are handled, the flow rate of a reciprocating diaphragm process pump is reduced by a small amount as pressure increases and can be treated as a nearly constant value. Pressure fluctuations between a reciprocating pump and the homogenizer valve can be countered using pulsation-smoothing measures. This includes selecting suitable operating points for the pump and damping measures on the piping. Here, very specific dynamic simulation programs carried out within the scope of a pulsation analysis can provide support in the design.
For homogenization tasks following UHT treatment, the homogenization pump and the homogenization valve must consistently meet aseptic requirements so that the integrity of the products being treated remains ensured. However, many pumps still in use today are packed plunger pumps. For this type of unit, note that plunger packing components with sterile barriers and flushing systems must be incorporated into the design as a measure of preventing recontamination after in-process CIP/SIP cleaning. Moreover, contaminations caused by plunger abrasion in the packing area cannot be ruled out for this pump class. The preferable option for aseptic processes is thus to equip the homogenization steps with hermetically tight process diaphragm pumps.
Diaphragm pump technology eliminates fluid contamination
The diaphragm pump can be viewed as a successful evolution of the packed plunger pump. The diaphragm pump reaches an efficiency of up to 95 percent (in reference to what are called triplex diaphragm pumps, i.e. featuring three pump heads). The pump is set apart thanks to its low amount of wear and thanks to flow rates that are nearly independent of the discharge pressure. In homogenization applications, you benefit tremendously from the fact that diaphragm pumps are designed to operate without dynamic sealing systems. This guarantees a hermetically tight pump head, meaning zero emissions or substrate leaks from inside the system as well as zero ingress of germs from the outside. As a result, fluid contamination can be ruled out. This means that the diaphragm pump is the perfect solution for demanding applications. It is suitable for media that, for instance, have to be pumped with zero leaks and absolute operating reliability because they are hazardous or abrasive and must under no circumstances be released into the production environment, or media such as baby formula that have to remain sterile and free of contamination.
A hygienic or aseptic application requires additional special adjustments to the diaphragm pump head: A suitable pump head material such as stainless steel 1.4404 or, as an alternative, particularly corrosion-resistant austenitic materials such as 1.4439 or 1.4462 (Duplex), polished surfaces with an RA value < 0.8 µm and fluid chambers with minimal dead space and no gaps may make it possible to carry out CIP/SIP cleaning steps repeatedly and efficiently, thus ensuring sterile operation without dismantling. The design and installation of the pump should, however, allow for the cleaning results to be checked periodically while still minimizing the sterile interfaces in the pipe routing. Directives such as those of the European Hygienic Engineering Design Group (EHEDG) – specifically Document 17 ("Hygienic Design of Pumps, Homogenizers and Dampening Devices") – or the 3-A Sanitary Standards 44-03 ("Sanitary Standards for Diaphragm Pumps") and 04-05 ("Sanitary Standards for Homogenizers and Reciprocating Pumps") provide information on how pumps for the food industry are to be designed and installed. Hygienic design aspects regarding cleaning and drainability of the pumps, valves and piping of sterile systems for the design of aseptic process connections of diaphragm pumps can also be found in the ASME BPE Standard in the version that is valid for the specific application.
RFID access control in hazardous areas


Fast and secure access to processes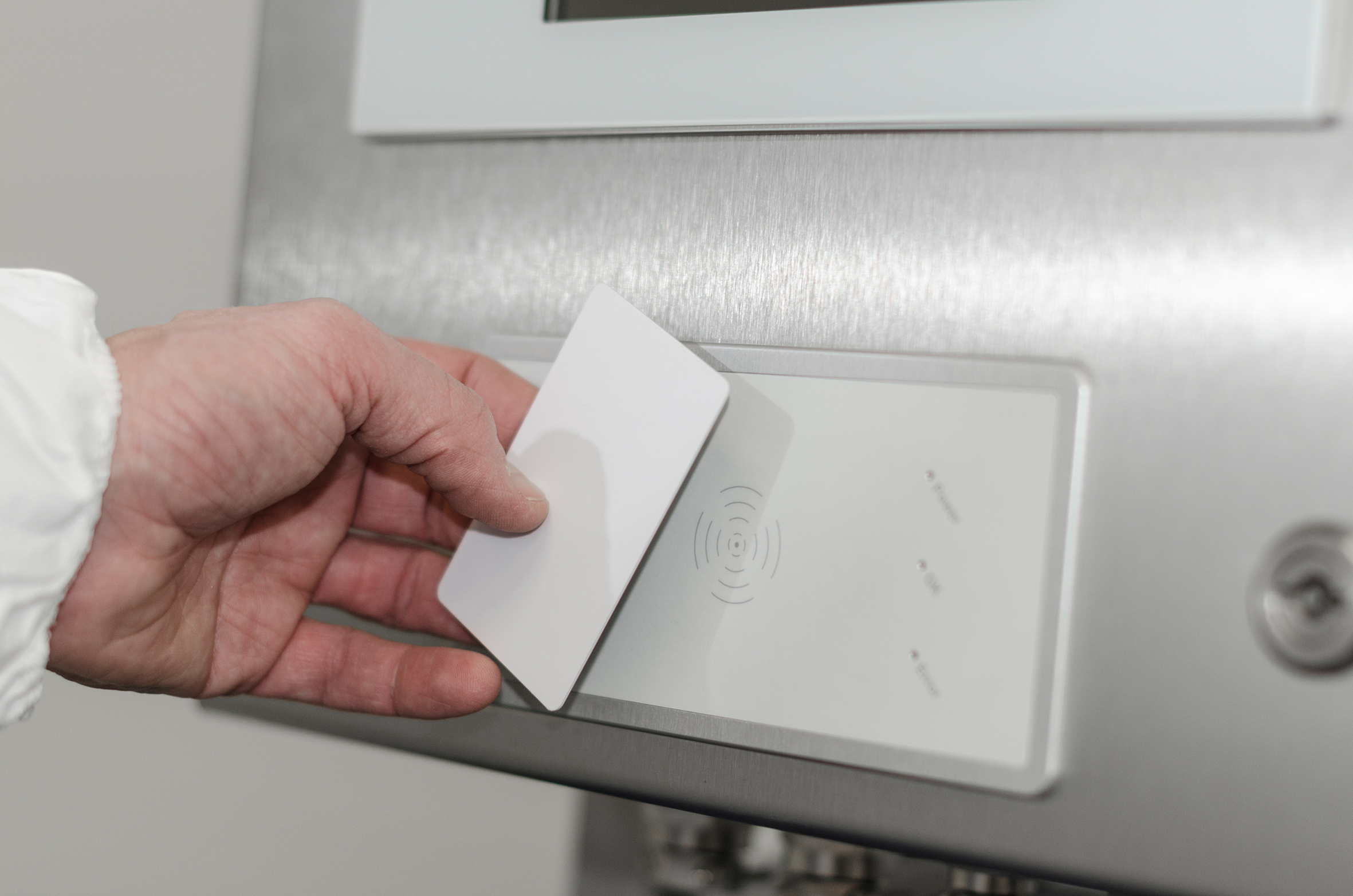 Security and access control are given top priority in the production process, as unauthorised users and operating errors can cause great damage. R. Stahl is the only manufacturer in the market offering its explosion-protected Thin Clients with RFID authentication for secure identification of staff with access authority for process control and data communication from the field. On the basis of three technology platforms, the Thin Clients have been designed to meet the different requirements of the chemical and pharmaceutical industries, the food industry as well as oil and gas production.
Additional logins in the automation system are no longer required due to the faster, direct RFID access control, which meets the current security requirements according to FDA and Gamp. It supports transponders with Mifare, Desfire, EV1 or Legic Advant reader technologies. Unlike biometric processes, the contactless RFID technology is also suitable for hygienically sensitive areas where obligatory protective clothing makes authorisation via fingerprint or face recognition impossible. R. Stahl's explosion-protected RFID readers have been certified for Zones 1/21 and 2/22. They are either available as separate units with a USB interface for panel mounting, or they are integrated directly into the operator enclosures or keyboards by the manufacturer.
The Thin Clients designed for the oil and gas industry with the Shark technology device platform and 21.5″ touchscreens are also available with a RFID reader installed behind the front plate. User authorisation via RFID requires the installation of a suitable device driver in the control system software. On request, the company will provide cards and key fobs equipped with tested transponders for use in hazardous areas.
Bosch Packaging


Coffee packaging system solution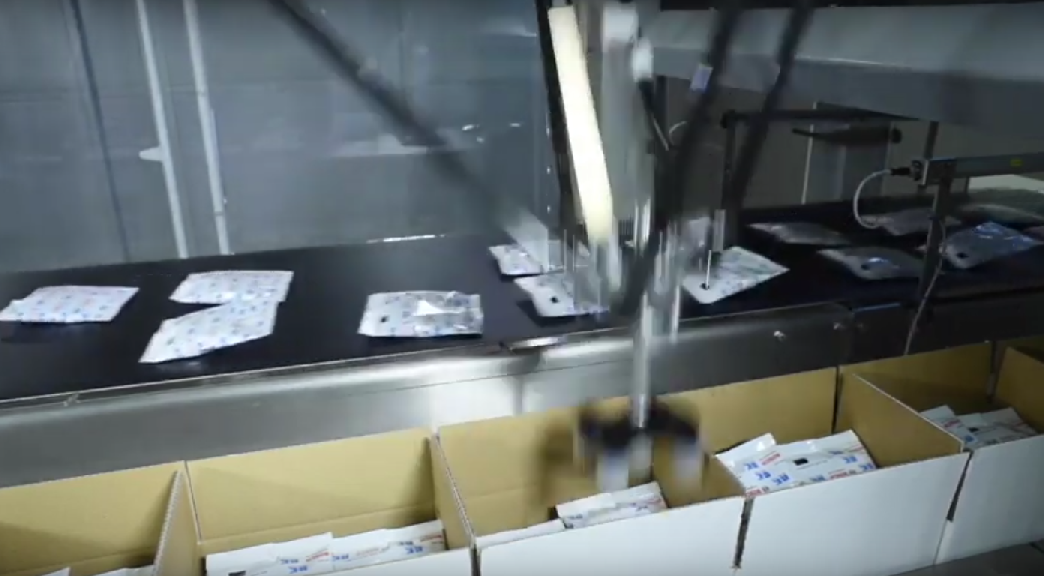 Increase the efficiency of the coffee production with up to 300 sachets per minute, which the visually controlled Paloma Top Loader precisely positions in packs.
La Huerta Grows with Key Technology


New Vibratory Shakers
La Huerta, processors of frozen fruits and vegetables, added their third production line in 2016 and their fifth automated packaging line in September 2018. Looking for world-class performance, including superior sanitation and rugged reliability, they've turned to Key Technology many times along the way. Now, Key's Iso-Flo vibratory shakers can be found on every processing and packaging line at La Huerta.
"Every year, the demand for food safety gets stricter, with higher standards for microbiology and sanitation and more requests for audits. In this environment, our relentless focus on quality sets us apart," said Carlos Gutierrez, Plant Manager at La Huerta. "Our equipment from Key helps us achieve our high product quality objectives at the same time it increases our efficiencies by maximizing uptime and reducing labor."
La Huerta installed Key's Veg-Mix in 2006, followed by an Iso-Flo dewatering shaker and an Iso-Flo fines removal shaker the next year. Since then, they've installed two integrated packaging distribution systems that each feature several Iso-Flo Smooth-Cycle™ scale-feed conveyors with pneumatic slide gates and an Iso-Flo collection shaker. They added another dewatering shaker in 2016 and a bar-style size grader, also based on Key's versatile Iso-Flo design, in 2018.
"The quality of Key's equipment is far better than any competitive solution that we've used. As our other shakers reach the end of their life, we plan to replace them with Iso-Flo," noted Luis Picazo, Project and Maintenance Manager at La Huerta. "Key customizes each of these shakers for our processes so they work perfectly, and they're designed to be easy to clean and hygienic. The support we've received from Key has also been great. Whenever we have questions or need anything, they're very responsive."
Iso-Flo shakers have always been recognized for sanitation and reliability, and Key is continuously working to improve their designs with new features that exceed rising food safety standards. In addition to stainless steel construction, smooth beds and durable StrongArm spring arms that have helped define Key's vibratory shakers over the years, La Huerta's newer Iso-Flo shakers also feature 100 percent continuous welds, no-pinch slide gates, stainless steel motors, self-draining surfaces and the elimination of laminations, which can trap bacteria. Every element of every Key system is designed for performance and sanitation.
Featuring independent frame-mounted drives and spring arm assemblies, Iso-Flo shakers distribute energy equally to all parts of the shaker bed in a controlled natural-frequency operation. This operating principle minimizes the vibration that is transferred to structural support and the floor, which cuts the cost of installation, reduces energy use and offers quiet operation. Key's contoured StrongArm spring arms, made with propriety composite material, offer an operational life that is up to twice the life of traditional, straight spring arms. The stainless steel Iso-Drive adds to Iso-Flo's extreme dependability, reducing maintenance and improving performance and uptime.
"La Huerta has been in the 'healthy food business' since we were founded by Jose Arteaga Campos in 1957. Today, under the leadership of his son, Jose Arteaga Niepmann, we remain true to our original principles of respect, integrity, responsibility and teamwork while we evolve," said Katrin Derntl, International Sales Manager at La Huerta. "After growing our sales volume on average 10 percent annually over the last five years, we're producing more than 60,000 metric tons of finished product a year and exporting more than 40 percent to 11 countries, including the U.S., Canada and Japan, where customers have the highest quality standards. Our products go to market under our own brand and under private label customers' brand names, as well. In Mexico, the La Huerta brand is by far the market leader in the frozen vegetable category with over 70% of market share in retail."
La Huerta installed Key's Veg-Mix on their packaging lines to produce bags of mixed fruits or vegetables. This system receives each product in a separate infeed hopper, then de-clusters, meters, mixes and conveys the mixed product to packaging. The hopper design minimizes product 'sticking' to eliminate the buildup of thawed product. A long-span frame and integrated Iso-Flo collection conveyors allow for minimal supports to the floor, which makes the system easy to install and easy to clean. The master override adjusts total line flow while maintaining preset mix ratios. Independent, 'on-the-fly' adjustment of the Cluster Breaker and Vari-Feeder enable quick, reliable change of product mix and metering. "Our Veg-Mix ensures the right amount of each product in the mix so we're sure to stay within specifications," explained Picazo.
The two Iso-Flo packaging distribution lines at La Huerta feature several Iso-Flo Smooth-Cycle shakers with no-pinch sliding gates. One distribution system feeds product to three multi-head weighers that each feed a VFFS machine. The other feeds semi-automated packaging stations. Designed specifically for feeding applications, Smooth Cycle conveyors include controls that manage the flow of the product on the shaker, speeding up and slowing down as needed, to eliminate the mechanical stop/start transients common in these applications.