High hygiene standards


Hygienic Enclosures for vacuum pumps
For consumers and the government, a maximum of safety and quality in the production of food is essential. In order to ensure the highest standards of hygiene, food producers and processors are obliged to clean their machinery regularly via washdowns. To guarantee that vacuum pumps are effectively protected from the used aggressive cleaning media, Leybold has developed a series of Hygienic Enclosures. The vacuum specialist offers users these stainless steel housings in seven different sizes, tailor made for each vacuum pump.
Risk of contamination eliminated
In the food industry, vacuum pumps are often placed directly next to the processing and packaging lines and thus not implemented in the equipment. On the one hand, this leads to a higher vacuum performance because, losses in pumping speed over longer pipelines are avoided. A direct positive consequence of this, are shorter process cycles and a better product quality. On the other hand, unprotected pumps are directly exposed to aggressive cleaning media during the rinsing processes. Over time, this leads to corroded vacuum pumps, shorter life cycles, higher costs and ultimately even to food contamination.
Effectively protected in stainless steel enclosures
In order to counteract these risks, Leybold has developed a new protection concept with the Hygienic Enclosures. Encased by these stainless steel enclosures, the vacuum pumps can be positioned near machines and systems without any problems. "On the basis of the protected Leybold vacuum pumps we can create better and more robust solutions for the demanding food applications", emphasizes the responsible product manager Niels Gorrebeeck. "Of course, this applies all the more to applications such as stuffers, tumblers and of course packaging machines, where the machines and systems are cleaned and disinfected particularly frequently and intensively," the product manager explains.
Tailor made & easy to install
Gorrebeeck explains that these stainless steel enclosures are tailor made for each vacuum pump. As a result each enclosed pump can run constantly on every working pressure. The only limitation is the maximal ambient temperature for the enclosure. Nevertheless, the normal working temperature in F&P environments are around 10 °C, we qualified most enclosures up to 25 °C. Further all the enclosures are offered as a Do It Yourself kit and can be as well installed as commissioned by the user themselves without great effort. "These properties make of the Hygienic Enclosures a cost-effective, sustainable solution. In the end, Hygienic Enclosures makes investments in expensive piping obsolete and at the same moment they offer a better pumping speed performance", argues Niels Gorrebeeck.
Sustainable solution
Incidentally, this also applies not least with regard to future packaging concepts. Gorrebeeck believes that the industry is also well equipped for this with the new enclosures: "Regardless of which solutions will prevail, food applications can be operated from today more hygienically, ergonomically as well as flexibly. Leybold can successfully accompany these processes into the future with our holistic solution approaches."
1 billionth alu-free pack


Uptake grows for low-carbon aluminium-free solution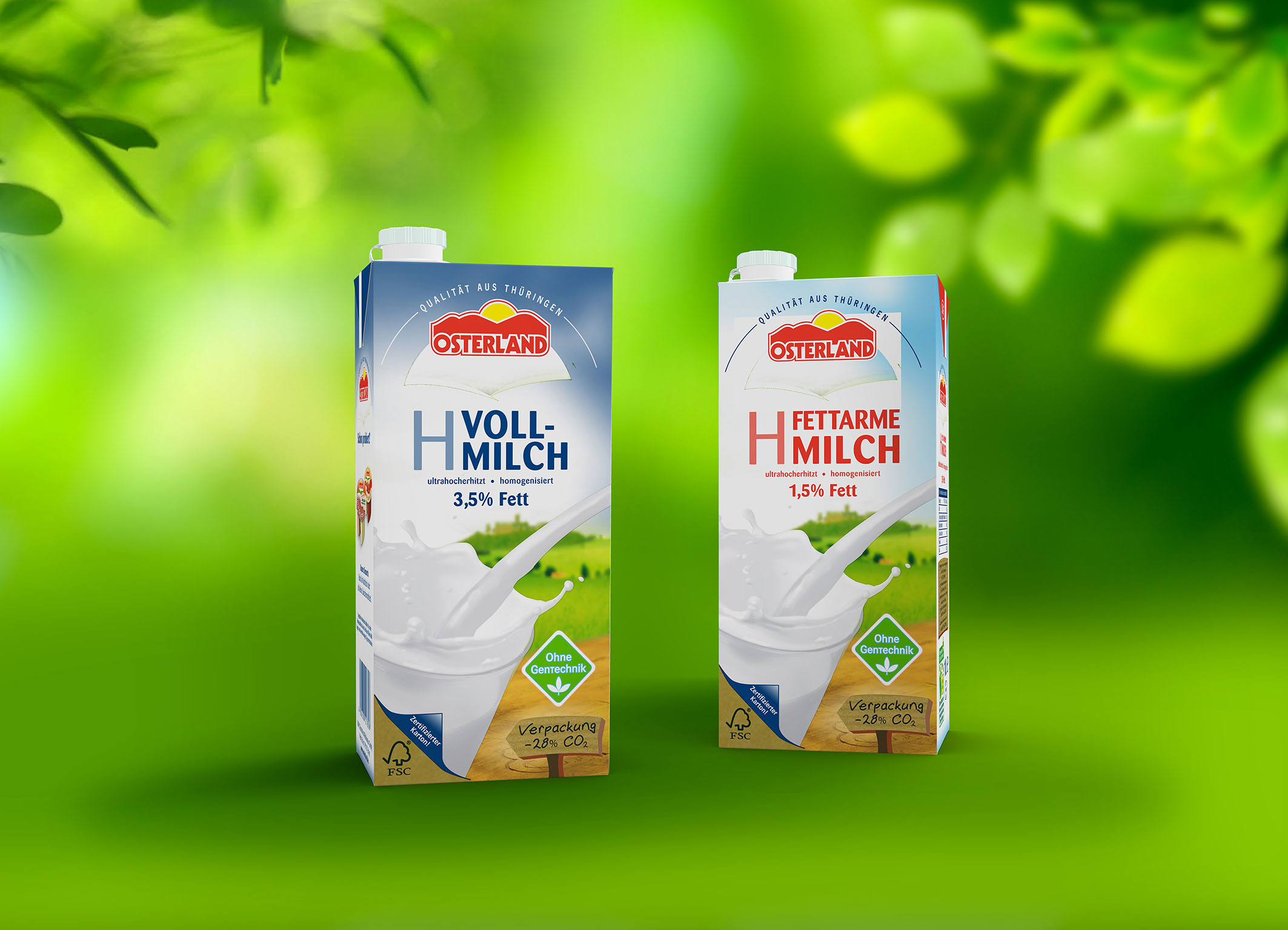 SIG's Combibloc Eco Plus, the world's first and only aluminium-free aseptic carton, has hit the major milestone of 1 billion packs filled. With the launch of Combibloc Eco Plus, SIG disrupted the market by eliminating the need for an aluminium foil barrier layer in aseptic beverage cartons for the first time, significantly reducing environmental impact. Strong and growing demand for this solution is supporting SIG's ambition to go Way Beyond Good by helping to create a sustainable food supply system that puts more into the environment and society than it takes out. The 1 billionth pack was filled by DMK Group, Germany's largest dairy cooperative. As an early adopter of Combibloc Eco Plus, DMK Group has played a decisive role in the success story of this low-carbon aseptic packaging solution for the dairy market.
Delivering for the environment
Aseptic beverage cartons already offer a significantly lower environmental footprint than alternative types of packaging due to their high proportion of renewable materials, light weight and efficient design. Combibloc Eco Plus cuts environmental impact even further by using an innovative composite structure to protect the contents without the need for aluminium foil. The pack is made up of 82% renewable paperboard – sourced from FSC-certified sustainable sources. The result is a 28 % lower carbon footprint than a conventional SIG carton in the same format, as shown by an independent lifecycle assessment by the independent Institute for Energy and Environmental Research (IFEU). SIG is the only company offering an aseptic carton pack without aluminium. Combibloc Eco Plus showcases the company's commitment to sustainable innovation as it drives progress towards its Way Beyond Good ambition. The innovative aluminium-free structure also forms the basis for Signature Pack 100, the world's first pack aseptic pack linked to 100% renewable materials.
Broad market appeal
Climate change has become a mainstream topic for consumers and SIG's low-carbon Combibloc Eco Plus solution is helping customers meet growing demand for more sustainable packaging. Both sustainable and economic, Combibloc Eco Plus appeals across all categories from premium organic to price entry commodity, brands and private labels alike. Combibloc Eco Plus can be filled on standard beverage filling machines from SIG with a simple change to the filling parameters.
"Combibloc Eco Plus works for customers and for the planet," said Frederic Faber, Marketing Account Manager D-A-CH at SIG. "It combines environmental sustainability and economic competitiveness like no other aseptic carton pack available on the market. This unique combination has made Combibloc Eco Plus appealing to SIG customers across a broad market spread, from premium brands to private labels".
Hammer Mills


Pocket Feeder
Providing consistent and even feedstock to the Andritz hammer mills, the pocket feeder will extend the life of the grinding equipment.
Solutions for packing products


Packaging machines for small to medium-sized batches
Using a special exhibition area (in front of Hall 5), Multivac will be showing at interpack a range of simple and needs-based solutions for packing products in small and medium-sized batches. These enable hand-craft businesses and smaller processors to make the entry into automatic packaging – with the aim of achieving maximum efficiency and optimum product protection. In addition to various chamber machines of different sizes, the exhibits will also include a compact thermoform packaging machine and two traysealers.
When it comes to packing in film pouches, Multivac will be presenting its complete product range, consisting of tabletop, free-standing, double chamber and chamber belt machines. Thanks to their wide range of equipment options, the machines can be adapted to the individual requirements of the customer, and this makes a major contribution to maximum process efficiency.
In addition to the semi-automatic T 060 traysealer, Multivac will also be exhibiting here its automatic T 300 model, which will be used at interpack to produce Multi Fresh vacuum skin packs.
The range of compact thermoforming packaging machines will be represented by the R 105 MF, which is designed for producing high-quality Multi Fresh vacuum skin packs. At interpack this machine will run Multivac Paper Board, a paper fibre-based carrier material, which has a sealing medium specially designed for the Multi Fresh skin film, enabling perfect pack results to be achieved.
Multivac at the Interpack 2020: Hall 5, Stand A23