With hyperspectral imaging


Heat-sealed joint inspection
Feeder Design for the Pharmaceutical Industry


Feeding Solution for Demands of Processing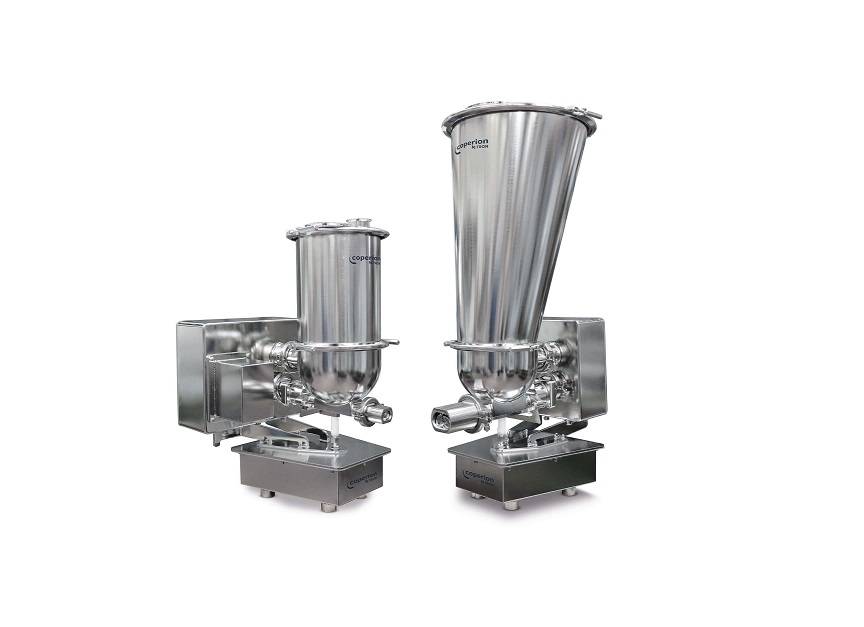 At this year's Interphex as well as at Powtech Coperion K-Tron will display the next generation of its highly accurate, gravimetric K3-PH feeders for the pharmaceutical industry. These modular feeders have been specially designed to meet the growing demands of continuous processing. Thanks to the use of a smaller D4 platform scale incorporating the patented and highly accurate Smart Force Transducer (SFT) weighing technology, they require significantly less floor space compared to previous models. Depending on the process and requirements, several feeders can be grouped into a cluster, for example for continuous processes such as direct compression (CDC), extrusion, wet and dry granulation, and continuous coating as well as traditional batch processes.
Easy handling and better product quality
The modular design of this innovative feeder line simplifies cleaning and reduces changeover times. The "Quick Change" design, whereby the feeder bowl can be quickly decoupled from the feeder drive, also enables simple and fast product changes. By simply releasing two clamps, the used feeding unit can be removed and replaced with a clean one.
The three available Coperion K-Tron feeder types QT20, QT35 and QS60 (twin and single screw) can be used with the same scale and drive units. They are interchangeable, depending on the product to be fed, the required feed rates and the necessary scale resolution. For an optimal Wet-In-Place (WIP) result, every unit has an integral two degree pitch facilitating maximum drainage during the cleaning process. In addition, the feeder bowls and hoppers feature a new improved seal design for optimal product containment. The complete line of equipment is engineered to meet the rigid requirements of the pharmaceutical industry, including strict adherence to cGMP guidelines and standards as well as the use of FDA approved materials of construction. Initial industry reactions to the design include very positive comments on the use of a single gearbox for the complete speed ranges of all feeder models.
High-accuracy weighing with patented SFT technology
The new D4 platform scale features the same state-of-the-art sanitary design of the established Coperion K-Tron D5 scale. Smooth, crevice free surfaces prevent deposit of dust and product residue and enable easy cleaning. The redesign of the scale from a round design to a trapezoid design features a much smaller footprint and facilitates an optimized multi-feeder arrangement. This is especially useful in areas with limited space, where multiple ingredients must be fed into one process inlet. At the heart of the new D4 scale, Coperion K-Tron's patented SFT single wire weighing technology provides a highly accurate weight signal with a resolution of 1:4,000,000 in 80 ms. The electronics include linearization, temperature compensation and a digital low-pass filter to reduce the effect of plant vibration. The 100% digital design eliminates the need for calibration.
Coperion at the Interphex 2019: Booth 2558
Coperion at the Powtech 2019: Hall 4, Booth 290
Packaging solutions


Attractive packs for fish and crustaceans
At Seafood 2019 Multivac will be exhibiting packaging solutions, which contribute to extending the shelf life of fish and seafood as well as ensuring, that the product is presented attractively at the point of sale. In addition to concepts for producing attractive vacuum skin packs, the focus of the trade fair will also include packaging solutions, which meet the current demand for recyclability and minimisation of plastic consumption in the production of food packaging.
The MultiFresh concept from Multivac, the specialist in packaging, offers a proven process for packing food in vacuum skin packs. In addition to a wide spectrum of thermoforming packaging machines and traysealers, there is also an extensive range of skin films available, which was developed in conjunction with leading film manufacturers, and which ensures that optimum packaging results are achieved. This means that even food products with sharp edges or hard areas, such as bones or shells, as well as those with high product protrusion, can be packed securely and with a high-quality appearance. In Brussels the MultiFresh process will be demonstrated on a thermoforming packaging machine, which is capable of being configured individually, as well as on a compact, fully automatic traysealer.
The high-performance R 275 MF thermoforming packaging machine, which will be exhibited at Seafood, is designed for packing whole fish in vacuum skin packs. It enables high-quality packs to be produced for an extensive range of products, and it achieves a high level of output with maximum efficiency.
When it comes to producing MultiFresh tray packs in small to medium-sized batches, the company will be showing the space-saving.
T 300 MF entry-level model. This compact traysealer can be designed as multi-track and combined with various discharge systems. Thanks to the simple die change, the machine can quickly be converted for different pack sizes and shapes. Electric drive systems for the tray transport, lifting unit and film trim winder ensure that it has an energy-efficient method of operation.
Thanks to its PaperBoard range, the company is able to meet the rising demand for sustainable packaging solutions. "At Seafood we are expecting a high level of interest from visitors in this area in particular," explains Valeska Haux, Vice President of Corporate Marketing at Multivac. On display will be a range of concepts, which contribute to reducing the use of plastics in packaging production, as well as concepts for producing packs that meet current recycling requirements. The Multivac PaperBoard range comprises a wide variety of paper fibre-based materials, which the company has developed in conjunction with leading packaging manufacturers, and which can be used to produce MAP and vacuum skin packs on thermoforming packaging machines and traysealers.
For labelling these packs, Multivac will be exhibiting a Full-wrap labelling solution for efficient wrap-around labelling of a wide range of packs. A conveyor belt labeller is used to apply a label to the top of the pack, then over both sides and finally onto the base of the pack. In contrast to other labelling or sleeving systems, full-wrap labelling offers many benefits in terms of label quality, efficiency and presentation at the point of sale. The process is very flexible in being able to run labels made from different materials and in a wide variety of shapes, and it ensures that maximum labelling quality is achieved even with unusual pack shapes.
Future of the pharmaceutical industry


Solid Dosage Packaging wins Pharmapack Award
The annual awards recognize new innovative products that are set to shape the future of the pharmaceutical industry. Push Tab is a flexible blister solution for tablet packaging. It presents a new child-safe way of opening a strip pack by pushing through the tablet.
The material provides the highest barrier properties with improved shelf life. The barrier properties are not affected in any way by pushing through the film and thus guarantee the highest levels of product safety. The risk of migration is also very low, as the laminate does not contain any solvents. Based on the typical market specification of PET-PE-Alu-PE/Surlyn, Push Tab is suitable for all climate zones.
The Push Tab packaging is available in unlimited forms and shapes for differentiation. The material is also easy to print on with different technologies, which provides new opportunities for design and product visibility.
It's main benefit for many applications is to be PVC free, cost effective as well as with only one specification suitable for all different climate zones. Recyclable version are under development.