Gala evening prior to IFAT 2018


GreenTec Awards finalists have been confirmed
The online vote on the GreenTec Awards 2018 finalists has ended: the three most innovative projects have been selected from every category's top 10 list. On May 13, the GreenTec Awards for the eleventh time will distinguish the best innovations in the fields of environmental protection and sustainability. The exclusive gala evening is the prelude to IFAT, the World's Leading Trade Fair for Water, Sewage, Waste and Raw Materials Management, taking place from May 14 to 18 in Munich.
For every category, the jury chose two finalists, the third was determined in the online voting—with votes from more than 130 countries worldwide. "To only have three innovations in the finals often seems to be unfair," says Sven Krüger, Initiator of the GreenTec Awards. "Over and over again, we are impressed with the commitment of individual people and the high level of the many projects submitted." Stefan Rummel, Managing Director of Messe München and organizer of IFAT adds: "We watch the finalists of the GreenTec Awards with great interest. New ideas and concepts in environment protection are enormously important to find the answers to the most significant questions of tomorrow."
The finalists at a glance
The top 3 in Construction & Living are the projects of DAW SE (sustainable wood care products based on camelina), CONTAINERWERK eins (conversion of used sea freight containers into living space) and Werkgemeinschaft Böhme Hilse Diplomingenieure Freie Architekten (housing area with surplus energy, district-power and e-mobility).
In the Energy category, Fraunhofer ISE (18 % more power through innovative solar cell design), MWK Bionik (self-cleaning coating for PV plants) and sonnen (produce, store and share own and clean energy) were selected.
The three finalists in the Galileo Wissenspreis category are Biolab Eberswalde (sustainable mushroom-based materials to reduce plastic use), AES (sustainable energy system to supply a single-family home) and REIelectronics (to allow an ecological and economical recycling of electronic scrap).
In Lifestyle, tip me (tip for product manufacturers), Relenda (the environmentally conscious generation: renting and using over buying) and aha-Zweckverband (Hannoccino: innovative reusable cup system) took the three places in the final.
In the category of Mobility, DiniTech GmbH (charging of electric cars on any conventional power socket), paper planes e.V. (Radbahn under Berlin's U1) and Alstom (CO2 emission-free train that runs with a fuel cell) are the three best innovations.
The finalists of Resources & Recycling by Veolia are creapaper GmbH (grass paper), Enactus RUB (a profitable, ecological alternative to burning electronic waste) and the Association of Lady Entrepreneurs of India (turning industrial waste into a business opportunity).
In the Sports by Jack Wolfskin category, SunnyBag GmbH (The Leaf+ solar panel charges all devices on the go), VAUDE (sustainable outdoor gear) and Solarskilift Tenna (world's first solar-powered winter sports) were chosen.
einhorn products (fair and sustainably produced condoms), CONTAINERWERK eins (see above) and Fresh Energy (fighting power guzzlers: eco-friendly, low-cost, data-driven) compete for the Special Prize Start-up.
The finalists in Sustainable Development are BIO-LUTIONS International (biodegradable packaging made of 100 % agricultural waste), SUNfarming (agro-solar greenhouses) and Land Life Company (combat against desertification).
The Water & Sewage category's top3 are Unimatec Chemicals Europe GmbH (portable water filter), Enactus Regensburg e.V. (cost-effective water filter for Africa) and Enactus Hochschule Bochum (Roots Up green house with its own water-production).
The jury meeting
On February 21, 2018, the selection committee will define the winners for all categories. The jury consists of representatives of economy, politics and media, including Prof. Dr. Claudia Kemfert (German Institute for Economic Research), Marco Vollmar (WWF Executive Director Communications) and Anna Loos (actress and musician), thus covering all socially relevant fields.
More information on the GreenTec Awards is available at www.greentec-awards.com.
Endress+Hauser expands


Manufacturing of temperature and system products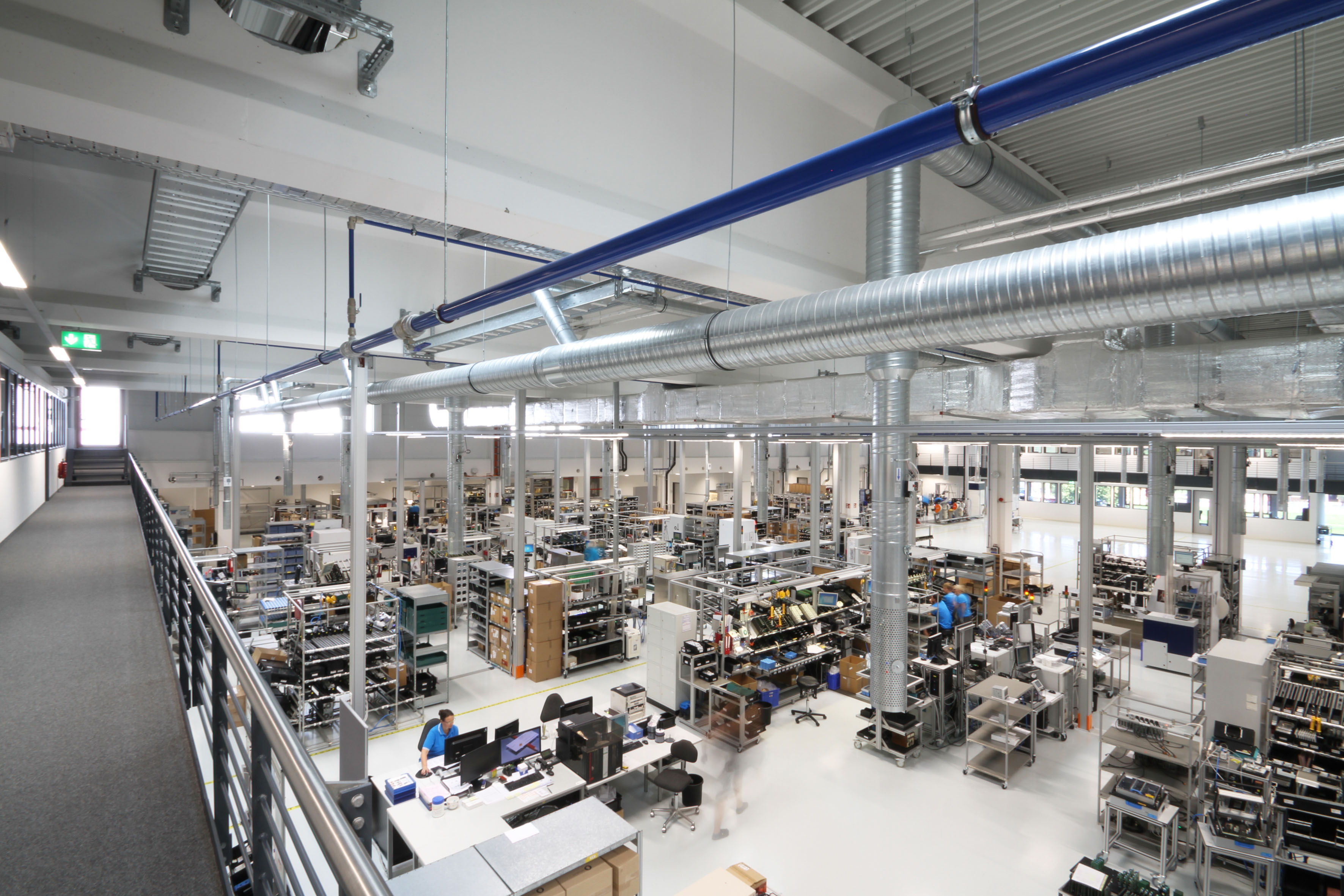 Endress+Hauser has invested more than 10.4 million euros in a new, state-of-the-art production facility at its location in Nesselwang, Germany. The 4,800-square-meter building contains new production and office space, in addition to technology and common rooms. With the expansion, the Group is making further investments in sustainable growth.
The expansion was driven by the growing demand for innovative temperature technology and system products, as well as the introduction of new product lines. "We are constantly investing in our centers of competence in order to develop persuasive solutions for our customers and to increase production efficiency," said Matthias Altendorf, CEO of the Endress+Hauser Group, during the dedication ceremony, which was held on Friday 26 October 2018, in the presence of representatives from politics and business as well as employees.
In many processes, temperature is a measurement parameter with a major influence on product quality. "We will continue to expand and round out our temperature and system product portfolio so that we can be in a position to optimally serve our customers in the future as well. To do that, we need additional space for research and development, production, logistics and quality assurance, which this new building provides," said Harald Hertweck, Managing Director of the Endress+Hauser center of competence for temperature measurement technology.
Sustainable expansion
The new building is an eye-catcher with an impressive, intelligent architecture featuring a sloping facade that offers protection against the sun, plus glass fronts that let in an abundance of light. The new building also boasts a sustainable energy concept, including a photovoltaic system installed on the roof that provides enough electricity to completely power the basic production load. E-bike charging stations further underscore the emphasis on sustainability.
While the building was being constructed, the production and and logistics processes were also optimized and structured in accordance with Lean Principles and the One Piece Flow approach. This structure enables the center of competence to increase the individual responsibility of the employees, add more flexibility to the production process and optimally utilize the capacity of the machines and operational resources.
Center of competence for temperature measurement technology and system products
Endress+Hauser Wetzer, the Group's center of competence for temperature measurement technology and system products, which is headquartered in Nesselwang, Germany, operates five additional production facilities in Pessano (Italy), Greenwood, Indiana (US), Suzhou (China), Aurangabad (India) and Benoni (South Africa). The company received several awards this year for the iTHERM TrustSens, the world's first self-calibrating thermometer. In addition to awards in France (Mesures, CFIA) and the Czech Republic (Zlatý Amper), Endress+Hauser was also the recipient of the Hermes Award, a renowned industry prize, in addition to the AMA Innovation Award at the Sensor+Test trade fair in Nuremberg, Germany.
General overhauls to a new level


New Turnaround Concept
A general technical inspection and overhaul is often regarded as a necessary evil. Every two to five years or so, plants used in the process industry need to be shut down for inspection so that any deficiencies can be remedied. For the operators of these facilities, this entails production stoppages and losses of turnover. Bilfinger has developed a new Turnaround Concept that puts plant operators in a far better position to master the challenges posed by a general overhaul.
The general technical inspection and overhaul of a facility, also known in the technical jargon as a turnaround, confronts industrial plant operators with major challenges. Faced with the need to keep downtimes as short as possible, they must plan the turnaround carefully in advance and ensure that it is carried out by seasoned, well-organized professionals.
The new Bilfinger Turnaround Concept, or BTC for short, was developed to address precisely these challenges. Gerald Pilotto, Executive President of Bilfinger's Maintenance, Modifications & Operations (MMO) division for Continental Europe, explains the concept, "Thanks to our Turnaround Concept, we can assist our customers wherever they may need us, while upholding our usual high standard. Our qualified, experienced, and well-organized employees plan the turnaround with painstaking precision and implement it efficiently, whereby quality and safety at the workplace are given top priority at all times."
In actual practice, the process of acquiring the right personnel often proves to be the biggest problem: Since turnarounds are normally scheduled to last no more than a few weeks, enterprises tend to seek outside assistance. Yet they will often encounter a shortage of appropriately qualified personnel and thus have difficulty in assembling and deploying several hundred specialists from different trades and technical fields on short notice. Add to that the fact that these turnover teams often need to be re-assembled for each new contract, so that planning and coordinating the individual activities present another practical problem to be overcome.
Luckily, the BTC offers solutions for both challenges. First and foremost, it allows the customer to draw upon Bilfinger's many years of experience in this field: With over 20,000 in-house maintenance personnel, a broad supplementary network of partners, and an annual project roster of roughly 30 turnarounds across Europe, Bilfinger has what it takes to serve as its customers' general contractor, long-term and at multiple locations.
More specifically, the concept consists of nine modules covering various aspects such as resource management, workplace safety, and materials management. These theory-heavy modules are supplemented by a comprehensive handbook that defines all the work steps involved in detail, along with their respective interdependencies. Depending on the initial situation at hand, the required workflows pre-defined as templates in the handbook can be individually adjusted to the specific dictates of the prevailing conditions. This produces a complete operational flow chart for all the various simultaneous and sequential work steps, including their cyclical timing. This in turn provides the wherewithal for the exceptionally precise turnaround management, particularly when it comes to minimizing project risks and precalculating costs with maximum accuracy.
Compelling maintenance concept


Bilfinger proves its mettle as a Service Partner
The ability to keep plants humming at high rates of output while ensuring maintenance costs are low – today's customers expect nothing less from industrial service providers like Bilfinger. Thanks to the Bilfinger Maintenance Concept (BMC), the company pursues two salient objectives: to boost the reliability of the facilities served while optimizing the associated maintenance costs.
This comprehensive concept governing its service and quality has enabled Bilfinger to secure a major contract from CABB against several reputable competitors. Starting in January of 2019, Bilfinger will take charge of the maintenance services for the CABB operations site in Pratteln, Switzerland. The two enterprises intend to work together to further develop and expand the location by bundling their respective innovative technologies and methods as well as their qualified personnel.
'"This new contract sends a strong signal. Our customers are putting their trust in our expertise when it comes to providing maintenance services to pharmaceutical and chemical plants all over the world. Our custom-tailored BMC approach convinced CABB on the merits. This achievement will make a long-term contribution to the positive track we are on."

Tom Blades, Bilfinger CEO

A key success factor in this context is the ability to integrate skilled workers who will be leaving the former service provider to join Bilfinger; they will contribute their detailed knowledge about the respective plant facility. This will allow the industrial service provider to profit from significant efficiency gains, which in turn will benefit its customers. In Pratteln, Bilfinger will be deploying personnel skilled in the fields of preparation automation, mechanical engineering, pipe-fitting, and logistics.