Gala evening prior to IFAT 2018


GreenTec Awards finalists have been confirmed
The online vote on the GreenTec Awards 2018 finalists has ended: the three most innovative projects have been selected from every category's top 10 list. On May 13, the GreenTec Awards for the eleventh time will distinguish the best innovations in the fields of environmental protection and sustainability. The exclusive gala evening is the prelude to IFAT, the World's Leading Trade Fair for Water, Sewage, Waste and Raw Materials Management, taking place from May 14 to 18 in Munich.
For every category, the jury chose two finalists, the third was determined in the online voting—with votes from more than 130 countries worldwide. "To only have three innovations in the finals often seems to be unfair," says Sven Krüger, Initiator of the GreenTec Awards. "Over and over again, we are impressed with the commitment of individual people and the high level of the many projects submitted." Stefan Rummel, Managing Director of Messe München and organizer of IFAT adds: "We watch the finalists of the GreenTec Awards with great interest. New ideas and concepts in environment protection are enormously important to find the answers to the most significant questions of tomorrow."
The finalists at a glance
The top 3 in Construction & Living are the projects of DAW SE (sustainable wood care products based on camelina), CONTAINERWERK eins (conversion of used sea freight containers into living space) and Werkgemeinschaft Böhme Hilse Diplomingenieure Freie Architekten (housing area with surplus energy, district-power and e-mobility).
In the Energy category, Fraunhofer ISE (18 % more power through innovative solar cell design), MWK Bionik (self-cleaning coating for PV plants) and sonnen (produce, store and share own and clean energy) were selected.
The three finalists in the Galileo Wissenspreis category are Biolab Eberswalde (sustainable mushroom-based materials to reduce plastic use), AES (sustainable energy system to supply a single-family home) and REIelectronics (to allow an ecological and economical recycling of electronic scrap).
In Lifestyle, tip me (tip for product manufacturers), Relenda (the environmentally conscious generation: renting and using over buying) and aha-Zweckverband (Hannoccino: innovative reusable cup system) took the three places in the final.
In the category of Mobility, DiniTech GmbH (charging of electric cars on any conventional power socket), paper planes e.V. (Radbahn under Berlin's U1) and Alstom (CO2 emission-free train that runs with a fuel cell) are the three best innovations.
The finalists of Resources & Recycling by Veolia are creapaper GmbH (grass paper), Enactus RUB (a profitable, ecological alternative to burning electronic waste) and the Association of Lady Entrepreneurs of India (turning industrial waste into a business opportunity).
In the Sports by Jack Wolfskin category, SunnyBag GmbH (The Leaf+ solar panel charges all devices on the go), VAUDE (sustainable outdoor gear) and Solarskilift Tenna (world's first solar-powered winter sports) were chosen.
einhorn products (fair and sustainably produced condoms), CONTAINERWERK eins (see above) and Fresh Energy (fighting power guzzlers: eco-friendly, low-cost, data-driven) compete for the Special Prize Start-up.
The finalists in Sustainable Development are BIO-LUTIONS International (biodegradable packaging made of 100 % agricultural waste), SUNfarming (agro-solar greenhouses) and Land Life Company (combat against desertification).
The Water & Sewage category's top3 are Unimatec Chemicals Europe GmbH (portable water filter), Enactus Regensburg e.V. (cost-effective water filter for Africa) and Enactus Hochschule Bochum (Roots Up green house with its own water-production).
The jury meeting
On February 21, 2018, the selection committee will define the winners for all categories. The jury consists of representatives of economy, politics and media, including Prof. Dr. Claudia Kemfert (German Institute for Economic Research), Marco Vollmar (WWF Executive Director Communications) and Anna Loos (actress and musician), thus covering all socially relevant fields.
More information on the GreenTec Awards is available at www.greentec-awards.com.
287 patents in 2018


Patent portfolio expands further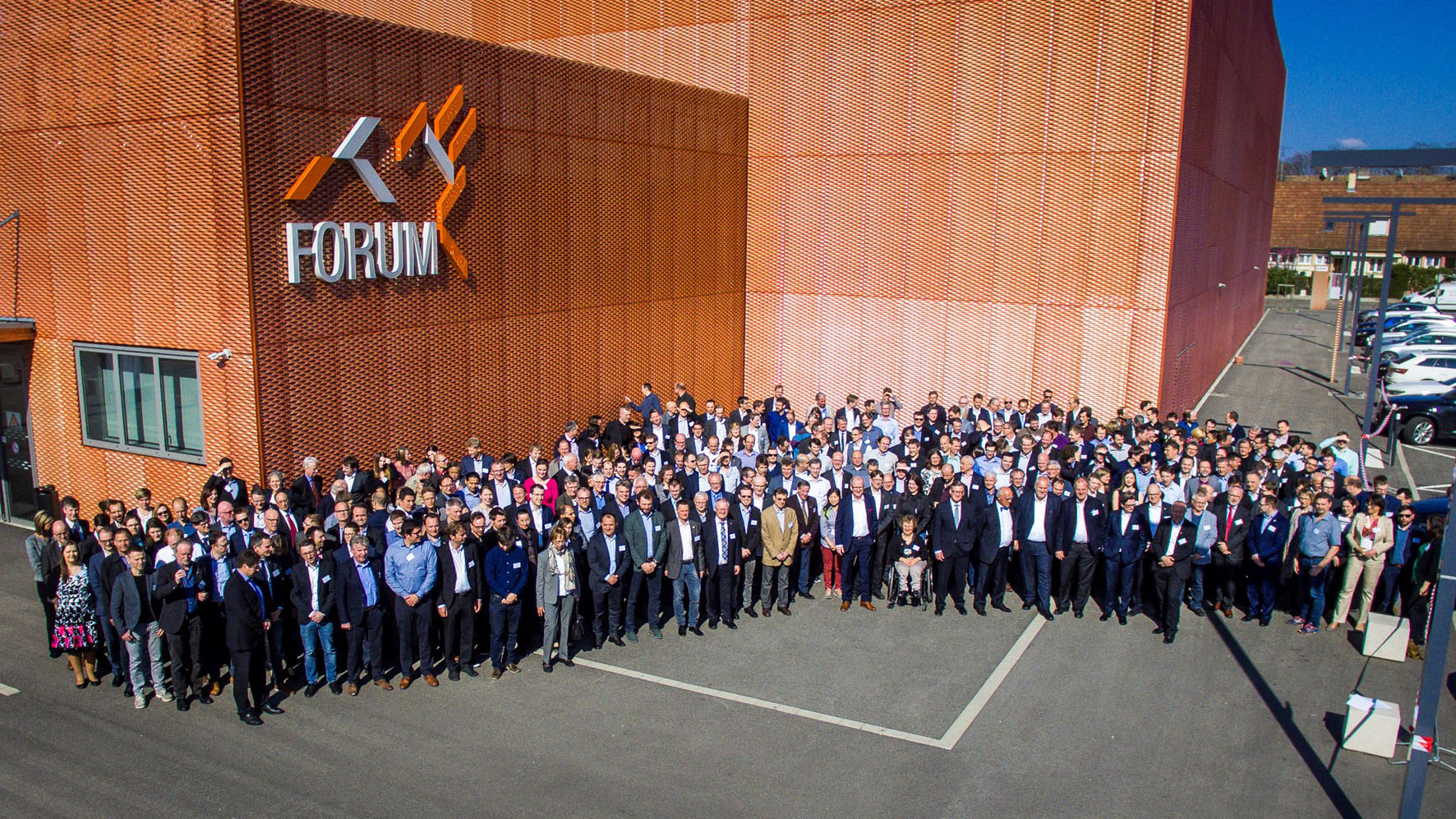 The number of patents submitted by the Endress+Hauser Group continues to rise. As reported during the annual Innovators' Meeting held this year in France, the Group submitted 287 initial patents in 2018, a new record. Endress+Hauser owns nearly 7,800 active intellectual property rights worldwide.
"This year we once again achieved a record number of innovations, both in the number of patent filings and the number of approved patents."

Angelika Andres, Corporate Director, Intellectual Property Rights at Endress+Hauser
While the 309 invention disclosures are a sign of the company's ongoing innovation capability, the 537 granted patent applications also represent an all-time high.
Roughly one-third of the patent filings are related to the Industrial Internet of Things, digital communications and instrument diagnostics. Under the motto #empowerthefield, in 2018 the measurement engineering specialist began to bundle its digital activities with a focus on Heartbeat Technology, as well as the recently introduced Netilion IIoT ecosystem.
Patent department in the US
Each invention undergoes a multistage internal evaluation process before submission to the patent office, usually within four months. To handle the stream of innovations, in 2016 an internal patent department was created in the US, one of the Group's most important markets. Four specialists at the Greenwood, Indiana location are responsible for protecting the technical innovations. This team has full responsibility for handling all patent filings from the Group companies located in the US, plus up to 80 percent of the overseas filings.
Innovation spirit in the spotlight
Under the motto 'Innovation – what makes us human', Matthias Altendorf, CEO of the Endress+Hauser Group, as well as other members of the Executive Board, welcomed more than 300 guests to the annual Innovators' Meeting, which was held in late March in Saint-Louis, France. Employees involved in patent filings presented their innovations during the company's traditional get-together. Exceptional innovations were recognized with special awards.
NSK Europe


New Chief Operating Officer
On 1 February 2019, Dr Ulrich Nass assumed the position of Chief Operating Officer at NSK Europe. The appointment reflects the company's ambition to build further on its growth trajectory in Europe, the Middle East and Africa
Bringing decades of leadership experience in technology companies, primarily in the automotive industry, Dr Ulrich Nass has a proven track record in key NSK Europe markets. Prior to joining NSK, he served at Brose Group where he was Senior Vice President of Product Group Door Modules, and before that as Managing Director of the Product Unit Closures Systems.
Until 2012, Dr Ulrich Nass worked in various senior management positions at Kiekert AG, a specialist in side door and tailgate latches for automobiles. His final position at Kiekert AG was as Executive Vice President Global Product Development and Program Management.
Dr Ulrich Nass completed a master's degree in mechanical engineering and did his PhD on the wear of worm gears at the Ruhr-University Bochum
Agriculture business


G&G partners with Camellia GroupPicture
Green & Gold Macadamias (G&G) and AIM listed Camellia Group Plc announced their strategic macadamia marketing partnership. This adds to G&G's extensive processor and producer partner network in key growing territories including Australia, South Africa, Kenya, Malawi and Brazil. Both organisations take a long view of the macadamia market: continued growth in supply, together with changing consumer demands, means planning for the future central to philosophy.
"We are delighted that Camellia has taken the decision to market their macadamia brand, Maclands through G&G. The addition of their produce now makes us responsible for selling 20% of the globe's kernel crop in all markets around the world. Quality predicates who we do business with, and Camellia represents a trusted partner in this regard. Guaranteed increase in quality supply creates the opportunity to scale vertically into new product markets and horizontally into new geographies."

Brian Loader, CEO, G&G
A unique aspect to this sector is the parallel rise of both supply and demand for product. Consumer trends around plant based and healthy eating are growing: and they are here to stay. Additionally, today's customer is discerning and sensitive to sustainable, ethical and traceable food production. Global supply of macadamias has increased over 50% in the last 5 years to 210,000 tonnes in-shell. According to the International Nut Council, the crop is projected to double again by 2023. G&G's focus is to innovate in how and where this future supply is absorbed into market.
Macadamias, currently predominantly consumed as a snack, hold a premium perception. Prospectively G&G is carving the way for new products in a variety of sweet and savoury foods like butters, milks, cheese and yoghurts to biscuits and ice cream, amongst others. Unilever's Magnum ice cream brand has recently launched a macadamia ice cream in Australia, Indonesia and Thailand, using G&G's macadamias. Investment into infrastructure to support these future market changes is ongoing. The nut's oil is also of interest to the food, cosmetic and health industry.
"G&G is specialist in what they do: a highly professional macadamia marketing company with a large network of reputable producers and an established, strategic customer base, in a variety of segments around the globe. The organisation also has cultivated longstanding direct relationships key customers and leading retailers. This market diversification, together with our aligned vision for value add and vertical integration, places G&G in a strong marketing position for years to come. This partnership allows us to be well placed to market our growth in product over the next ten years." says Graham Mclean, Managing Director of Agriculture, Camellia.
Camellia has long-standing macadamia operations that started in Malawi in the 1980's. Over the years the Group has invested in orchard growth and processing infrastructure. Its reach extends, in varying stages of maturity, across 1400 hectares in Malawi, 1100 hectares in South Africa and currently 1000 hectares in Kenya, with plans to increase Kenyan orchards to 1500 hectares over the next ten years. This makes Camellia one of the world's largest macadamia producers.