Genomics will not be harmed despite intense whaling
Fin whales are the second largest creatures on our planet, surpassed only by blue whales. They can reach a length of around 20 meters – and require up to two tons of food per day. Accordingly, they release enormous amounts of nutrients – with significant effects on ocean ecosystems. Industrial whaling, however, has significantly reduced their numbers. It was aimed at the tran of whales as raw material and was particularly intensive between 1880 and an international agreement in 1986. Today, the number of fin whales worldwide is estimated at about 100,000 animals; the species is considered endangered according to the Red List. A new study by scientists from the LOEWE Center for Translational Biodiversity Genomics (TBG), the Senckenberg Biodiversity and Climate Research Center (SBiK-F), and Icelandic and Swedish research institutions shows the consequences of their decimation for the populations and especially for the genomic diversity of fin whales. Fortunately, their results show no long-term genetic weakening of this species.
After fin whales were hunted in the early 20th century until local whaling industries collapsed in some places due to declining catches – such as in the waters around Norwegian Finnmark in 1904 – there were fears of glaring consequences, including extinction of the species due to inbreeding. For the study published in the journal "Molecular Biology and Evolution", the scientists now examined 51 genomes of a North Atlantic fin whale population from Icelandic waters for the first time. Using the samples from 1989, 2009 and 2018, they developed demographic models that allow conclusions to be drawn about population changes over around 800 years. The analyses focused on whether whaling also affected the genetic diversity of fin whales.
The team concludes that whaling had a strong impact on populations in the North Atlantic, decimating them to as much as twenty percent of their previous size within about one hundred years. However, the team also showed that different populations were hit differently by whaling, as the genomes of some animals showed little or no trace of this population reduction.
"Looking at the genetic diversity of a species allows us to draw conclusions about whether and how well that species can adapt to new environmental conditions or changes in its population, or whether it is likely to go extinct. Therefore, genomic analysis can often reveal trends before they become overt. However, in the case of North Atlantic fin whales, we did not detect a significant loss of their diversity in the long-term perspective."

– Magnus Wolf, lead author of the study
Other genetic consequences within the depleted fin whale stocks also appear to have failed to materialize. Neither did the scientists* find evidence of frequent inbreeding, where genomes become unnaturally similar, nor could a greater number of genetic defects be detected that would burden the population in the long term. "Such mutations occur all the time, but they are more noticeable in small populations because sometimes there are then no animals without the mutation left to prevail," Wolf said.
So, compared to more endangered cetacean species such as the blue whale or North Atlantic right whale, current human impacts seem to be the main obstacle to fin whale recovery. These include increasing shipping traffic and pollution of the seas. The International Union for Conservation of Nature (IUCN) has classified fin whales as an endangered species on its Red List. Therefore, there is currently no all-clear for their situation, emphasizes Prof. Dr. Axel Janke, lead scientist of the study, scientific coordinator and spokesperson of the LOEWE Center TBG and also working at SBiK-F and the Institute for Ecology, Evolution and Diversity at Goethe University Frankfurt.
"It is fascinating how genomic insights can contribute to our picture of whale conservation. Genomics is emerging as a key technology not only for species conservation, but also helps us understand what biodiversity actually is and how we can use it. Whales are not only impressive animals, but despite their long lifespan of up to one hundred years and their body size, they also seem to develop hardly any tumors and are thus resistant to cancer. Deciphering the genomic mechanisms that cause this paradox could help us address one of the most consequential diseases in human history."
Dr Klaus Endress to leave the Supervisory Board by the end of the year; Matthias Altendorf named as successor; Dr Peter Selders will become CEO
Changes will take place at the top of the Endress+Hauser Group at the beginning of 2024. As previously announced, Dr Klaus Endress will give up his responsibilities as president of the Supervisory Board. He is to be succeeded by CEO Matthias Altendorf. The new CEO of the Group will be Dr Peter Selders, the present head of the center of competence for level and pressure measurement technology. Steven Endress, currently managing director of Endress+Hauser UK, will become the second member of the family to sit on the Supervisory Board.
Klaus Endress (born 1948) has put his stamp on the development of Endress+Hauser for nearly 45 years. It was in 1979 that he joined the company his father founded. He then took over the management of the Group in 1995. In 2014, he handed over day-to-day operation of the company to Matthias Altendorf and became president of the Supervisory Board. Much of the company bears his signature to this day. He also focused in recent years on ensuring a smooth generational change within the shareholder family.
New management for the group of companies
Matthias Altendorf is slated to take over as president of the Supervisory Board on 1 January 2024. He will be proposed for election at the Annual General Meeting on 3 April 2023. According to Klaus Endress, the shareholders believe he is right person for this position: "He has known our company for 35 years and has led the Group with prudence and success for nearly a decade. Mr Altendorf also embodies the Endress+Hauser culture in an exemplary manner and stands for the values that distinguish our company."
Dr Peter Selders will take over the reins as CEO. The 53-year-old executive, who holds a PhD in physics, joined Endress+Hauser in 2004 and has led the center of competence for level and pressure measurement technology based in Maulburg, Germany, since 2019. "As head of Endress+Hauser Level+Pressure, he has demonstrated that he can lead and inspire people, that he lives and breathes our culture and that he is capable of successfully growing a large organization," says Klaus Endress.
Family remains closely linked to the company
Considerable thought and extensive discussions among the shareholders, the family and the Supervisory Board went into making these decisions. "It goes without saying that the family will continue to be closely connected with the company," emphasizes Klaus Endress. As before, it will be represented by two members on the Supervisory Board. In addition to Sandra Genge, Steven Endress will join the board on 1 January 2024. The 44-year-old grandson of the company's founder has worked for Endress+Hauser since 2012 and served as managing director in the UK since 2016.
Even though Klaus Endress will no longer have an active role at Endress+Hauser, he will remain chairman of the Family Council, which decides on all important issues in the relationship between the family and the company. For years, a family charter has governed the shareholders' interaction and their relationship with the company. Established institutions and regular meetings strengthen solidarity within the family and provide a path for members of the younger generations to become involved in the company.
Further succession arrangements in place
Peter Selders will be succeeded at the top of the center of competence for level and pressure measurement technology by 49-year-old Dr Dirk Mörmann, currently director of technology and member of the board of directors. The fortunes of Endress+Hauser UK will be in the hands of Iain Cropper (51) as of 1 May 2023. As a member of the board of directors, to date he has been responsible for the sales center's operations.
Sustainable transformation of asset-intensive industries thanks to virtual twin experiences
Dassault Systèmes and IBM announced an extension of their long-standing collaboration with the signature of a memorandum of understanding combining their technologies to address the sustainability challenges affecting asset-intensive industries.
In 2022, sustainability was identified by 58 percent of Energy and Resources CEOs as their greatest challenge, with 51 percent of them also considering it as a business opportunity that will drive growth. At the same time, 44 percent of CEOs cited a lack of insights from data as a problem. (Source: IBV 2022 CEO – Energy & Resources insights)
Today companies are confronted with not only rising energy prices but also supply chain and operational disruptions. These disruptions are due to multiple factors including geopolitical situations, an aging workforce, and climate-related risks. In response to these challenges, deploying new infrastructure quickly and efficiently as well as optimizing the operations of existing assets and extending their lifecycle is crucial.  A company's ability to harness actionable, data-driven insights is key to accelerate the transformation of assets that are safer, more efficient and more sustainable.
To help companies ensure business continuity while achieving their sustainability goals, Dassault Systèmes and IBM have decided to combine Dassault Systèmes' 3DEXPERIENCE platform and virtual twin experiences with IBM's solutions for Asset Management, Resources Optimization, Environmental Risk Management and ESG governance.
Any organization including consulting firms or engineering companies will be able to better understand existing assets and therefore provide the transformational roadmap to modernize and optimize energy grids, wind farms, airports, water distribution systems, transportation and mobility, cities and datacenters.
A virtual twin experience of an asset is a data-enriched, evolving 3D model that replicates reality with scientific accuracy and is used to test and improve the asset's performance virtually before doing so physically.  Combining virtual twin experiences of equipment, infrastructure, value networks and territories with solutions for optimizing meteorological and green IT data, for example, will help to:
Improve collaboration and knowledge sharing between system engineering, manufacturing, and operations teams.
Make faster, safer, and more sustainable operational decisions for assets, people, and processes.
Integrate compliance considerations with respect to industry and environmental regulations from the engineering phase to the maintenance phase.
Over the coming months, Dassault Systèmes and IBM will work together to structure the details of their joint offering. Both companies will first target owners and operators of water / energy distribution and energy transmission projects, wind farms operators, airports and IT infrastructure projects that focus on datacenters.
Examples use cases that benefit from this collaboration in Energy and Civilian Infrastructure markets include:
Compute and optimize global carbon footprint during datacenter operations by automating the actions that proactively deliver the most efficient use of compute, storage, and network resources.
Enhance airport operations by leveraging asset health and maintenance information, along with global meteorological and forecasting data
Combine optimization and simulation capabilities to improve the placement of physical assets for wind farms.
Optimize utilities operations and renovations including electrical transmission, water supply and sanitation
"There is no better time to revitalize the IBM Dassault Systèmes long-term Partnership, as solving sustainability challenges requires collaboration across an advanced ecosystem of business partners. We are convinced that enriching virtual twins with real world data will enable companies to improve their operational efficiency and reduce their environment impact especially in asset intensive industries," commented Ana Paula de Jesus Assis, Chair & General Manager, EMEA, IBM. "Throughout our own history, IBM has sought to be at the forefront of making our world a better place and our 2030 Net-Zero ambition confirms our commitment. We are developing a comprehensive and differentiated portfolio of sustainability software and consulting services, in concert with our ecosystem of partners."
"IBM has long been a valued partner of Dassault Systèmes, and we share a deep commitment to accelerating the sustainable transformation of industries.  This next step aims to help our customers reduce their environmental footprint in sectors that are urgent priorities in the context of today's energy crisis," said Florence Verzelen, Executive Vice President, Industry, Marketing and Sustainability, Dassault Systèmes.  "The combination of IBM's sustainability software and expertise with our 3DEXPERIENCE platform, sustainability portfolio and virtual twin experiences can offer unparalleled ways to address systemic challenges in achieving net zero ambitions and driving the circular economy."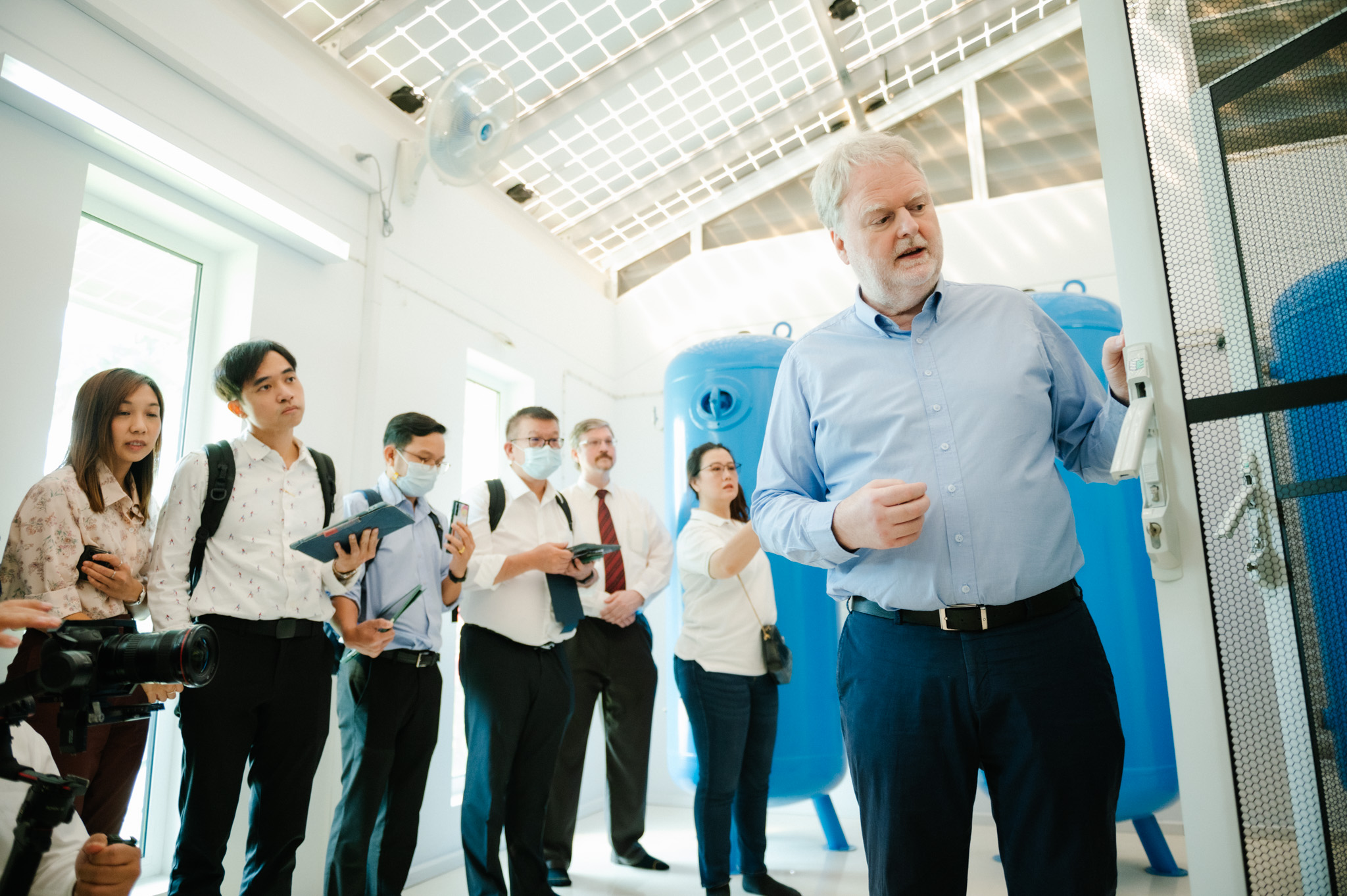 Enapter and its partners today launched a project to create Southeast Asia's first green hydrogen learning centre, in Chiang Mai, Thailand. Initiated with a contract signing ceremony and visit to the Phi Suea House hydrogen showcase, the project will be a partnership between Enapter, the German state-owned organisation GIZ, and Chiang Mai University's Energy Research and Development Institute of Nakornping (ERDI).
The green hydrogen knowledge hub in Chiang Mai will consist of a training centre developing and offering hands-on courses using state-of-the art technology, and a unique green hydrogen demonstration site. By training project developers, integrators and other energy professionals, the centre will enable the growth of hydrogen infrastructure in the region, promote regional cooperation and help position Chiang Mai and Thailand as pioneers in modular hydrogen system technology.
Green hydrogen, produced from renewable energy sources, has emerged as one of the most promising alternatives to fossil fuels. Thailand has set ambitious decarbonisation goals and sees hydrogen as a key element in achieving these targets, with this cooperation between the Thai and German public and private sectors set to play a role in supporting Thailand's national goals.
The project is being implemented via the International Hydrogen Ramp-up Program (H2Uppp), an initiative carried out by the GIZ on behalf of the German Federal Ministry for Economic Affairs and Climate Action (BMWK). It builds on the progress made thanks to the Phi Suea House in Chiang Mai, a multi-house residence that in 2015 became the world's first self-sustaining development powered by a clean energy system based on hydrogen energy storage. The European Commission in 2021 named it as one of 32 "Hydrogen Valley" large-scale hydrogen flagship projects around the world.
Phi Suea House was developed by Enapter CEO Sebastian-Justus Schmidt to showcase combined solar and green hydrogen tech feasibility – and has evolved into a hub of hydrogen activity and a technology prototyping sandbox. It will be part of the partnership to set up the knowledge centre.
Sebastian-Justus Schmidt – "Every new technology first goes through a learning phase. The doubts that arise at the beginning can be reliably dispelled with education and knowledge transfer. This project will act like a green hydrogen lighthouse for the region and make Thailand, and especially Chiang Mai, known as a knowledge centre in hydrogen, even beyond the country's borders."
Simon Rolland, Energy portfolio Programme Director, GIZ – "Today marks a defining moment in our pursuit of a greener and more sustainable future. The establishment of the green hydrogen knowledge hub in Chiang Mai is a clear demonstration of our unwavering commitment to clean energy and sustainable development. This project will not only provide a training ground for future project developers, but also serve as a model that showcases the viability of green hydrogen systems. With the combined efforts of CMU, Enapter, and GIZ, we are bringing together a wealth of knowledge and expertise that will make Chiang Mai a hub for innovation throughout Southeast Asia."
Prof.Pongruk Sribanditmongkol,M.D., Ph.D., President, CMU – "This is crucial in addressing the issue of climate change and reducing greenhouse gas emissions. We are proud to be a part of this important initiative and look forward to working together to make a positive impact on the environment."