Gulfood Manufacturing


Gea shows good food production process
Highlights at this year's fair include the new Gea Multi Jector 2mm, a new multi-purpose brine injector with flexible needles and the Maxi Former for the effective production of drum formed meat. The new and award-winning solution for in-line smoking of meat, poultry, seafood and meal components on Cook Star spiral oven will be demonstrated to the Asian market for the first time. In the area food packaging, the vertical packaging machine Smart Packer SX400 will be shown and offers convenient and inexpensive means of packaging a wide variety of convenience goods.
Having acquired the Italian Pavan Group, technology group Gea and Pavan will join forces at this year's Gulfood Manufacturing trade fair for the first time. Pavan, a leading manufacturer of extrusion and milling technology for processing diverse fresh and dry pastas, cereal-based snacks and breakfast cereals, will present its technology know-how to booth visitors.
Likewise, attendees will get to see the Lab Homogenizer Twin Panda 600. The homogenizer is a small table-top unit designed for continuous operation at high pressure and is the perfect machine for laboratory-scale, high pressure processing of dairy products, fruit juices, liquid food, food additives and ingredients. The RayPP (Pilot Plant) batch freeze dryer is equally well-suited to small-scale and R&D drying of general food products such as instant coffee, fruit, vegetables, herbs, meat, seafood and pet food, as well as very sensitive products such as lactic acid bacteria and enzymes. The new dryer more closely mimics the characteristics of larger industrial plants allowing more accurate scalability to full production.
In-depth knowledge-sharing and experiential sessions
The company will present a new way of sharing its expertise and experience with visitors at the company's booth. Customers and interested parties are invited to book a VIP time slot – choosing from among 15 different technology topics which will be presented by Gea experts – which allows them to set the agenda for their personalized in-depth knowledge session. Topics will cover Gea's diverse expertise in food processing and packaging, beverage, butter making, bakery and pasta extrusion and milling.
Uniform meat injection thanks to unique 2mm OptiFlex needles
The new brine injection system in the Multi Jector 2mm is specifically dedicated to precise turkey bacon and poultry processing, for 700 mm wide lines. The system features two millimeter Opti Flex needles – to date only available from Gea – which deliver a tight injection pattern, allowing for exceptional injection accuracy, product quality and consistency. The new equipment is seamlessly integrated within the Super Chill brine chiller and the Multi Shaker, which removes excess brine, closes needle marks and activates proteins, ultimately resulting in low standard deviation during production and thus increasing quality, yield and profit.
Rotary drum former with innovative step-filling technique
The Maxi Former provides very high production capacity, better consistency and significantly lower operating costs in the production of drum formed meat such as chicken nuggets and burger patties. The step-filling system minimizes the pressure used to fill each cavity carefully and progressively. This, combined with its rigid drum design, reduces wastage, improves filling accuracy, creates a higher quality formed product with excellent shape retention and minimizes down time for cleaning. Its knock-out system uses dry air at high pressure applied only to the relevant cavities, instead of the entire drum.
Effective vertical packaging solution
Gea's SmartPacker SX400 packaging machine, which will be shown at Gulfood Manufacturing for packing of dates, can be used for many applications from grated cheese to frozen vegetables, chicken nuggets or dried fruits and is characterized by reliability, cost efficiency and simple operation. This vertical packaging machine is equipped with PTC (Permanent Temperature Control) for polyethylene-based materials and heat-seal for laminated films, while offering variation in formats, ranging from standard flat pillow bags to EasyDoy bags – capable of handling up to 10 kg/bag and 100 bags per minute.
All suppliers on one platform
From greenfield projects to corrective and predictive maintenance and machine and plant performance optimization, Gea digital services give customers new ways to stay a step ahead of the competition. The latest is a cloud-based platform which falls under the umbrella of Gea Advance and which includes all of Gea's new digital solutions for customers. Created as part of a collaboration with start-up MachIQ, the portal offers customers cutting-edge services such as remote maintenance, data analysis and comprehensive e-commerce solutions. The portfolio will be rounded out with additional offerings such as condition monitoring, PLC connections and video support by the end of 2020. This solution stands out from other comparable industry portals given the new digital cooperation channel is supplier-independent, which means customers are able to integrate all of their supplier interactions into this single platform.
The advanced single-screw extrusion concept. Andritz extruders provide the latest technology for production of the most demanding extrudates in the aquatic feed and pet food industries.
For the polymers, chemical, pharma and food industry


Next Generation of High Accuracy Vibratory Feeding Technology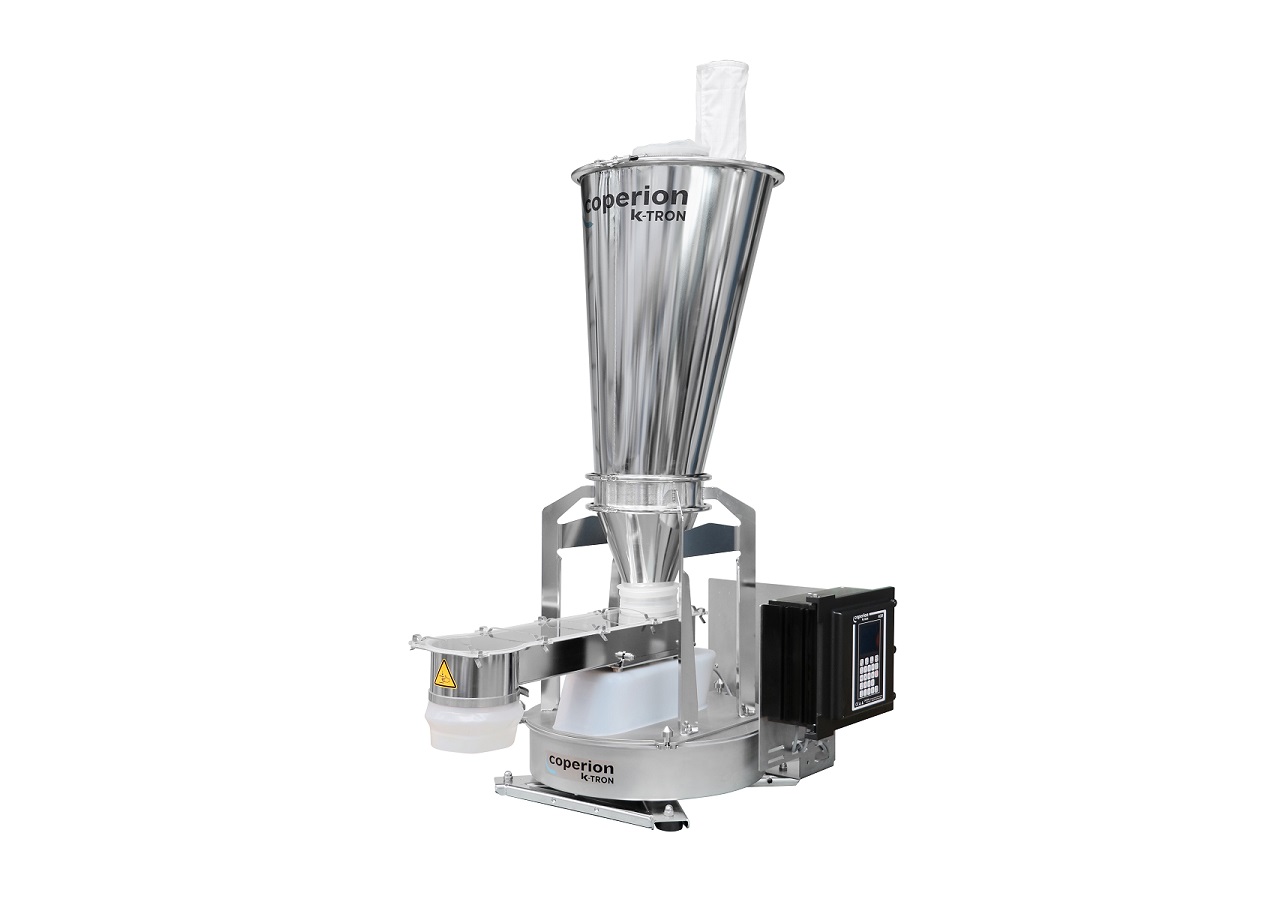 Coperion K-Tron is proud to announce a completely new K3 line of vibratory feeders for dry bulk solids.  The innovative new feeder design features a unique, patent-pending drive system combined with an advanced control package.  The new K3 vibratory feeder is able to achieve accuracies averaging 35% better over traditional vibratory technologies. This revolutionary new generation of Coperion K-Tron loss-in-weight vibratory feeders offers gentle handling of the bulk material, higher accuracy and faster product changeover, resulting in less product waste, less downtime and better end product quality as well as improved sustainability.
New technology brings significant advantages
These advantages are possible thanks to groundbreaking new technology. The key to achieving high accuracy is the ability to deliver a continuous, even product discharge with minimal pulsations. The new K3 vibratory drive is able to do this thanks to a completely new shock absorber design. Conventional vibratory feeders use rubber or spring shock absorbers, which allow movement of the drive in all directions, resulting in rotational motion. In contrast to these conventional shock absorbers, the new K3 line uses a unique flexible pendulum technology which provides shock absorption only parallel to the desired direction of motion, eliminating rotational movement. This parallel motion ensures an even material flow of the product along the entire length of the tray.
The advanced control system and feeder electronics include internal sensors which measure acceleration, displacement, load, current and temperature at rates of up to 25,000 times per second. The fast-acting controller then adjusts the vibratory drive signal to maintain clean sinusoidal displacement for optimal mass flow. The combination of this unique drive with the Coperion K-Tron SmartConnex control system also results in extremely low energy consumption as compared to other feeding technologies. Power consumption can be as low as 20 Watts for feed rates as high as 6,000 kg/h, thus making it ideal for improved production sustainability and minimal heat dissipation.
The typical feeder package consists of a feed hopper, vibratory tray and vibratory drive mounted on a weighing system featuring patented, high accuracy Smart Force Transducer weighing technology and combined with SmartConnex controls. The mechanical package is modular in design, and versatile in that it can accommodate custom tray configurations and lengths, offering the user more flexibility.  A special quick-release clamp mechanism on the feeder tray allows for quick product changeover. The absence of mechanical wear parts results in lower maintenance requirements and ensures gentle handling of the bulk material. In addition to the standard design, a line of hygienic, easy-clean configurations is also available. These include a hygienic silicone cover to enclose the complete drive assembly, making it also suitable for food and pharmaceutical applications.
Ideal for gentle handling of difficult bulk materials
Vibratory feeders are ideal for the gentle handling of a wide variety of materials, including friable products, abrasive products, products with non-uniform shapes, and glass fibers. They are ideally suited to applications such as the high accuracy feeding of finished food products to packaging lines, uncoated tablets to coating lines, as well as difficult feeding of pellets or regrind to plastic extrusion lines, for example in plastic recycling applications.. Vibratory feeders can often be a viable alternative to screw feeders for difficult materials, where gentle vibratory feeding may allow feeding without build-up which can occur on screws and screw tubes.
Coperion at the K 2019: Hall 14, Stand 14B19
Adding value with state-of-the-art separation technologies


Smart solutions for the beer-brewing process
International technology group Andritz is presenting its unrivalled range of separation and filtration technologies for the beer industry at BrauBeviale in Nuremberg, Germany, from November 12 to 14, 2019, hall 7, booth 7-421. Experts from Andritz will be on hand to provide specialist support for a wide range of brewing processes from mash filtration to yeast beer recovery and beer filtration.
The solutions cover a wide range of separation and filtration processes and equipment needed for beer production – from filter presses and dynamic crossflow filters to decanters and separators.
One special product designed exclusively for the brewing industry is the Art Brew beer clarifier, the latest version of which will be showcased at BrauBeviale. Combining efficiency and ease of maintenance, Art Brew is a high-quality and simple-to-operate beer clarification solution, which comes as a plug-and-play unit for the craft beer industry but also in large sizes for industrial beer production.It comprises a unique inert-gas sealing system known as KO2 (knock-out oxygen) that prevents unacceptable levels of oxygen pick-up between the clarifier inlet and outlet connections. Thanks to its small dimensions and custom configuration, the Art Brew is not only highly efficient, but also a very compact solution that is quick to install. The Art Brew range caters to brewers of any size, with a beer clarification capacity ranging from 50 to 700 hectoliters per hour. Visitors will be able to explore the Art Brew's control options and see the process clearly from close quarters.
Another separation technology that has proven its worth for producers of a wide range of beverages is the Andritz Dynamic Crossflow Filter (DCF). Its rotating membranes allow users to separate highly viscous sludges like surplus yeast up to yeast concentrations containing more than 25% by weight, thereby ensuring optimum yeast beer recovery with the highest filtration quality. Because breweries no longer have to dilute the yeast with water in order to process it, the filtered beer can be blended with the main stream without any impact on the quality or alcohol content. As a result, this method becomes an interesting alternative to traditional concentration technologies.
The membrane filter presses ensure that the effective filtration of mash is kept at a constant, high quality level. As filter press filtration is a sealed process, the risk of oxidation is kept to a minimum. Additional peace of mind comes from the fact that Andritz filter presses are not only easy to clean and come with the option of cleaning-in-place solutions, but the components also conform to FDA standards. In addition, brewery customers in particular benefit from the fact that Andritz filter presses can be adjusted to a variety of processes and recipes.
IIoT Technologies
With the development of Metris addIQ control systems, the company has taken the lead in IIoT (Industrial Internet of Things) solutions for solid/liquid separation processes and offers a wide range of innovative products and services under the Metris technology brand. These technologies allow the evolution of separation processes towards fully automatic operations. In addition to user-free operation, the biggest advantages lie in the fields of predictive maintenance and risk mitigation. The innovative automation solutions add a new dimension to the performance of production facilities by minimizing downtime and maximizing product yield, quality, and consistency – even for operations that are already up and running. Furthermore, they are completely scalable and backed by a specialist network of global automation experts.
One specific smart product that appeals to brewers is the intelligent filter press. Equipped with a Metris addIQ control system, the intelligent filter plate within the filter press is able to measure the residual moisture content in the spent grains while simultaneously monitoring this factor online. This means that the filtration process is always stopped at the ideal moment – gaining valuable filtration time and therefore a higher filtration capacity.
And the expertise doesn't end with technology – whether customers need spare parts, rentals, local service, repairs, upgrades, or modernization of equipment, Andritz is a full-service provider. From initial consulting through to service agreements, process optimization, and training programs, Andritz specialists are always looking for ways to minimize downtime and increase predictability in operations while raising overall production efficiency. The network of 550 service specialists and global service centers ensures that the firm will always be there to support its customers for many lifecycles to come.
Andritz at the Brau Beviale 2019: Hall 7, Stand 421