One step ahead


Gas odorization for networks up to PN 16
According to the German Energy Agency (dena), biomethane production in Germany may increase as much as ten times over – from currently 9 terawatt hours to about 100 – by 2050. What is more, natural gas is the most important energy source for private households and accounts for 44 percent of the heating market. Before natural gas or biogas is fed into commercial supply networks, it must have an odorant added to it. Odorants serve as a warning in case of leakage. Since the last few years have been marked by a trend toward decentralized production, Lewa has added the MAH 4 size to its micro-metering pump portfolio as a proactive measure for meeting the expected increase in demand. The new unit can be used for odorizing with mercaptans or tetrahydrothiophene at a throughput rate of up to 12,500 Nm³/h. The pump covers the flow range from 200 to 250 ml and can be used as a cost-effective solution in accordance with DIN-EN 1333 for gas networks up to PM 16. At this year's Gat/Wat trade fair, the company is presenting the new pump model for biogas, natural gas, and liquefied petroleum gas odorizing systems alongside many other products in hall 07 at booth C016.
"Back in early 2018, we started getting more requests for odorizing gas volumes of approximately 12,500 Nm³/h, to the point where it just made sense to design a pump specifically for that amount," said Walter Richter, Sales Manager for Gas Odorization at Lewa. "The right way for us to respond to this trend was to add an intermediate size, the MAH 4, to our hydraulically actuated and solenoid driven micro-metering pumps from the MAH, MBH, and MLM series. The new size meets the requirements for this range exactly." The new unit closes the gap between the MAH 3 and the MAH 5 – something that had previously been done using the larger MLM 15 series. However, the stronger stroke solenoid made that design over-dimensioned and less cost-efficient in some cases. Neither the MAH 3 nor the MAH 5 units from the same series were cut out for the job. There was always one of two problems: either they could not manage to pump at the required output of 16 bar, or they could manage a sufficient flow rate at 600 ml but were not designed for the necessary discharge pressure.
The MAH 4 micro-metering pump as a cost-efficient solution
The pump experts at Lewaclosed a gap in the series by developing this unit. The MAH 4 makes it possible to odorize gas volumes of up to 12,500 Nm³/h with precise metering and in a flow range of 200 to 250 ml. Like all solenoid-driven diaphragm metering pumps from Lewa, the MAH 4 also consists of an electromagnetic drive with stroke setting, a pump head with metal diaphragm and a control system contained in a separate housing. "The metering pump is actuated with pulses," explained Richter. "The discharge stroke is executed by the armature of the magnet. The suction stroke takes place after switching off the electrical pulse using the force of the thrust spring." The highly reliable, robust pump features a safety switch. An overload – due to a closed valve in the discharge line, for example – automatically leads to magnet standstill, as its force is limited. "In the worst case, a closed valve in the suction line would, cause cavitation," Richter added. "After the faults are remedied, the pump simply continues pumping."
Under the same basic conditions, the MAH 4 stands out for its metering accuracy of ± 1 percent and, thanks to the wide control range up to 1:1,000, outstandingly high metering flexibility. Further, its design is absolutely odor-tight and leakage-free, safe from dry runs and features high process reliability. The only difference between the new MAH 4 and the proven MAH 5 is that the new size has a different inner diameter for the plunger and bushing. Both dimensions were reduced from 5 to 4 mm. Thanks to the adjustments and optimizations made to those dimensions, the MAH 4 serves as a cost-efficient solution for the specific range of applications and is perfect for its requirements.
Lewa at Gat/Wat 2019: hall C, Stand C016
Compressed air treatment


Future-proof drying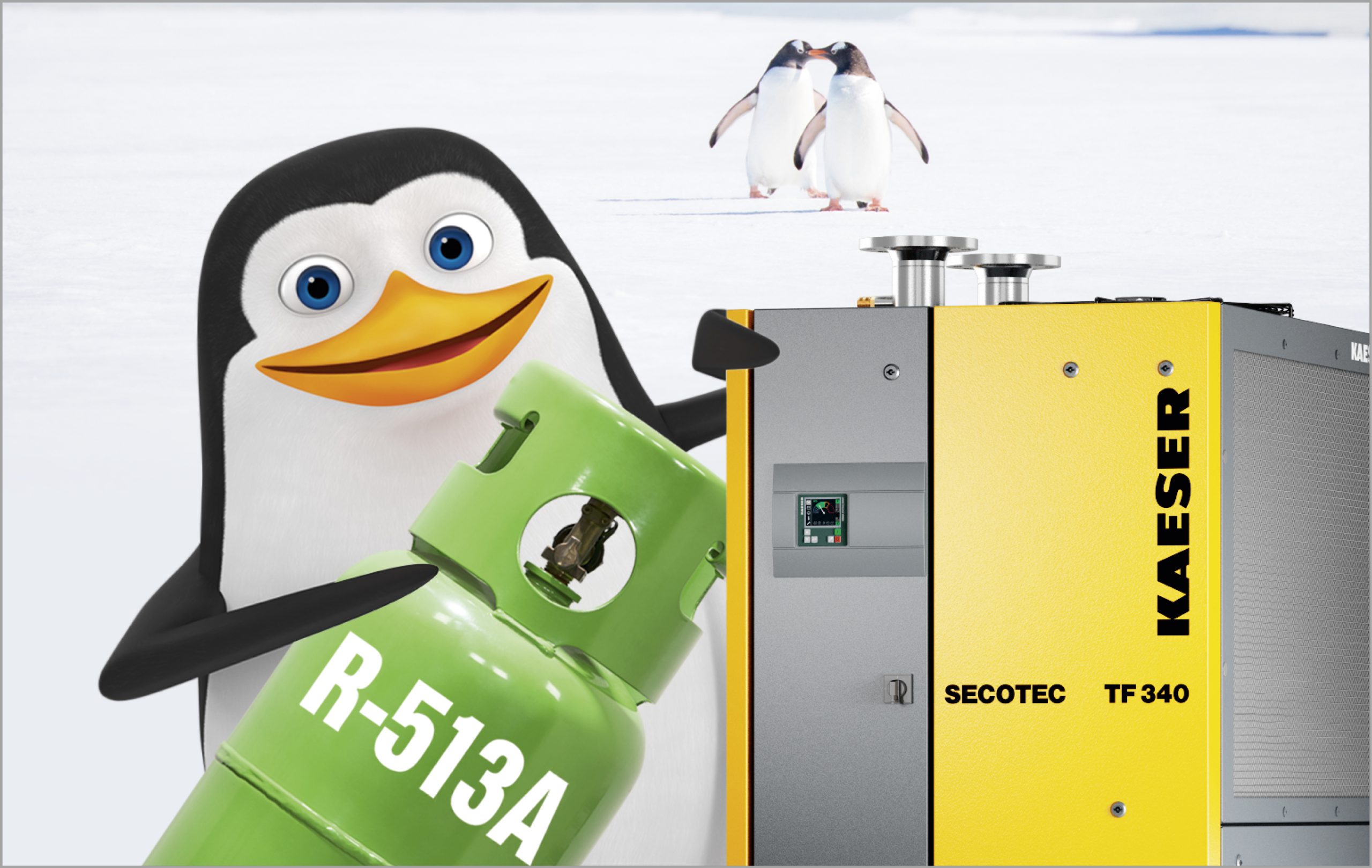 Anybody using refrigeration drying in compressed air treatment is required to comply with the F-gas regulation. The new EU 517/2014 directive represents the end for certain refrigerants that are still currently used in these dryers.
Nearly every compressed air station uses refrigeration dryers, since most applications require these machines to deliver a dependable supply of quality dried compressed air. The F-gas regulation EU 517/2014 has been in force since 2015. It is intended to minimise the emissions of partly-fluorinated greenhouse gases (F-gases) as they significantly contribute to global warming. The effects of this legislation can already be felt by operators of compressed air stations, because F-gases are used as refrigerants in refrigeration dryers. This means that operators have to comply with the directive's stipulations when they service or repair existing refrigeration dryers, or when new refrigeration dryers are purchased. The refrigerants used up until now are being withdrawn from the market.
All refrigerant dryers from Kaeser Kompressoren will therefore use the new R-513A refrigerant by the end of 2019. It is climate-friendly and provides users with peace of mind when it comes to future-proof operation. Kaeser is supporting all customers to convert their systems to a more environmentally-friendly alternative.
When planning the purchase of a new dryer, consideration should be given to make sure that the unit uses a refrigerant that complies with the requirements of the directive, not just today, but also in the years to come, and that the refrigerant will be available for future service work. Some manufacturers use materials that are legal today, but which will eventually become prohibited, or which will simply no longer be offered, due to their high global warming potential. This means that those operators who use these materials will soon be faced with the same problem – the company is aware of this issue and takes early preventative countermeasures accordingly.
It rarely makes sense to retrofit older but functional machines to use new refrigerants. Operators are well advised to take note of the currently-used refrigerants in their equipment and to obtain information regarding alternative strategies. Kaeser's experienced and certified personnel are available to assist you. Certified service is advisable for all refrigeration dryers in order to provide different solutions with regards to this subject; this is especially true for older systems where refrigerant conversion is uneconomical.
All refrigeration dryers are designed to provide maximum efficiency and energy cost savings. Thanks to the new refrigerant, they are also future-proof for their entire service life when it comes to applicable refrigerant legislation. Moreover, they are exceptionally efficient, require minimal maintenance and are easy and quick to service.
Secotec TG


Energy-saving refrigeration dryer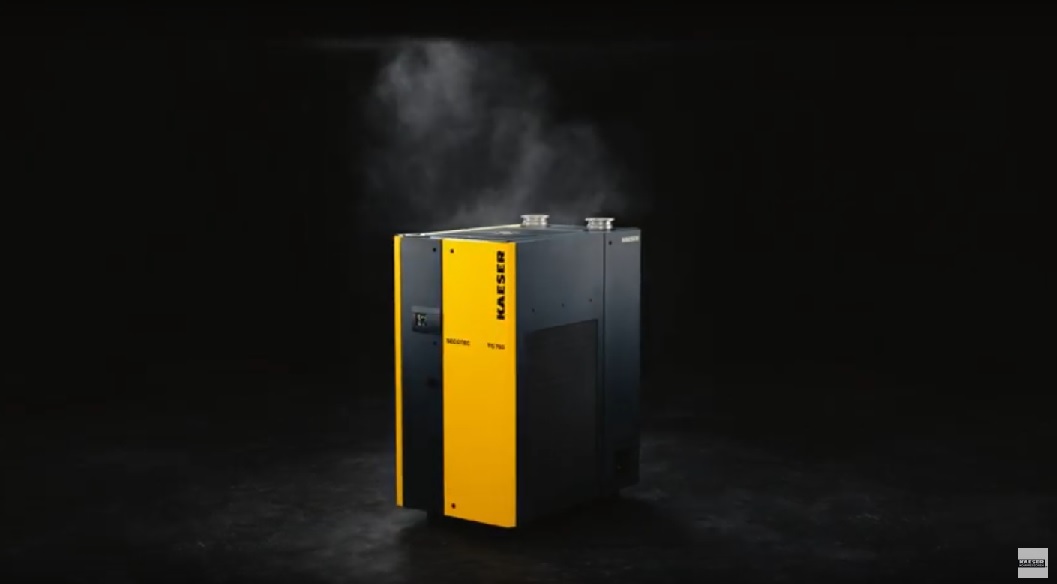 With the new TG series, Kaeser extends its range of energy-saving Secotec refrigeration dryers to accommodate flow rates up to 98 m³/min and offers models with a choice of air- or water-cooling.
Designed for large-scale industry, these compact giants ensure stable pressure dew point performance even under the toughest of operating conditions – with maximum reliability and minimal life-cycle costs.
The powerful cold storage concept, together with the standard network-capable Sigma Control Smart controller, ensure material-friendly and energy-saving operation in all load phases. The innovative exhaust air control of the air-cooled variants sets the new standard in terms of operational safety and cost efficiency.
With synchronous reluctance motor


An unbeatable one-two combination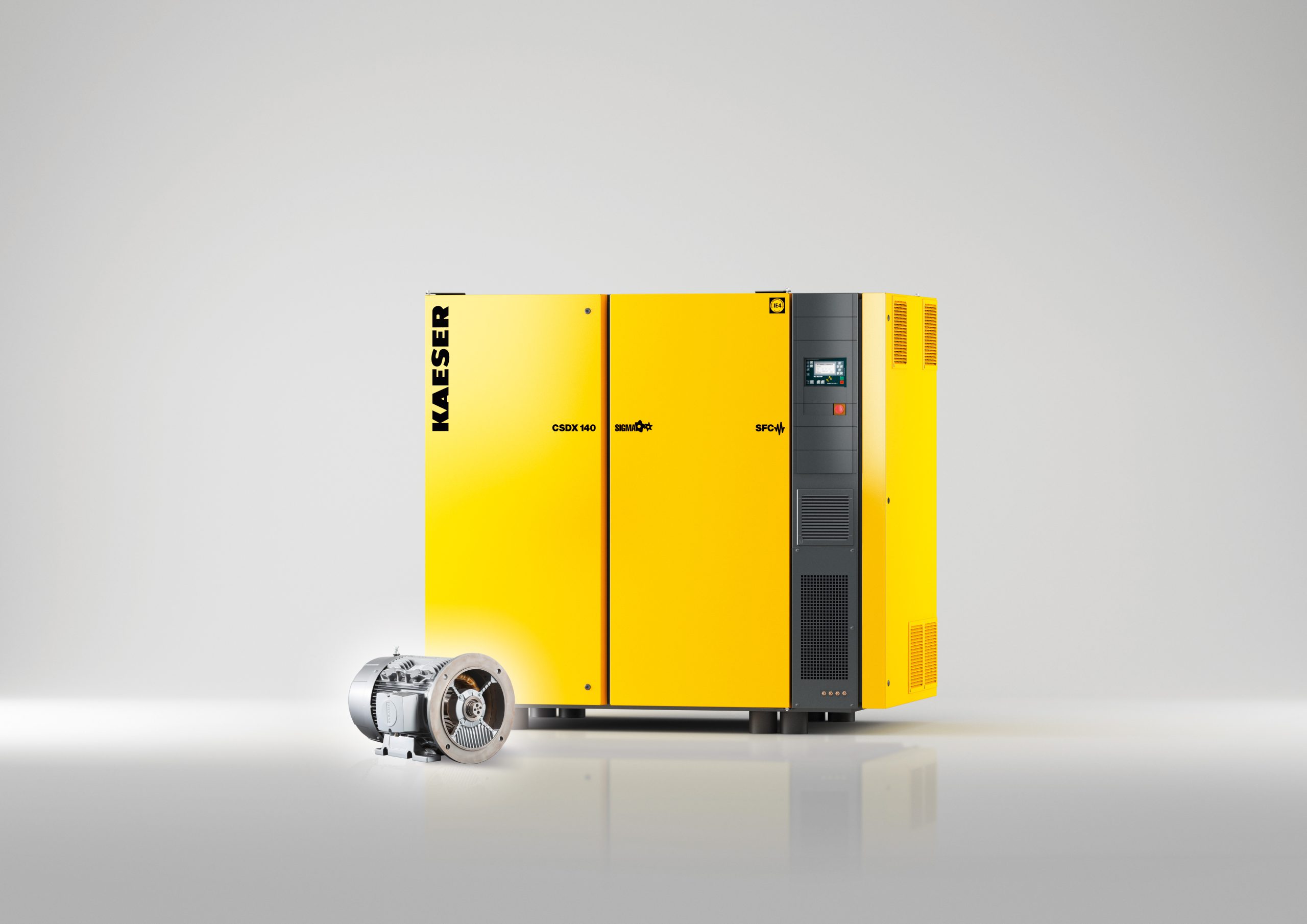 Kaeser paved the way for the highest current efficiency gain, and thus reduced energy costs, when using variable-speed compressors. Following the ASD series, the CSD/CSDX series has now been equipped with this innovative drive technology.
Responsible use of resources is one of the key factors to which Kaeser Kompressoren owes its success. As a leading compressed air systems provider and a renowned industry trendsetter, the family-owned company proudly presented yet another technological milestone some time ago: the introduction of synchronous reluctance motors for its SFC variable-speed screw compressors. Following the ASD series, the CSD and CSDX series have now been equipped with this technology as well. This means significantly lower energy costs for customers, particularly in the crucial partial-load range, compared to the previous solution with asynchronous motors.
With Sigma Profile and innovative drive concepts, Kaeser's rotary screw compressors already deliver outstanding performance and reliability, combined with energy efficiency and space-saving design, in keeping with Kaeser's motto: More compressed air for less energy consumption. The roll-out of synchronous reluctance technology was the next step towards even greater efficiency. The major advantage of this complete solution, which was developed in partnership with Siemens, is an efficiency gain of approximately ten percent in the partial-load range. Thanks to the innovative motors and the top IES2 classification as per the new EN 50598 efficiency standard, this solution offers unprecedented efficiency. For example, in the case of an ASD SFC series screw compressor, this translates into average energy cost savings of around 450 euros per year, based on approximately 6,000 operating hours at a rate of 10 cents per kilowatt hour. Users therefore not only enjoy maximum flexibility for specific applications and varying environmental conditions, but also with regard to load response.
Variable-speed drive with high system efficiency
Compressed air stations are often constructed on a modular basis. Continuously running compressors with IE4 motors cover base load demand, whilst additional peak-load compressors respond flexibly to meet extra demand; the system is controlled by a Sigma Air Manager 4.0 to ensure maximum efficiency. With the Siemens synchronous reluctance drive systems, this will be performed with even greater efficiency in the all-important partial load range.
They were developed in response to the fact that the new EN 50598 eco-design standard applies not only to the efficiency values of individual drives, but represents a shift in regulatory emphasis to overall system efficiency and thus assesses the compliance of variable-speed drive solutions, based on their overall system efficiency. With its variable-speed version (SFC) of the ASD to CSDX series, Kaeser paves the way for customers around the world to embark on a path of minimal energy consumption and minimal operating costs.
Synchronous and asynchronous motor technology
This new and innovative series of general-purpose motors combines the strong points of both asynchronous and synchronous motors in a single drive system. No aluminium, copper or expensive rare earth magnets are used in the rotors. Instead they are made of electrical steel with a specialised profile and arranged in series, making the drive highly durable and maintenance friendly, the characteristic advantages of asynchronous motors.
On the other hand, the control properties of the new motors are comparable to those of synchronous motors. The special rotor design enables reluctance motors to deliver high speeds without additional rotor warming due to current flow. The key to this lies in optimised matching of the drive system elements, i.e. the motor and frequency converter. It is the perfectly harmonised interplay between these two components that facilitates maximum energy savings.