Compressed air treatment


Future-proof drying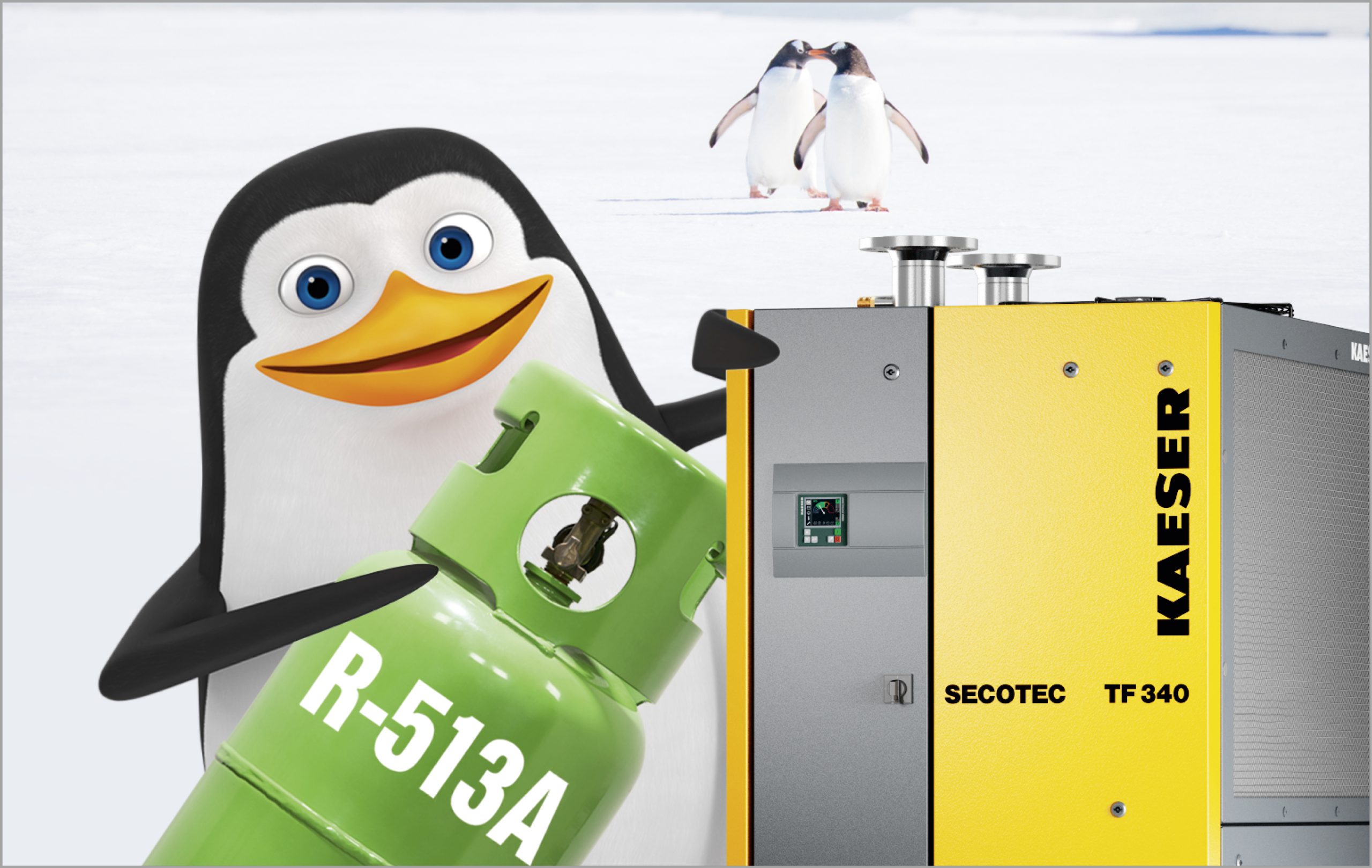 Anybody using refrigeration drying in compressed air treatment is required to comply with the F-gas regulation. The new EU 517/2014 directive represents the end for certain refrigerants that are still currently used in these dryers.
Nearly every compressed air station uses refrigeration dryers, since most applications require these machines to deliver a dependable supply of quality dried compressed air. The F-gas regulation EU 517/2014 has been in force since 2015. It is intended to minimise the emissions of partly-fluorinated greenhouse gases (F-gases) as they significantly contribute to global warming. The effects of this legislation can already be felt by operators of compressed air stations, because F-gases are used as refrigerants in refrigeration dryers. This means that operators have to comply with the directive's stipulations when they service or repair existing refrigeration dryers, or when new refrigeration dryers are purchased. The refrigerants used up until now are being withdrawn from the market.
All refrigerant dryers from Kaeser Kompressoren will therefore use the new R-513A refrigerant by the end of 2019. It is climate-friendly and provides users with peace of mind when it comes to future-proof operation. Kaeser is supporting all customers to convert their systems to a more environmentally-friendly alternative.
When planning the purchase of a new dryer, consideration should be given to make sure that the unit uses a refrigerant that complies with the requirements of the directive, not just today, but also in the years to come, and that the refrigerant will be available for future service work. Some manufacturers use materials that are legal today, but which will eventually become prohibited, or which will simply no longer be offered, due to their high global warming potential. This means that those operators who use these materials will soon be faced with the same problem – the company is aware of this issue and takes early preventative countermeasures accordingly.
It rarely makes sense to retrofit older but functional machines to use new refrigerants. Operators are well advised to take note of the currently-used refrigerants in their equipment and to obtain information regarding alternative strategies. Kaeser's experienced and certified personnel are available to assist you. Certified service is advisable for all refrigeration dryers in order to provide different solutions with regards to this subject; this is especially true for older systems where refrigerant conversion is uneconomical.
All refrigeration dryers are designed to provide maximum efficiency and energy cost savings. Thanks to the new refrigerant, they are also future-proof for their entire service life when it comes to applicable refrigerant legislation. Moreover, they are exceptionally efficient, require minimal maintenance and are easy and quick to service.
Bilfinger


Virtual Annual General Meeting planned for June
Due to the spread of the coronavirus (Sars-Cov-2), Bilfinger is planning to conduct its regular Annual General Meeting on June 24, 2020 as a virtual general meeting without the physical presence of shareholders. The protection of the health of employees, shareholders and service providers is given the highest priority.
The framework for holding a virtual Annual General Meeting is provided for by the regulations created by the German legislator for the year 2020 to mitigate the consequences of the coronavirus pandemic.
The Annual General Meeting shall only be accessible to shareholders who have registered in due time via the company's website. By using a previously established online portal, these shareholders shall be able to observe the entire Annual General Meeting and to exercise their voting rights electronically (postal vote) or by granting a proxy. The online portal will in addition enable them to submit questions on agenda items up to two days prior to the Annual General Meeting.
Power Supply Product


Bi-directional DC-DC converter series has extended voltage
TDK Corporation (TSE 6762) announces the introduction of the EZA2500W-32048 TDK-Lambda brand bi-directional DC-DC converter model to its EZA series. The extended high voltage range now covers 260 to 400Vdc and the lower voltage 36 to 65Vdc. The operating temperature has been increased to -10 to +50°C. Double sided protective board coating and long-life dust resistant fans have also been included.
Designed for energy storage systems with rechargeable batteries, this 2500W digitally controlled, compact 1U power supply can seamlessly change conversion direction from high voltage dc sources, powered by solar or wind, to 48Vdc batteries and vice versa. Other applications include lithium-ion battery testing as well as the use of regenerated energy from robots, cranes, autonomous ground vehicles and lifts. The EZA2500 can be used to replace large power resistors currently used for lift braking and use that previously dissipated energy to charge batteries. That stored energy can be used to either provide peak power for high torque demands or as battery back-up for power cuts.
The output voltage and current can be programmed and monitored using the RS-485 communications port. Multiple units can be operated in parallel by using the RS-485 interface to set units for "droop mode" current share. Alarm signals are also accessible, as well as remote on/off and under/over voltage functionality. The high voltage (grid) to low voltage (battery) isolation is 3,000Vac, grid to ground 2,000Vac and battery to ground 500Vac.
The dimensions for the EZA2500 are 43.6mm (1U) high, 423mm wide and 400mm deep. All models in the EZA series are certified to the IEC/EN/UL 60950-1 and IEC/EN/UL 62368-1 safety standards with CE marking for the Low Voltage, EMC and RoHS Directives. A five-year warranty is standard.
Milestone of sustainability


New compact and green freezer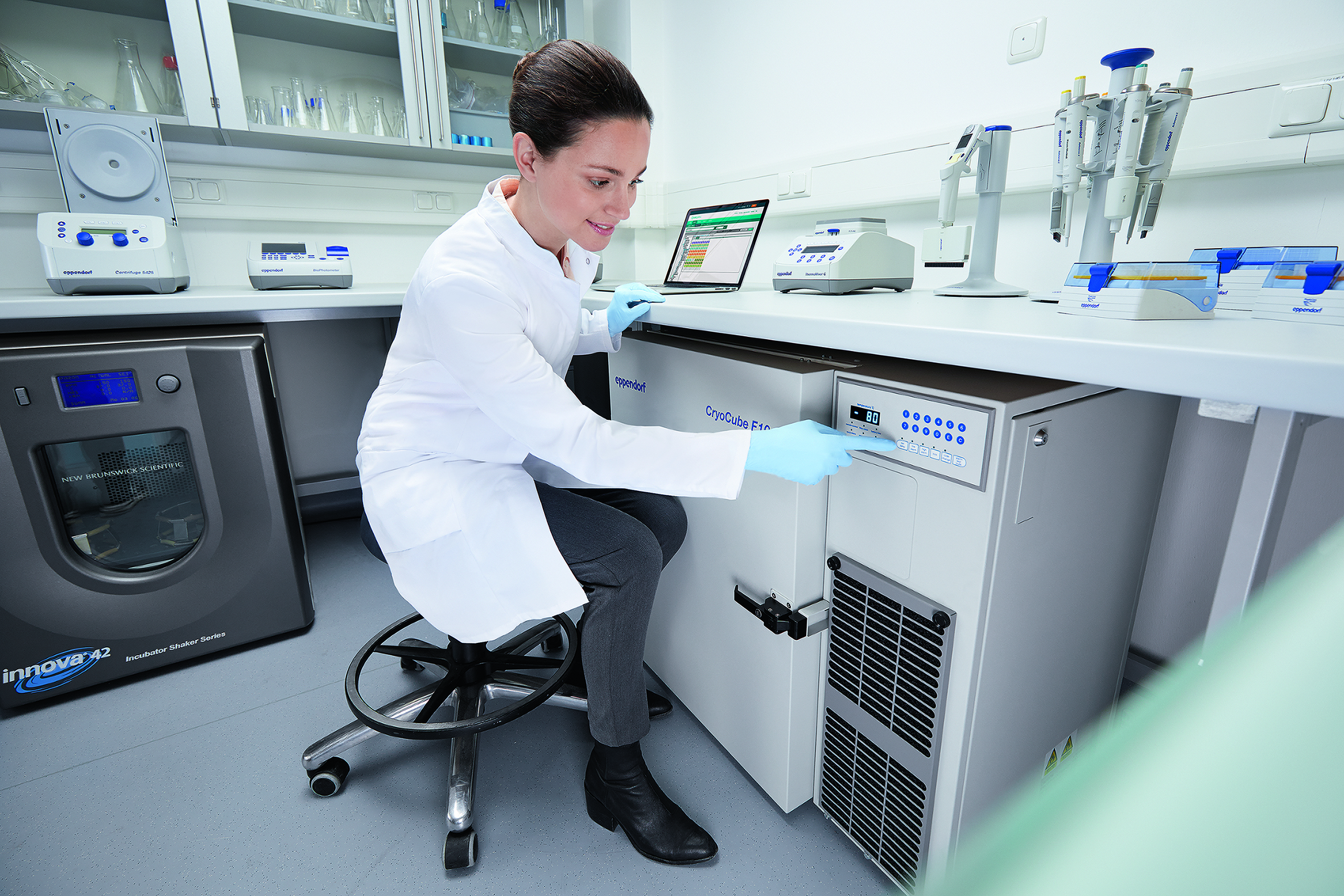 Eppendorf reached a further milestone of sustainability by re-designing the compact ultra-low temperature (ULT) freezer CryoCube F101h (230 V) on future-proof green cooling liquids and green insulation foam.
By combining longevity and quality with sustainability aspects, the CryoCube F101h is the personal below-the-bench ULT freezer. 101 L of -80°C can be filled with up to 60 freezer storage boxes. Compared to its precursor, the F101h saves up to 17% of power.
This is a further building block in a longer green Eppendorf story. Eppendorf now has more than 10 years of experience in research and development, production, logistics, and service in the field of green ULT freezers.
The CryoCube F101h, the new members of the CryoCube F740 series, VisioNize user interface and lab connectivity applications as well as the eLABInventory sample management software are further new building blocks for a smart cryo-solution of valuable samples.