Compressed air treatment


Future-proof drying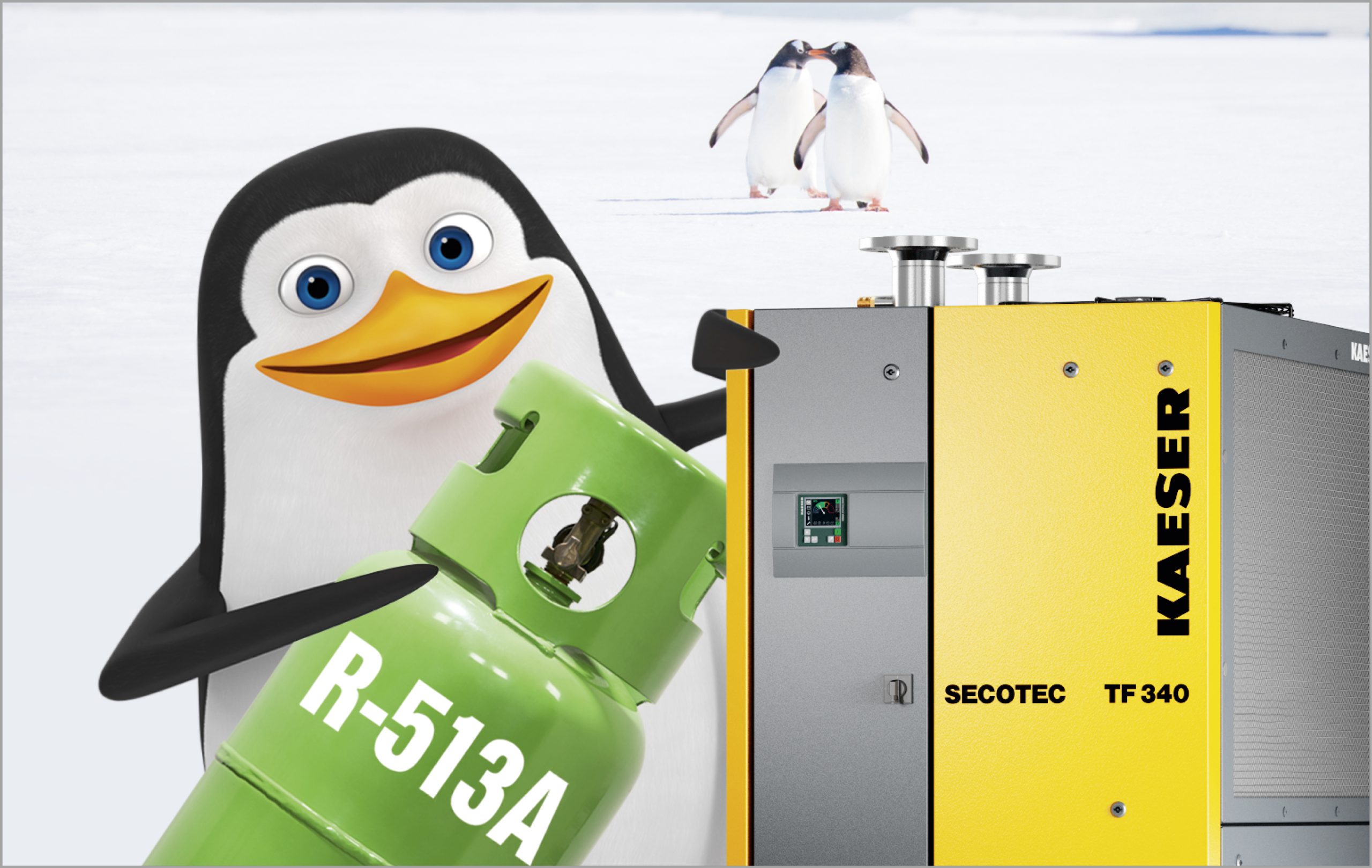 Anybody using refrigeration drying in compressed air treatment is required to comply with the F-gas regulation. The new EU 517/2014 directive represents the end for certain refrigerants that are still currently used in these dryers.
Nearly every compressed air station uses refrigeration dryers, since most applications require these machines to deliver a dependable supply of quality dried compressed air. The F-gas regulation EU 517/2014 has been in force since 2015. It is intended to minimise the emissions of partly-fluorinated greenhouse gases (F-gases) as they significantly contribute to global warming. The effects of this legislation can already be felt by operators of compressed air stations, because F-gases are used as refrigerants in refrigeration dryers. This means that operators have to comply with the directive's stipulations when they service or repair existing refrigeration dryers, or when new refrigeration dryers are purchased. The refrigerants used up until now are being withdrawn from the market.
All refrigerant dryers from Kaeser Kompressoren will therefore use the new R-513A refrigerant by the end of 2019. It is climate-friendly and provides users with peace of mind when it comes to future-proof operation. Kaeser is supporting all customers to convert their systems to a more environmentally-friendly alternative.
When planning the purchase of a new dryer, consideration should be given to make sure that the unit uses a refrigerant that complies with the requirements of the directive, not just today, but also in the years to come, and that the refrigerant will be available for future service work. Some manufacturers use materials that are legal today, but which will eventually become prohibited, or which will simply no longer be offered, due to their high global warming potential. This means that those operators who use these materials will soon be faced with the same problem – the company is aware of this issue and takes early preventative countermeasures accordingly.
It rarely makes sense to retrofit older but functional machines to use new refrigerants. Operators are well advised to take note of the currently-used refrigerants in their equipment and to obtain information regarding alternative strategies. Kaeser's experienced and certified personnel are available to assist you. Certified service is advisable for all refrigeration dryers in order to provide different solutions with regards to this subject; this is especially true for older systems where refrigerant conversion is uneconomical.
All refrigeration dryers are designed to provide maximum efficiency and energy cost savings. Thanks to the new refrigerant, they are also future-proof for their entire service life when it comes to applicable refrigerant legislation. Moreover, they are exceptionally efficient, require minimal maintenance and are easy and quick to service.
Milestone of sustainability


New compact and green freezer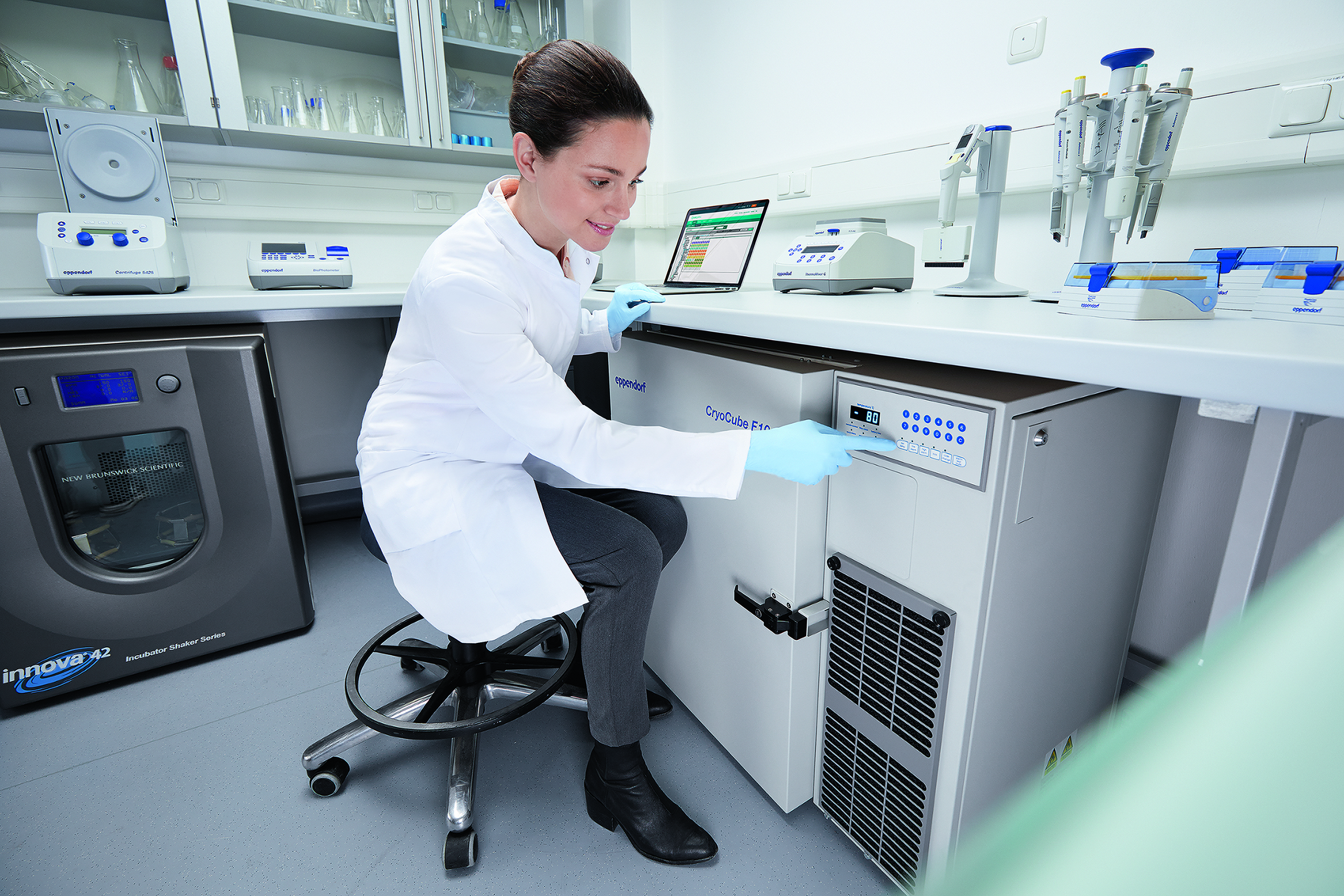 Eppendorf reached a further milestone of sustainability by re-designing the compact ultra-low temperature (ULT) freezer CryoCube F101h (230 V) on future-proof green cooling liquids and green insulation foam.
By combining longevity and quality with sustainability aspects, the CryoCube F101h is the personal below-the-bench ULT freezer. 101 L of -80°C can be filled with up to 60 freezer storage boxes. Compared to its precursor, the F101h saves up to 17% of power.
This is a further building block in a longer green Eppendorf story. Eppendorf now has more than 10 years of experience in research and development, production, logistics, and service in the field of green ULT freezers.
The CryoCube F101h, the new members of the CryoCube F740 series, VisioNize user interface and lab connectivity applications as well as the eLABInventory sample management software are further new building blocks for a smart cryo-solution of valuable samples.
Filtech 2019


Visit the trade show for filtration and separation technology
Filtration and separation techniques are among the most important basic procedural operations in all process industries. Most raw materials and products are mixtures of substances and must therefore be filtered or separated for further processing. Filter solutions play also an important role in achieving hygienic production environments, as required in the pharmaceutical and other process industries.
International Trade Show for Filtration and Separation
At the Filtech show, which takes place from 22 to 24 October 2019 in the Cologne trade fair, filter and separation solutions will take center stage. Due to this trade fair, Cologne will once again become the meeting point of the global filtration and separation industry with experts, users and suppliers from all relevant sectors. The organizer expects more than 400 exhibitors on 14,000 square meters of exhibition space. The Filtech Fair is the largest event in the world that focuses entirely on all aspects of filtration and separation
The exhibitors from all around the world will present the entire range of relevant products. Filter materials, media and auxiliaries such as textiles, cloths and mats, bags and tubes, metal mesh, glass fiber, activated carbon, paper and sieves form the basis. These are supplemented by filter elements, housings, plates, frames and other components. Users will also find manufacturers of complete filter systems for all media, as well as dryers and centrifuges. Machines for the production of filters complete the offer.
The Filtech trade show will take place this year from October 22 to 24, 2019, on the grounds of Koelnmesse in the district of Cologne-Deutz. The humble beginnings of the fair with 6,200 visitors in 2011 are now far behind. Last year, 14,000 people attended the event, more than half of whom came from abroad. The organizer Filtech Exhibitions expects that the number of visitors will increase again this year. The exhibition organizers are expecting more than 400 exhibitors this year and have significantly increased their exhibition space by expanding to the second level of Hall 11 of Koelnmesse.
In addition to the actual fair, Filtech offers a range of accompanying events. An extensive conference program will take place on all three days of the fair. For this program, the organizers were able to win prominent experts from academia and industry. In addition to top-class keynotes, workshops and lectures on a variety of relevant topics are offered.
The fair also offers one-day courses on selected topics. This year, short courses for solid / liquid separation and fine dust separation will be offered on October 31st.
Visitors of the fair can pre-register on the website of the fair. https://filtech.de/exhibition/visitor-registration . One-day tickets cost € 20.00, two-day tickets € 25.00, and one ticket for all three days € 30.00,
Modular temperature assemblies


Temperature assemblies for Oil, Gas and Chemical
I-Therm Modu-Line TM101, TM111, TM121, TM131: Endress+Hauser introduces a new range of innovative modular temperature assemblies for general and demanding applications in the Oil & Gas, Chemical, Power & Energy industries that require excellent measurement performance and reliability. Designed to comply with international standards and help reduce costs, increase safety and maximize plant availability. Easy configuration, commissioning and operation and maintenance. Global availability with short delivery times and expert application support guarantee that you can keep your process up and running.