Chemical Applications


From Batchwise to Continuous Production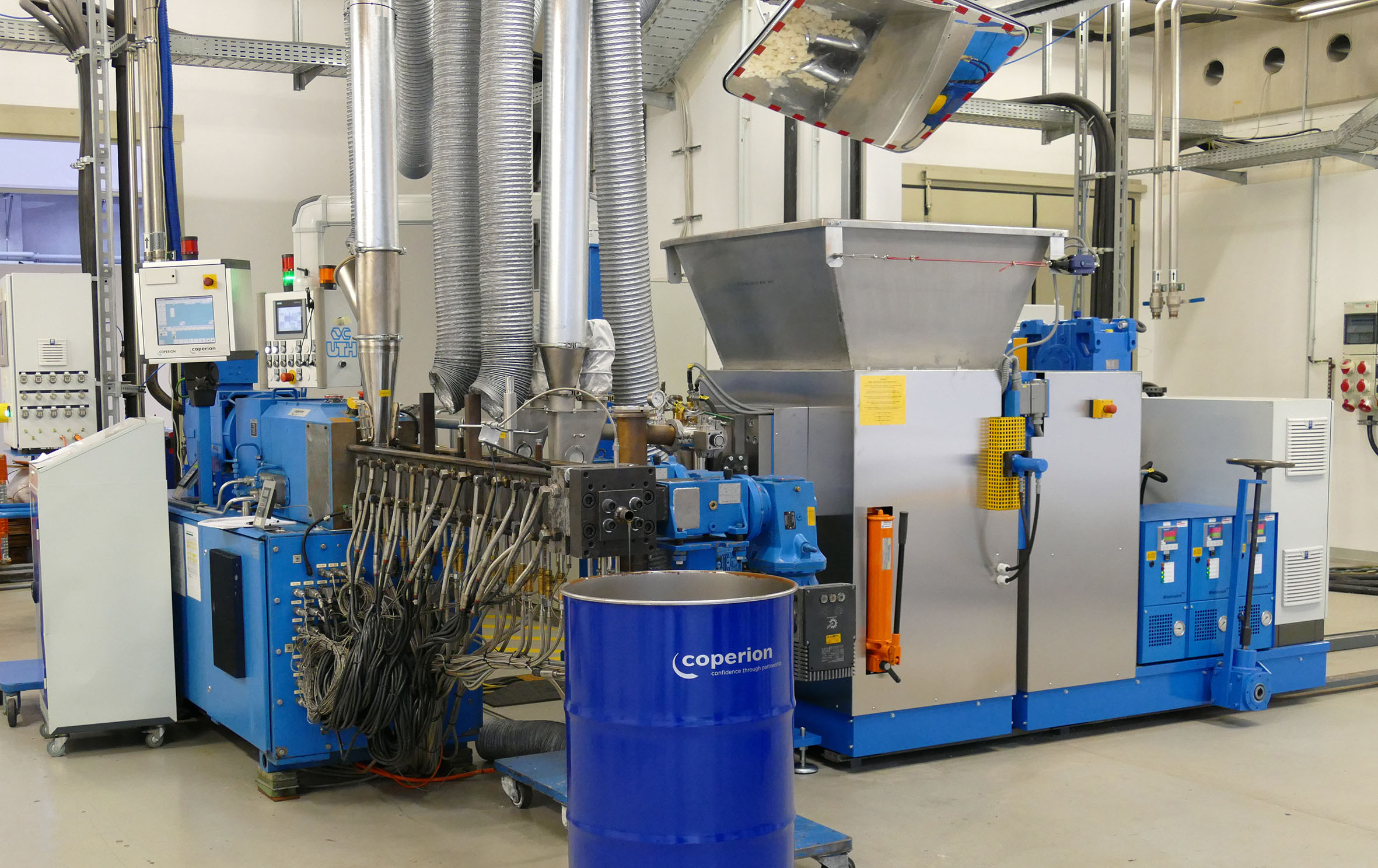 Over 150 participants from approximately 15 nations came to Stuttgart, Germany on13 and 14 November 2018, accepting their invitations to the 2018 Coperion Extrusion Days. In keeping with the motto "Batch to Conti", the conference took up an often-discussed current topic in the chemical industry, surrounded in controversy, that offers enormous savings potential, while reliable information regarding its safety and dependability often remains unavailable. Presentations by internal and external experts, plant tours, and live presentations gave professionals in attendance new insights into the basics of modern extrusion with co-rotating twin screw extruders and their enormous performance gains — relative to production volume — versus batchwise mixing and homogenization processes. Such understanding serves to aid participants in decision making for their own uses. A central focus of many presentations was on maintaining constant formulations to meet specifications using application-specifically optimized extruders, feeding systems, and monitoring systems. Concrete case examples demonstrated successful conversions from batch to extruder technology and the significant increases in production capacity enabled thereby, with at least equal product quality and, in any case, significantly better quality consistency.
A ZSK 34 Mv PLUS twin screw extruder was the central element in a demonstration of HMPSA (Hot Melt Pressure-Sensitive Adhesive) manufacturing.  In this example, a Roll-ex  system masticated rubber balls on hand as a formula component so far as to enable continuous extruder feeding.
Use of a demonstration extruder with a transparent plastic housing allowed Coperion Stuttgart's research & development team to give visitors the ability to see for themselves how differently designed mixing elements ensure complete mixing of two fluids with different viscosities. A CFD (Computational Fluid Dynamics) flow simulation shown in parallel demonstrated the broad agreement between theory and practice. Coperion is implementing this process in order to evaluate newly developed screw elements and mixtures, among others.
"In the meantime, continuous processes are being implemented in many industries for countless applications and mixtures. The advantages of consistent quality at concurrently higher efficiency nowadays are also attractive arguments for many users in the chemical industry to potentially change over from batch processes to continuous production", said Oliver Beiser, Team Leader of Chemical Applications of Coperion's Compounding & Extrusion Division.
The variety of questions raised in the forum, as well as the animated discussions during breaks between event blocks, demonstrated how great the need is for information in this field, and how that need extends far beyond what is available. Time and again, participants expressed amazement at the versatile possibilities shown, even in their own companies, to increase productivity with short-term ROI and increased quality consistency. Of particular note for participants was a comparison of scrap quantities that Guido Arzt, member of the global process team at Henkel Adhesives & Sealants, elucidated during his presentation.
Moreover, during one extensive plant tour, participants at the 2018 Extrusion Days gleaned an impression of Coperion's vertical integration at its Stuttgart location, ranging from screw element and extruder barrel manufacturing to final assembly of twin screw extruders.
Pseudospin


Photonic Circuits Hosting Electromagnetic Waves
Metamaterials are purposely built devices mimicking structural features of normal materials, but with unusual physical properties. Photonic crystals, for example, are periodic nanostructures consisting of material components with different refractive indices. They have lattice symmetries like solids, but the constituents of the unit cell of a photonic crystal are 'bits' of the different bulk materials. Similar to the structure–property relationships resulting from the behavior of electrons in solids (e.g. semiconduction), photonic crystals offer ways for manipulating the propagation of light. Now, Xiao Hu at the International Center for Materials Nanoarchitectonics, National Institute for Materials Science, Tsukuba, Japan, and colleagues have succeeded in creating a photonic metamaterial that displays a special property known as a topological photonic state.
The researchers first considered theoretically a planar construction of microstrips organized in a honeycomb-like way. Strip segments inside hexagons are put narrower than those between hexagons in one half of the device, and vice versa in the other half, because a structure with alternatingly wide and narrow strips results in a so-called photonic band gap: a range of frequencies for which electromagnetic waves cannot naturally exist in the system. The nodes of the hexagonal network are connected to capacitors; the segments linking nodes act as inductors. (A capacitor, abbreviated 'C' in circuit theory, is an electric component capable of storing energy in an electric field. An inductor, abbreviated 'L', is a component that stores energy in a magnetic field when an electric current flows through it.)
The topological LC-circuit proposed by Hu and colleagues has a peculiar property. When excited by an electromagnetic wave with a frequency in the photonic band gap, at the intersection of the two halves, waves in opposite directions are created. What is remarkable is that these two waves can be assigned a quantity known as pseudospin, with values 'up' and 'down', respectively, and they are immune to backscatter even at sharp corners and robust to defects due to the topological protection.
To demonstrate their theoretical finding experimentally, the scientists fabricated the topological LC circuit from microstrips — metallic strip lengths were about 1 cm and both halves consisted of 14 × 8 hexagons — and, by using microwave near-field techniques, measured the electric-field component perpendicular to the sample. The measurements confirmed the existence of the special topological state.
Being able to generate and manipulate electromagnetic waves with pseudospin is promising for applications like communications and high-resolution imaging. The concept presented by Hu and colleagues is not restricted to the microwave range, but also applicable to infrared light. The planar geometry of the device makes it easy to include other circuit elements, such as resonators or superconducting Josephson junctions. One difficulty, though, is to channel the pseudospin modes out of the sample.
Bilfinger 2018


Strong order book driving profitable revenue growth
Industrial services provider Bilfinger continued to grow in the financial year 2018. Relevant key figures improved across all business segments, meeting the forecasts and in some instances even outperforming them. The Strategy 2020 stabilization phase has been completed, the set milestones have been reached: Orders received, revenue and earnings developed positively, while the Group's liquidity and return on capital employed were at levels above those of the previous year.
"We delivered on our 2020 strategy and on our commitments to both internal and external stakeholders. I am particularly pleased with the successful conclusion of the DPA and our Monitor's Certification that Bilfinger is on an irreversible course towards compliance self-sufficiency. I think we can confidently say that 2018 was a year of achievement for Bilfinger."

Tom Blades, CEO Bilfinger
The business environment continued to be robust in our six focus industries, particularly in Chemicals & Petrochem, Oil & Gas and Pharma & Biopharma. Demand for engineering and maintenance services continued to build on top of growing mechanical construction opportunities in the United States.
Strengthening the sense of purpose
Bilfinger continues to fine tune and adopt its 2-4-6 Strategy to better serve customers and drive margin development. Its engineering resources delivering both project management consulting and maintenance engineering have now been fully integrated into the regions to enhance Bilfingers end-to-end EMC capabilities. Consequently, the divisions are renamed E&M effective January 1, 2019. The technology companies delivering Energy & Emissions, Biopharma and Automation products remain grouped together and serve Bilfinger customers globally from their European manufacturing base. Together they form the Technologies division also effective January 1, 2019.
Outlook 2019
In connection with the described adjustment to its organizational structure, Bilfinger is also adjusting its reporting segments as of the beginning of 2019. The forecasts and statements related to the expected development of the Group are made within the scope of these reporting structures.
In the Technologies segment, a significant increase in revenue (2018: €499 million) is expected as a result of growth in order backlog. This is subject to continued and anticipated strong orders received in the course of the year. Bilfinger expects stable revenue development in the Engineering & Maintenance Europe segment (2018: €2,732 million). At Engineering & Maintenance International, the Group sees positive momentum in the markets and therefore expects significant revenue growth (2018: €763 million).
One-dimensional confinement


Molecular-weight polymer selection
Researchers at Kanazawa University report in Nature Communications that a crystal of molecules known as pillar[5]arenes can form a host–guest compound with poly(ethylene oxides) polymers. The effect can be used to select polymers with different molecular weights and end groups.
When polymers are confined into one-dimensional (1D) channels, they behave differently. Their dynamics changes, and they may chemically bind to the surrounding channel. A team of researchers led by Tomoki Ogoshi from Kanazawa University has now shown that such 1D confinement, provided by a molecular crystal of so-called activated pillar[5]arenes, can be used to selectively capture different types of polymers.
The scientists studied host–guest binding ('complexation') between activated pillar[5]arenes (abbreviated 'P5') and poly(ethylene oxide) polymers (abbreviated 'PEO'). P5 is a molecule consisting of 5 identical organic units featuring a benzene ring, with a pentagonal shape. The monomeric building block of PEO is O-CH2-CH2; PEOs with 100 or more monomers can easily be synthesized.
Host–guest complexation was achieved by first melting PEO at 80°C, and then immersing the P5 molecules activated by drying solvates into the melt. By means of nuclear magnetic resonance (NMR) spectroscopy measurements, Ogoshi and colleagues were able to show that PEO molecules were taken up by the P5 structure. X-ray diffraction experiments showed that the crystal structure of the P5 molecules had changed into a network featuring channels.
The researchers then looked at what happened with a mixture of PEOs consisting of various numbers of monomers. The number of building blocks affects the weight — the more monomers, the heavier the polymer. Ogoshi and colleagues discovered that the heavier PEOs were taken up in larger quantities, showing that the P5 host can select PEOs with high mass fraction from a polydisperse mixture. By means of computer simulations, it was possible to attribute this finding to an increased binding energy for the larger (heavier) PEOs.
The scientists also investigated the effect of the PEO's end group. The fastest PEO uptake was observed for methoxy end groups (O-CH3), for which an equilibrium state was reached after 3 minutes. For OH and NH2 end groups, the times to reach equilibrium were 10 and 20 minutes, respectively. Uptake for PEO with COOH as the end group was slow.
The observation by Ogoshi and colleagues that P5 crystals can perform high mass fractionation from polymer mixtures with a broad molecular-weight distribution is important because, quoting the scientists, "high-molecular-weight polymers generally exhibit superior characteristics such as increased thermal stability, improved mechanical properties, and higher crystallinity compared with low-molecular-weight polymers."