Plant Processes Leftovers into Green Energy


French Manufacturer of Potato Chips Opts for Biomethane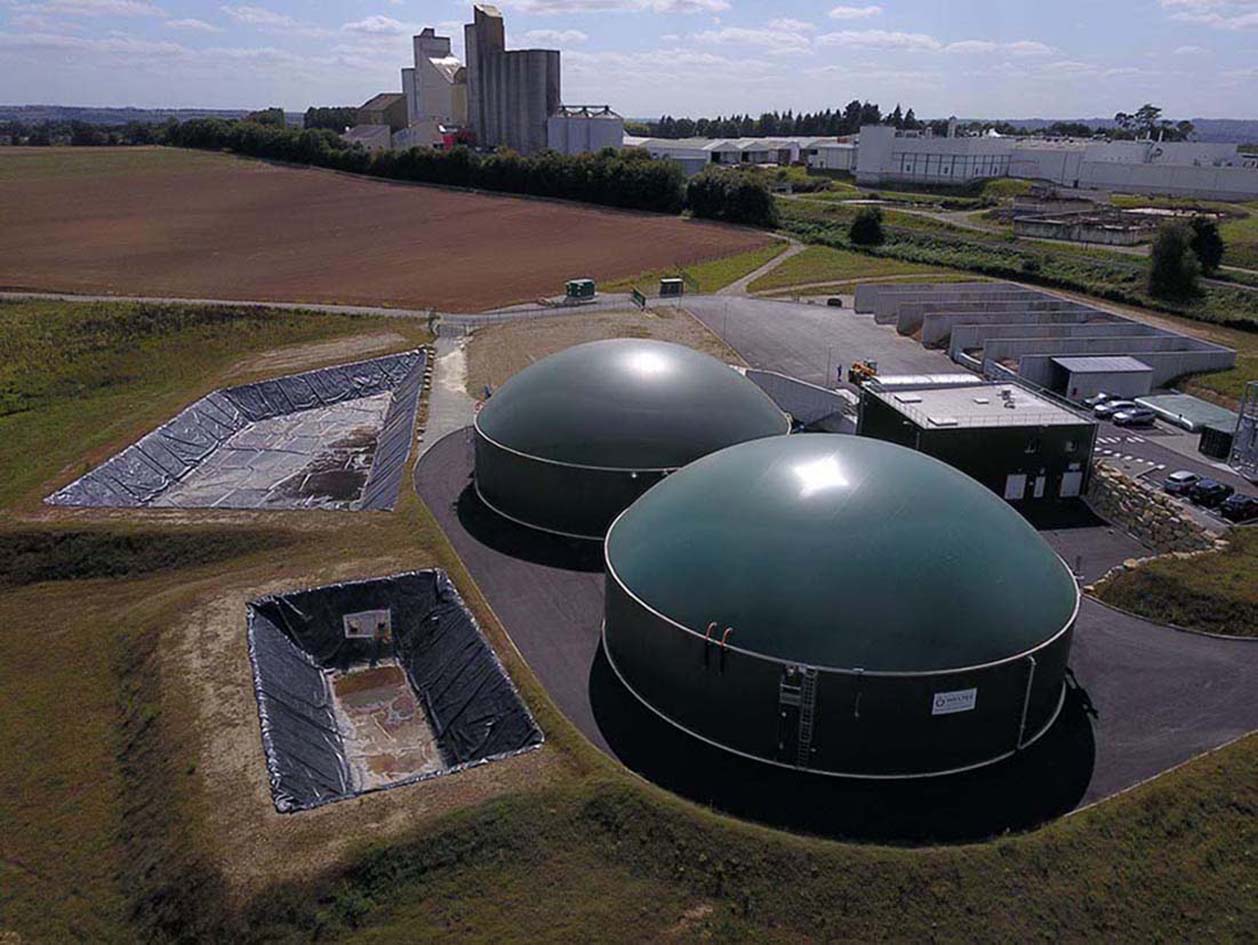 Recently, biogas plant builder Weltec Biopower completed a biomethane plant for Altho, a French manufacturer of potato chips in St. Gérand, Brittany. The plant was planned and set up by the German manufacturer in collaboration with its French partner Weltec France. Some 200 standard m³/h of biomethane are generated from production waste and sludge from the company's own wastewater treatment plant. This corresponds to the gas consumption of a town with a population of 5,000.
For more than a year, France has promoted the establishment of biomethane plants. Now, an action package implemented by the government makes sure that the projects can be rolled out speedily and with minimum bureaucracy. The improved framework conditions have started showing up in the order books of experienced biogas specialists like Weltec Biopower.
The biomethane production is in line with the CSR (corporate social responsibility) policy of Altho, which holds more than a third of the market share with its chips brand "Bret's". "Via the Altho subsidiary Sober, which operates the biogas plant, we actively participate in recycling, producing a green energy source from waste. Additionally, we contribute to the reduction of greenhouse emissions and the energy dependence of the region", says Christophe Chrétien, Managing Director of the biogas plant of Sober.
The chips production yields 22,000t of leftovers and sludge a year. Potato and starch leftovers as well as other production waste account for about half of the substrate; the rest is made up of the sludge from the washing process. First, the solid and liquid substrates are mashed and shredded in the sturdy Multi-Mix input system. After this pre-processing, the mixture is fed into the stainless-steel digester, which has a capacity of 4,436 m³. A post-digester with the same capacity is the last step in the material cycle. Subsequently, the digestate is sold to local farmers, who use it as high-quality fertiliser.
The process that transforms the biogas into biomethane also stands out with its sustainability: To condition the biogas, Weltec Biopower has integrated the membrane technology in a compact container solution. "In the container, the raw gas passes through special membranes that separate it from carbon dioxide, steam and other components. The three-stage separation, which has already been successfully employed in other Weltec plants, reduces the methane slip to less than 0.5 percent", says Alain Priser, who is responsible for Weltec's business in France. Another major benefit is that thanks to the upstream compression, the methane has exactly the right pressure that it needs in order to be fed into the natural gas grid without any further compression. The separation takes place at ambient temperature and without using any chemicals.
In this way, 400 standard m³/h of raw biogas yield about 200 standard m³/h of processed biomethane. "Owing to the durable membranes, the plant availability is high, and the maintenance overhead is low", says Alain Priser. He adds: "In St. Gérand, we ensure uninterrupted gas feed-in with our custom-developed LoMOS PLC."
With this equipment, Altho is able to focus on its core business and make efficient use of accumulating leftovers. This fills an urgent need, as many French biogas operators struggle with technical problems. A survey conducted by the Atee (Association technique énergie environnement) has revealed some sobering results: 94 percent of the plant operators had technical problems, and 65 percent did not see their efficiency expectations fulfilled. This was usually because the technology did not meet the requirements. In view of these challenges, the cooperation between Weltec Biopower and Weltec France is just what is needed. "Our team has a wealth of experience in handling various substrates, and it custom-tailors the technology implemented in each plant. In this way, we ensure stable, economical operation", explains Alain Priser. "Over the last 18 years, we have successfully installed and commissioned more than 300 biogas plants in 25 countries. The combination of 'Made in Germany' with the cooperation with strong local partners ensures security and efficiency for our customers." This is an optimum basis for the further development of the portfolio of biogas plants in France and around the globe.
News story hub


Standing Up To Covid-19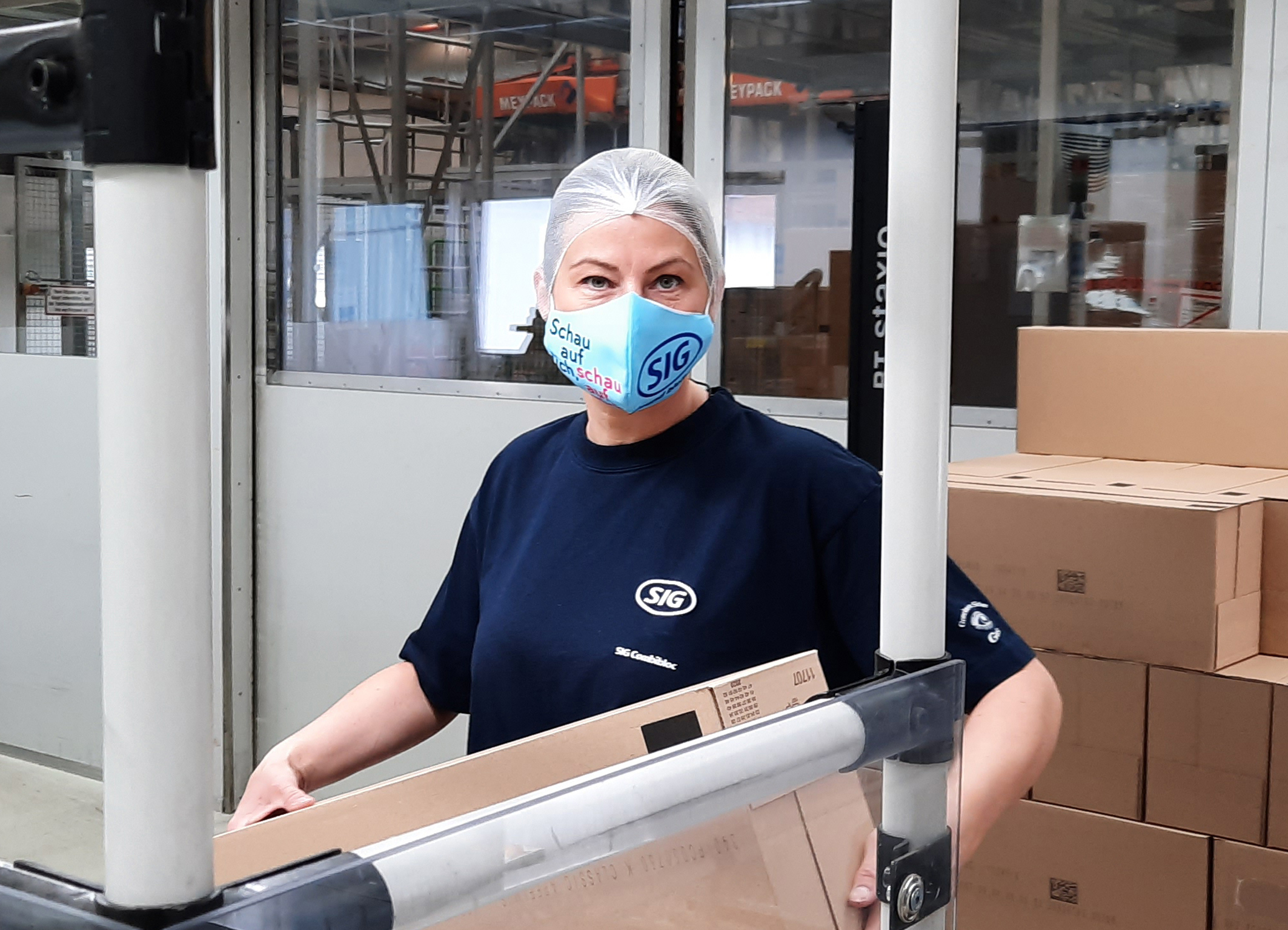 SIG has launched a new online story hub, featuring the latest activities and actions the company is taking as part of a global response to the ongoing Covid-19 pandemic. The story hub is now live at www.sig.biz and will be updated in the coming weeks and months as the company continues to act and respond to the new Covid-19 reality.
Since the start of the Covid-19 outbreak, SIG has been taking decisive action in a number of ways as individuals, communities and a global company. This has included immediate actions to protect its employees and customer supply chains, together with various community projects and donations in the regions it operates.
The new story hub has been designed to gather all these global efforts and initiatives into one easy-to-navigate platform with three main story themes: employee stories, food supply stories, and community stories.
Keeping people safe and secure
With health and safety its highest priority, SIG has been working to protect the health and wellbeing of employees across its plants, offices and facilities. This has included everything from immediately enacting a global pandemic preparedness plan and ensuring all employees adhere to the strictest hygiene guidelines, to working remotely when and where possible as well as organising social distance and online workouts.
"The safety of SIG employees is always our highest priority. Around the world, our local teams and task forces are not only following official guidance from all relevant health authorities. They're often going above and beyond to protect the health and safety of colleagues throughout our plants, offices and facilities," said Ian Wood, Chief Supply Chain Officer, and Leader of SIG's Global Corona Response Team.
Ensuring food stays safe and available
In many countries where it has production facilities, SIG is among the businesses defined as critical infrastructure. This means the company can continue providing essential services to society at a time when reliable food supply is more important than ever. And to keep up with the current demand, SIG has been operating at near full capacity to ensure its customers can deliver a continuous supply of food and beverage products to consumers.
"All over the world, businesses have had to quickly change how they work, adhering to lockdowns and social distancing," added Wood. "For those providing essential services for society, such as food and beverage companies, this has proved particularly challenging. So, at SIG, we've been doing everything we can to keep food supply running as normal."
Serving communities for the better
During Covid-19, SIG has recognised that its contribution to local communities is more important than ever. As a result, the company has been carrying out and supporting a number of additional community projects. This has included donating face masks to hospitals and medical centres, providing essential food and hygiene items to disadvantaged families, and partnering with producers to deliver food and drink products to frontline healthcare workers.
"At SIG, we know the importance of being part of a community. And now more than ever, we need to continue providing community support where and when we can – from helping our healthcare heroes on the frontline to ensuring children in need receive essential food and aid packages during this time of uncertainty," said Wood.
Read SIG's Covid-19 stories at: https://www.sig.biz/en/company/standing-up-to-covid19/
Coperion and Aurora Kunststoffe


Profitable Recycling and Upcycling with ZSK Extruders
Aurora Kunststoffe, a company located in Neuenstein and since end of 2019 member of MOL Group, is demonstrating how plastic processors' production waste can be recycled and upcycled profitably. This producer of recompounds uses rejected parts accumulated from plastic components manufacturing as primary raw material and processes it into recycled, new-product-quality plastic compounds. After a major fire in their production area in 2017, Aurora Kunststoffe decided once again to rely on ZSK twin screw extruders from Coperion. Those three ZSK 45 Mc18 twin screw extruders have been in successful operation since early 2019, and with their high throughputs and their reliability, they have fulfilled every requirement that Aurora Kunststoffe needs for their innovative business plan.
Technology for First-Rate Compounds
In manufacturing technical plastic parts, typically there is approximately a five percent rejection rate. Aurora Kunststoffe purchases this production waste, then examines the precise composition and varietal purity. Once they pass quality control, the single-variety plastic parts are ground, fed into the compounding process and pelletized. The result is pellets mainly based on PA6, PA66, PA11, PA12, POM, PP, PC, and PC-ABS. To accomplish this, Aurora Kunststoff relies on Coperion ZSK technology. Within the ZSK twin screw extruders, the ground material is reliably homogenized with additives, fillers and reinforcing materials and devolatilized. To this end, Coperion designed each of these three ZSK 45 extruders individually for Aurora Kunststoffe's requirements, equipping them with ZS-EG twin screw side devolatilization units and special wear protection for product-contact parts. Following melt discharge from the die head at the end of the extruder's process section, plastic strands are taken over by semiautomatic SCP 200 strand conveying systems from Coperion Pelletizing Technology. They are automatically conveyed via a cooling water chute and a conveyor belt to the strand pelletizer's feed mechanism, where they are cut to compounds whose quality corresponds to that of new material. Noted Norbert Büter, Coperion Sales Manager, "When recycling plastics, it is necessary to adapt the process parameters and recipes to the various raw materials. With their flexibility and high torques, ZSK twin screw extruders are optimally suited for processing even the most difficult raw materials to very good product quality – and they do it at throughputs that are economical. By devolatilizing using ZS-EGs, not only are unwanted gases removed; operational safety of the entire vacuum system is increased. This applies especially to even very volatile viscosities."
Rebuilding Production
In 2017, a large fire at Aurora Kunststoffe destroyed the entire production area. Aurora Kunststoffe held fast to its successful sustainability concept, even expanding it after the fire. New twin screw extruders began operation in a new, larger space in 2019. In meeting such a tight deadline, Aurora Kunststoffe relied on close collaboration with their suppliers. Alexander Schweinle, Head of Production at Aurora Kunststoffe, is particularly proud of this: "Coperion delivered not just three ZSK 45 extruders that were individually designed for us, and the appropriate strand pelletizers, but they also supported us with the engineering necessary for the entire production. I would like to emphasize the really good collaboration between our two companies: Coperion consistently reacts to our inquiries quickly and knowledgeably, which was key during our production's rebuilding phase."
Successful Recycling Concept
Production waste from industrial plastics manufacturing is becoming more and more valuable in times of rising raw materials prices and increased environmental pollution. Aurora Kunststoffe buys these industrial by-products and turns them into high-quality raw materials that are used in the automotive, construction, furniture and electronics industries.
Plastic waste comes to Aurora as part of its unique Aurora-Lean-Logistics concept, consisting of Aurora's own fleet of about 60 semi-trailers and a box concept for perfecting single-origin collection. At Aurora, materials are ground and processed into recompounds by means of extrusion. With this process, Aurora Kunststoffe achieves throughputs of up to 650 kg/h on their ZSK 45 twin screw extruders. Per day, Aurora Kunststoffe produces over 50 tons of compounds. For the future, Aurora anticipates increasing demand. "I am certain that sooner or later, there will be a legally mandated recycling quota", said Schweinle.
Jochen Schofer, Business Segment Manager, Recycling & Direct Extrusion at Coperion added: "We're convinced that becoming circular is unavoidable for the plastics industry." To that end, there is still plenty of room for improvement. In Germany, the share of recyclate used in plastics processing in 2017 only achieved a bit more than 12%. Aurora Kunststoffe, in contrast, is taking an absolutely leading role for us; their company concept is not only profitable, it's sustainable too! We're proud to support Aurora Kunststoffe with our compounding and engineering know-how!"
In just a few seconds directly at the machine


Service support using Argos
With 2,700 technicians at more than 100 international facilities, Krones is well equipped worldwide to provide fast assistance to beverage producers in terms of maintenance and spare-part replacement or in the event of a complete line standstill. But the coronavirus pandemic has proved a stumbling block for this service set-up: flight cancellations, quarantine regulations or even entry bans are rendering it almost impossible to maintain rapid-response service support when it's necessary. And this in a time when above all the demand for packaged water, but also for healthy beverages is rising perceptibly – and supplies to consumers still have to be assured.
In order to provide its clients with direct assistance, Krones offers a choice of support packages. To complement the existing round-the-clock support via telephone and remote service, Krones has since the end of 2018 already been offering the Argos Augmented Reality Support – and this is in such exceptional times more in demand than ever before. The ingenious bit about it is this: thanks to what are called smart glasses, the operator at the machine receives immediate assistance from a Krones support specialist – without the latter having to do any travelling.
Realtime support using smart glasses
The biggest advantage here is that if a problem occurs during ongoing production, the service specialist from Krones is thanks to Argos directly on site immediately. Using live video and audio transmission, the Krones expert is in the midst of the line within just a few seconds, enabling him to instruct the operator and to support him directly and unerringly in terms of trouble-shooting or performing urgently needed work, thus bringing production back on line as quickly as possible. If a supporter detects a critical situation, he can visually alert the wearer of the smart glasses.
The Argos basic package includes not only the smart glasses, but also all associated licences. On request, these can be extended to enable the system to be utilised by the beverage producer himself with other vendors of his own. What's more, an option has recently been introduced for using not only the smart glasses provided by Krones, but also self-chosen models or even certain mobile phones and tablets. This enables the service support to be integrated even more effectively into the plant's existing infrastructure.