Filtech 2019: Trade fair and conference


Filtration and separation technology
Filter solutions provide are an important cornerstone of hygienic production environments, as required in the pharmaceutical and other process industries. Filter solutions often lead a niche existence at other trade fairs; at Filtech it is just the opposite, here they take center stage. As part of the trade fair, which takes place from 22nd to 24th of October 2019, Cologne will once again become the meeting point of the global filtration and separation industry with users from all relevant sectors. The organizer expects more than 400 exhibitors on 14,000 square meters of exhibition space. Filtech continues to grow – also in terms of visitor numbers.
Filtech 2019 conference
An important part of Filtech 2019 will be the well-established conference; once again presenting the latest advances and techniques in the dust, gas and air filtration. The English-language conference is organized in parallel to the exhibition from the 22nd to the 24th of October. Participants benefit from high-level technology and knowledge transfer and get the opportunity to get to know future trends and perspectives. The Filtech 2019 conference presents more than 200 technical papers, a plenary lecture and several keynote lectures by leading experts as well as plenty of opportunities to network with peers.
Lectures and Keynotes
During the three-day conference, a variety of presentations will be held on the following main topics: solid-liquid separation, solid-gas separation, testing / instrumentation / control, simulation and modeling, membrane processes and product-related processes as well as other special topics .
The conference will be opened by the chairman of the Scientific Committee of Filtech, Dr. Ing. Harald Anlauf, Academic Director of the Karlsruhe Institute of Technology (KIT). He will give a plenary lecture on "Centrifugation – Key Technology for solid/liquid/liquid separation".
Other noteworthy talks include the four planned keynotes, presented by renowned experts from research and industry. Dr.-Ing. Stefan Haep, CEO of the Institute for Energy and Environmental Technology (IUTA), will hold a lecture on "Air Quality Control & Aerosols". Prof. Dr. Hermann Nirschl, Head of the Department of Process Engineering of the Karlsruhe Institute of Technology (KIT), presents the question "Digitalization of Centrifuges – Helpful or senseless?". Dr.-Ing. Götz Bickert, director of the Australian company GBL Process Pty, deals with the topic "Dewatering of Concentrates and Tailings – Large Scale Duties in the Mining Industry". Prof. Dr. Arunangshu Mukhopadhyay of the National Institute of Technology, Jalandhar, India, will give a lecture on "Enhancing Filter Media Performance during Industrial Gas Filtration".
Interested parties can register for participation in the conference on the website of Filtech www.filtech.de be performed. Reduced ticket prices for early bird registrations (early bird) apply until 31st July.
Bilfinger tops 2019 "Lünendonk Liste"


For eleventh consecutive time
Bilfinger once again has been ranked "Number 1" among the major industrial services providers in Germany. Its top listing in the survey-based ranking compiled annually by the market research firm Lünendonk & Hossenfelder GmbH marks the eleventh time in a row that the Mannheim-based company takes first place among the top industrial services providers. At more than a billion euros, Bilfinger's domestic revenue for 2018 was significantly ahead of the runner up. When it came to total revenue earned, Bilfinger's performance was actually four times that of its closest rival among the top three.
"I'm pleased that we have been the front runner since 2009. This success belongs to our employees who enhance the efficiency of customer's assets, ensure a high level of availability and reduce maintenance costs. The award encourages us to further expand our market position."

Bilfinger CEO Tom Blades
In its poll, Lünendonk asked respondents to name the four most important players on the German industrial services market. That Bilfinger is dominating the competitive benchmark is shown by the fact that 88% of those surveyed named the company. The industrial services provider enhances the efficiency of assets, ensures a high level of availability and reduces maintenance costs.
With its innovative, groundbreaking and intelligent products and maintenance strategies, the company is able to boost the efficiency of industrial plants and facilities while concomitantly reducing their ecological footprint. One example is Bilfinger's "scrubber" solution, a sort of catalytic converter for the maritime shipping industry. Scrubbers reduce the sulfur-dioxide content of the waste gas produced when heavy oil is burned by nearly 100 percent. Bilfinger successfully has established itself on the market with this technology, securing an order volume of more than 100 million euros.
Pipe Patrol


Solutions for safe and efficient pipeline management
With increasing operational, security, environmental and legislative requirements for pipeline operators Krohne offers new solutions for pipeline management: Pipe Patrol is a comprehensive suite of software modules for long or short distance single and multiproduct pipelines for oil, gas, water, chemical or refined products, and offers monitoring and protection of pipelines in all operating conditions.
Pipe Patrol can be supplied in various configurations: eight modules cover leak detection, theft detection, stress monitoring, line break detection, tightness monitoring, batch tracking, pump monitoring and predictive modeling. To match the application, the modules can be used stand-alone or individually combined, and optionally complemented by a wide range of instrumentation, cyber security and field data acquisition systems. Based on over 30 years of experience in pipeline applications, the company also offers engineering, operation and maintenance services for pipeline management such as support during certification or post theft analysis. This modularity offers the pipeline operator to achieve best results and meet safety and legal requirements in line with the application and the available budget.
The leak detection module provides the unique Pipe Patrol E-RTTM based leak detection and localisation for liquids and gases which is applied on over 350 pipelines worldwide. It is complemented by the theft detection module that specialises on fast and reliable identification and localisation of unauthorised or illegal product discharges, and the tightness monitoring module to detect small or gradual leaks. To efficiently detect pipeline ruptures instantly the line break detection module can be applied. It uses a pipeline rupture pattern recognition for automatic emergency shutdown in case of a line break. The batch tracking module for batch and interface tracking in multi-product pipelines, and the stress monitoring module for evaluation and documentation of lifetime stress and remaining pipeline service life complement the operational modules. The predictive modeling module forecasts pipeline operation and identifies possible threats such as shortage in supply or pressure violations. Its offline simulation then can be used to find corrective measures as well as for planning of optimized operation in the future. In addition, the pump monitoring module enables predictive maintenance and higher system availability by monitoring essential mechanical, electrical, and hydrodynamic measurement values.
RFID access control in hazardous areas


Fast and secure access to processes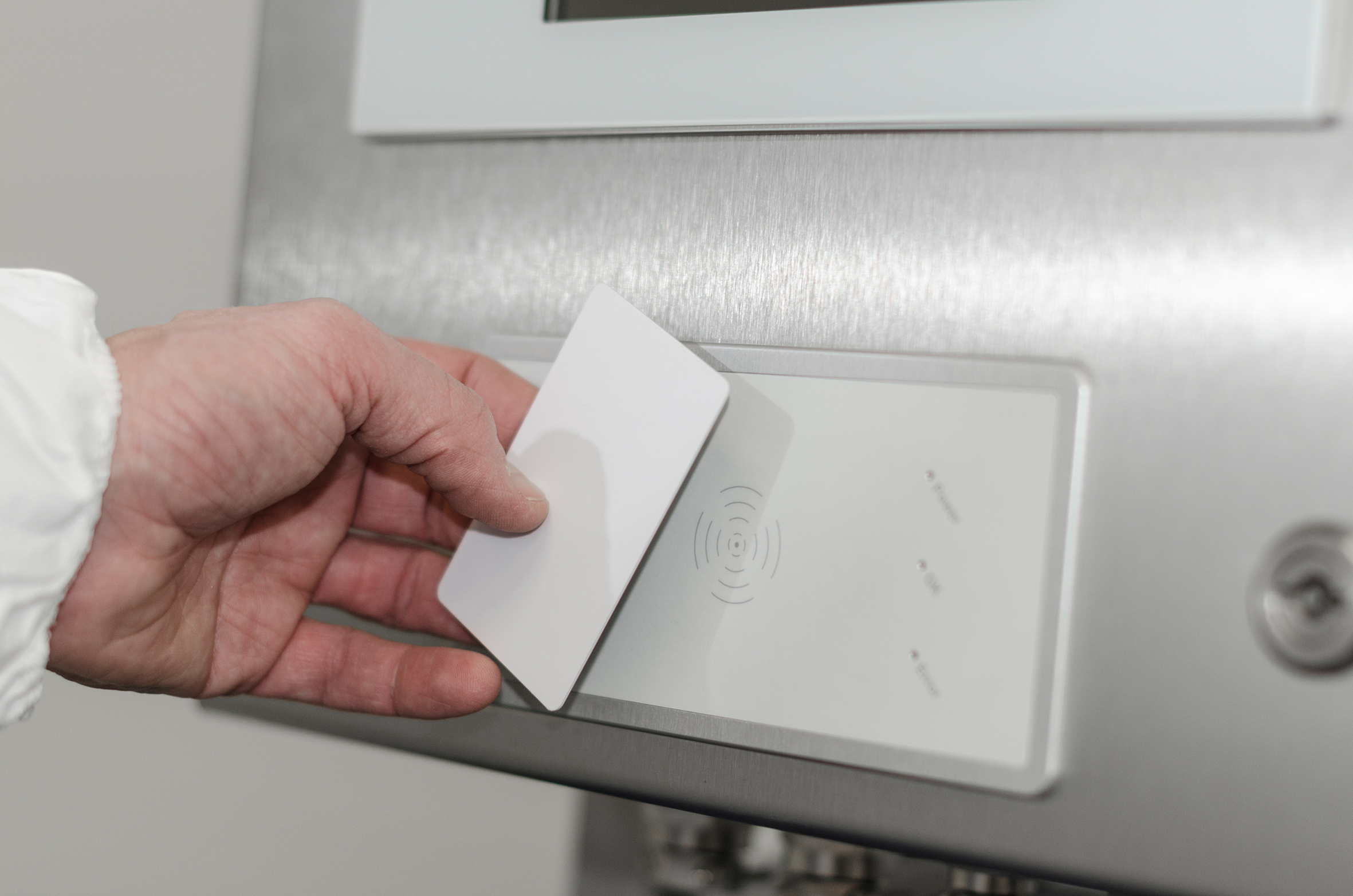 Security and access control are given top priority in the production process, as unauthorised users and operating errors can cause great damage. R. Stahl is the only manufacturer in the market offering its explosion-protected Thin Clients with RFID authentication for secure identification of staff with access authority for process control and data communication from the field. On the basis of three technology platforms, the Thin Clients have been designed to meet the different requirements of the chemical and pharmaceutical industries, the food industry as well as oil and gas production.
Additional logins in the automation system are no longer required due to the faster, direct RFID access control, which meets the current security requirements according to FDA and Gamp. It supports transponders with Mifare, Desfire, EV1 or Legic Advant reader technologies. Unlike biometric processes, the contactless RFID technology is also suitable for hygienically sensitive areas where obligatory protective clothing makes authorisation via fingerprint or face recognition impossible. R. Stahl's explosion-protected RFID readers have been certified for Zones 1/21 and 2/22. They are either available as separate units with a USB interface for panel mounting, or they are integrated directly into the operator enclosures or keyboards by the manufacturer.
The Thin Clients designed for the oil and gas industry with the Shark technology device platform and 21.5″ touchscreens are also available with a RFID reader installed behind the front plate. User authorisation via RFID requires the installation of a suitable device driver in the control system software. On request, the company will provide cards and key fobs equipped with tested transponders for use in hazardous areas.