Hima partners with ECT


Expanded rotating machinery business
Hima Paul Hildebrandt, independent provider of smart safety solutions for industrial applications, has entered into a partnership with Energy Control Technologies (ECT), a US company focused on the rotating machinery market.
The partnership will combine the strength of Hima's SIL rated products and worldwide sales presence with the strength of ECT's capabilities and experience. The US-based company would as well be a supplier to Hima, supplying rotating machinery control technology and commissioning support. Together, both companies will offer safety customers SIL-rated hardware for rotating machinery applications. The efforts would utilize ECT's algorithms for surge control, performance control, load sharing and master control, steam turbine speed and extraction control, and expander control.
"The partnership with ECT will help us to drive our business in a very attractive market", said Stefan Basenach, Group Vice President Business Segment Process at Hima. "We know about our customer's needs and our high performance SIL-rated products have the ability to excel in rotating machinery applications. We have proven success on several rotating machinery projects and see this new partnership combining the experience of two specialized companies as the perfect means to address a growing market."
Paul Fisher, President of ECT, commented: "The partnership with Hima is opening new markets for us. Our expertise is in controlling compressors, turbines and expanders and the algorithms that are necessary to maximize a plant's production and efficiency while providing superior machine protection. Partnering with Hima, we bring together the best of two worlds for the benefit of the client."
Primary target group of the partnership will be end users, typically brown-field projects, where modernization of existing machines is necessary. The partnership's offering is useful to refining applications like fluid catalytic cracker air blowers and wet gas compressors, power recovery systems, hydrogen recycle applications and refrigeration. Chemical applications like ethylene and ammonia plants can take advantage of the SIL rated hardware and rotating machinery control technology.
Twin screw pump


Cooperation between Gea and Itt Bornemann
The pump experts from Gea and Itt Bornemann are now working together to manufacture and market a twin screw pump for the food, beverage and pharmaceutical industries. While Gea has so far concentrated primarily on hygienic centrifugal pumps, the cooperation now means that a joint model of a positive displacement pump is ready for introduction: Gea Hilge Novatwin. The Gea Hilge Novatwin is a flexible twin screw pump based on the proven Bornemann design that meets the highest hygienic requirements for gentle product handling and clean-in-place (CIP) with just one pump. The new Gea Hilge Novatwin will be available in 6 sizes and will be part of the Gea Varipump line, which stands for pumps with a high degree of flexibility for optimum adaptation to individual customer requirements.
Consistent expansion of hygienic pump portfolio
The addition of this future-oriented pump type to the portfolio in addition to the established rotary lobe pump Gea Hilge Novalobe will significantly strengthen Gea's position in the field of positive displacement pumps. Gea will thus be in an even better position to cover the various customer requirements with the ideal pump solution from its own broad product portfolio.
Pump and clean with one pump
Twin screw pumps are equipped with two screws, which intermesh without contact and together with the pump housing form a closed chamber. The screws rotate and thus move the medium along the screw axis from the suction to the discharge side.
Like positive displacement pumps in general, twin screw pumps stand for the gentle conveyance of chunky, shear-sensitive and abrasive media. They offer exceptionally high flexibility for pumping liquids of various viscosities.
"The special feature of the twin screw pump is its dual function, because twin screw pumps can not only pump the actual product but can also function as a CIP pump at the same time, as they can operate at very high speeds. This saves the use of an additional CIP pump compared to alternative solutions," explains Product Manager Ulla Främke from Gea.
With Gea and Bornemann two strong partners work together
"This cooperation with Bornemann is a real win-win situation for both partners," says Bastian Tolle, head of product management at the Gea Flow Components business unit. "The twin screw pumps we see in the market today are mostly derived from Bornemann's original development. The expertise is impressive, we can learn a lot from such a partner and from the experience gained over decades in the application of this special positive displacement pump".
"We will benefit from Gea's strong distribution network", adds Bornemann's Managing Director Markus
Schwarte. "Gea has a broad customer base, a large network and an excellent reputation among decision-makers, particularly in the food sector and in local markets such as the USA. We want to benefit from the synergy between the leading technology and the first-class global network in the food industry".
Fichter Maschinen rely on Viscotec


Clean potting is the key – manual and serial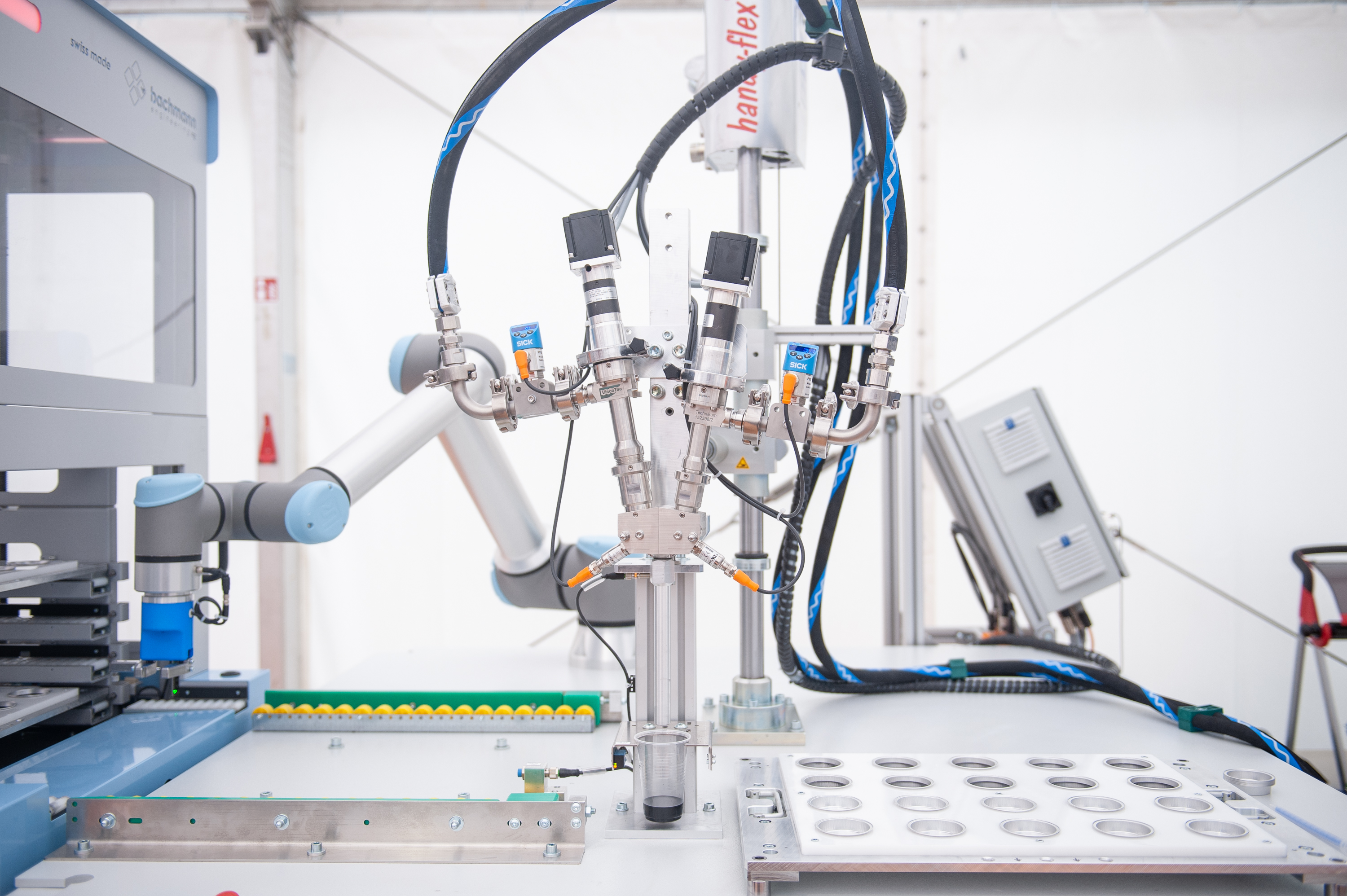 Performance is not always the only focus in production – it is not uncommon for more flexibility to be added. The machine manufacturer Fichter Maschinen, for example, was looking for a one component and two component dosing solution for a newly developed application with which, for example, potting compounds can be dispensed both manually and automatically.
Such machines are used for the potting of electronic components, for example, which are assembled from a large number of small components and then potted or encapsulated to protect them against external influences. The solution designed by Fichter Maschinen is particularly interesting for companies that want to pot more flexibly, but not necessarily faster, as Martin Baumann from Fichter Maschinen points out.
As the engineer explains, this occurs, for example, with manufacturers with the need to be able to switch between serial and manual operation for prototype production on a system. A Viscotec Visco-Duo-VM mixing system and a so-called manual manipulator are central to the system, now built by Fichter Maschinen. The ViscoTec potting head, which is fitted on this manipulator, precisely dispenses and mixes the two components of a standard two component casting compound. In addition, buffer tanks and a material degassing system for both components can be installed in order to achieve an optional degassing compound for bubble-free potting. Further accessories, such as air-drying units or inert gas loading and, if necessary, a circulation line for returning the material to the stirring vessel to avoid sedimentation of the fillers in the system, are also available.
Manual work does not have to be exhausting
The force of the weight on the manipulator is balanced by a rope pull balancer – so that an operator can position the mixing system in any axis with minimal effort and pot the desired electronic components. The automated version uses a collaborating 6-axis robot and a pallet storage system. In a first process step, the robot retrieves a pallet from the storage. In the second process step, the robot picks up the ViscoTec potting head and then moves along the grid until the pre-programmed number of components to be potted has been processed. Once this is completed, the robot pushes the processed pallet back into the storage and then retrieves the next pallet from the storage and the process restarts.
When asked about his decision to opt for a Viscotec dispensing and mixing system, Baumann looks back on his 15 years of experience in the field of encapsulation and bonding. He first came into contact with ViscoTec during the course of his research. He was impressed by the principle of the progressive cavity pump for technical implementation in dispensing and potting applications. Viscotec's technology offers a further advantage in addition to clean material breakage: The compact design of the mixing system allows it to be attached directly to the potting head – in such systems, this saves a lot of valves and pipes and therefore makes automation much easier. The volumetric dispensing systems are pulsation-free and repeatable. The adjustable suck-back ensures that the material is broken off – dripping or even accumulation of product can be avoided reliably. The Viscotec mixing system has been specially designed to meet the requirements of Fichter Maschinen. In addition to various casting compounds (polyurethanes, silicones, epoxies), it can also be used for moisture-sensitive or light-sensitive materials that can be cured with additional UV lamps. Viscotec is also known for its ability to process different viscosities with widely spread mixing ratios and underlines the flexibility demanded by Fichter Maschinen.
Siemens and Pixeom


Acquisition of Edge technology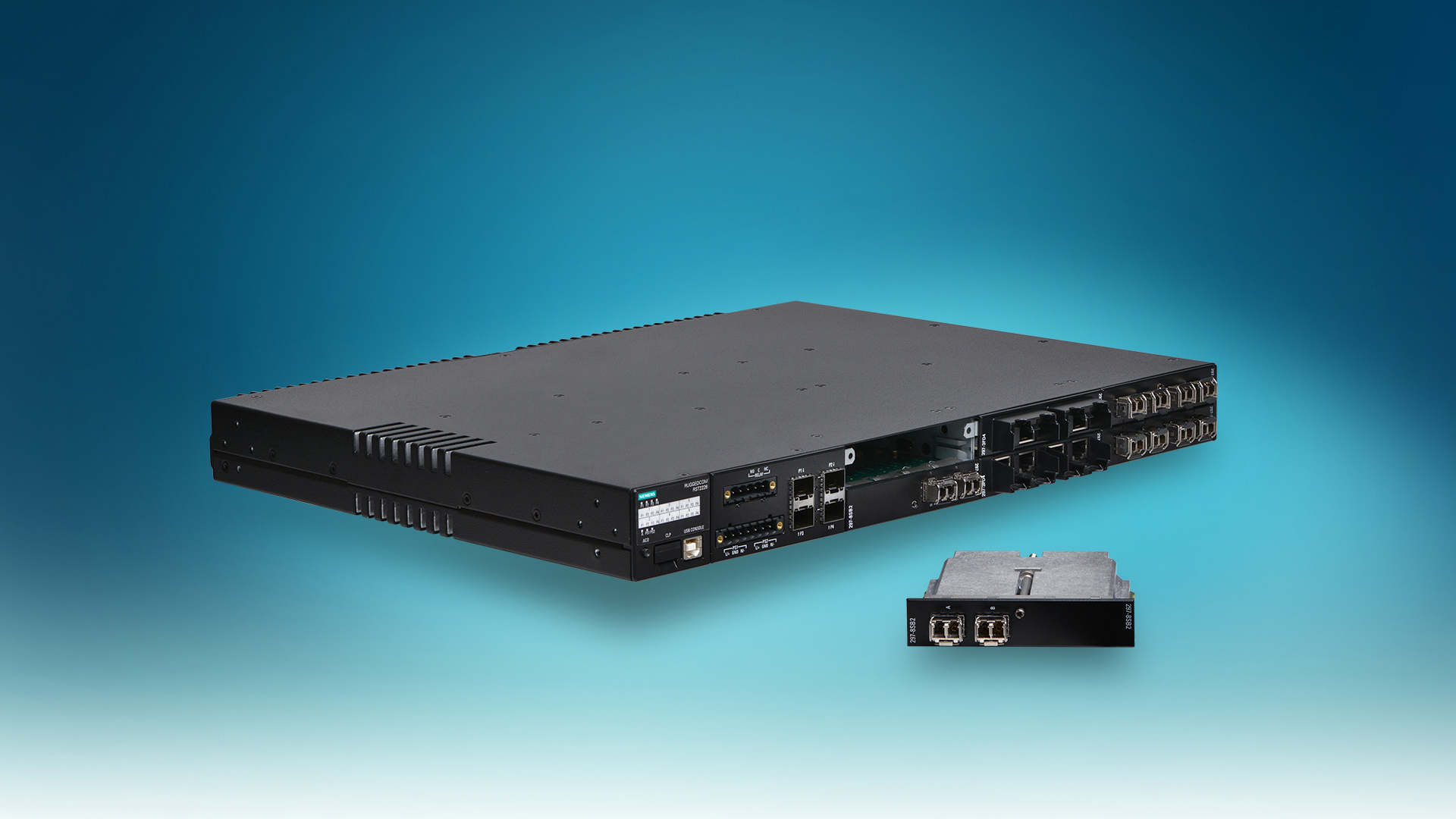 Siemens is planning the acquisition of Edge technology from the US company Pixeom. With this action, Siemens is strengthening its Industrial Edge portfolio by adding software components for Edge runtime and for device management. Siemens Industrial Edge provides an ecosystem, which enables the flexible provision and use of apps. This means for example that appropriate apps can analyze data locally at the machine and send relevant data to the higher-level Industrial Edge Management System for global analytics. With this acquisition, Siemens is driving forward the expansion of its Digital Enterprise portfolio and the integration of cutting-edge technologies for the digital transformation of industry.
With the resulting Industrial Edge ecosystem, industrial companies can use production data even more efficiently and react more flexibly to changes in conditions. Ralf-Michael Franke, CEO of Business Unit Factory Automation, explains: "Cutting edge technologies such as Edge Computing open up new scope for automation. With Siemens Industrial Edge, we are creating an open edge ecosystem which offers benefits for companies of any size." Siemens is using Docker standard container technology: the provision of apps in the management system will therefore be just as simple as functional upgrades and updates of Edge devices in the factory from a central point.
Siemens intends to acquire this technology from Pixeom and use it in the Business Unit Factory Automation, which is part of Siemens Digital Industries. Pixeom has sites in San José, California and Udaipur, India and employs 81 people worldwide. Closing of the transaction is planned for the fourth quarter of 2019. Both companies have agreed not to comment on the financial details of the transaction.