Hima partners with ECT


Expanded rotating machinery business
Hima Paul Hildebrandt, independent provider of smart safety solutions for industrial applications, has entered into a partnership with Energy Control Technologies (ECT), a US company focused on the rotating machinery market.
The partnership will combine the strength of Hima's SIL rated products and worldwide sales presence with the strength of ECT's capabilities and experience. The US-based company would as well be a supplier to Hima, supplying rotating machinery control technology and commissioning support. Together, both companies will offer safety customers SIL-rated hardware for rotating machinery applications. The efforts would utilize ECT's algorithms for surge control, performance control, load sharing and master control, steam turbine speed and extraction control, and expander control.
"The partnership with ECT will help us to drive our business in a very attractive market", said Stefan Basenach, Group Vice President Business Segment Process at Hima. "We know about our customer's needs and our high performance SIL-rated products have the ability to excel in rotating machinery applications. We have proven success on several rotating machinery projects and see this new partnership combining the experience of two specialized companies as the perfect means to address a growing market."
Paul Fisher, President of ECT, commented: "The partnership with Hima is opening new markets for us. Our expertise is in controlling compressors, turbines and expanders and the algorithms that are necessary to maximize a plant's production and efficiency while providing superior machine protection. Partnering with Hima, we bring together the best of two worlds for the benefit of the client."
Primary target group of the partnership will be end users, typically brown-field projects, where modernization of existing machines is necessary. The partnership's offering is useful to refining applications like fluid catalytic cracker air blowers and wet gas compressors, power recovery systems, hydrogen recycle applications and refrigeration. Chemical applications like ethylene and ammonia plants can take advantage of the SIL rated hardware and rotating machinery control technology.
Subsidiary offers sales, service and support


New Branch Office in France
On October 01, 2019 Viscotec opened a new branch in Mérignac, Bordeaux. The office in France is already the fifth Viscotec subsidiary worldwide.
It is planned to be a sales, service and support organization that will distribute and support both ViscoTec and preeflow products. VT France pursues essential goals: On the one hand, the presence of Viscotec in Europe is to be strengthened, the European sales structure is to be expanded and the French market is to be opened up. But also, the proximity to the customer and the direct contact to the end user are important factors. Viscotec also sees great potential in the French market and wants to exploit it as much as possible. Important sectors the subsidiary will focus on are – amongst others – the cosmetics, automotive and aerospace industry.
The branch manager and local contact is Christophe Lalanne, who has known Viscotec for many years and is very familiar with the products. Christophe has a technical degree with a focus on chemistry and specialization in bonding and adhesives. Christophe is also a "European Bonding Specialist". From 2007 to 2011 he worked in sales and primarily focused on applications and solutions in the field of bonding. Since 2011 he has been employed as product manager for applications in the adhesives sector and thus also got to know the dispensers from Viscotec.
"We have known Christophe for a long time, and we trust him. We are sure that he will be able to bring Viscotec to the top in France and establish ViscoTec as a synonym for dispensing technology there," says Georg Senftl, Managing Director of Viscotec .
Samson and Infraserv


IIoT Solutions for Medium-sized Companies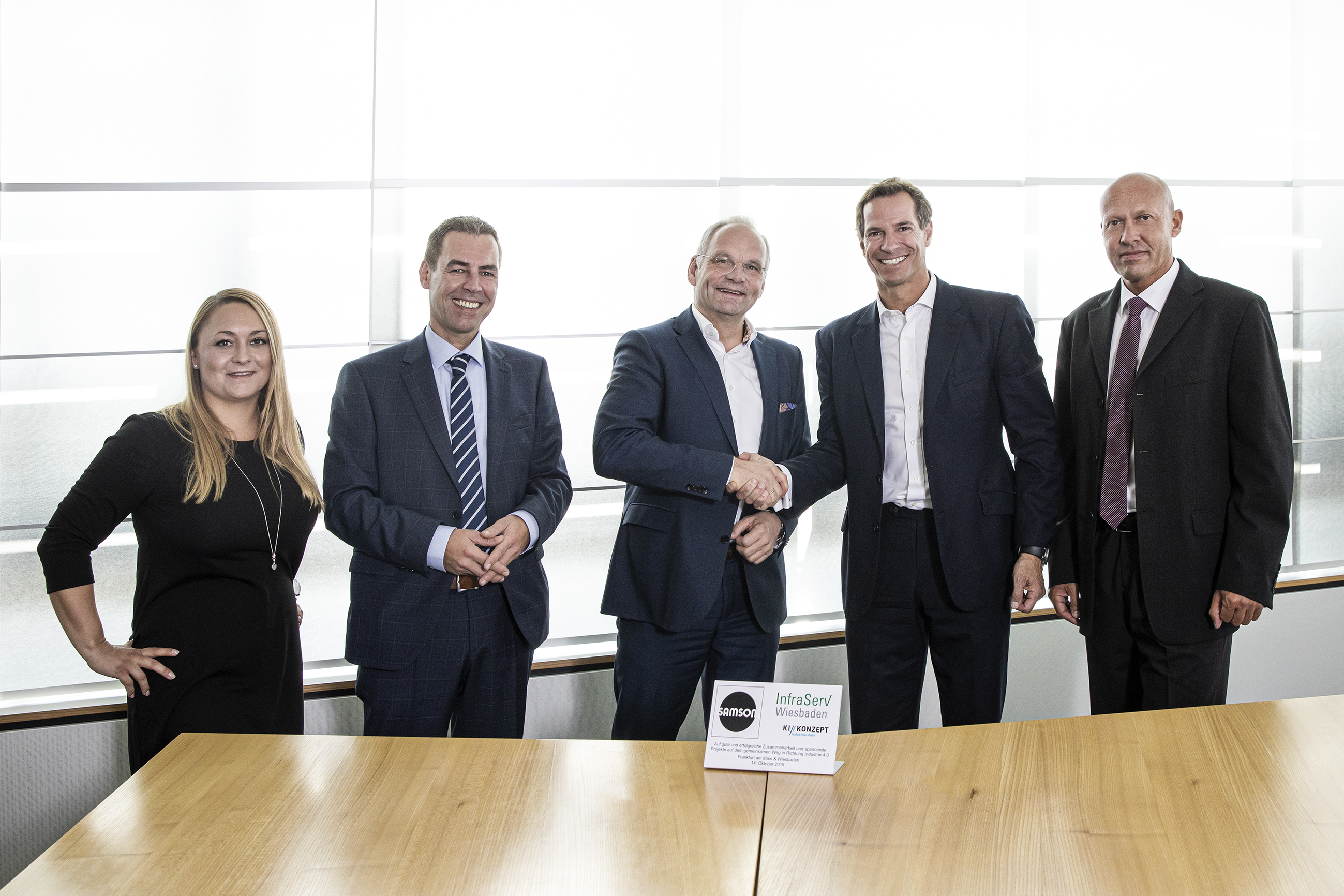 Samson, headquartered in Frankfurt am Main, Germany, and InfraServ Wiesbaden are announced the beginning of a strategic cooperation with the goal of further developing digital solutions to make the transition to Industry 4.0 and the Industrial Internet of Things (IIoT). Samson is a supplier of products and systems to control the flow of all kinds of media. For over 110 years, the company has been specializing in control valve engineering and is currently focusing on the integration of smart products into Internet of Things (IoT) environments. InfraServ Wiesbaden has been operating and developing Kalle-Albert Industrial Park since 1997. The park is home to 75 companies and the second-largest industrial park in the Federal German state of Hesse.
The cooperation between the two companies is concluded for an unlimited period of time. The key goal is to jointly advance an IIoT platform that digitally supports the optimization of processes and plant control in medium-sized industrial companies inside and outside the industrial park.
UBIX and GES Systemhaus, two subsidiaries under 100 % ownership of Samson and InfraServ Wiesbaden respectively, are both active in plant automation. The Samson subsidiary runs a cloud-based multi-tenant platform for the digitalization, visualization and automated control of industrial plants. The platform includes flexible interfaces for the connection of customer systems and external analytical tools. With the help of the expertise gathered by the InfraServ Wiesbaden group, which offers digital solutions under the product name 'KI Konzept', plant maintenance is to be improved based on the smart analysis of data (smart maintenance).
"We want to expand our digital portfolio based on the UBIX platform with InfraServ Wiesbaden as our cooperation partner. Our new partner strengthens our expertise in smart, networked valve engineering, flexible production processes and applications to handle challenging tasks. As a developer of industrial sites, InfraServ Wiesbaden operates its own large systems for supply and disposal. This means that they already know, understand and serve the specific needs of the on-site companies that come from many different branches of industry. We look forward to the cooperation and the synergies it will produce."

Dr. Andreas Widl, Chief Executive Officer of Samson
"Many medium-sized production companies are facing the challenge of having to build new, digital expertise to keep up with the evolution towards Industry 4.0. Smart automation, process control and manufacturing technologies applied in combination with computer-based big data analyses and networked infrastructures offer them huge opportunities to fortify their market position in the long run. We are very happy to join forces with Samson as a renowned, innovative partner in this area to drive forward the use of digital technologies to our own benefit as well as to the benefit of our customers," says Mr. Peter Bartholomäus, Chief Executive Officer of InfraServ Wiesbaden.
Digital twins and pilot project
The main goal behind the cooperation is to jointly develop and expand Samson's UBIX platform. This is to be achieved by InfraServ Wiesbaden placing programming orders with Samson to handle specific control processes within its plants or to implement customer requirements concerning smart maintenance or plant control. The result will be 'digital twins' to simulate plant control operations, analyze the flows of energy or goods (value chains) as well as design processes for the smart, predictive, mobile maintenance of plants and equipment. In a next step, these processes can be further improved by cross-linking a larger number of different devices and systems as well as by applying special AI software tools based on big data analyses or machine learning.
InfraServ Wiesbaden will use the UBIX platform to handle customer inquiries and market solutions under its own product name, KI Konzept. To ensure a maximum level of data security, customers will have their own dedicated access to the UBIX platform through the high-performance data centers hosted by InfraServ Wiesbaden.
As part of the strategic development cooperation, the two companies launched a common pilot project. The project goal is to optimize the processes in the biological water treatment plant operated by InfraServ Wiesbaden in Kalle-Albert Industrial Park.
The agreement was signed in Frankfurt am Main, Germany in October 2019. The partners have agreed to not disclose any further details relating to the financial aspects and scope defined in the cooperation agreement.
Multivac cooperates with Bell-Mark
With immediate effect Multivac has the exclusive rights to market the Inteli Jet HD series of printing solutions from the US manufacturer Bell-Mark Sales Co. The inkjet printers are based on the piezo technology, and their main features include a large print area and excellent print quality on a wide range of materials. They can either be integrated into new packaging lines or retrofitted to existing ones.
"Bell-Mark is a leading manufacturer of digital printing systems for packaging machines, and the company has established itself as a reliable partner with many of our customers," says Luc van de Vel, Vice President of the MCP (Medical, Cosmetics and Pharmaceuticals) Business Unit, explaining the reasons behind this strategic step. "Thanks to this cooperation, we can now offer high-performance digital printers for challenging requirements within the packaging process, particularly in the sectors of medical products, pharmaceuticals and cosmetics."
The Inteli Jet HD series of printers are drop-on-demand digital printers, which can be configured for either one or two colours or even the full CMYK colour scale. In contrast to CIJ (Continuous Ink Jet) printers, which produce a continuous jet of ink, the nozzles of DoD printers only supply the ink drops that are actually required for the print. This is very efficient and therefore particularly cost-effective.
Thanks to its print resolution of up to 600 x 600 dpi and a printing speed of up to 150 metres per minute, the technology enables texts, logos, variable data and various codes to be printed precisely and cost-effectively on a wide range of materials such as paper, Tyvek, film or aluminium. The high-quality UV inks dry very quickly with state-of-the-art UV LED lights, and the ink spread remains very small even with the coarse-fibred Tyvek material, so that even small icons and text can be reproduced perfectly. The Inteli Jet HD printers are designed for a large print area and can print films either completely or partially with a high level of accuracy. The modules can be fitted with up to twelve printing heads, so that a complete blank film with a width of up to 630 millimetres can be printed.
Companies in the medical and pharmaceutical industries in particular benefit from the printing system's high degree of flexibility, which is becoming increasingly important in view of the requirements of the UDI Regulations as well as serialisation.
All Bell-Mark models can be integrated into Multivac packaging lines. Customers also have the opportunity of having their existing lines retrofitted with the printing system by Multivac.
The printers and the corresponding consumable materials will be marketed by the more than 80 subsidiaries within the Multivac Group. Multivac is the exclusive sales partner of Bell-Mark for all regions worldwide – with the exception of the USA, Canada, Mexico, Puerto Rico and the Dominican Republic. The specialists at Multivac Marking & Inspection will undertake the complete after-sales service as well as the supply of spare parts, consumables and user training. Thanks to their many years of experience in printing with a wide range of technologies, they can ensure that the maximum reliability and durability of all installed solutions is achieved.