Pharma


Expand business without travel
Arab Pharma Manufacturers' Expo VIRTUAL EXHIBITION redefining business process with most COST EFFECTIVE business model to business with the Arab nations (Middle East & North Africa)
Healthcare manufacturing is the top priority across the globe. Pharma companies are investing and expanding their manufacturing facilities across the world in general and among the Middle East and North African countries in specific.
ARAB PHARMA MANUFACTURERS' EXPO – an international exhibition on complete pharma manufacturing focusing 20 Arabic countries in Middle East & North Africa (MENA) region will going to be organized as the VIRTUAL EXHIBITION – the first of its kind with highly resourceful features.
Due to health & safety limitations of the pandemic, it is worthwhile to avoid to organize the physical exhibitions, while the Virtual Exhibition applies latest technical aspects to offer the optimum business networking domain bypassing all the limitations (Social Distancing, Travel, Logistics, Vulnerability to infectious diseases, and many more associated risk factors). Virtual Exhibition offers an excellent cost effective product / services resourcing opportunity to network and explore to connect with the targeted solution provider.
An outstanding benefits of the ARAB PHARMA MANUFACTURERS' EXPO 2020 (Virtual Exhibition) – [APME VE 2020] – are; to accelerates an instant business connectivity, global exposure without any geographical barriers, ease of accessibilities and business networking through Mobile / Laptop / PC, longer exhibit hours and more exhibit days, Live chat to engage prospective suppliers, Live Webinars , real-time experience with negligible investment, options of affordable packages for cost effective participation, and the most important is to bypass several other associated COSTS (Travel, Logistics, Accommodation) and TIME.
The most unique feature of the ARAB PHARMA MANUFACTURERS' EXPO (Virtual Exhibition) is incorporation of complete spectrum of more than 500 categories of the products / services under 18 sections to make the entire process of the visitor highly user friendly and product specific. This will be the very first time in the world for any virtual exhibition on pharma manufacturing.
The schedule of APME VE 2020 will be September 5 to 10, 2020 and the virtual venue will be www.ArabPharmaExpo.com, and is being jointly organized by AUPAM (Arab Union of the Manufacturers of pharmaceuticals and Medical Appliances) and GPE EXPO PVT LTD, and is Supported by Indian Drug Manufacturers' Association (IDMA).
The APME VE 2020 will be the first ever digital in the Arab  nations edition being organized after highly successful first two edition in physical format organized at Amman, JORDAN, which were remained highly informative for pharma buyers and manufacturing plant professionals from the MENA region. TECHNOLOGY WEBINARS will be the concurrent event alongside the Virtual Exhibition.
The focused pharma markets of the APME VE 2020 are: Algeria, Bahrain, Egypt, Iraq, Jordan, Kuwait, Lebanon, Libya, Mauritania, Morocco, Oman, Palestine, Qatar, Saudi Arabia, Somalia, Sudan, Syria, Tunisia, UAE, Yemen.
The core objectives for organizing the Virtual Exhibition for Arab region are like, strategic exposure of untapped potential of the  pharma markets of the region, knowledge sharing platform, to explore the new markets, to accelerate the exports trade, to showcase the strength of the products / services, to identify local Associates to initiate the business in MENA Region, and to network with the local Drug Stores (Formulation Importers).
After highly successful first 2 editions as physical exhibitions held in year 2018 and 2019 at Jordan, the organizers are introducing the virtual edition of ARAB PHARMA MANUFACTURERS' EXPO 2020 – first ever in the region
Bringing together the regional buyers and international suppliers
Most effective and interactive virtual forum to participate, explore, resource, connect and network
Strong database of the industry
100+ exhibiting companies
Making a highly successful international pharma technology exhibition on the virtual business platform enables each exhibiting company with more insightful features. All essential aspects incorporated those are basics of any physical exhibitions along with ease of quick responses and sharing of information through brochures / documents / Video.
The Exhibitors' profiles of the Virtual Exhibition are PROCESSING Machineries, PACKAGING Machineries & Materials, ANALYTICAL & BIOTECH Lab Instruments, LIMS, Glassware, Lab Reagents & Consumables, Lab-ware, API Manufacturing Plants & Equipments, API, Pharma Bulk Actives, Excipients, Additives, FORMULATIONS & Contract Manufacturing, CLEANROOM & Utility Eqpts & Services, WATER TREATMENT & Management Systems, PROJECT Consultants, TURNKEY Contractors, Trade Associations, Trade Publications,  & many more
The Virtual Expo will be promoted extensively to:
600+ pharma manufacturers in Arab nations
250+ pharma manufacturers in African countries
The visitors' profile of the Virtual Exhibition will the pharma plant manufacturing professionals including – CEO & Top Management, Corporate Management, Drug REGULATORY Authorities, Manufacturing / Production officers, QA, QC and Research, Pharmacists, Contract Manufacturers, Plant Management, Plant Engineering, Maintenance Engineering, Vender Development & Purchase, Compliance & Regulatory, Warehousing & Supply Chain, Equipment, Machinery Manufacture, Suppliers & Distributors, Drug Stores, API & Formulation Importers.
Spotter II PHS


Full Vial Inspection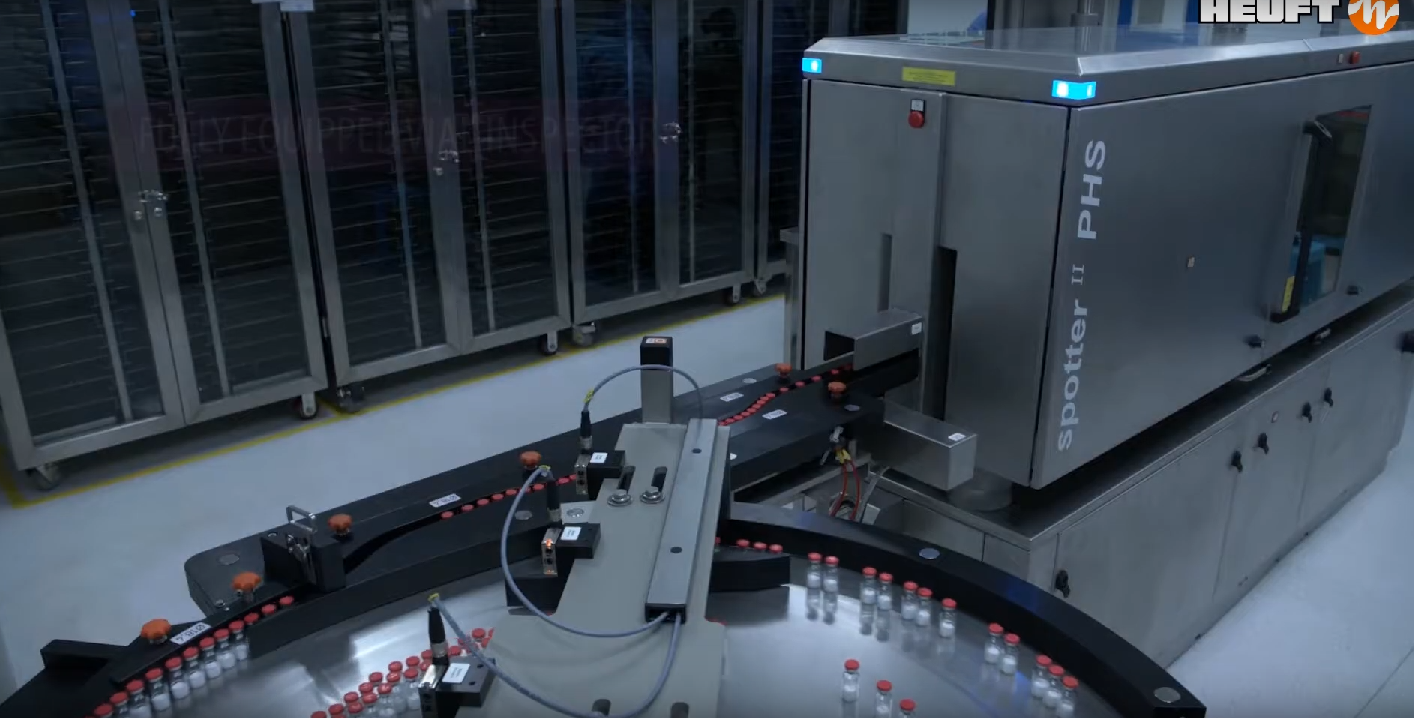 Straight complete inspection of small size full vials based on the Heuft Spectrum II.
Full equipment and automation for maximum detection reliability in an efficient and space-saving straight-through system: the Heuft spotter II PHS not only has sophisticated optical detection procedures as the first vial inspector of its kind. In addition the fully automatic system offers unique X-ray strobes. Therefore foreign objects are even identified carefully and reliably when they are hidden in an opaque product. Furthermore the compact linear machine finds glass defects, contamination as well as deviations in filling quantity in vials containing between 2 ml and 100 ml and checks the integrity of their crimp caps or screw closures precisely. The result: a continuous complete inspection of vials filled with parenteral drugs and other pharmaceutical products which does not miss a fault
Acquisition


DWK Life Sciences acquires Müller + Müller-Joh.
The world's leading manufacturer of laboratory glass and life science packaging materials, DWK Life Sciences, announces the signing of a definitive purchase agreement of Müller + Müller at August 21st, 2020. Müller + Müller is one of the leading German manufacturers of primary packaging materials made of tubular glass for the pharmaceutical industry. The company will become part of the DWK Life Sciences group upon closing, which is expected for September. Müller + Müller will continue to serve its customers under the same name and will continue to be managed by CEO Florian Müller-Stauch. Dr. Hubertus Müller-Stauch (owner of the company Müller + Müller) will join the advisory board of DWK Life Sciences to support the further expansion of the pharma packaging division.
Müller + Müller is based in Holzminden in Lower Saxony, Germany, and currently employs 135 staff. The family-run company is a key player in the manufacture of vials and has a long history of over 95 years. Thanks to its state-of-the-art technology and continuous process optimisation, Müller + Müller meets the highest quality requirements for pharmaceutical packaging. Every year approx. 300 million glass type I vials are produced at its Holzminden site in accordance with GMP guidelines. Type I borosilicate glass is an excellent material for storing vaccines as the glass is virtually inert. This means that the container glass does not react with its contents and thus represents the standard in vaccine packaging.
"Acquiring the family business Müller + Müller is a significant strategic step for us in expanding our activities in the market for pharmaceuticals packaging," explains CEO of DWK Life Sciences, Armin Reiche. "We are not just investing in an important growth market here, but also in a company that boasts first class production technology and highly reliable products."
"Driven by the high demand of the vaccine industry for vials, expansion of our production capacities is the next logical step," says Florian Müller-Stauch, CEO of Müller + Müller. "We are delighted to have found a strong and reliable partner in DWK who will allow us to further develop our business."
DWK Life Sciences is a portfolio company of One Equity Partners, a middle market private equity firm that builds market-leading companies by identifying and executing transformative business combinations and partnering with management teams to provide operational support to accelerate growth.
Fair


Pharmapack Moves to May 2021
Pharmapack Europe, organised by Informa Markets, moves to May 2021 (19-20) to provide attendees, exhibitors and the pharma packaging community the best season and format. The decision follows a careful review with key stakeholders, with the exhibition continuing at its usual location: Hall 7.2 at Paris Expo, Porte de Versailles.
By announcing the rescheduling of the event early, the organizers hope to provide enough time to adjust travel plans and avoid unnecessary expenses. Additionally, stakeholders will be encouraged to take advantage of Pharmapack's new suite of dedicated digital opportunities.
For example, the Global Pharma Insights platform features detailed content and analysis from many of the industry's brightest experts, including high-quality packaging webinars, podcasts, reports, articles and more to help you network and stay up to date from the comfort of your own home.
Silvia Forroova, Brand Director at Pharmapack Europe commented: "We are in constant discussion with key industry stakeholders and Pharmapack partners to adjust how we deliver an event with the highest possible output and greatest value. So, we acted early and, by moving the event to springtime in Paris springtime, we will give ample time to adjust plans for what will be a magical and memorable edition of Pharmapack Europe."
"Furthermore, to empower the dissemination of new ideas and technologies in the meantime, we will be providing our community with a carefully planned programme of digital opportunities to learn, connect, interact and stay completely abreast of the industry's trends in the lead-up to the May event."