Larger valve sizes and higher pressure ratings


Energy-efficient Valve for Cryogenic Applications
The new Type 3598 Cryogenic Valve was specially developed to meet the requirements of cryogenic applications. The valve is available in sizes up to NPS 8 and pressure ratings up to Class 900 and is suitable for temperatures down to –196 °C. The valve is optimized to handle high pressure drops. It has a cryogenic extension bonnet and circulation inhibitor that ensure a perfect temperature distribution and minimize energy loss to the atmosphere. The top-entry design facilitates work on the valve: the valve can be serviced without having to remove the enclosure or insulation it is installed in. The valve seat, piston and circulation inhibitor can be accessed directly after removing the actuator.
Lower actuator thrusts and smaller actuator sizes can be used thanks to the standard pressure balancing by a piston. This allows customers to save money on initial investment and reduce the cost of installation and servicing over the actuator's life cycle. Possible fields of applications for Samson's high-pressure cryogenic valve include air separation units (ASU) and marine applications, for example to store and transport cryogenic gases on LNG carriers.
With the Type 3598 Cryogenic Valve, the company is responding to the customers' growing demand for increasingly larger units. Further additions to the modular design, e.g. larger valve sizes and higher pressure ratings, are being planned.
Over the past 112 years, the firm has been driving forward new developments and introducing market innovations. Today, Samson is a worldwide leader in the manufacture of expertly engineered control valves and accessories for all industrial processes.
Adaptable and user-friendly
The independent refrigeration and air conditioning specialist Bitzer has expanded its range of condensing units to include a new series. The seven air cooled Ecolite models have been designed for low and medium temperature applications and are available in an attractive housing.
The three Ecolite LHL3E condensing units with one fan and the four LHL5E models with two fans open up a wide range of applications, from 1.5 kW to 5 kW in the low temperature refrigeration range and from 3.5 kW to 16 kW in the medium temperature range. All seven models in the new series have been designed as standard for a wide range of both low and medium temperature applications – for example, in cold stores, display counters and small shops. Their compact, low sound design and the use of efficient components in combination with the capacity control of the semi-hermetic compressors make them exceptionally adaptable.
Flexible and compact
Thanks to the Varistep mechanical capacity control, all Ecolite condensing units offer stepless capacity adjustment in a range from 50 to 100 per cent. The LHL5E models enable flexible capacity control between 10 and 100 per cent as an optional feature. Ecolite has also been specially developed for low sound operation and features a robust and corrosion-resistant housing for outdoor use. Thanks to their compact construction, the condensing units can also be easily integrated even when space is limited. Another advantage of the series is the low refrigerant charge required thanks to efficient mini-channel condensers with a high heat transfer rate. The company has also integrated proprietary components optimised for the system as well as its Ecolite reciprocating compressors into the Ecolite series.
Future-proof and sustainable
Ecolite condensing units are easy to use, have control software developed by Bitzer and work very reliably thanks to the well-known development and production work at Bitzer. Users benefit from the fact that all components are precisely matched to one another. The entire series is Ecodesign-compliant and has been designed for use with common refrigerants, including those with a low global warming potential such as HFO blends. The extensive equipment and plug-and-play concept make installing and commissioning the condensing units very quick and easy.
Intuitive and convenient
All the components of the Ecolite condensing units are easily accessible, whilst its controller offers intuitive operation and enables use of the Bitzer Electronics Service Tool (BEST). BEST assures a user-friendly overview of parameters and the operating status and also offers support via a data logging function and the convenient setting of parameters. And with their optional accessories, the Ecolite condensing units show their practical side too: for example, a second capacity control for the LHL5E models, an oil separator with check valve and a temperature sensor for operation based on room temperature are available.
Metal bellows


The ideal connection
In the manufacture of metal bellows couplings, bellows and hub connections are a critical issue. While steel or stainless steel couplings can be combined with a special micro plasma welding process, this method is not suitable for combinations of aluminum and steel. Adhesive bonding processes can be used here, but they can fail under extreme operating conditions (chemicals, very high or low temperatures). Especially in the case of clutches on the input side of a planetary gear, high temperatures can occur in critical applications which could loosen the adhesive bonds.
The developed and long-time patented joining process (crimping-in-press process), on the other hand, is optimally suited for connecting multi-layer stainless steel bellows without clearance to aluminum hubs. Here the operation is certainly possible even in temperature ranges from -50 ° C to + 350 ° C.
Powtech 2019


New Solutions for the Process Industry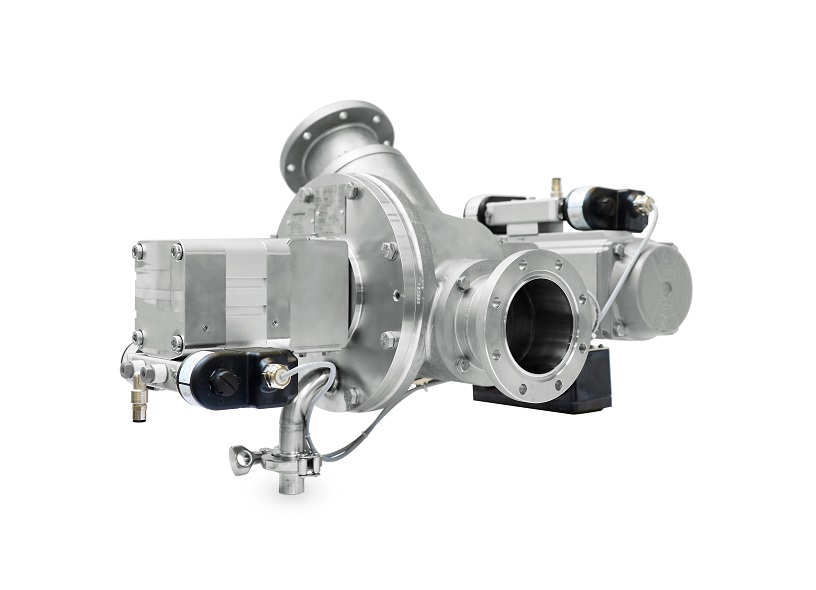 At Powtech 2019, Coperion and Coperion K-Tron will present their versatile bulk materials handling solutions for various process steps at their booth no. 4-290 in Hall 4. Along with the newly redesigned stainless steel WYK diverter valve for CIP cleaning and the ZV rotary valve, now also available in larger sizes, visitors will be impressed by the variety of components and products for safe and economical bulk materials handling that Coperion and Coperion K-Tron offer.
New WYK Bulk Material Diverter Valve
For parts used in manufacturing processes in many sectors of the food, pharmaceutical and chemical industries, the highest requirements in hygiene and purity apply. Moreover, frequent product changes and difficult product characteristics require regular wet cleaning. If cleaning expenditures can be minimized, companies can save significantly on time and costs.
Coperion addressed these issues more than ten years ago, developing the WYK for powder and pellets, which was awarded the Innovations Award by the Powtech exhibition in 2006. The diverter valve enables CIP applications to fulfill required criteria especially in the food sector that come down to one thing: The diverter valve must be absolutely clean and free of contamination after wet cleaning — with no additional disassembly or manual cleaning. This saves time, effort and costs since manual post cleaning is not necessary. In doing so, the WYK diverter valve can easily be installed even at points that are poorly accessible.
Throughout its inception, Coperion has continued to develop the WYK diverter valve based upon the collective experience of past years. Its innovative basic function has not changed: During bulk material conveying, the conical rotor seals the conveying pipes to each other. During CIP cleaning, the rotor is minimally pulled out of the housing and flushed by the cleaning fluid. Now, the diverter valve has been optimized according to current EHEDG guidelines (Class I EL certification is currently in process). Coperion redesigned and optimized the CIP-capable pipe sealing such that now operation with even the finest powders is possible. The pneumatic drives are separated — for turning and pulling the rotor, respectively — so that the rotor is supported on both sides. Along with its compact design, the diverter valve offers an improved cast design with increased surface quality. All materials conform to (EC) Regulation no.1935/2004 and the sealing materials are FDA-conform as well. Moreover, further flange connections, such as those per DIN 11864, can be realized simply on the housing.
The diverter valve is available in sizes DN 65, 80, 100 and 125. It is also available as a standard stainless steel diverter valve without the CIP cleaning function for non-wet cleaning applications. The diverter valve will be offered in Europe and Asia beginning of September 2019 and is expected to be offered in the USA by year end.
New ZV rotary valve housing for pellets and coarse-grained products
Coperion's redesigned and optimized ZV rotary valve is now also available in sizes from 400 to 630. In comparison to its predecessor models, it excels above all with a lower granulate destruction during operation. Coperion enlarged the inlet cross section with additional pellet deflecting profiles. In doing so, an increase in throughput performance of up to 20% results.
Even noise emissions from leakage gas expansion, which constitute the primary source of noise in high-pressure rotary valves (up to 3.5 bar differential pressure), have been markedly reduced with a new expansion opening design. Additionally, Coperion integrated the transition of the elongated opening to a pipe connection within the cast. Beyond reducing the noise emission, an adapter is likewise no longer required. Moreover, the ZV rotary valve now has a standard-compliant pipe connection.
Coperion at the Powtech 2019: Hall 4, Stand 290