Larger valve sizes and higher pressure ratings


Energy-efficient Valve for Cryogenic Applications
The new Type 3598 Cryogenic Valve was specially developed to meet the requirements of cryogenic applications. The valve is available in sizes up to NPS 8 and pressure ratings up to Class 900 and is suitable for temperatures down to –196 °C. The valve is optimized to handle high pressure drops. It has a cryogenic extension bonnet and circulation inhibitor that ensure a perfect temperature distribution and minimize energy loss to the atmosphere. The top-entry design facilitates work on the valve: the valve can be serviced without having to remove the enclosure or insulation it is installed in. The valve seat, piston and circulation inhibitor can be accessed directly after removing the actuator.
Lower actuator thrusts and smaller actuator sizes can be used thanks to the standard pressure balancing by a piston. This allows customers to save money on initial investment and reduce the cost of installation and servicing over the actuator's life cycle. Possible fields of applications for Samson's high-pressure cryogenic valve include air separation units (ASU) and marine applications, for example to store and transport cryogenic gases on LNG carriers.
With the Type 3598 Cryogenic Valve, the company is responding to the customers' growing demand for increasingly larger units. Further additions to the modular design, e.g. larger valve sizes and higher pressure ratings, are being planned.
Over the past 112 years, the firm has been driving forward new developments and introducing market innovations. Today, Samson is a worldwide leader in the manufacture of expertly engineered control valves and accessories for all industrial processes.
Expansion of the Technology Center to include a new laboratory facility for powder synthesis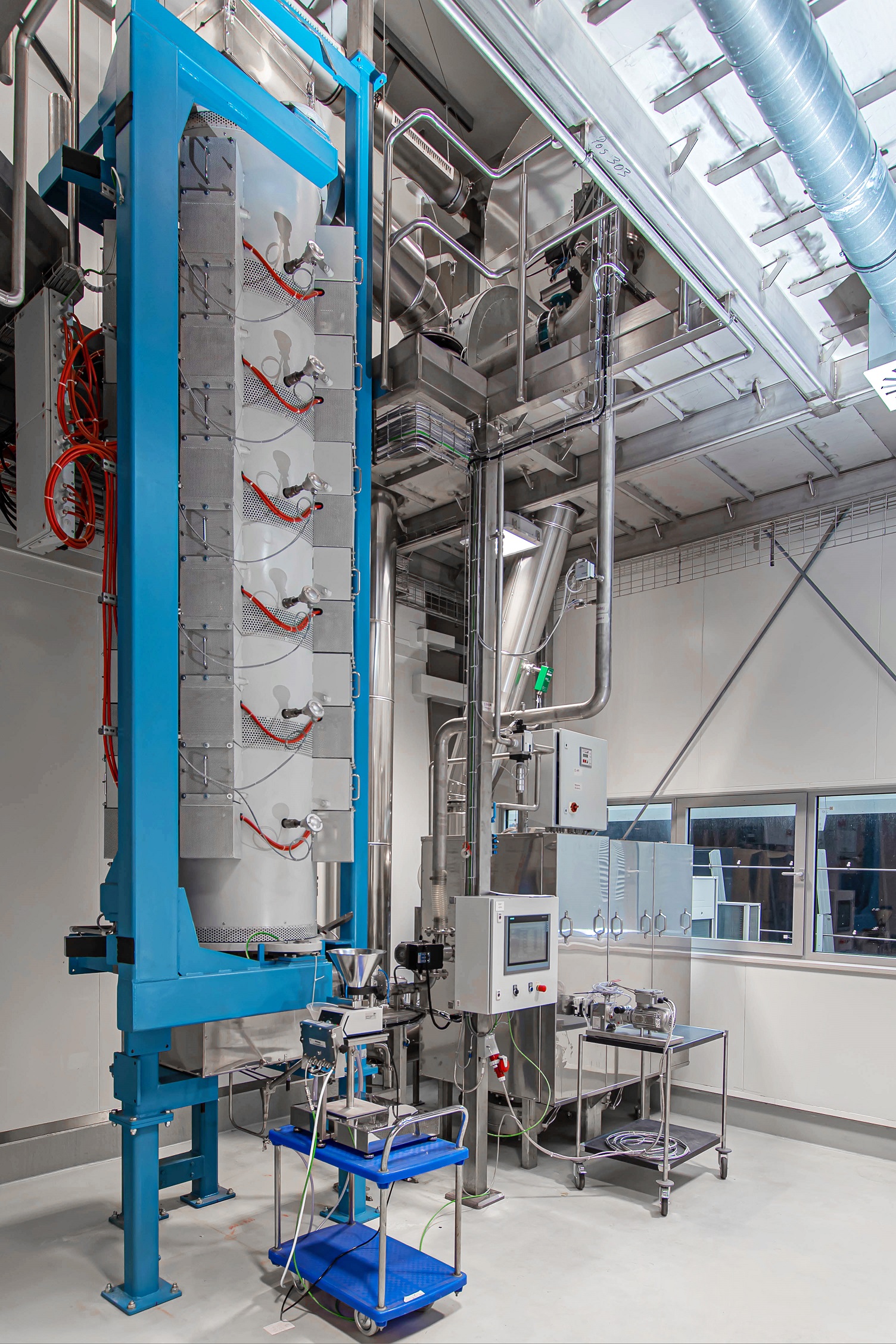 In January 2022, the plant manufacturer and process expert Glatt Ingenieurtechnik from Weimar expanded its laboratory capacity for powder synthesis in its own technology center. For the first time, the new plant ensures a homogeneous process temperature over the entire length of the reactor or the targeted adjustment of temperature gradients. This allows different process steps to be combined.
A new ProAPP 80 HT laboratory plant was installed, which significantly expands the application area of powder synthesis in a pulsating gas stream. This is made possible by a constant temperature over the entire length of the reactor – the range extends from room temperature to 1,300 °C. With this technology, high-temperature phases can be generated in the powders to be processed and frozen by extremely rapid cooling at the end of the reactor. Such metastable states often exhibit improved properties compared to the equilibrium state and offer potential for completely new applications, for example in areas of energy and medical technology. Some possible applications are economically more attractive, because more powerful and environmentally friendly battery materials or better tolerated as well as longer lasting materials for ceramic implants and prostheses in medicine.
Even more efficient process sequences
Thanks to the sequential design of the additional reactor heater, temperature gradients can be selectively set during synthesis. This makes it possible to separate the actual particle generation or drying process from the downstream thermal treatment of the powder particles. Where two different process steps were previously required, one run is now sufficient.
"Demand from our customers for the technology we have developed for powder synthesis in a pulsating gas stream has risen continuously. The same applies to the need to produce high-performance materials at higher process temperatures. Since it is our declared goal to explore innovative paths with our customers, we have expanded our technology center in Weimar accordingly."

– Dr. Viktor Drescher, Product Manager Thermal Powder Synthesis
With the new plant, the company is expanding its laboratory capacity. At the same time, it is the cornerstone for more efficient process design and opens up a much wider process window for customers to conduct feasibility trials for the development of innovative powder materials. The developed products can be manufactured on the plant in contract manufacturing. For industrial application with scale-up to the required capacity, Glatt Ingenieurtechnik builds synthesis reactors on behalf of customers.
Thermal imaging camera with automatic measuring range change
The thermal imaging camera B20 is optimal for electrothermography, mechanical applications (also with higher temperatures) as well as construction thermography. Highlights of the camera are its automatic measuring range change, real-time transfer of the radiometric image to an external tablet or smartphone, a high frame rate of 25Hz for more continuous and stable image viewing, and a three-year warranty.
The camera (IP54 rating) is designed for rapid temperature measurements. It is equipped with a Hikmicro Vox detector with a resolution of 256 x 192 pixels and fixed focus (field of view/FOV 37.2° × 50°) and a visual camera with 2 megapixels. Thus, it also realizes a fusion image or a picture-in-picture, which can also be stored internally on the camera (up to 90,000 images). The measuring ranges extend from -20°C to 550°C and change automatically depending on the displayed object temperature. An image overlay function (image fusion – infrared and visual image) provides high detail recognition.
The B20 is just as suitable for electrical inspections as it is for the HVAC sector or for simpler building thermography tasks, e.g. identifying thermal bridges or areas where mold could develop (due to significantly lower temperatures causing humidity to condense there). However, because of its wide measuring range (up to +550°C), applications are also possible wherever rather high temperatures are reached (in the automotive industry, engines, furnaces, heaters and other high-temperature applications).
With its pure thermal image resolution of 256 x 192 (49,152) pixels and a good NETD < 40 mK (at 25 °C), the camera also enables more sophisticated measurements that were not previously standard in this price segment (the recommended retail price is 549€ plus VAT). Another trend-setting feature in this class: the high refresh rate of 25 Hz ensures a clear, jerk-free image (in contrast to the 9 Hz that is often common with simple thermal imaging cameras and which makes inspections not only more tedious but also much more strenuous).
Presets for measurements include spot center, hot spot, cold spot, and preset spot. Manually, different temperature ranges (Level & Span) can be set; certain (more narrowly selected) temperature ranges can result in more clearly discernible details in the thermal image. The large LCD screen (3.2 inches) contributes to the enhanced viewing experience, but with the integrated WLAN, users can also view, save or transfer and share images live on their cell phones. The camera features a USB-C interface and a UNC ¼"-20 tripod mount. In continuous operation, the batteries last up to 6 hours. An alarm function is also on board: when the temperature exceeds a preset threshold, an audible and visual alarm is triggered.
Inauguration of the modern corporate campus in the greater Houston area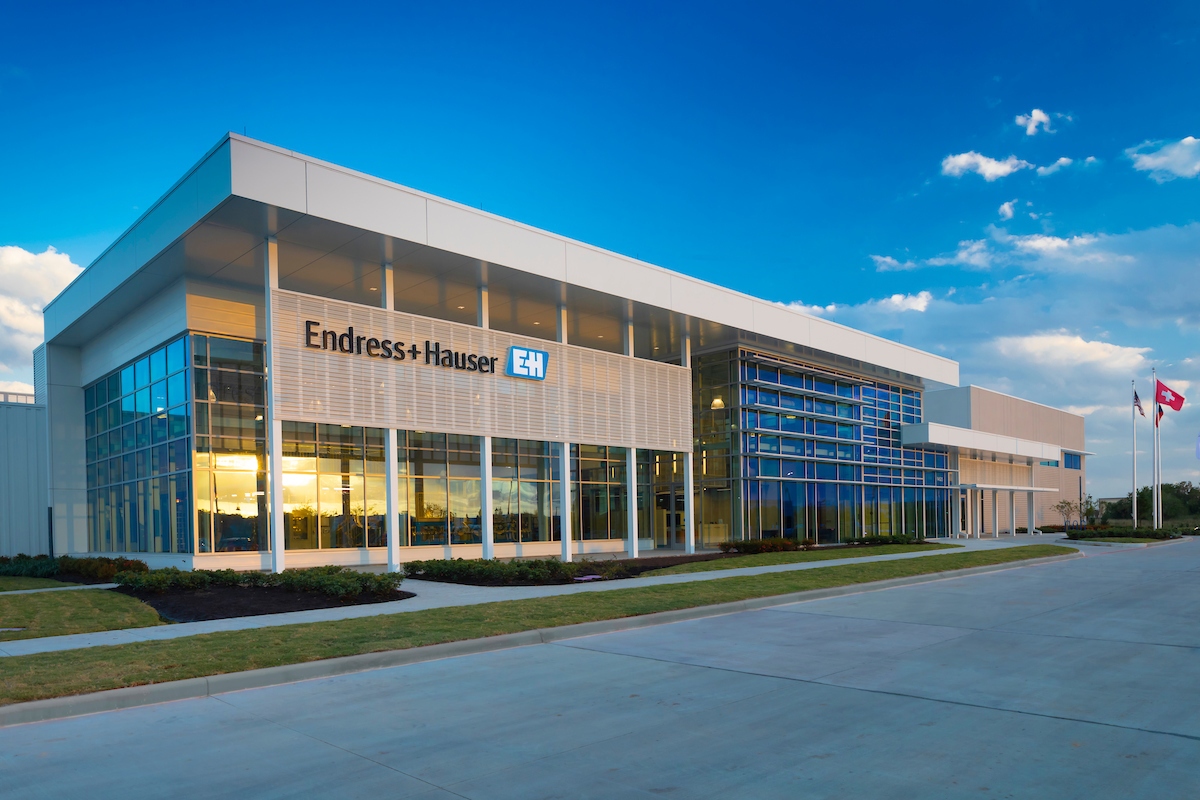 Endress+Hauser has invested $34 million in a modern corporate campus near Pearland, Texas, in the greater Houston area. A large new training center, office space for 110 employees, a calibration laboratory and a repair shop have been built on 112,000 square meters. The new building strengthens the Group's presence in the Gulf region.
Located in Pearland, Texas, the building is in the heart of the economically strong Gulf of Mexico region. "The expansion reflects our strong roots in the USA. It demonstrates our proximity to our customers and helps us to serve them even better in the future," said Matthias Altendorf, Group CEO during the dedication ceremony on October 26, 2021.
Training facility for customer training
The new campus features the largest process training unit in the U.S., with 200 pieces of equipment and seven tanks, as well as a laboratory for metrology and process analytics. Local customers and partners can learn how to use modern measurement and automation technology here in customized training courses.
In addition, the campus is equipped for the accredited calibration of instruments for flow, temperature and pressure measurement. These can be carried out both in the laboratory and with a mobile calibration system at the customer's site. A service workshop completes the range of services.
Sustainable construction in regional style
When planning the campus, the company placed great emphasis on sustainability. The building is already the fifth in the U.S. to be certified according to LEED (Leadership in Energy and Environmental Design) standards for environmentally friendly construction. In addition, regional materials were used in the interior and exterior to reflect Texas architecture.
Cross-company collaboration
The campus provides space for 110 employees. In addition to Endress+Hauser teams, the new building also houses the gas analysis business unit, the laboratory analysis specialists of subsidiary Analytik Jena, and regional sales and service partner Vector Controls & Automation Group.