Efficient vacuum generator as compact version with integrated silencer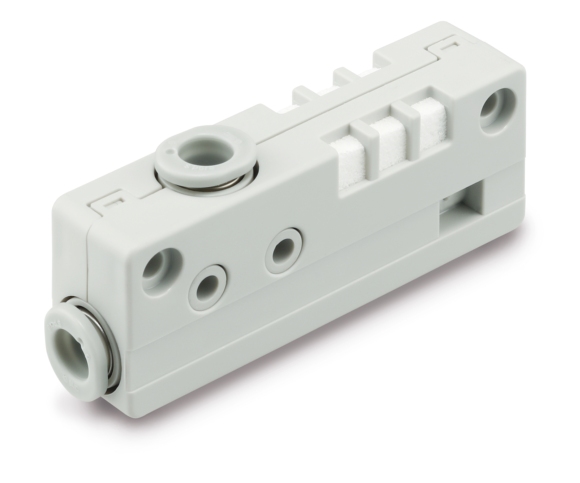 Across the industry, vacuum generation finds a wide variety of applications: from packaging and palletizing, to material handling and automatic assembly, to automated transport and pick-and-place. Here, process engineers face the challenge of achieving a small and lightweight machine design without sacrificing performance. To meet these high demands, SMC has now further developed its ZH-A series vacuum generator as a compact version. Thanks to a reduction in overall volume, this is a true lightweight and still has a larger total volume flow – ideal for use in mobile handling applications.
Whether in the semiconductor, electrical, automotive or food industries, in life science as well as a wide range of manufacturing and assembly equipment: Vacuum generators are part of the indispensable standard repertoire for a wide variety of applications – and must meet growing demands. To this end, SMC, the specialist in pneumatic and electrical automation, has developed a compact version of its vacuum generators. This provides process engineers with a solution that allows them to achieve an even more compact machine design while offering high performance with easy installation and maintenance. A particular advantage is that the reduction in weight improves efficiency, as robots, for example, can perform faster movements without compromising process reliability.
Small on the outside, powerful on the inside
SMC engineers have put the ZH-A series vacuum generator on a diet, creating a compact version. By reducing the connection height by up to 20% (-4.6 mm) and the total volume by up to 39% (-14.1 cm3), it is not only significantly more compact, enabling smaller and more cost-effective machine designs. The weight has also been reduced by up to 59% (-19.4 g) compared with its predecessor. This is now only between 28.7 g (1.5 mm nozzle Ø) and 46.4 g (1.8 mm nozzle Ø). Overall, this means that more output can be placed on the same area, which reduces the CO2 footprint and investment costs. On the other hand, faster cycle times can be realized thanks to the lower moment of inertia, which increases the output quantity.
At the same time, SMC has not skimped on performance: for example, the maximum achievable vacuum is -90 kPa and the maximum suction volume flow, depending on the nozzle size, is 78 l/m (1.5 mm nozzle Ø),128 l/min (1.8 mm nozzle Ø) and 155 l/min (2.0 mm nozzle Ø) – an increase of 11% for the smallest nozzle size compared to its predecessor. This enables faster evacuation when handling workpieces while at the same time increasing reliability and again shortening cycle times. An integrated silencer also ensures that venting noise is reduced, thus improving work safety.
Flexible installation and easy to distinguish
The compact version product is easy to install on different machine designs thanks to three mounting options: Process engineers can choose between direct mounting, mounting with L-fastener or DIN rail mounting. The same applies to the connection either as a plug-in connection or screw connection (G-/Rc-/NPT-thread) or as a combination between the two connection options.
In order to also comply with the Poka Yoke principle, the pressure ring has a color coding that immediately distinguishes between metric sizes (light gray) and inch sizes (orange). This not only makes it easy to identify the product, but also complies with the specifications of the US market, for example. Since the bore spacing for fasteners is the same as for the predecessor, the compact version of the series can be replaced without any problems – so nothing stands in the way of a machine update.
Innovative object detection in confined spaces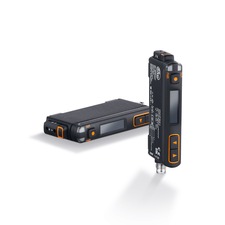 Fiber optic sensors are always the method of choice when little space is available. For such applications ifm is now launching the new fiber optic sensors of the OCF series. These can be set up intuitively, have numerous smart functions thanks to IO-Link and offer six powerful operating modes which the fiber optic amplifier selects automatically as required.
These sensors work on the same principle as conventional optoelectronic sensors. Here, however, optics and evaluation electronics are spatially separated from each other, which offers an important advantage for many applications: The fiber optics can be positioned precisely under very confined conditions and detect even very small parts there. The remote fiber optic sensor is then located in a suitable place – for example, mounted on the machine or even in a control cabinet.
The new fiber optic sensors make such applications particularly easy. The slim housings are suitable for mounting on DIN rails. There, they can be simply snapped on with a flick of the wrist. The fiber optic cables are also connected without tools thanks to the so-called fiberlocking. Since the OCF complies with the high IP65 protection class, it can also be mounted in the field, for example directly on the machine. In order to make the subsequent commissioning simple and intuitive, ifm placed great emphasis on usability during the development. The fibre optic sensor has three buttons for operation. The plain text display of the integrated OLED display facilitates the 2-point teach-in. The find-me function, in which the connected fiber flashes, also simplifies localization.
The OCF handles six different operating modes, automatically selecting the correct mode as needed. The output signal can be sent to a higher-level controller via IO-Link as well as via a fast digital output. The IO-Link interface is also used to diagnose the fiber optic sensor. For example, the degree of contamination of the fiber can be monitored; this clean-me function enables predictive maintenance in the application. Together with the new fiber optic sensors, ifm also offers a comprehensive range of matching fiber optic cables in a wide variety of designs so that the right configuration can be selected for every application.
Cable management for clean rooms with sustainability aspect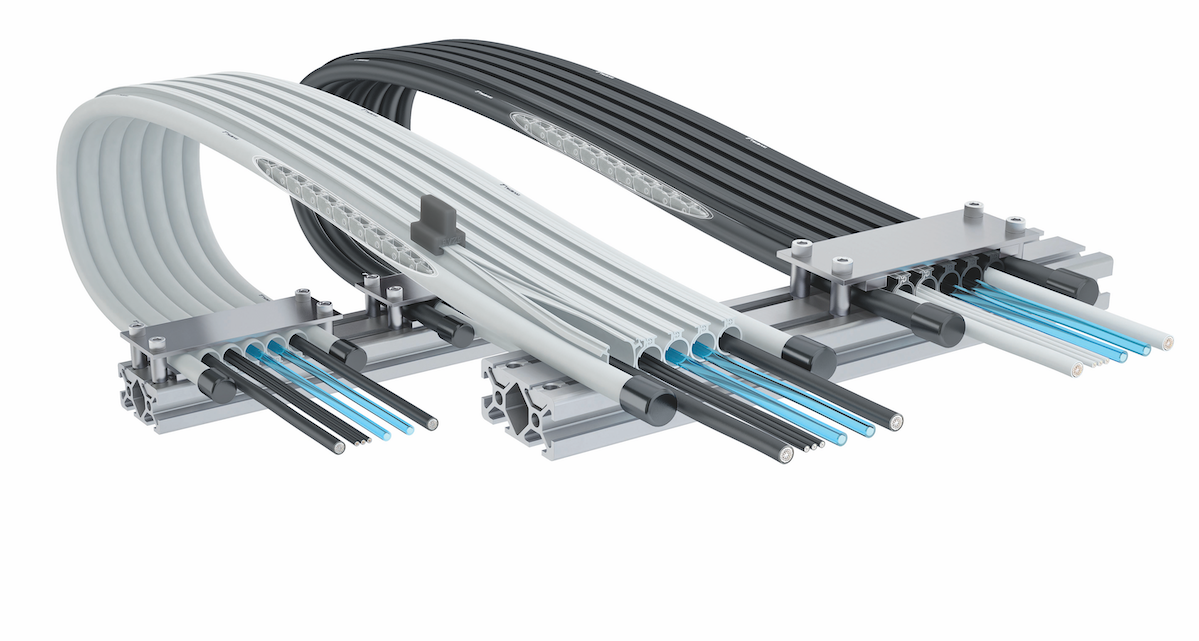 The new TSUBAKI KABELSCHLEPP solution from FLATVEYOR ZP combines the advantages of a flat cable system with the structure of a cable drag chain. Users benefit from easy replacement of cables. In addition, existing cables and hoses can be used, resulting in cost reduction and more sustainability in procurement.
The system is based on particularly durable and smooth-running hoses that can be easily opened and closed with a tool provided. This zip structure is very flexible, but does not open when moved. Replacing or using existing lines and hoses is easy and convenient thanks to this design.
The system has integrated support elements that allow linear movement at high speed. The support elements act as reliable guides that can be moved in one direction along the intended minimum bending radius, reliably guiding the cables and hoses.
The innovation is certified to ISO cleanroom class 2 and is therefore suitable for production processes in hygiene-sensitive industries where a particularly low-particle environment and technical cleanliness must be ensured – for example, in the semiconductor industry, medical technology, life sciences and pharmaceuticals.
Global market overview of stereoscopic software solutions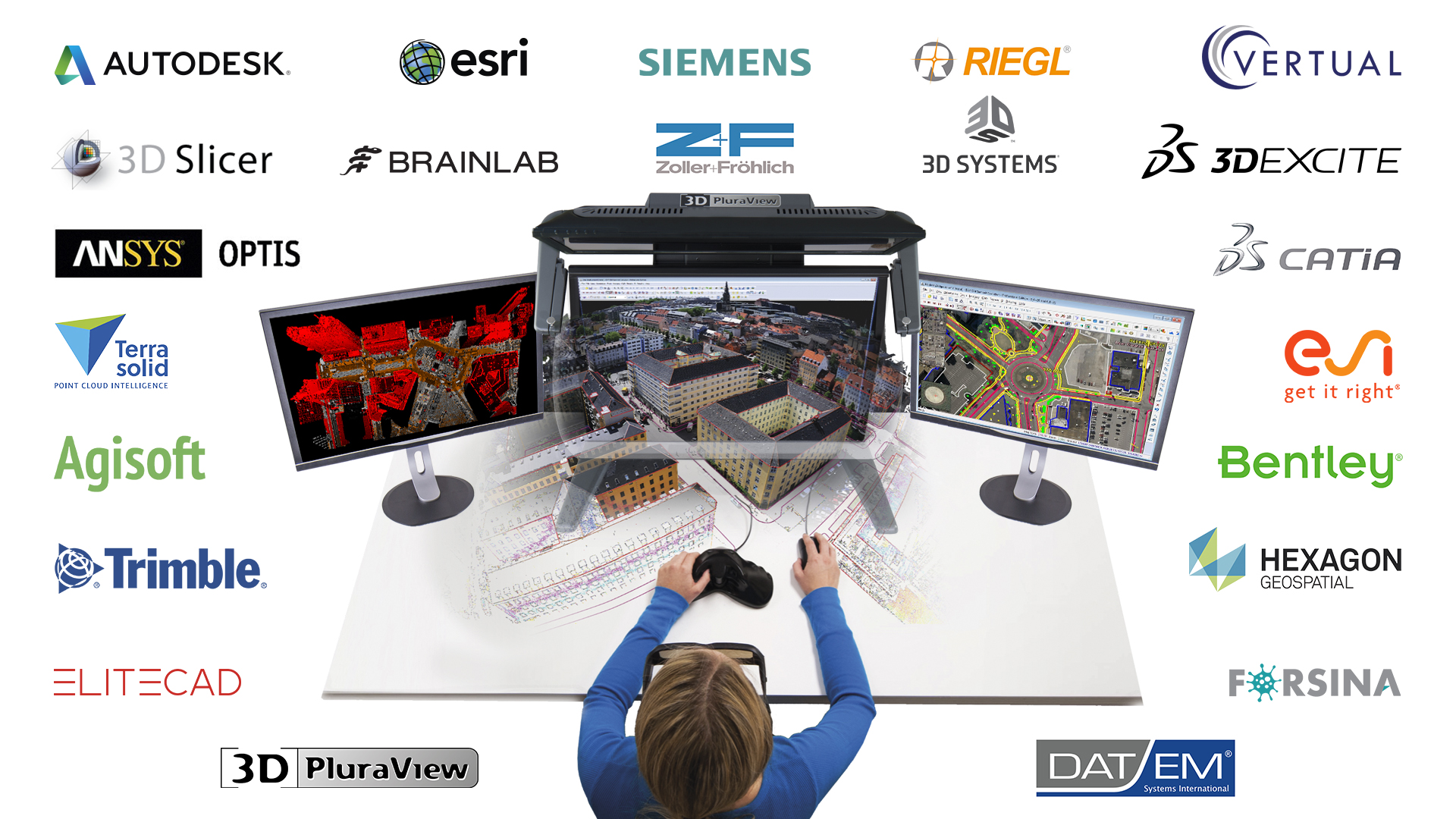 Often, many users from the high-tech industries of biochemistry/molecule research, geoinformation (GIS, photogrammetry & LiDAR), medicine (CT, MRI & ultrasound) or construction (CAD, CAM & 3D printing) do not know which of the applications offered on the market are stereoscopy-capable and, in contrast to the monoscopic, perspective-flat display, thus enable true, spatial 3D visualization. After two years of intensive research, Schneider Digital, known for its professional 4K/8K and VR/AR hardware solutions, in collaboration with leading software manufacturers, has now published for the first time a global market overview of all relevant 3D stereo software solutions. In a monthly updated community-based database, more than 300 applications including manufacturers are currently listed and linked. Schneider Digital first checks the individual applications for their basic 3D stereo functionality before certifying them individually for plug-and-play operation with its 3D monitors or the smart VR wall.
With the continuous maintenance of this central database, in which all worldwide relevant 3D stereo software applications are summarized, Schneider Digital, as a specialist for 3D and VR/AR hardware solutions, provides users with a constantly updated orientation aid on how their work process and visualization quality can be improved through the use of 3D stereo technologies. One of the declared goals of the Miesbach-based company is to effectively help as many software manufacturers as possible to integrate the stereoscopic mouse pointer into their existing monoscopic applications in addition to the stereoscopic image output option, which enables users to reach every point, surface and edge in 3D space directly.
Schneider Digital has been providing not inconsiderable company resources for this pioneering work for two years now. The result is a manufacturer- and hardware-independent "Open Source Compendium" for all software manufacturers and users. The global market overview shows at a glance which of the software applications offered are really natively 3D-stereo capable. In other words – "which software is able to display models in detail, holographically as real 3D objects in space and which software already has a 3D stereo cursor"?
Cross-industry compendium of 3D stereo applications
To achieve its vision of creating a fully comprehensive market overview of all relevant 3D stereo applications, Schneider Digital reviewed more than 300 software applications for their 3D stereo functionality. Most of them have already been certified by the company for operation with its own passive 3D monitor systems, the 3D PluraView models.
The applications are sorted according to software and application areas and are listed and linked in alphabetical order, together with details of the respective manufacturers. With the help of this overview, software manufacturers and users can quickly and conveniently filter out a solution tailored to their requirements. There are also plans to further expand the compendium with video tutorials for 3D stereo configuration settings as well as a graphics card database with all suitable stereo-capable, professional graphics card solutions.
"Our vision is to continuously expand this market overview into a complete, community-based database of all relevant 3D stereo applications worldwide. In addition to listing all manufacturers and applications, we also want to integrate the corresponding documentation, how-to's and video tutorials for software configuration there."

– Josef Schneider, project initiator
Complete 3D stereo workstation solutions – a combination of powerful software and hardware
Working with holographically displayed 3D models is becoming increasingly established in applications such as research, analytics, development, construction, design or diagnostics. A 3D monitor has become the industry standard for all stereoscopic software applications because it guarantees precise 3D stereo visualization in the highest resolution up to 4K per eye. It is used in a wide range of industries, such as photogrammetry, GIS/mapping, LiDAR point clouds, laser scanning, oil and gas prospecting, archaeology, AEC/BIM, visualization of 3D city models, CAx, medical or biotechnology and molecular chemistry.
3D visualization technology is a complex subject area that only the perfect interaction of software and hardware components leads to one hundred percent industry-standard visualization results. Schneider Digital has over 25 years of industry and product experience with sophisticated professional hardware and has detailed market knowledge and application expertise. Schneider's experience has shown: The combination of computational performance and visualization technology is critical! If you use a 3D stereo software solution and want to work stereoscopically or with VR/AR, you need a powerful CPU/GPU hardware solution.
Only in perfect interaction with powerful professional hardware can landscapes, buildings, entire cities, complex CAD models, GIS infrastructure, industrial processes or human anatomy be processed and visualized in a three-dimensional, detailed and fluid way. The larger the data sets to be processed, the higher the demands on the performance of the workstations and the image quality of the 3D monitors. Professional users with demanding 3D work tasks benefit from Schneider Digital visualization technology in combination with powerful workstations and 3D/VR/AR input devices as a complete workstation solution.