Cool-Fit 2.0


Efficient cooling
As a contribution to the worldwide initiative to reduce CO2 emissions and environmental impact, GF Piping Systems brings a revolution to efficient cooling. The efficiency of a cooling plant is defined by the system's Coefficient of Performance (COP), the heat transfer rate at the air cooler and the efficiency of the chilled water piping system.
Leybold offers a dry claw pump for robust rough vacuum applications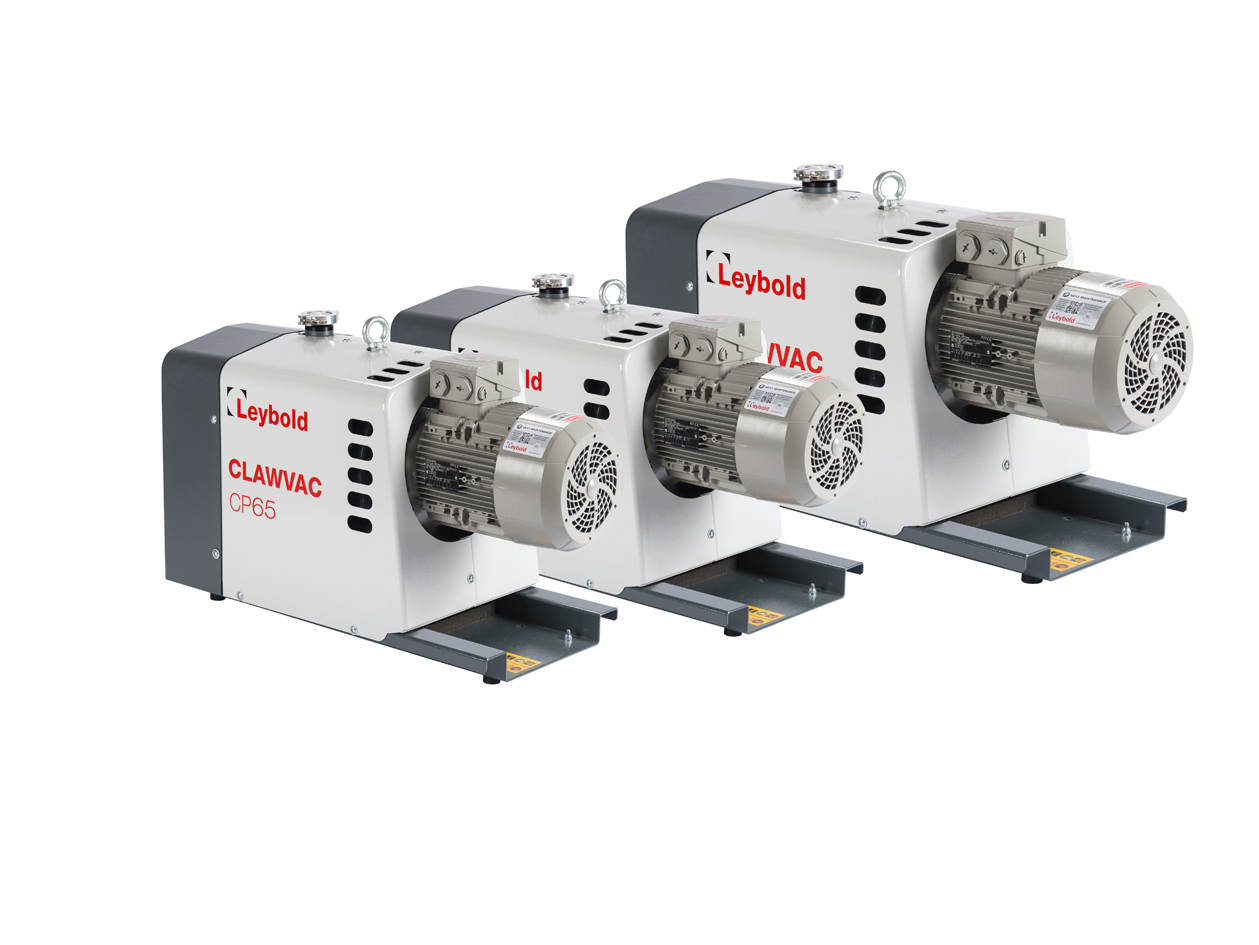 Especially for rough industrial processes Leybold introduces the uncomplicated, dry rough vacuum CLAWVAC pump. Besides food processing, packaging and environmental technology applications, it is suitable for drying and sterilization processes. The pump, which is offered in three pumping speed classes, is specially designed for continuous operation at every working pressures. Additionally the special pump design avoids that oil comes into contact with pumped gases, what allows higher Oxygen applications. At the same moment, Leybold also offers with the CLAWVAC System series a new multiple pump system. These systems are based on CLAWVAC and offer a redundant plug-and-play solution.
Uncomplicated handling
The daily use is uncomplicated: Thanks to the self-supporting construction, the vacuum generator is easily accessible. What allows to directly clean the pump on-site. The simple handling of the robust pump can also be attributed to its operating principle: A pair of claw rotors rotating in the pump stator completely free of contact and wear. It also distinguishes itself from standard claw pumps on the market by the choice of materials. Rotors made of stainless steel and a corrosion-resistant coated vacuum chamber, it proves its worth even under harsh process conditions. This makes an important contribution to reliable operation.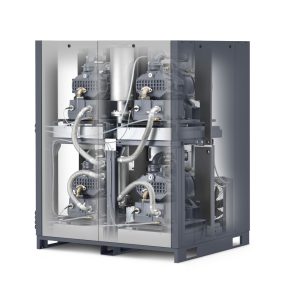 Disassembly in a few minutes
The modular pump design allows a quickly dismantling, opening and cleaning of the pump essentials as the pumping chamber and the silencer. For a mechanic these steps can be done in a few minutes and the frequency is purely depending on the hardness of the process. Except the 20 000 hr oil & lipseal replacement, no further regular maintenance is required and additionally it is independent of the application. "Thanks to this pump characteristic, we have reduced the amount of servicing required and improved the environmental balance," explains Niels Gorrebeeck, Product Manager Rough Vacuum, Leybold, Cologne.
Minimal downtimes
The design allows the user to disassemble and clean the claws quickly and easily as the rotors can be removed without having to readjust the synchronization. This primarily relieves customers with rough & dirty processes, whose pumps previously needed a synchronization at the manufacturer side. The set-up is based on a quick component replacement, which has to ensure a minimal downtime and low service costs.
Wide range of applications
On the basis of CLAWVAC, Leybold also has a new multiple pump system in its program, a powerful plug-and-play solution. Especially for packaging plants, pneumatic conveying lines or clamping devices of CNC machines the multi claw pumps are a reliable solution. This also applies to plastics processing machines, drying processes and central vacuum supplies.
Low energy consumption, low CO2 output
Depending on the required flow rate, the systems contain two to four CLAWVAC pumps in one housing. "The robust, long-life pumps operate in an intelligent controlled dry and air-cooled solution" summarizes Niels Gorrebeeck. "On top of that, CLAWVAC System only delivers the required vacuum." One pump is speed-controlled, that allows the exact adjustment of the generated vacuum. The intelligent control activates or disactivate the other fixed speed pumps based on the vacuum need. This speed control reduces the necessary energy consumption and CO2   emissions.
A constant & redundant vacuum supply
"During the design we strongly focused on the customer needs as a high redundancy level, minimal maintenance needs and stable vacuum supple even in harsh environments" explains Niels Gorrebeeck. The earlier mentioned constant vacuum level guarantees the customer product quality in all conditions, the same intelligent control equalizes the running hours of the fix speed pumps. The control principle is even as such developed that your CLAWVAC System keeps on running, even with half of it pumps active. CLAWVAC Systems clearly meets all its targets.
Housing reduces noise and heat
With this multiple pump system, Leybold brings all necessary components under one acoustic enclosure and offers at the same way a compact, intelligent system solution. The robust housing protects the pumps, reduces noise and heat and combines all the technology necessary for operation in one box.
Choose with CLAWVAC System for an innovative and effective vacuum solution, which has a positive effect on your overall performance. Leybold offers these space-saving systems with pumping speeds between 604 and 1144 m3/h. As with the individual claw pumps, the system also allows a ultimate pressure up to 140 mbar absolute.
Sabic


TF-BOPE film for frozen food packaging
Sabic, a global leader in diversified chemicals, has launched a sustainable packaging solution for frozen food which combines a new polyethylene (PE) grade with innovative film production technology. Compared to conventional blow PE film solutions, it offers significantly higher throughput and also has potential for down-gauging, making it attractive from both a commercial and sustainability standpoint.
The solution is based on a mono web TF-BOPE film structure which has a thickness of only 20 micrometers – an unprecedented benefit in this market. This thin gauge provides a potential packaging material reduction of approximately 35-50% compared to incumbent blown PE film. The reduced thickness of the packaging solution minimizes environmental impact and supports brand owners and retailers who are aiming to reduce their packaging material consumption. The new packaging solution is also 100% recyclable and fits mono-PE recycling streams.
This innovative packaging solution for frozen food is the result of Sabic's close collaboration with film suppliers/extruders Ticinoplast and Plastchim-T, as well as packaging machine manufacturer Syntegon Technology.
Stephan Eltink, Sabic's Business Director for PE in Europe, said: "At Sabic, we focus on delivering sustainable solutions and working collaboratively with our customers to help them achieve their ambitions and solve key industry challenges. By working closely with Ticinoplast, Plastchim-T and Syntegon, and by leveraging our innovation together, we have been able to introduce a new solution to the market that allows for more sustainable packaging without any compromise on productivity and consumer convenience."
Pierre Hamelink, Syntegon's Director of Business, Market and Sustainability Strategy, said: "This innovative packaging solution demonstrates the true value of collaboration. Stakeholders throughout the supply chain have had to work together to bring this to life: sustainability cannot be achieved single-handedly." He added: "Our research and development efforts are driven by our mission to deliver sustainability – without compromise. Our new PHS 2.0 sealing technology can process thinner films whilst offering the same level of sealing quality, product protection and processing speed as conventional sealing technologies.
When replacing composite packaging materials on new and existing Syntegon machines with films made of Sabic's BOPE, brand owners benefit from even more material and cost savings."
TF-BOPE film made of Sabic® LLDPE BX202 material offers tear direction, low tear strength and provides an easy unidirectional opening. Compared to conventional solutions, it offers much better visibility of packaged products due to higher light transmission and lower haze. Meanwhile the high gloss delivers first-class design and aesthetics.
The 20 micrometer thin film was successfully tested on Syntegon's vertical form, fill and seal machines, which feature the newly-developed PHS 2.0 sealing technology. This technology reduces the amount of clamped film by 25% and increases packaging speed by up to 25%. The thin TF-BOPE film also requires less cooling time which increases packaging speed even more. During the evaluations, a constant speed of 130 bags per minute was achieved.
For packers, TF-BOPE film delivers a robust sealing performance and increased productivity resulting from improved packaging speed. The thin gauge results in increased film roll efficiency which reduces logistic handling, storage space and transport costs.
For converters and brand owners, Sabic's TF-BOPE film material offers a wide range of benefits that include good printability, cost-saving opportunities, higher yield, less consumption of plastic materials and lower packaging taxes due to reduced material consumption. It further reduces the package weight to product weight ratio, resulting in a more optimized packaging design.
The TF-BOPE film is based on Sabic LLDPE BX202 grade, which is available globally. TF-BOPE stands for Tenter Frame Biaxially Oriented Polyethylene. This is a PE grade that can run in tenter frame machines traditionally used to make Biaxially Oriented Polypropylene (BOPP) film. TF-BOPE has the potential to be used in new applications and markets which support the circular economy, where mono material solutions are required to enhance recyclability. TF-BOPE can replace multi material laminates into a mono-PE structure.
Sabic TF-BOPE polymer is part of the "Design for Recyclability" under TRUCIRCLE™ solutions and supports easy and full recyclability through enabling mono-PE material structure in multilayer tenter frame of flexible packaging, aiming to minimize waste. This new product can be also available as certified circular polymer from the company's TRUCIRCLE portfolio. At Sabic, the TRUCIRCLE initiative encompasses the company's circular materials and technologies, which include certified circular polymers from the chemical recycling of mixed plastic waste and certified renewable polymers based on bio-based renewable feedstock.
ACT Sustainability


Certification for Eppendorf ULT freezers
As further step into the green future, My Green Lab, a global non-profit organization promoting sustainability in the Life Science Industry through Green Lab Certification and validation of sustainable and energy efficient equipment has certified several Eppendorf ULT freezers (-80°C) to ACT, the Environmental Impact Factor label.
The Eppendorf ULT freezers are the first freezers worldwide being validated by My Green Lab:
The CryoCube® F570h, CryoCube FC660h, CryoCube F740hi, and CryoCube F740hiw are now validated and certified based on the ACT label in the US, UK and EU market. The holistic scoring evaluates a number of environmental factors across the lifecycle of an instrument. Power consumption is based on external testing at ENERGY STAR® with US-voltages. These ULT freezers are also certified by the ENERGY STAR regarding their sustainability footprint.