Biogas Plant for Greek Abattoir


Efficient Bioenergy Generation from Animal Waste
In the summer of 2020, the German plant manufacturer Weltec Biopower will start building a biogas plant in Veria, northern Greece. The main investor and operator of the project is one of the largest abattoirs for cattle and pigs in Greece. The 500-kW plant – which Weltec has planned in collaboration with its Greek partner Tetoros Machinery in Megara – is set to go live as early as mid-November 2020.
For many years, a lot of animal waste has accumulated in the north of Greece. According to the Greek research institute CRES, the waste from animal husbandry and slaughtering throughout Greece amounts to 17.5 million t/year. This corresponds to a potential biogas capacity of approximately 370 MW. The capacity currently installed in Greece is only about 83 MW.
The new Weltec plant in Veria will make use part of these resources for the generation of energy. The anaerobic digestion process will mainly use cattle manure and meat processing leftovers. Apart from these substrates, the 4,903-m3 stainless-steel digester will also be fed with production wastewater and fats. The input substances will come from the operator's own abattoir and farms as well as from farmers in the vicinity.
The highly efficient digestion will start with a customised input process. For this purpose, the substrates will first be loaded into a 60-m3 moving floor feeder. The feeder will transport solid substrates, such as orange peels, to the Multi-Mix unit, where they will shredded and then pumped to the digester. Liquid substrates will be pumped directly into the digester from two storage units. "Following the digestion process, the entire digestate will be treated in a downstream hygienisation unit", explains Alain Priser, International Sales Manager at Weltec Biopower.
Meanwhile, Greek investors are looking for such custom-tailored plants in order to make profitable and climate-neutral use of the wide variety of raw materials. This is the only way how the share of renewable energies in the power generation can be doubled from the current level of 30 percent to 60 percent in 2030. This target was defined in National Energy and Climate Plan 2021 to 2030 (NECP) adopted by Greece. An intermediate step will be to shut down 14 coal-fired power plants in the next five years. Besides natural gas, renewable energies are to play a key role in closing the resulting power supply gap.
In the coming decade, Greece will invest some €9 billion in such plants. During this period, the installed biogas and biomass utilisation capacity is expected to triple. In this process, new laws are to provide investment security. "The Greek power grid operators will be required to preferentially connect these plants to the grid, purchase their electricity and pay defined minimum prices", explains Weltec's Greek partner John Tetoros. Tetoros Machinery and Weltec Biopower have collaborated in the Greek energy reform since 2007. With a portfolio of 18 plants and extensions that they have set up, they are the market leader for biogas plants in Greece. Based on the concept of the latest plant in Veria, more plants are likely to be added to the portfolio.
Acquiration of LACTEL Polymers


Evonik expands portfolio
Evonik has signed an agreement to acquire the LACTEL® business of biodegradable polymers from DURECT Corporation for USD 15m. The transaction is expected to close by Q1 2021 pending the satisfaction of certain customary closing conditions. An offer will be extended to each of the 15 employees of DURECT located in Birmingham, Alabama, which are associated with the LACTEL® business to transition to the Evonik. 
"The acquisition of the Lactel® business will strengthen both our innovation growth field Healthcare Solutions and Evonik's position as a globally leading CDMO for drug delivery solutions", says Johann-Caspar Gammelin, Head of the Nutrition & Care Division of Evonik. The acquisition marks a consequential step in the growth agenda of the life-science division Nutrition & Care. The LACTEL® business will benefit from fast-growing markets such as advanced drug delivery, biomaterials for tissue engineering, and the 3D printing of implantable medical devices.
"It has been a pleasure working with the highly motivated and talented LACTEL® team. We have confidence that Evonik will apply its resources and commitment to excellence to enable the product line and supporting team members to thrive," says James E. Brown, President and Chief Executive Officer of DURECT Corporation. With Evonik's global reach, existing and new customers will benefit from tapping into Health Care's twelve global laboratories staffed with formulation, application and regulatory experts to assist in bringing their products faster to the market.
"The integration of the LACTEL® business into Evonik's market-leading portfolio of functional excipients, biomaterials and integrated CDMO services will strengthen our position as a preferred development partner and solutions provider for pharmaceutical and medical device customers," says Thomas Riermeier, Head of the Health Care business line. "By welcoming LACTEL® and members of their team into the Evonik family, we look forward to providing customers with even greater platform versatility as well as other value-adding services."
Poly(lactide-co-glycolide) polymers are widely used as a functional excipient to control the release of parenteral drug products. They are also utilized to control the biodegradation of implantable medical devices across various orthopedic, cardiovascular, wound healing and other applications.
Lauda Integral – Future Integrated


Future Integrated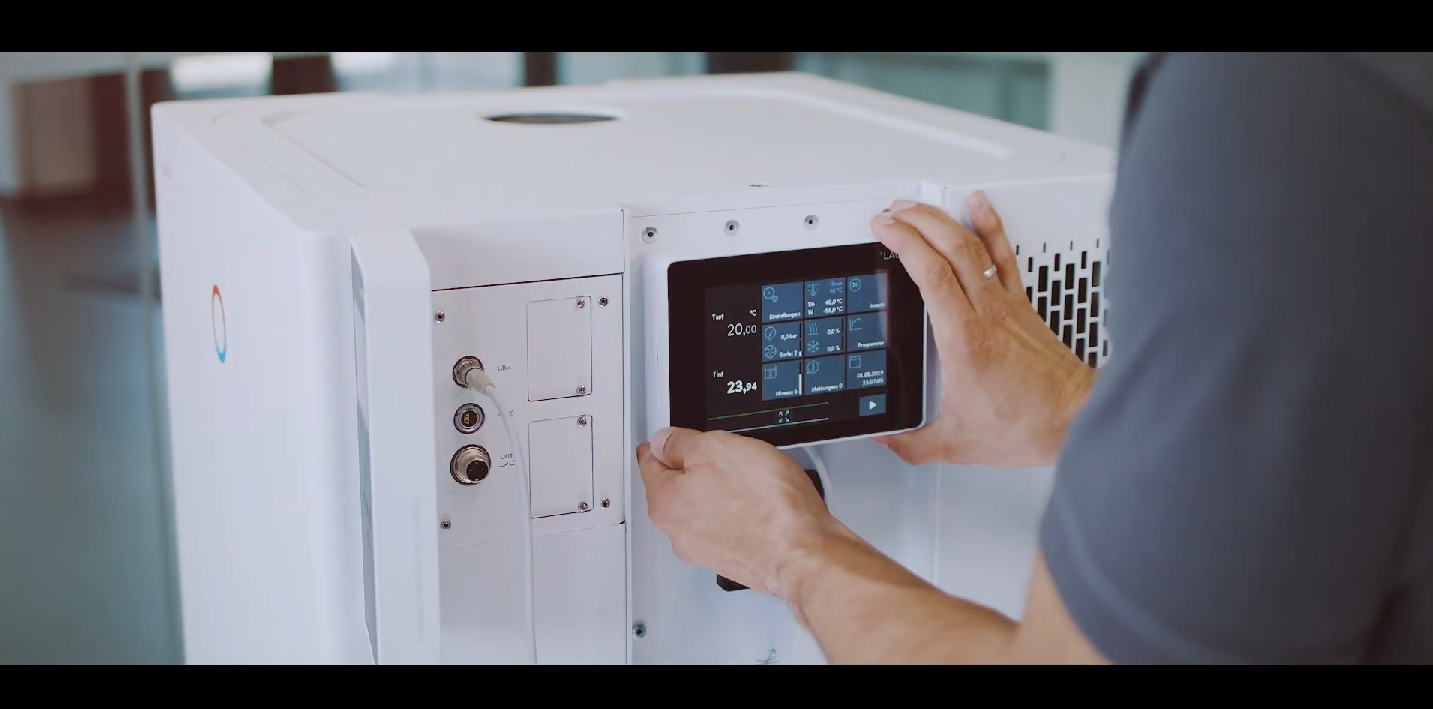 Experience the new generation of Lauda Integral process thermostats. Technically newly developed and equipped with an intuitive operating and interface concept, Integral process thermostats reliably meet the most demanding temperature control tasks in the chemical, pharmaceutical, biotechnology and automotive industries.
Thermostats


Laboratory Circulators
With the Dyneo series, Julabo offers powerful thermostats that reliably meet the highest demands in terms of functionality and reliability.
The Dyneo thermostats were developed with pioneering technologies for modern laboratories and are manufactured in Germany to the highest quality standards.