Efficient and safe transport of hydrogen
Bilfinger and Hydrogenious LOHC Technologies ("Hydrogenious LOHC") are entering into a strategic partnership, combining their complementary expertise. They aim to make green hydrogen commercially available on a large scale in Europe by offering a turnkey, stationary Liquid Organic Hydrogen Carrier (LOHC) plant infrastructure based on Hydrogenious' proprietary technology. For the owners or operators of these systems of hydrogen storage and hydrogen release facilities, the partners intend to provide one-stop engineering, procurement, construction (EPC) and maintenance services. Another common goal is the marketing of LOHC plants.
"As long-term partners on an equal footing, we want to help drive the energy transition forward. Green hydrogen plays a crucial role as a sustainable energy source for our customers and for European countries to achieve their climate targets. With the appropriate scaling, Hydrogenious' LOHC technology can become a forward-looking solution for this."

– Christina Johansson, Interim CEO and CFO
"With the company, we gain our partner of choice for the turnkey construction of large-scale LOHC plants with comprehensive expertise in engineering, assembly and maintenance," said Dr. Daniel Teichmann, founder and CEO of Hydrogenious LOHC Technologies. "Our partnership positions us perfectly for the market ramp-up in the hydrogen economy. By further improving the competitiveness of our technology through scale-up and standardization, all players in the future green hydrogen value chains will benefit."
For the flexible transport of hydrogen, the technology is both an efficient and safe solution: In the StoragePLANTS, hydrogen is chemically bonded to the LOHC material benzyltoluene, a thermal oil. This carrier oil can be transported under ambient conditions in conventional logistics infrastructures comparable to the delivery of e.g. crude oil or diesel. Once at the hydrogen consumer, the hydrogen is released from the LOHC in a ReleasePLANT (in appropriate purity as needed), while the carrier material is reused many hundreds of times in the cycle. Thus, Hydrogenious LOHC technology has significant advantages over other technologies for transporting hydrogen.
The company had shipped its first LOHC storage and release systems for commercial uses to the U.S. in 2018. A demonstration plant was previously in operation at Fraunhofer IAO in Stuttgart. Construction of an industrial-scale LOHC storage PLANT at Chempark Dormagen is scheduled to begin in 2023/2024 – at the same time the world's largest facility of its kind (hydrogen storage in LOHC: approx. 1,800 metric tons per year). For the construction of the plant, Bilfinger will provide services in the areas of basic engineering, civil engineering and support with applications for permits at the chemical park.
Safe solution to process a wide range of products


Treatment of products with high vacuum
A very important Germany fine-chemical company has chosen a 3000 liters Bi-Evolution Dryer (model RB 3000) fully equipped with vacuum pump, condensing unit, H/C unit and control-system by Italvacuum. The Bi-Evolution Dryer is Italvacuum's double cone rotary vacuum dryer that provides high level performances to fulfill the production needs of modern-day firms in the chemical, fine chemical and pharmaceutical industry, amongst many others. It keeps up with today's increasingly stringent safety regulations, such as Atex, FDA, Asme, cGMP, Ehedg, CE, Ex.

Italvacuum can provide turnkey installation; the company offers every necessary component for a flawless production process, from vacuum pumps and H/C units together with the control-system. Furthermore the company is also able to serve and support costumers on an international scale in different stages of projects: before the choice thanks to high skilled engineer and the possibility of pilot test in house or off site and during the phase of installation/ after sales thanks to highly specialized staff that can provide scheduled preventive maintenance or prompt technical assistance.
For more information about Italvacuum:
DFG Funds New Research Training Group at the TU Kaiserslautern
To protect themselves, organisms switch to stress mode in extreme environmental conditions such as heat, drought or high salt concentrations. Similar reaction routines take place in the cells of fungi, plants, animals and humans. But what are the fundamental principles behind these processes, and what changes in the cells ultimately lead to resistance and thus to adaptation to "uncomfortable" living conditions? Researchers from the departments of biology and chemistry at the TUK are now investigating this in the new STRESSistance Research Training Group. The German Research Foundation (DFG) is funding the project with around 3.9 million euros in an initial funding period over four and a half years.
"This is a remarkable success and another award for our education and research in the natural sciences. The funding will enable us to finance nine doctoral positions based in nine working groups – eight in biology and one in chemistry. Each research group will conduct research on a different organism or cells from other organisms so that we can capture and decipher the basic principles and reaction pathways in the formation of stress resistance across the biological spectrum, from algae to humans."

– Prof. Dr. Johannes Herrmann
Officially, the Research Training Group will begin its research work next January. Nine other doctoral students who are also involved in the research will be able to benefit from the accompanying training program, which includes workshops, seminars, etc. The program will be coordinated by Dr. rer. nat. Gabriele Amoroso, who will take care of the scientific and non-scientific needs of the PhD students.
"We are delighted that the DFG is investing in our promotion of young scientists and thus in our future with this new research training group," says Prof. Dr. Werner Thiel, Vice President for Research and Technology at TUK. "I would like to take this opportunity to congratulate all those involved! It should be emphasized that the program combines the research expertise of nine working groups and thus gives more visibility to our interdisciplinary research achievements in the natural sciences. Last but not least, it follows on almost seamlessly from a Research Training Group that was based in biology and was completed after nine years of funding. This means we can now continue the success story with a new research topic."
Congratulations also come from the Rhineland-Palatinate Ministry of Science and Health. "I congratulate all the scientists involved in the initiative on this success," said Science Minister Clemens Hoch. "The acquisition of a new research training group is an excellent demonstration of the research strength and the training of young scientists at the TU Kaiserslautern. TUK has successfully expanded its focus on membrane and systems biology in recent years, in part by taking advantage of the state's research initiative. The new research training group will further strengthen the profile of the Kaiserslautern site."
From the research work, the participants hope to gain a fundamental understanding of stress resistance at the molecular level. In this way, the findings from the Research Training Group could, for example, contribute to keeping people and animals healthy longer in old age or to making crops resistant to drought.
The Research Training Group is affiliated with the "BioComp – Complex Data Analysis in Life Sciences and Biotechnology" profile area, which is funded at the TUK as part of the state's research initiative. This has enabled essential preparatory research work in recent years.
Concrete selection of active cells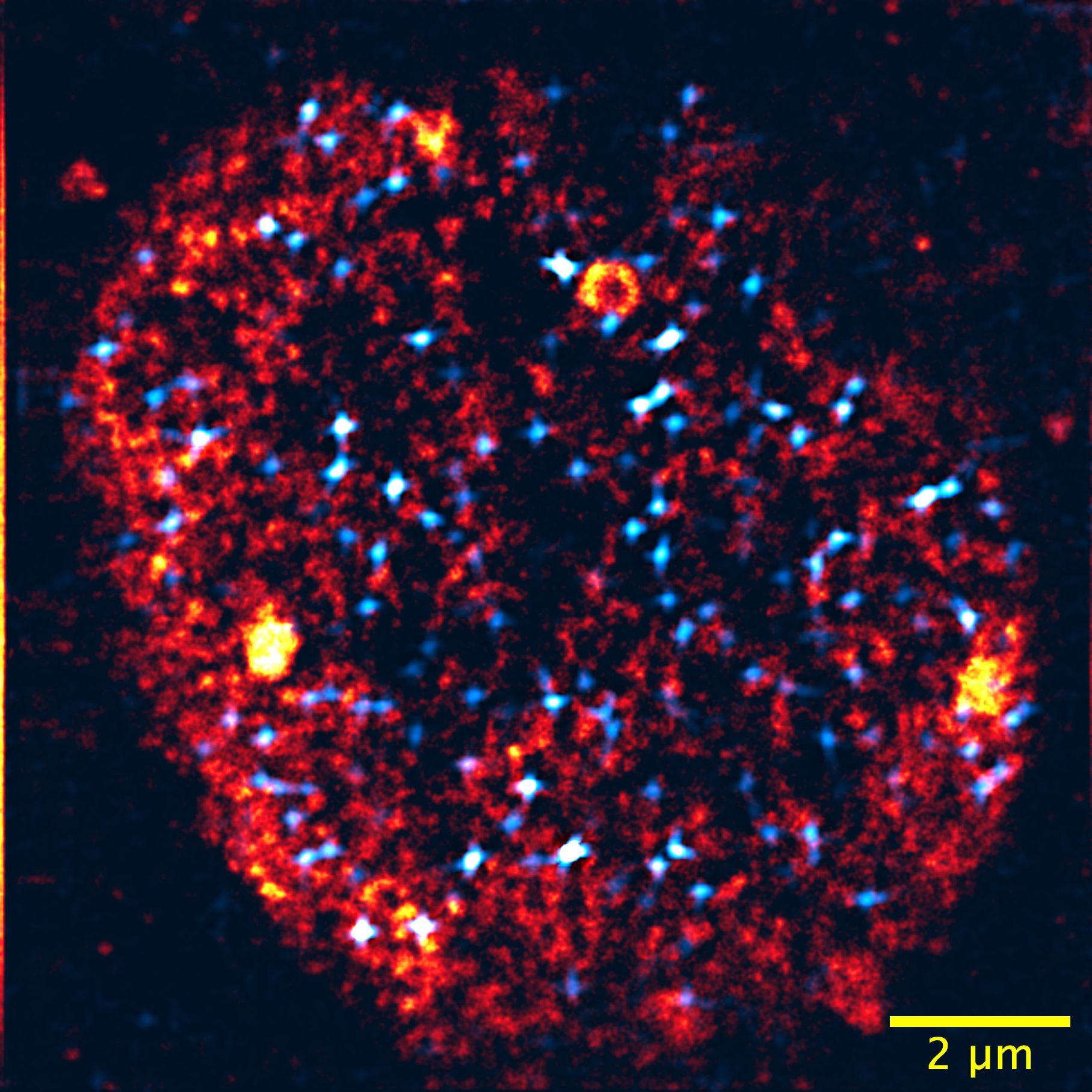 Cells must precisely control which of the many genes contained in the genome they use. This is done in so-called transcription factories, molecular assemblies in the cell nucleus. Researchers at the Karlsruhe Institute of Technology (KIT), at the Friedrich Alexander University Erlangen-Nuremberg (FAU) and at the Max Planck Center for Physics and Medicine (MPZPM) have now found that the formation of transcription factories resembles the condensation of liquids. Their findings may contribute to the understanding of disease causes in the future, as well as advance the development of DNA-based data storage. The researchers report in Molecular Systems Biology.
The human genome contains more than 20,000 different genes. However, each cell accesses only a fraction of the information stored in this genome. Cells must therefore precisely control which genes they use – otherwise, for example, cancer may develop or embryonic growth may be disturbed. A central role in the selection of active genes is played by so-called transcription factories.
"These factories are molecular assemblies in the cell nucleus that combine the correct selection of active genes and the readout of their sequence at a central location."

– Lennart Hilbert, assistant professor
Set up and running in a matter of seconds
How transcription factories are built and specifically started up within a few seconds has occupied cell and molecular biologists for decades. Results from recent years indicate the relevance of processes that were previously only known from industrial and technical polymer and liquid materials. Currently, research is particularly investigating phase separation as a central mechanism. In everyday life, phase separation is evident, for example, in the separation of oil and water. Until now, however, it was not clear how exactly phase separation contributes to the construction of transcription factories in living cells.
Researchers at the Institute of Biological and Chemical Systems (IBCS), the Zoological Institute (ZOO), the Institute of Applied Physics (APH), and the Institute of Nanotechnology (INT) of KIT, together with scientists at the Friedrich Alexander University Erlangen-Nuremberg (FAU), the Max Planck Center for Physics and Medicine (MPZPM) in Erlangen, and the University of Illinois at Urbana-Champaign/USA, have gained new insights into the formation of transcription factories: It happens in a similar way to the condensation of liquids. The scientists show this in a publication in the journal Molecular Systems Biology. First authors are Agnieszka Pancholi from KIT's IBCS-BIP and ZOO, and Tim Klingberg from FAU and MPZPM.
State-of-the-art light microscopy combined with computer simulations
In their publication, the researchers show that condensation during the formation of transcription factories is similar to fogging up a pair of glasses or a window pane: Liquid only condenses in the presence of a receptive surface, but then very rapidly. In the living cell, specially marked areas of the genome serve as condensation surfaces. The fluid-coated areas allow the attachment of relevant gene sequences as well as additional molecules that eventually activate the attached genes.
These findings were achieved through an interdisciplinary collaboration. For example, the researchers observed zebrafish embryos with state-of-the-art light microscopes developed in Professor Gerd Ulrich Nienhaus' team at APH. These observations were combined with computer simulations at the Department of Mathematics in the Life Sciences at FAU and at MPZPM, which is headed by Professor Vasily Zaburdaev. The combination of observations and simulations makes the condensation process comprehensible and explains how living cells can quickly and reliably build transcription factories.
In recent years, the new understanding of condensed fluids in living cells has provided fundamentally new approaches to the therapy of cancer and nervous system diseases. These approaches are already being pursued by recently formed companies to develop new drugs. Other research is looking at the use of DNA sequences as digital data storage devices.
The feasibility in principle of DNA-based data storage has now been demonstrated by several research groups. However, reliably storing and reading information in such DNA storage media is still a challenge. "Our research shows how the biological cell organizes such processes quickly and reliably at the same time.