Effective marketing strategy in the packaging sector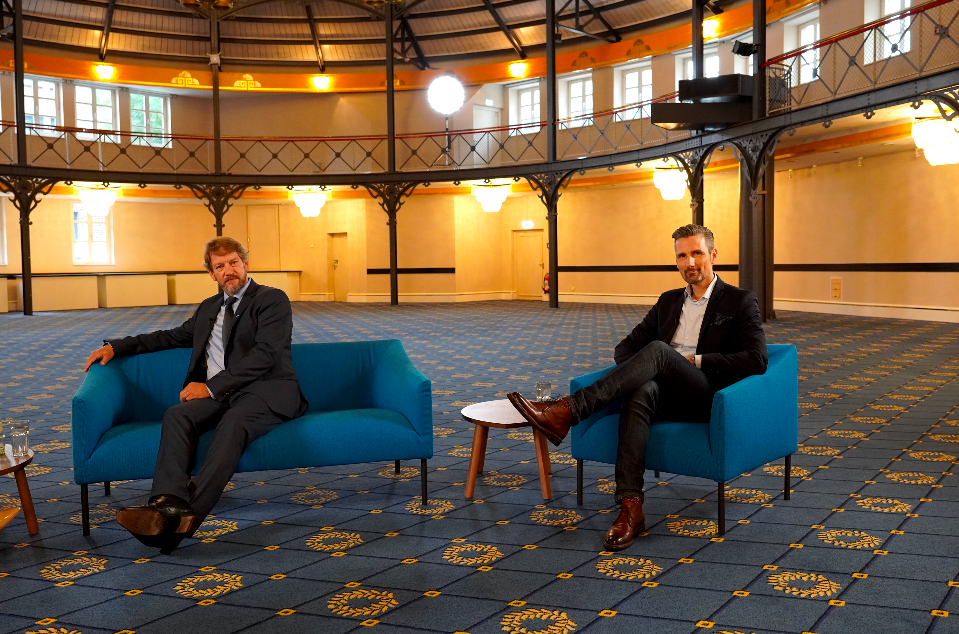 Packaging not only protects the product – it is also a powerful marketing and advertising lever that influences customers' purchasing decisions. In this new episode of Sappi's Blue Couch series, viewers will learn what is meant by "packvertising" and how brand manufacturers can best present their product at the point of sale.
The way people make purchasing decisions in the face of overwhelming choices is very complex. Subconsciously, the brain is constantly at work making judgments based on sensory signals such as the sense of touch, smell and sound. Therefore, in order to capture the attention of customers, manufacturers should not only focus on functionality when selecting packaging material, but also not lose sight of haptics.
So how do brand manufacturers go about selecting the right packaging material? How can packaging trigger emotions in consumers? And what role does environmental awareness play in this? Lars Scheidweiler, Head of Packaging Solutions at Sappi, and Olaf Hartmann, Managing Director of the Institute for Sensory Marketing "Multisense", talk about this in the latest episode of the Blue Couch Series. Among other things, Hartmann reports on an interesting experiment that shows what influence different surface structures have on people's behavior.
Easy-to-use package insert with index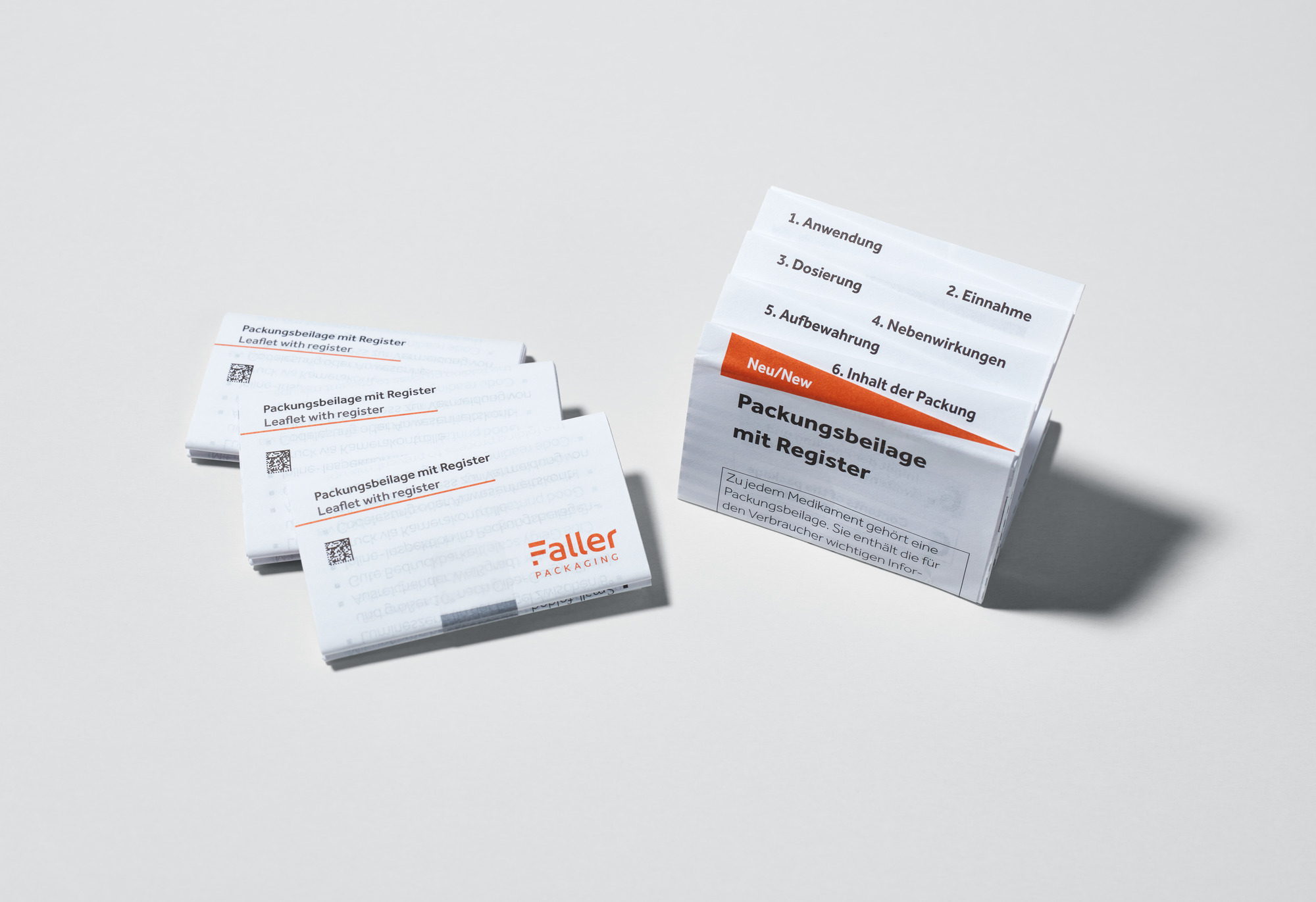 Faller Packaging has won the German Innovation Award 2022. The specialist for pharmaceutical folding cartons, package inserts and adhesive labels secured the coveted award for its package insert with index. Thanks to the subdivisions, users can find all important information quickly and easily with the handy patient information leaflet.
At the awards ceremony on May 24 in Berlin, the broad-based jury of experts named the package insert with register the "Winner" in the "Excellence in Business to Business – Pharmaceuticals" category. The innovative approach and the simple handling of the patient information were convincing across the board.
Traditional package inserts are often confusing, long and difficult to understand. Once unfolded, they are also difficult to put back into the packaging. Faller Packaging has developed a solution to this problem: the package insert with register. This can be divided, for example, into the headings required by the European Union: "Use," "Intake," "Dosage," "Side Effects," "Storage," and "Package Contents" – or individually in consultation with the customer. In this way, the package insert provides optimum guidance: the required information can be found quickly, and the compact format means that the package insert can be easily stowed back in its original packaging. This makes handling easier and saves time in everyday life.
"We are very pleased about the award and proud that our product was able to prevail. This award means a lot to us. It underlines our development competence and our claim to develop practical and user-friendly solutions for our customers for all requirements relating to pharmaceutical packaging."

– Benjamin Rist, Product Manager
Launched in 2018 by the German Bundestag and presented by the German Design Council, the German Innovation Award honors industry-independent products and solutions that impress with their particular innovative strength and concrete added value. The winners are selected by an independent, interdisciplinary jury of experts from industry, science, institutions and the financial sector. The prize is awarded in two competition categories, which in turn consist of several categories. Companies from all sectors of the economy as well as non-commercial and governmental organizations from all over the world can participate.
Presentation of the Sustainability Report 2021
Faller Packaging can look back on a successful fiscal year 2021 despite the ongoing Corona pandemic and turbulence on the raw materials market. The specialist for pharmaceutical secondary packaging was able to increase its sales by 3.3 percent to 147.8 million euros.
In order to provide the public with a comprehensive insight into the activities and changes at Faller Packaging, the company produces a sustainability report every year – and this was also the case for 2021. Entitled "Turning crises into opportunities, for people and the environment.", it highlights the current economic, environmental and social aspects of the specialist for pharmaceutical secondary packaging.
In addition to the inconveniences of the Covid pandemic, economic challenges also arose in 2021: Shortages of raw materials and exorbitant price increases for materials and energy made themselves felt from the middle of the year. Nevertheless, the manufacturer took advantage of its opportunities and looks back on a successful year: "Sales at our German sites increased slightly," explains Chief Executive Officer Dr. Daniel Keesman with satisfaction. "Our international subsidiaries in Denmark, Poland and Hungary are recording sales increases, some of them strong." In concrete terms, this means that Faller Packaging was able to increase its sales again – by 3.3 percent to now 147.8 million euros.
Faller Packaging again invested heavily in the further development of its sites in 2021. A total of 7.8 million euros – corresponding to an investment ratio of 5.3 percent – went mainly into the expansion of automation and digitization. The company's equity ratio was once again above average in 2021.
CO2 neutrality and social change
Faller Packaging also continues to be on the right track ecologically. The company continued to work on its energy and raw material consumption and took the issue of sustainability into even sharper focus. "That's why we became a partner in the 'Zielgerade 2030' project – the joint project of the South Baden Chamber of Industry and Commerce and the Freiburg Energy Agency – and have set ourselves the goal of operating in a CO2-neutral manner from the year 2030," explains managing partner Dr. Michael Faller.
For Faller Packaging, sustainability also means assuming social responsibility. This benefits the company's own employees as well as the region in which the company is rooted. Despite the ongoing Corona pandemic, Faller Packaging was able to expand its workforce, so that 1,325 people now work at its sites in Germany and Europe. The increase in the number of women in management positions is also encouraging. On the one hand, the number of female specialists, i.e. employees with extended skills, has increased significantly from 6.8 to 18.9 percent. On the other hand, Faller Packaging has increased the proportion of women on the Executive Committee to almost 30 percent through the addition of new members.
140 years of Faller Packaging
The positive fiscal year is not the only reason to celebrate: Faller Packaging will also be celebrating its 140th company anniversary on May 1, 2022. It all began in 1882, when August Faller founded the "Graphische Kunstanstalt", a lithographic printing company in Waldkirch that produced business stationery, postcards and labels. Times of steady growth followed, but also numerous ups and downs. "Major challenges were certainly the two world wars, each of which meant a new start forced from outside," Dr. Faller cites as an example. "Many employees killed in the wars and sales markets that had collapsed demanded a will to rebuild and a new direction."
One of the most important strategic decisions in the company's recent history was made 30 years ago: Faller Packaging withdrew from all other areas at that time and focused exclusively on the pharmaceutical market. As quickly became apparent, this was the right course of action: today Faller Packaging is one of the leading manufacturers of pharmaceutical packaging with seven sites in Europe.
"For 140 years now, the company August Faller GmbH & Co. KG has always been owned by the founding family as well, and for more than 100 years it has always been managed by a managing director of the family and an external managing director. It is an honor and an obligation for me, together with Dr. Michael Faller, to lead the international group Faller Packaging for 15 years and to ensure that we can continue to develop successfully. This long company history testifies across all generations to great will, the right attitude, many good decisions and pronounced resilience in existential crises."

– Dr. Daniel Keesman, Chief Executive Officer
Sustainable oxidation protection for technical lubricants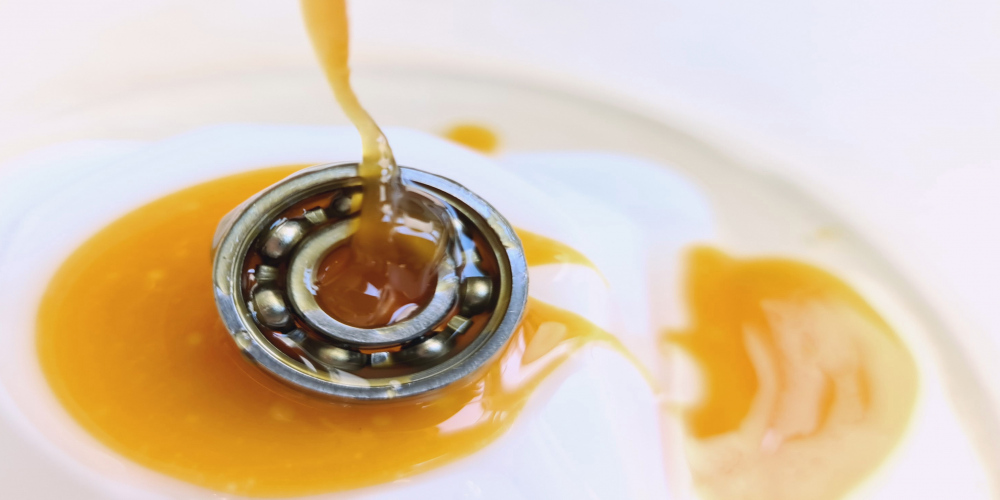 According to the current state of the art, lubricants are mainly produced on the basis of mineral oils. Although vegetable oils are already being used for biolubricants, the proportion is still very small. Both have one thing in common: oil-based lubricants are particularly susceptible to oxidation. To increase stability, they are therefore mixed with additives that serve as antioxidants. To make new products available in the spirit of the bioeconomy, the Fraunhofer Institute for Process Engineering and Packaging IVV has developed a sustainable and environmentally friendly alternative to conventional, mineral oil-based antioxidants. They consist of bio-based extracts obtained from residual materials from the agricultural and food industries. With the high antioxidant potential of these secondary plant substances, it has been possible to realize purely plant-based antioxidant additives for technical applications.
In the bio-based lubricant systems already available, development for more sustainable products has so far focused mainly on the base media rather than the added additives. Additives for lubricants are active ingredients that are mixed into the base media. They impart physical and/or chemical properties to the products that are required for lubrication but are not present in the base media. Frequently used additives are mainly oxidation, corrosion and wear protection additives as well as detergents, emulsifiers, defoamers and viscosity index improvers. Lubricating oils tend to oxidize under the influence of heat and oxygen. This decomposition process is accelerated by acid reaction products and traces of metals. This leads to an aging process in which acids as well as varnish-, resin- and sludge-like deposits are formed, most of which are insoluble in oil. An increase in viscosity and gumming of the lubricant are the result, which shortens the lifetime of the lubricant. Antioxidants therefore represent an essential additive group used in almost all lubricant systems.
Biobased extracts with high technofunctionality and increased active potential
For this large additive group, which plays a crucial role in increasing the stability of oil-based lubricants, the Fraunhofer IVV has developed a sustainable and environmentally friendly alternative to conventional mineral oil-based antioxidants. Bio-based extracts were obtained as part of a research project. They have an increased efficacy potential for a completely new generation of additives. For the production of the additive alternatives, residual materials from the food and agricultural industries are used that could not be put to any use until now. Some of these residues contain valuable substances whose properties make them suitable for technical applications.
Due to their extremely high functionality, the secondary plant substances they contain can replace synthetic additives in technical products and thus increase recyclability and biodegradability. Plant antioxidants, for example, exhibit high oxidation protection, but it is not sufficient in all cases. The challenge was to achieve an antioxidant system through the targeted combination of different plant molecular components that is characterized by the mutual, supportive interaction of individual molecules.
The way to industrial production is paved
"With our work, we were able to show that by varying the extraction parameters and adjusting them, the antioxidant potential of the plant extracts obtained can be influenced in a very targeted manner. This knowledge is of crucial importance for the functionality of plant extracts. In addition, we have developed a process for extracting plant raw materials that is tailored to obtaining antioxidant extracts for the technical industry. This lays the foundation for the industrial production of the extracts."

– Dr. Sandra Kiese, Project Manager
In the research project, the institute also identified very effective extract combinations that can also be used stably in lipophilic lubricant systems and endowed with technofunctional properties. In lipophilic product formulations, very high antioxidant effects could be achieved in this way, which are often not attained in this form even with conventional antioxidants. The scientific and technical findings form the basis for the development of further bio-based lubricants and additives.