Acquisition


DWK Life Sciences acquires Müller + Müller-Joh.
The world's leading manufacturer of laboratory glass and life science packaging materials, DWK Life Sciences, announces the signing of a definitive purchase agreement of Müller + Müller at August 21st, 2020. Müller + Müller is one of the leading German manufacturers of primary packaging materials made of tubular glass for the pharmaceutical industry. The company will become part of the DWK Life Sciences group upon closing, which is expected for September. Müller + Müller will continue to serve its customers under the same name and will continue to be managed by CEO Florian Müller-Stauch. Dr. Hubertus Müller-Stauch (owner of the company Müller + Müller) will join the advisory board of DWK Life Sciences to support the further expansion of the pharma packaging division.
Müller + Müller is based in Holzminden in Lower Saxony, Germany, and currently employs 135 staff. The family-run company is a key player in the manufacture of vials and has a long history of over 95 years. Thanks to its state-of-the-art technology and continuous process optimisation, Müller + Müller meets the highest quality requirements for pharmaceutical packaging. Every year approx. 300 million glass type I vials are produced at its Holzminden site in accordance with GMP guidelines. Type I borosilicate glass is an excellent material for storing vaccines as the glass is virtually inert. This means that the container glass does not react with its contents and thus represents the standard in vaccine packaging.
"Acquiring the family business Müller + Müller is a significant strategic step for us in expanding our activities in the market for pharmaceuticals packaging," explains CEO of DWK Life Sciences, Armin Reiche. "We are not just investing in an important growth market here, but also in a company that boasts first class production technology and highly reliable products."
"Driven by the high demand of the vaccine industry for vials, expansion of our production capacities is the next logical step," says Florian Müller-Stauch, CEO of Müller + Müller. "We are delighted to have found a strong and reliable partner in DWK who will allow us to further develop our business."
DWK Life Sciences is a portfolio company of One Equity Partners, a middle market private equity firm that builds market-leading companies by identifying and executing transformative business combinations and partnering with management teams to provide operational support to accelerate growth.
Spotter II PHS


Full Vial Inspection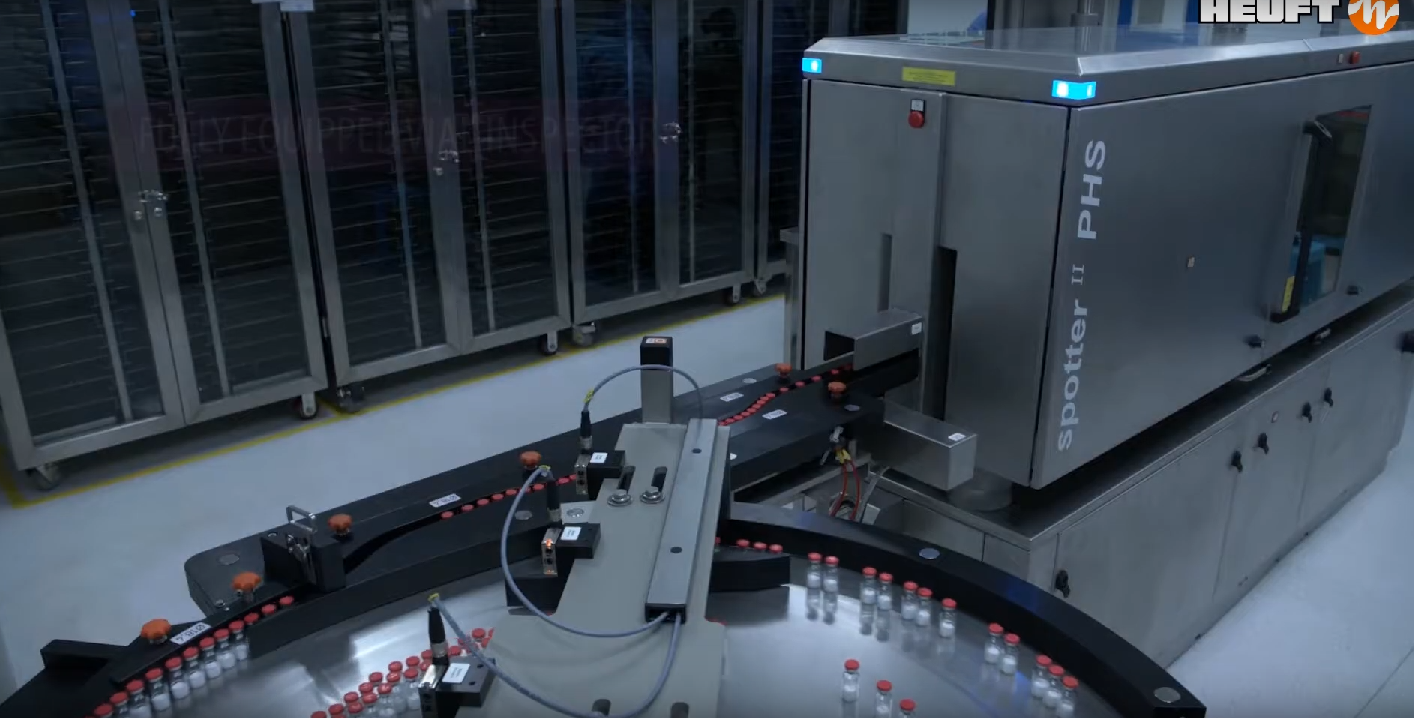 Straight complete inspection of small size full vials based on the Heuft Spectrum II.
Full equipment and automation for maximum detection reliability in an efficient and space-saving straight-through system: the Heuft spotter II PHS not only has sophisticated optical detection procedures as the first vial inspector of its kind. In addition the fully automatic system offers unique X-ray strobes. Therefore foreign objects are even identified carefully and reliably when they are hidden in an opaque product. Furthermore the compact linear machine finds glass defects, contamination as well as deviations in filling quantity in vials containing between 2 ml and 100 ml and checks the integrity of their crimp caps or screw closures precisely. The result: a continuous complete inspection of vials filled with parenteral drugs and other pharmaceutical products which does not miss a fault
Fair


Pharmapack Moves to May 2021
Pharmapack Europe, organised by Informa Markets, moves to May 2021 (19-20) to provide attendees, exhibitors and the pharma packaging community the best season and format. The decision follows a careful review with key stakeholders, with the exhibition continuing at its usual location: Hall 7.2 at Paris Expo, Porte de Versailles.
By announcing the rescheduling of the event early, the organizers hope to provide enough time to adjust travel plans and avoid unnecessary expenses. Additionally, stakeholders will be encouraged to take advantage of Pharmapack's new suite of dedicated digital opportunities.
For example, the Global Pharma Insights platform features detailed content and analysis from many of the industry's brightest experts, including high-quality packaging webinars, podcasts, reports, articles and more to help you network and stay up to date from the comfort of your own home.
Silvia Forroova, Brand Director at Pharmapack Europe commented: "We are in constant discussion with key industry stakeholders and Pharmapack partners to adjust how we deliver an event with the highest possible output and greatest value. So, we acted early and, by moving the event to springtime in Paris springtime, we will give ample time to adjust plans for what will be a magical and memorable edition of Pharmapack Europe."
"Furthermore, to empower the dissemination of new ideas and technologies in the meantime, we will be providing our community with a carefully planned programme of digital opportunities to learn, connect, interact and stay completely abreast of the industry's trends in the lead-up to the May event."
CureVac Appoints Dr. Franz-Werner Haas as Chief Executive Officer and Dr. Igor Splawski as Chief Scientific Officer
CureVac today announced that Dr. Franz-Werner Haas, previously acting Chief Executive Officer and Chief Operating Officer (COO), has been appointed Chief Executive Officer (CEO).
Before Dr. Haas joined CureVac in June 2012, he worked as Vice President Operations and Chief Compliance Officer of SYGNIS Pharma AG, where he was responsible for the execution of M&A and capital market transactions. Dr. Haas started his professional career as an assistant to the management of a privately-held holding company before assuming several management positions in the life sciences industry, including Vice President and General Counsel of LION bioscience and General Counsel of Sirona Dental Systems. He studied law at the University of Saarbruecken, Catholic University of Leuven and the University of Edinburgh.
In addition to the appointment of Dr. Haas as CEO, CureVac has announced that Igor Splawski, Ph.D., joins the executive team as Chief Scientific Officer with immediate effect. In this role, he will be responsible for leading CureVac's mRNA biology research. Dr. Splawski comes to CureVac from the Novartis Institutes for BioMedical Research (NIBR), where he served for two years as Executive Director and Site Head of the NIBR Biologics Center in Cambridge, Mass. Dr. Splawski was an Assistant Professor at Harvard Medical School from 2005 to 2008 and has a Ph.D. in human genetics from