Forvola's drone


Drone Guinness World Record
FPT Industrial and Forvola broke the Guinness World Records of the heaviest payload lifted by a drone during FPT Industrial's Tech Day event in Turin, Italy, on November 23rd.
Forvola's megadrone, with its 16 propellers, was able to lift a box full of FPT Industrial engine spare parts weighting 101 kg at almost 1.5 meter for more than one minute and three seconds.
The record was officially certified by Guinness World Records on December 6th, 2018. Until then, the previous record belonged to the University of Oslo, in Norway, which lifted 61 kg up to one meter for 37 seconds in 2015.
Forvola's drone presents itself as the first customizable megadrone in the world currently on the market. It has a power from 10 to 20 kW, can carry weights up to about 200 kg and fly until 30 minutes or more, depending on the payload.
Measurement technology


S8000 Chilled Mirror Hygrometer Range
In many processes moisture is a critical factor that needs to be monitored, and controlled. Chilled mirror is the technology of choice for humidity measurements to national standards in laboratories worldwide.
Chilled mirror has the highest attainable accuracy of any dew-point measurement technology, and provides excellent repeatability over a wide measurement range. It is a proven, well established and reliable measurement technique: the temperature at which condensation forms on a surface is measured directly, so there are no calculated variables that could change over time. This means chilled mirror does not suffer from drift or hysteresis.
Feeder Design for the Pharmaceutical Industry


Feeding Solution for Demands of Processing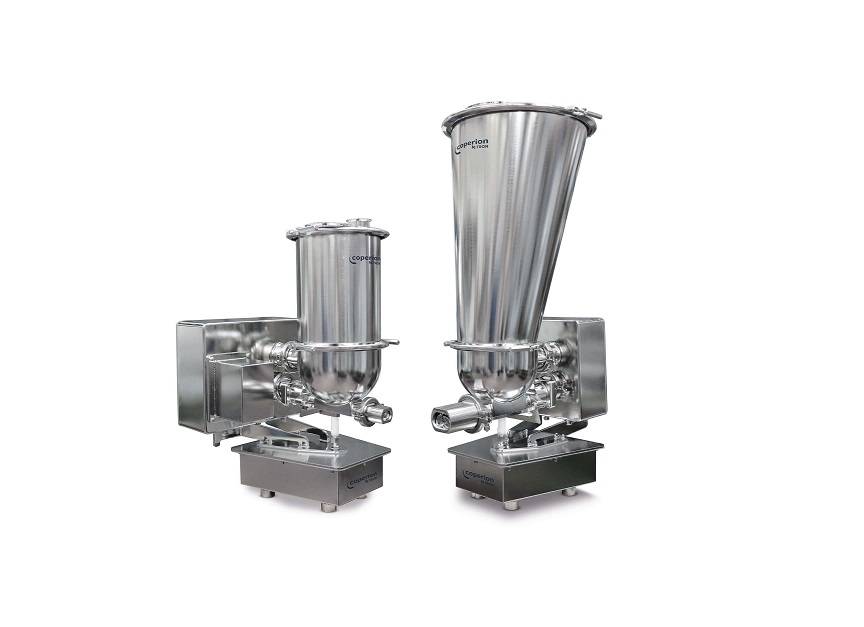 At this year's Interphex as well as at Powtech Coperion K-Tron will display the next generation of its highly accurate, gravimetric K3-PH feeders for the pharmaceutical industry. These modular feeders have been specially designed to meet the growing demands of continuous processing. Thanks to the use of a smaller D4 platform scale incorporating the patented and highly accurate Smart Force Transducer (SFT) weighing technology, they require significantly less floor space compared to previous models. Depending on the process and requirements, several feeders can be grouped into a cluster, for example for continuous processes such as direct compression (CDC), extrusion, wet and dry granulation, and continuous coating as well as traditional batch processes.
Easy handling and better product quality
The modular design of this innovative feeder line simplifies cleaning and reduces changeover times. The "Quick Change" design, whereby the feeder bowl can be quickly decoupled from the feeder drive, also enables simple and fast product changes. By simply releasing two clamps, the used feeding unit can be removed and replaced with a clean one.
The three available Coperion K-Tron feeder types QT20, QT35 and QS60 (twin and single screw) can be used with the same scale and drive units. They are interchangeable, depending on the product to be fed, the required feed rates and the necessary scale resolution. For an optimal Wet-In-Place (WIP) result, every unit has an integral two degree pitch facilitating maximum drainage during the cleaning process. In addition, the feeder bowls and hoppers feature a new improved seal design for optimal product containment. The complete line of equipment is engineered to meet the rigid requirements of the pharmaceutical industry, including strict adherence to cGMP guidelines and standards as well as the use of FDA approved materials of construction. Initial industry reactions to the design include very positive comments on the use of a single gearbox for the complete speed ranges of all feeder models.
High-accuracy weighing with patented SFT technology
The new D4 platform scale features the same state-of-the-art sanitary design of the established Coperion K-Tron D5 scale. Smooth, crevice free surfaces prevent deposit of dust and product residue and enable easy cleaning. The redesign of the scale from a round design to a trapezoid design features a much smaller footprint and facilitates an optimized multi-feeder arrangement. This is especially useful in areas with limited space, where multiple ingredients must be fed into one process inlet. At the heart of the new D4 scale, Coperion K-Tron's patented SFT single wire weighing technology provides a highly accurate weight signal with a resolution of 1:4,000,000 in 80 ms. The electronics include linearization, temperature compensation and a digital low-pass filter to reduce the effect of plant vibration. The 100% digital design eliminates the need for calibration.
Coperion at the Interphex 2019: Booth 2558
Coperion at the Powtech 2019: Hall 4, Booth 290
Process oils


New TDAE plant with EDL license
EDL Anlagenbau Gesellschaft mbH (EDL), the technology and engineering provider based in Leipzig, Germany, sold a license for its two-stage extraction technology to the Middle East in the 4th quarter of 2018. With this technology process oils are produced in an efficient and eco-friendly way. These oils play, for example, an important role as high-quality tender oils for the production of automobile tires.
The new solvent extraction plant for the production of eco-friendly, high-quality process oils (TDAE, Treated Distillate Aromatic Extract) based on the EDL license allows customers to meet the latest environmental and quality requirements and to expand their product portfolio. The new solvent extraction plant will be designed under consideration of new resource-saving technologies.
As part of the licensing, EDL carries out the required laboratory tests and prepares the PDP (Process Design Package) for the plant and the FEED (Front End Engineering Design) for the extractor section.
EDL Test Facilities
The required process parameters and the optimum process conditions are determined in EDL's own test facilities based on customer and product requirements as well as the hydraulic data of extractor internals. This allows a safe design of the plant for the entire range of feedstock available at the customer.
High-quality products in two extraction steps
The basic principle of EDL's technology to obtain high-quality base and process oils from vacuum distillates (lube cuts) and deasphalted oil (DAO) is a two-stage extraction process.
As a first step of extraction the aromatic compounds are removed as so called DAE (Distillate Aromatic Extract) or RAE (Residual Aromatic Extract). NMP (or furfural) is used as solvent. At the same time aromatic-rich oils are obtained that can be used to produce high-quality base oils.
In a second extraction stage using a proprietary solvent mixture, DAE and RAE are transformed into high-quality process oils such as Treated Distillate Aromatic Extract (TDAE) and Treated Residual Aromatic Extract (TRAE) having a low level of polycyclic aromatic hydrocarbons (PCA).
Eco-friendly atoxic process oils for the tire industry
DAE and RAE are required as tender oils to produce rubber products, such as tires, hoses, belts, cable insulation, floor coverings and shoe soles. Due to the high percentage of PCA being carcinogenic, mutagenic and reprotoxic DAE and RAE are no longer used today. With further processing of DAE and TAE to TDAE and TRAE resp. in the second extraction stage the limit value for PCA clearly falls below 3 percent by mass as required by European Directive 2005/69/EC without impairing the excellent properties as tender oil. Thus, a decisive contribution to the protection of human beings and the environment is made.
In addition to solvent extraction EDL also grants licenses for other technologies to produce base oils, process oils, waxes and other high-quality specialty products, such as Dewaxing / Deoiling, Micronization, Aromex or the solvent deasphalting process SDA Plus.