Agitators and pumps


Drive solutions with reinforced bearings
Nord Drivesystems offers reliable drive technology with reinforced bearings and increased bearing spacing for the processing industry. This ensures maximum radial and axial load capacities and a higher service life of the gear units.
Usually, standard gear units are designed to allow for a great number of ratios and, consequently, speeds. But with regard to component safety, they are sufficiently dimensioned to match the motor power to be expected. The bearings also comply with these expected standard requirements. Usually, a larger gear unit is chosen if the forces at the output shaft exceed the gear unit capacities. This is because a standard housing will not allow the bearing spacing to be increased or a much larger bearing to be implemented. Costs increase unnecessarily.
The company offers application-specific equipment options characterised by high performance and efficiency, specially designed for pumps, agitators, and mixers whose processes result in high radial and axial bearing loads. An agitator version (VL2 bearing) with increased bearing spacing and reinforced bearings as well as a Drywell version (VL3 bearing) with additional oil drip plate and leakage or oil sensor are also available. The bearing spacing of the VL2 and VL3 versions is increased with attachments while the gear unit size remains unchanged. Nord also offers bearings that were intentionally oversized to meet the requirements of applications such as pumps or agitators.
Chemical, pharmaceutical, food or water treatment sector – the robust drive solutions offer top reliability and ensure unobstructed operation. Reinforced and larger output shaft bearings allow the gear unit to absorb the high axial and radial forces and thus prolong the service life.
Chemical production plants


Cleaning and washing systems product line
Ofru Recycling, one of the world's leading manufacturers of solvent recycling systems for the recovery of contaminated solvents, acquired Tecos Bruhin AG Product Line Cleaning Technologies ("Tecos") headquartered in Altnau, Switzerland, on December 16, 2019. The acquisition adds Cleaning and Washing Technology to Ofru's Solvent Recycling product line offering.
Tecos Bruhin AG is one of the leading manufacturers of dispensing and cleaning systems, whose core product offerings include cleaning systems for containers in the paint, coating, printing ink and the sealants and adhesives industry.
Since entering the market, Tecos has built up an exclusive customer base. Customers appreciate the impeccably clean containers, as these are the prerequisite for their flawless production.
"This is an important strategic step for Ofru," said Denis Kargol, Managing Director of Ofru. "By adding Tecos' expertise, products and capabilities, we are one of the few manufacturers to offer both solvent recycling equipment and complete solutions for cleaning and washing industrial containers for customers worldwide".
"This acquisition will fuel Ofru's global expansion. The new product lines offer Ofru an exciting opportunity to build a stronger, more sustainable global advantage in the integration of cleaning systems," added Denis Kargol. "In the second quarter of 2020, we will manufacture the cleaning systems previously built by Tecos in Alzenau / Germany," said Kargol.
50 % Savings on Cleaning Time, Water and Chemicals


New Plastic Modular Belt
Habasit is launching its innovative Super Hy Clean plastic modular belt range at IPPE 2020. Designed for poultry processing applications demanding the highest sanitation standards, the new belts' patented hygienic design significantly reduces critical areas for organic debris accumulation. Offering quick and easy cleaning, Super Hy Clean decreases overall sanitation costs and the risk of bacterial contamination. Visitors to IPPE can learn more about this pioneering hygiene breakthrough and Habasit's extensive range of solutions for meat and poultry processing at stand B6608.
With the introduction of Super Hy Clean, the world's most hygienic plastic modular belt, Habasit continues to help poultry processors meet the challenges of rising hygiene standards while optimizing efficiency, reducing downtime, and protecting the environment.
Super Hy Clean sinks sanitation time and resource use by 50 %
Super Hy Clean is a new generation of belts in the Habasit Link plastic modular belt range that helps poultry processors clean their lines faster and easier. Since not only sanitation time, but also water and chemical use, drop by 50 % compared to best-in-class products on the market today, the belts cut cleaning costs while also being uniquely environmentally friendly.
The new belt's design supports the most stringent sanitation standards. Corners, hinges and rods can be breeding grounds for bacteria, so the Super Hy Cleanhas more flat surfaces and minimal cavities, with no gaps between plastic modules where debris can collect and cause contamination.
The range will be available in multiple belt widths and include the patented Habasit Saniclip device, a quick belt-opening system used for instant rod installation and removal without the need for tools.
High-quality belts and accessories
Visitors to Habasit's stand B6608 can also explore its extensive range of solutions for every processing stage. For example, its proven Habasit Cleandrive aramid reinforced monolithic TPU belts, whose durable, easy-clean polyurethane surface delivers exceptional microbial and hydrolysis resistance, long belt lifetimes, and lower total costs of ownership.
Modular design


New tare-compensated feeder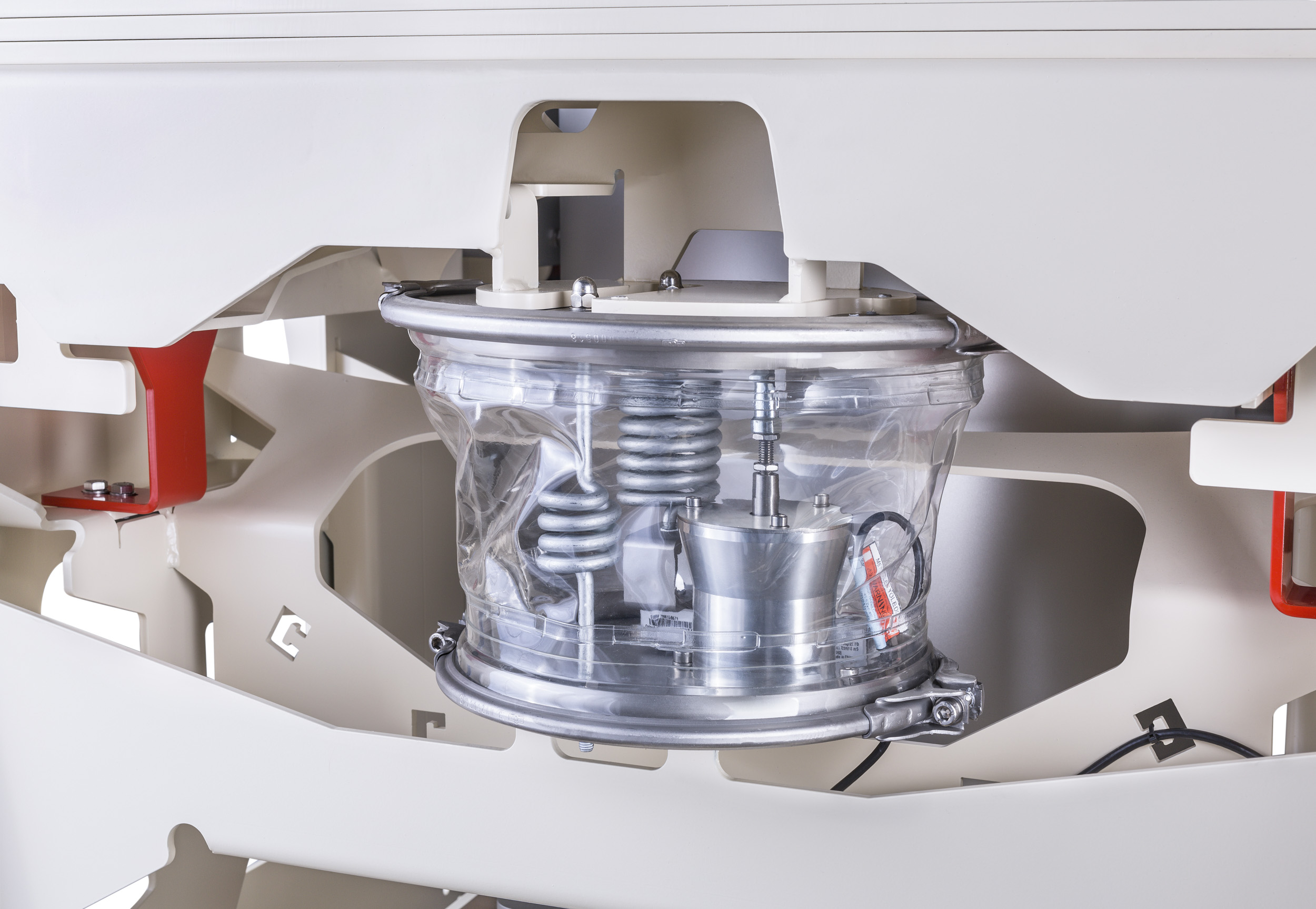 Gericke's tare-compensated hybrid loss-in-weight feeders are well known for their unique combination of high accuracy feeding and outstanding robustness. The new DIW-E-STAR weighing system in conjunction with Gericke's GAC feeders now covers the mid-range of feed rates in Gericke's gravimetric hybrid feeder portfolio, typically from 10 up to 2'000 kg/h (depending on bulk density).
One weighing frame, different hopper sizes
The DIW-E-STAR is available with hopper sizes ranging from 50 liters to 200 liters net volume. Due to the modular approach, all hopper sizes fit into one weighing frame. All hoppers are equipped with vertical agitators to ensure mass flow even for cohesive powders. The weighing frame itself has been designed to combine highest mechanical stability with a lightweight construction.
Suited for precise feeding in challenging environments
Due to the tare-compensation mechanism the load cell only measures the actual product weight, and vibrations are filtered out mechanically before even reaching the load cell. This makes the DIW-E-STAR perfectly suited for dosing tasks where precise feeding in challenging production environments is required, such as in the chemical and construction materials industry.