Greater differentiation and added value


DNP and SIG create joint venture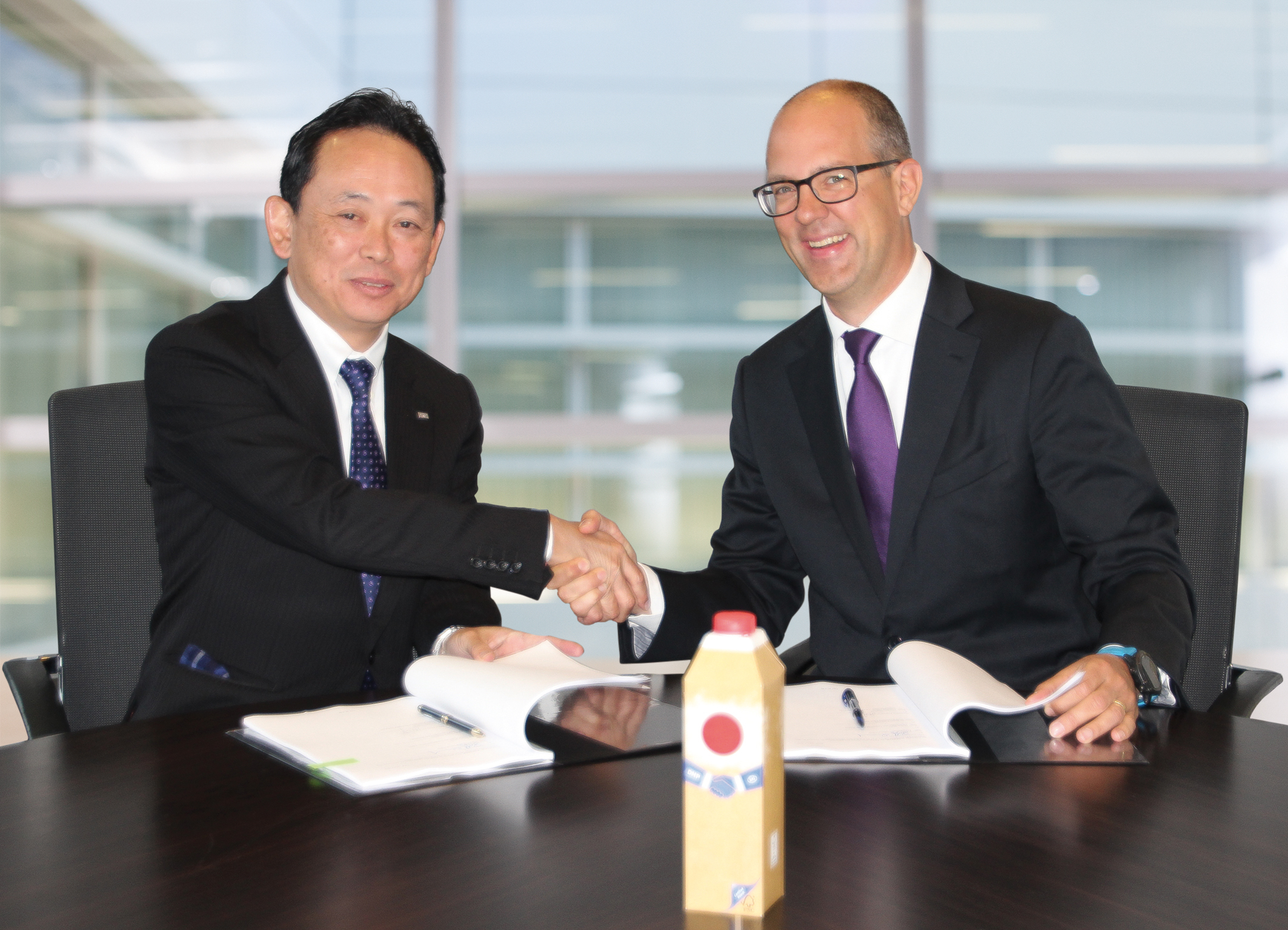 Tokyo-based Dai Nippon Printing Co., Ltd. (DNP) and SIG have signed a joint venture agreement which will bring new value added carton packaging and filling technology solutions to the Japanese food and beverage industry. The 50-50 joint venture will be established as of April 1, 2018, under the name of DNP • SIG Combibloc Co., Ltd., located in Tokyo.
More differentiation
The main focus of the partnership is to provide greater differentiation and added value in the field of carton packaging, technology and services for the food and beverages industry in Japan.
Souichiro Nishitani, Corporate Officer and General Manager of Packaging Operations at DNP said: "The huge variety offered by the packaging system from SIG will enrich the Japanese market and offer clear added value for beverage manufacturers and consumers alike. The aim of our joint venture is to be Japan's number 2 in aseptic carton packs by 2022."
Rolf Stangl, Chief Executive Officer at SIG added: "It is an exciting moment in our company's history. For many years we've looked into entering this big and promising market together with a perfect partner. We've now found this with DNP. Together with DNP, we are bringing innovative solutions to the food and beverage industry in Japan for current and next generation products."
Throughout its history DNP, one of the world's largest printing industry manufacturers, has successfully established a multitude of business operations. For example, DNP has been developing and marketing carton packs and filling systems for alcoholic beverages and soft drinks in Japan since 1978. Many food and beverage manufacturers are also using DNP's aseptic PET filling system. The company is ideally positioned in Japan, with substantial experience in the field of aseptic technology through its network of highly-qualified service technicians and established connections with all major companies in the food and beverage industry.
Visual inspection solution


Product and marking inspection in output range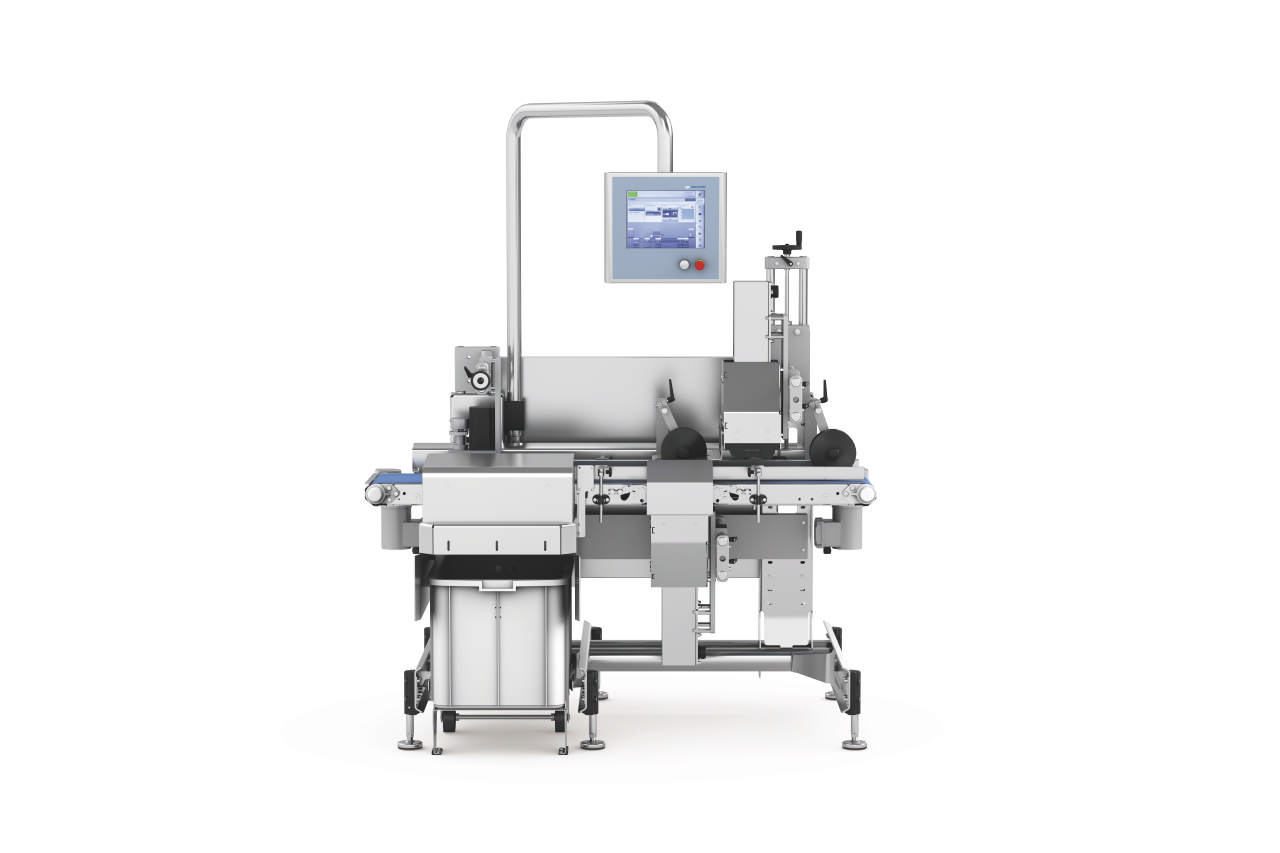 With its I 410 model Multivac Marking & Inspection offers an automatic inspection solution, which is precise, fast and consistently reliable. Thanks to its high-resolution and height-adjustable line scanners as well as its powerful image processing, it ensures that reliable marking and quality inspection from above and below is achieved. The space-saving inspection system can be used flexibly as a stand-alone solution at the end of a packaging machine or it can be integrated seamlessly into a line.
The areas of use for the I 410 range from completeness checks on the packs, through to presence and position inspection of the labels, and right up to checking the print – and this includes pattern and character recognition, character verification and inspection of legibility and codes. The progressive image-capturing technology enables extremely good images in high resolution to be transmitted and verified even at the highest speeds within the packaging procedure.
The system is operated simply and reliably via the Multivac HMI 2.0. Where the unit is installed in a packaging line, it is controlled centrally via the control terminal of the packaging machine, and all processes can be controlled intuitively on the 12 inch LCD touchscreen. Multivac Line Control ensures that efficient line integration is achieved, and it enables product changes to be carried out very quickly since the setting parameters for the particular product are saved in the recipe.
Packaging Systems


Packaging machine for double square bottom packs
Stiavelli showcased its enriched range of highly reliable and durable equipment for the pasta industry including its new SVML/SDFQ packaging machine featuring the SPC20 weigher at Ipack-Ima 2018. Thanks to its special mechanics, this high speed, continuous motion packaging machine can pack both brick and pillow bags. The machine is equipped with a bypass conveying system, located at the bottom of the machine body which allows for the alternate production of both types of packs. Likewise, the proven continuous horizontal packaging unit for long pasta, the SO-EVO with its double weight doser, was presented at the booth. Historical Italian brand Stiavelli, founded in 1962, holds a leading position in the market today. The brand is part of the Pavan Group which was acquired by Gea in November 2017. Stiavelli is one of the few players to offer both a weigher and a packaging machine. Customers appreciate the individual design of the packaging area, which is customized based on their own production line layout and capacity.
High speed packaging
The new SDFQ packaging system consists of a continuous/linear motion packaging machine (SVML) combined with a carousel (DFQ) equipped with fully motorized stations. This new combination allows for speeds of up to 100 ppm (versus 80 ppm with the previous version). The system can produce packages with double square bottom; double square bottom with four welds; square bottom; square bottom with four welds and alternatively pillow bags via a bypass device. Electronic management takes place via the unique Omron PAC and operator interface which is fitted with a 12″ color touch-screen panel. The SPC20 weigher is equipped with 20 hoppers and is completed with a central conveying system and double shutter in the discharge cone which minimizes product breakdowns. The highest speed version includes a continuous motion packaging unit and is able to pack up to 130 bags per minute. Stiavelli multihead weighers deliver guaranteed high performance due to their remarkable accuracy and reliability.
A global platform


Growth in robotic gripping and moving solutions
Piab has acquired Feba Automation, headquartered in Germany, a developer and producer of robotic gripping solutions for customers in the manufacturing industry. The acquisition follows the recent addition to the company of US-based Sas Automation, a leading developer and manufacturer of mechanical grippers and robotic end-of-arm tooling systems.
Automation is transforming production processes around the globe, driven by the continuous strive for efficient production and improved quality. The technological breakthroughs in robotics and connectivity brings multiple opportunities, such as opening-up new industries for automation and facilitating fully digital business models, requiring Piab's smart and line-critical solutions.
Through the acquisitions of Feba Automation and Sas Automation, the company is complementing its leading offering in vacuum automation solutions with mechanical grippers and end-of-arm tooling, thereby responding to customers' demand for a single supplier of gripping and moving solutions, and strengthening Piab's position in the US, Germany and China, as well as in high-growth end-markets.