Greater differentiation and added value


DNP and SIG create joint venture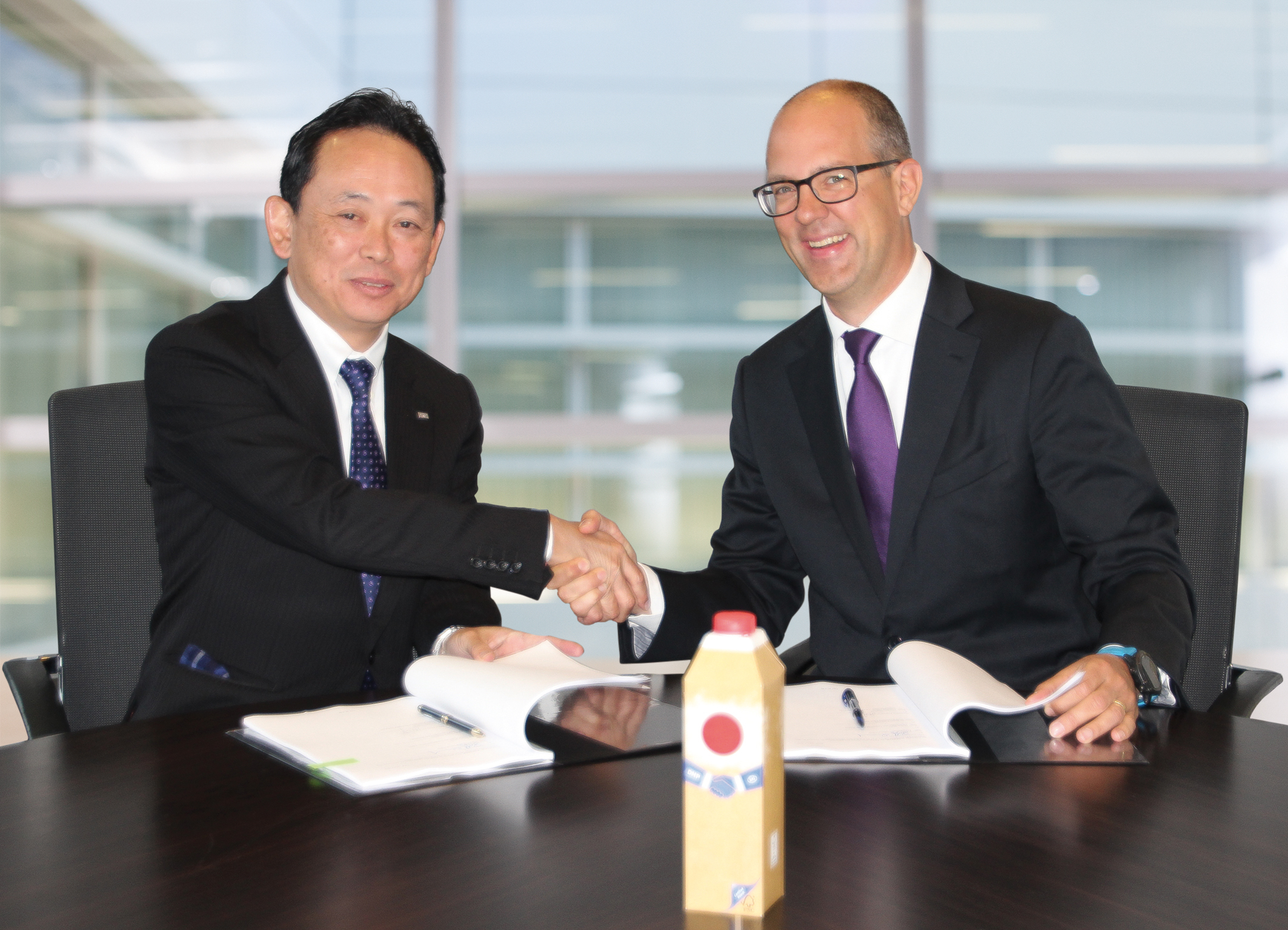 Tokyo-based Dai Nippon Printing Co., Ltd. (DNP) and SIG have signed a joint venture agreement which will bring new value added carton packaging and filling technology solutions to the Japanese food and beverage industry. The 50-50 joint venture will be established as of April 1, 2018, under the name of DNP • SIG Combibloc Co., Ltd., located in Tokyo.
More differentiation
The main focus of the partnership is to provide greater differentiation and added value in the field of carton packaging, technology and services for the food and beverages industry in Japan.
Souichiro Nishitani, Corporate Officer and General Manager of Packaging Operations at DNP said: "The huge variety offered by the packaging system from SIG will enrich the Japanese market and offer clear added value for beverage manufacturers and consumers alike. The aim of our joint venture is to be Japan's number 2 in aseptic carton packs by 2022."
Rolf Stangl, Chief Executive Officer at SIG added: "It is an exciting moment in our company's history. For many years we've looked into entering this big and promising market together with a perfect partner. We've now found this with DNP. Together with DNP, we are bringing innovative solutions to the food and beverage industry in Japan for current and next generation products."
Throughout its history DNP, one of the world's largest printing industry manufacturers, has successfully established a multitude of business operations. For example, DNP has been developing and marketing carton packs and filling systems for alcoholic beverages and soft drinks in Japan since 1978. Many food and beverage manufacturers are also using DNP's aseptic PET filling system. The company is ideally positioned in Japan, with substantial experience in the field of aseptic technology through its network of highly-qualified service technicians and established connections with all major companies in the food and beverage industry.
Krones strengthens Process Technology


Acquisition in China
Krones, manufacturer of filling and packaging technology, has acquired the business operations and assets of Shanghai Xiantong Equipment Installation effective 1 September 2018. The Chinese company has been a partner and supplier to Krones in the field of process technology for many years. Krones Taicang has partnered successfully with Xiantong on the production, installation, and commissioning of process technology equipment for the past 20 years in order to best serve the local market. For example, Krones' first MicroCube compact brewhouse was manufactured by Xiantong.
The acquisition represents another important step within Krones' strategy of expanding its global footprint. The company now owns a production site for brewing equipment and other process technology solutions in China. The team of around 170 people covers the entire value chain from engineering to manufacturing to installation and commissioning. The acquisition of Xiantong's operations will support Krones' efforts to best meet growing local and international demand for customised process technology solutions.
The company, which will operate under the name Krones Processing (Shanghai) Co. Ltd., will deliver turnkey process technology solutions, especially for breweries, around the globe. The company will remain headquartered in Fengxian District, in southern Shanghai.
Mr. Liang Kun, Xiantong's former owner, will remain with the new company, acting in an advisory capacity. Mr. Cheng Feng, previously Head of Corporate Development at Krones Taicang, will take over as managing director.
Extension of the printer portfolio


Versatile thermal inkjet printer
For the first time starting in March 2019, Multivac will be offering a TIJ printer in addition to TTO printers. It will be able to be used in direct web printers as well as in label dispensers.
In the thermal inkjet process, water in the ink is heated, causing tiny bubbles that squeeze the ink drops from the nozzle to be explosively formed. In contrast to continuous inkjet printers, TIJ printers operate with printer cartridges, in which the printing heads are integrated. The cartridges can be changed easily and quickly and are also very low maintenance, since they do not require any regular cleaning. A further benefit is that the print cartridges do not dry out; the so-called 'decap time' is very high. A print resolution of up to 600 dpi can be achieved with TIJ printers, making it possible to accurately print extremely small text and compact barcodes.
Up to now TIJ printers were predominantly used in the medical technology industry, since the water-soluble inks were only suitable for paper or Tyvek. For printing on the films overwhelmingly used in the food industry, the drying process was simply too long and the adhesion of the ink to the film was insufficient. Since then however, the inks have been further developed, so that they are now also suitable for print substrates such as films and, depending on the type of carrier material, the inks are now smudge-proof within 1 to 3 seconds. In the case of the TIJ printer, up to four printing heads can be operated beside each other on a cascading basis. Each printing head has a print width of 12.7 mm, providing a total print width of 50.8 mm.
Operators of this marking solution also benefit from automatic print layout management via the HMI control terminal. When the recipe for a particular product is called up, the correct print layout is also loaded automatically. It is not necessary to manually select a print layout or print data on a separate printer control terminal.
Best value for money on the market, modularity and upgradabilityThis new Laser range launch is an important breakthrough for SIC Marking, leader on dot peen and scribing solutions, and active on laser technology for the past 15 years. This range uses a Ytterbium Doped Fiber source designed by SIC Marking, a pulsed operating mode (30 to 60 kHz), a wavelength of 1064 nm and an average power of 20W (available in 30 and 50W).
This Laser range meets 80% of applications needs at a much lower cost. It allows a great marking quality on a large number of materials (steel, aluminum, stainless steel, plastics …) and adapts to degraded surface finishes.
Modular and adaptive design
Integrated lasers have been developed around two laser sources, a standard Easy version and a HD one, to which are added different options. These features allow to meet every specific need immediately or later on, depending on the customer´s production line evolution.
In its standard Easy version, this new laser range offers the best quality / price ratio on the market and allows precise marking at high speeds. The HD version (pulse duration from 2 ns to 200 ns) provides better marking contrasts on metals, especially aluminum and some plastics. This HD marking head also enables to solve cycle time issues by adjusting the laser´s pulse duration.
3 options to adapt to current and future manufacturers´ needs The first option is 3D marking. It consists of a liquid lens which can mark complex parts (cylinders, inclined planes…) or multi-level parts (up to 80 mm difference in altitude).
Customers can also choose an integrated vision system which includes a high-resolution camera built into the marking head. This function allows to read immediately one or two 2D codes immediately after marking. There is  no  movement between operations. As the reading is done  in the same axis, there is no image distortion. 2D code, QR-Code and Datamatrix markings are checked according to the standards ISO 29158, ISO 15415, ISO 9132…
The laser system operate in standalone mode (without PC) and can communicate directly with a PLC on a production line. Creation and configuration of marking files is done on a PC using SIC Laser Advanced software.