Discovery: resistance to wheat dwarfing virus
If the wandering sand cicada (Psammotettix alienus) bites a wheat plant to drink plant sap, the consequences can be fatal: Along with its saliva, the cicada can transmit Wheat Dwarf Virus (WDV). Depending on the age of the plant at the time of infection, yields drop by at least 30 percent, and even total failure is possible. Researchers at the Julius Kühn Institute (JKI) have now tested 500 wheat varieties, including cultivars, genebank accessions and wild species, for their resistance to the virus. The wild varieties were found to be similarly susceptible to the virus as modern varieties, suggesting that breeding has not resulted in a loss of resistance genes.
More than half of the varieties studied perished as a result of infection. Two Hungarian varieties described as resistant showed only some quantitative resistance to the virus disease, with infection rates of 21.5 and 34.5 percent. However, the researchers discovered near-complete resistance in the Russian winter wheat variety "Fisht," which was infected at only 5.7 percent. They describe this in their recent publication in the open-access journal Frontiers in Plant Science.
"For the first time, we were able to determine QTL associated with low yield losses due to the virus. Using genetic markers, these QTL could be crossed into elite wheat lines in the future to create resistant varieties."

– Anne-Kathrin Pfrieme
QTL (quantitative trait loci) are segments in the genome that are associated with quantitative traits – traits such as height, weight, or even disease resistance. These gradually measurable traits are the result of the interaction of different genes. Of the 35 gene loci first identified, 14 remained after testing that could be consistently linked to low yield losses from wheat wilt virus infections.
The interest of various breeding companies, which were involved in the research together with the Gesellschaft zur Förderung von Pflanzeninnovation e.V. (Society for the Promotion of Plant Innovation), was high, he said, especially since the virus cannot be controlled and no plant protection product is approved within the EU against the cicada that transmits it.
Background
Many cicada and aphid species benefit from climate change because higher temperatures allow them to remain active longer and, in some cases, produce another generation of offspring. This has recently been proven once again by a survey using an insect suction trap at the Quedlinburg site. The region of western Saxony-Anhalt is particularly affected by climate change in the form of rising temperatures and drought. Virus diseases transmitted by these vectors are also on the increase.
The wheat dwarfing virus has spread throughout Europe since the middle of the 20th century. In addition to wheat, it also infects barley and other cereals. Today, it is one of the most important cereal diseases in Europe, Asia and Africa. It is transmitted in the fall by adult wandering sand chirps (Psammotettix alienus). Secondary infection by nymphs of the cicada is possible in spring. Infection is manifested by striped coloring of leaves, chlorosis, reduced number of ears, reduced winter hardiness, and death of plants at early stages of development.
Since viruses cannot be controlled with plant protection products and, in some cases, active substances for environmentally compatible use against the vectors are also lacking, the breeding of varieties that are resistant to the pathogens is becoming increasingly important.
Standing Ovation, a player in the food transition, announced today a Series A financing round of 12 million Euro led by Astanor Ventures, with the participation of Peakbridge, Seventure Partners, Big Idea Ventures, Good Startup, and of a leading player in the food industry. This round, completed less than 2 years after its creation, will be used to finance the next phase in the company's development and scale its technology to meet industrial demand.
Global protein demand, and animal protein in particular, is increasingly dramatically with a rapidly growing global population and global diets shifting towards animal-based products. Yet livestock farming today represents 15 percent of greenhouse gas emissions and intensive livestock farming is considered unethical by a growing number of people.
Standing Ovation's ambition is to contribute to the agrifood transition by developing animal and lactose-free substitutes for cheese and dairy products, using dairy proteins produced by microbial fermentation. Thanks to a simple but innovative process, the company produces caseins, without any recourse to animal products. Caseins are not only the major proteins in milk (over 80 percent), but also the proteins that allow it to curdle and give cheese its functional melting and stretching characteristics customers are craving. Standing Ovation has shown that these caseins can then be used, with other products of vegetal or mineral origin, to obtain true replicas of cheese products, with a focus on fresh and soft cheeses.
The round, initially planned for a total of 10 million Euro, but oversubscribed up to 12 million Euro, will enable the company to finance its growth, and in particular to bring casein production process to industrial scale, to perfect its products and to initiate the regulatory process, while continuing to develop its R&D activity to create new products and formulations.
Frederic Paques, CEO of Standing Ovation, said: "Standing Ovation's technology has a tremendous potential. However, bringing the products rapidly to the market requires significant resources, and substantial funding had become necessary. Astanor Ventures, which had already supported us at an earlier stage, understood it as did the other participants in this round. We would like to thank all our investor partners for their support and their confidence in the team."

Romain Chayot, Scientific Director of Standing Ovation, said: "In only two years, we have developed a unique and highly technological process. We are now in a strong position to build on this momentum and transition towards more logistically intensive stages, especially scaling up."
Eric Archambeau, co-founder of Astanor Ventures, said: "Standing Ovation's technology represents a paradigm shift for the animal-free dairy market. Casein is the holy grail for the production of alternative options that match conventional products in nutrition, taste and texture yet it has remained notoriously difficult to create. The founders' experience in biotechnology enabled them to find the key to casein development, a step ahead of many companies. We are greatly impressed by the team's advancements over the past year both in product and process development and are excited to support them in this next step of their journey.
Sesotec Thailand: New location with showroom in Bangkok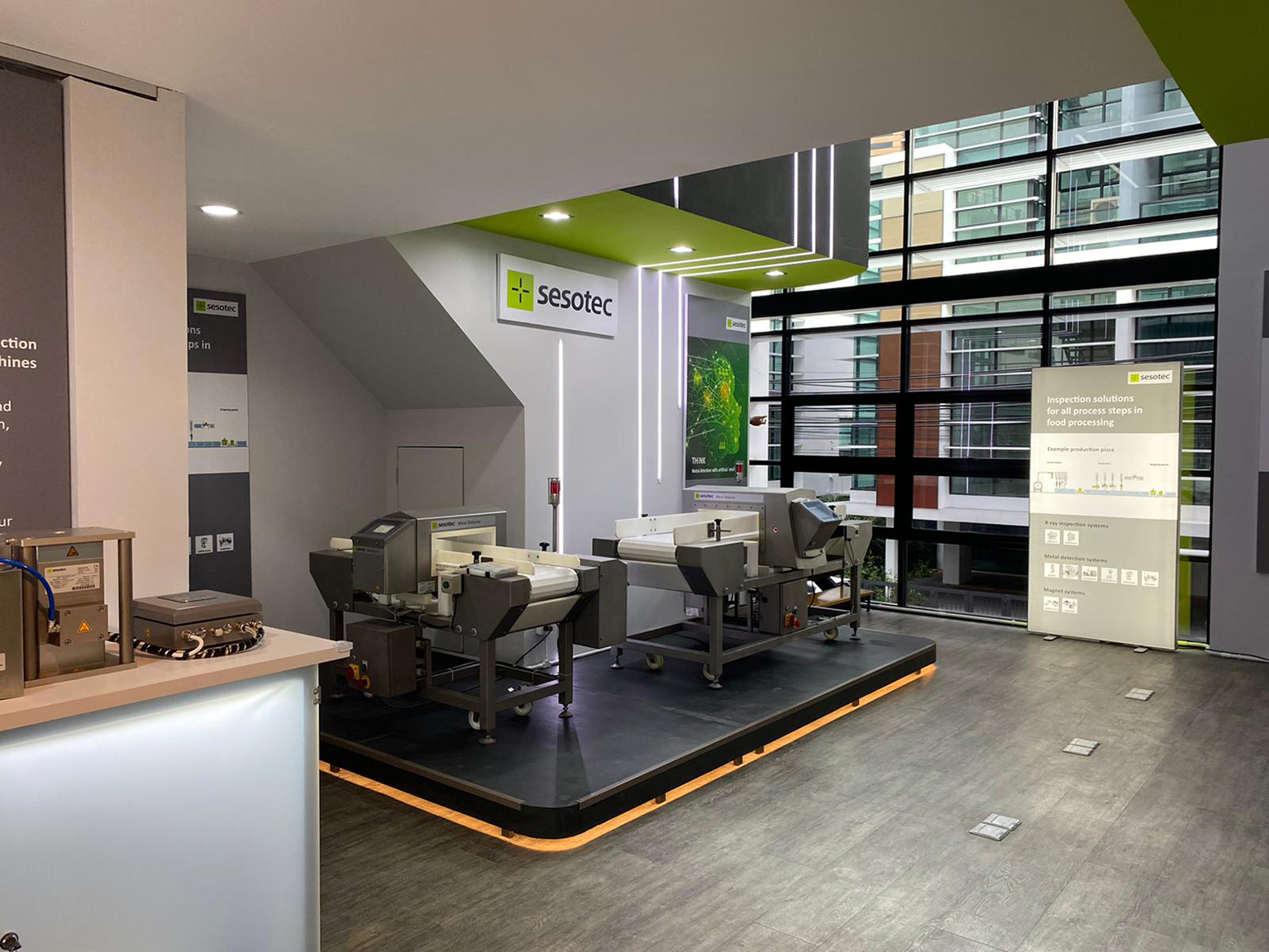 The Thai branch of Sesotec from Schönberg has moved and opened its new location with showroom in Bangkok on August 25. The premium manufacturer of magnetic, contaminant detection, sorting and material analysis systems presents its entire portfolio of metal detectors and X-ray inspection systems for the food and plastics industries spread over several floors. The modern building provides working areas for the Sesotec Thailand team and is open to customers as well as partners who wish to receive on-site advice or training.
With the new showroom, Sesotec is intensifying personal contact on site. In addition to a timeless, high-quality exhibition area, the new building also has excellently equipped training rooms. The specialist for contaminant detection, material sorting and analysis makes the presentation of its products and technologies a tangible experience: for example, metal detectors and X-ray scanners are available for customer events and test trials.
"For Sesotec, the exchange of ideas and discussions with our customers and partners is a top priority. Only in this way can we successfully shape cooperation and the future," says Joachim Schulz, CEO of Sesotec, who traveled to Bangkok for the opening. Soontronrungsan Chairat, Managing Director of Sesotec Thailand and his whole team are proud that the new premises have turned out so well: "We are really looking forward to welcoming many customers and visitors in our great new location!"
After the technical center at Sesotec's headquarters in Schönberg and the showroom in Dorsten in northern Germany, the new location in Bangkok is the next logical step towards making Sesotec's high-tech innovations a reality in suitable surroundings and close to the customer.
Fully sustainable foodservice packaging
Leading European packaging manufacturer Coveris has teamed up with sustainable start-up Notpla to deliver a range of printed, biodegradable and recyclable food cartons, using Notpla's award winning barrier coating technology.
Tackling growing sustainability concerns in the food-to-go and takeaway sector due to lack of street and kerbside recycling infrastructure, alongside functional packaging requirements, new specially coated board packs address both packaging and food waste challenges. Replacing all-plastic containers or hybrid filmic-laminated board solutions requiring a plastic liner for grease and moisture resistance, the new naturally coated board packs are uniquely protective, biodegradable and recyclable.
Applied to sustainably sourced cardboard, Notpla Coating is a unique mix of seaweed and plant extracts that provides a food-safe barrier function, and which disappears naturally in 4-6 weeks at end of life. Unlike PLA, Notpla Coating allows the pack to be both recyclable and home compostable and is based on one of nature's most renewable resources – seaweed – which doesn't compete with food crops, doesn't need fresh water or fertiliser, and actively contributes to de-acidifying our oceans.
As the exclusive development and print partner for the new coated board packaging, Coveris have worked extensively with Notpla to deliver a fully printed, branded solution that works in combination with the sustainable coating. Using specialist water-based inks for added sustainable benefits, the printed packs are fully approved for food-contact and offer an advanced oil barrier function that outperforms plastic in most applications. Notpla has also devised a unique comparative test that shows just how rapidly Notpla Coating is broken down by nature, in comparison to other coating materials for food-to-go applications, while other industry testing is underway.
Available as both off-the-shelf Notpla own-brand takeaway boxes (at notpla.com) and custom printed formats, through Notpla's existing partnership with Just Eat Takeaway.com the new packs were also introduced at the Women's Euro 2022 final held at Wembley Stadium, marking the first time that biodegradable food packaging was used at a major football match in the UK.
Commenting on the collaborative project, Emma Moate Coveris' Food-on-the-move category Director said "we're really proud to have worked alongside Notpla as their development and print partner, marking a major step in delivering a more sustainable future for foodservice brands and products. Given the functional requirements of packaging combined with disposal challenges in this sector, the new coated packs really are the packaging of the future, supporting our journey towards No Waste through combined food and packaging waste reduction for our customers."
Packs will be available at Coveris' stand (L721) at the upcoming lunch! show 14th-15th September, ExCel London.