The C-level event "Digitize your Food" took place in Wolfertschwenden at the beginning of October, jointly organized by the Open Industry 4.0 Alliance, a cross-industry network of companies in the digitalization environment, and MULTIVAC. Around 100 decision-makers had come together at MULTIVAC's training and application center. The welcome address and a keynote speech by the Open Industry 4.0 Alliance were followed by specialist presentations and discussion sessions on digitization in the food industry, as well as the presentation of a showcase.
"Industry 4.0 solutions turn out to be very complex, especially in a heterogeneous machine environment. As a founding member of the Open Industry 4.0 Alliance, we want to open up an interoperable ecosystem for our customers. Compatibility within, but also outside of our packaging solutions is our vision – always with the customer benefit in focus."

– Dr. Marius Grathwohl, Vice President Digital Products & Transformation
Digitization from the perspective of a machine builder and a customer from the food industry
The keynotes by Dr. Marius Grathwohl and Dr. Benedikt Hofmann, CTO Voith Innovation & Technology, CEO Voith Robotics, on artificial intelligence, data-based process optimization and added value through digital products provided new ways of thinking and up-to-date information on the topic of industrial digitalization.
Leon Jerg, Business Analytics & Digitalization at JERMI Käsewerk GmbH, then spoke about the use of Smart Services as a business analytics tool in intelligently networked production and showed how it can be used to tap optimization potential in ongoing operations.
Showcase: one line, three different machine builders, one dashboard
During a showcase, the participants were able to see for themselves how different machine builders act together in an open ecosystem and generate added value for customers. A line for packaging minced meat was shown, which included solutions from three machine builders: a VF 848 S vacuum filler from Handtmann, a TX 720 traysealer, and a CWFmaxx 3000 checkweigher from Bizerba. All relevant process parameters of the line were displayed live on a common monitoring dashboard. The line was controlled via Line Control, a higher-level line control system.
Food industry in Chile relies on BigData and AI
Through extensive investments and public-private partnerships, Chile's agribusiness industry has been able to leverage its experience in international markets, its modern infrastructure and its logistics capabilities to pave the way for the development of new innovative projects. With its support for Big Data and artificial intelligence, the country aims to maintain its international leadership and contribute to the food supply of the future.
As part of ProChile Global X, the Chilean government's new accelerator program for startups and scale-ups, ProChile is highlighting the most groundbreaking agribusiness projects reaching the European market.
The Not Company
With its artificial intelligence-based algorithm called Giuseppe, The Not Company dissects the molecular characteristics of foods of animal origin and identifies equivalent molecules to reproduce their texture, aroma, taste and their functional properties from purely plant-based ingredients. Thanks to this technology, the start-up is currently producing a range of vegan alternatives for milk, sauces, ice cream and meat, and is working on the design of hundreds of other products.
The Not Company was recognized as part of the World Economic Forum's Technological Pioneers 2020 program and was the first Chilean company to be included in the top 10 of Forward Fooding's FoodTech500 index.
The Live Green Co
Using a similar molecular analysis model, Charaka, The Live Green Co's algorithm, develops recipes for ready-to-eat mixes of pancakes or hamburgers made from purely plant-based ingredients that can be prepared by adding a little water. However, the company's business model is not to market such products, but to license its software to large manufacturers of processed foods. With this technology, players in the agribusiness industry can find plant-based alternatives to effortlessly replace the synthetic or animal additives they traditionally use to make their products.
As part of ProChile Global X, the start-up has just been accepted into the German accelerator program RESPOND 2021 of the BMW Foundation Herbert Quand.
ProteraBio
By combining biotechnology and food engineering, ProteraBio has managed to develop a predictive algorithm that calculates millions of amino acid combinations and simulates patterns for the production of new, protein-rich plant-based ingredients that are safer, more economical, sustainable and healthier. Thanks to this technology, which ProteraBio hopes will revolutionize the global protein market, the company has just closed a $15.6 million investment round led by European venture capital firm Sofinnova Partners, which specializes in health and sustainability.
The Chilean agri-food sector is one of the most dynamic sectors of the Chilean economy, second only to copper in exports. With this commitment to technological innovation, the Chilean government aims to usher in a new era in its international strategy that goes beyond the export and import of products and services and aims to create synergies that can provide solutions to global problems.
Many benefits from low meat diet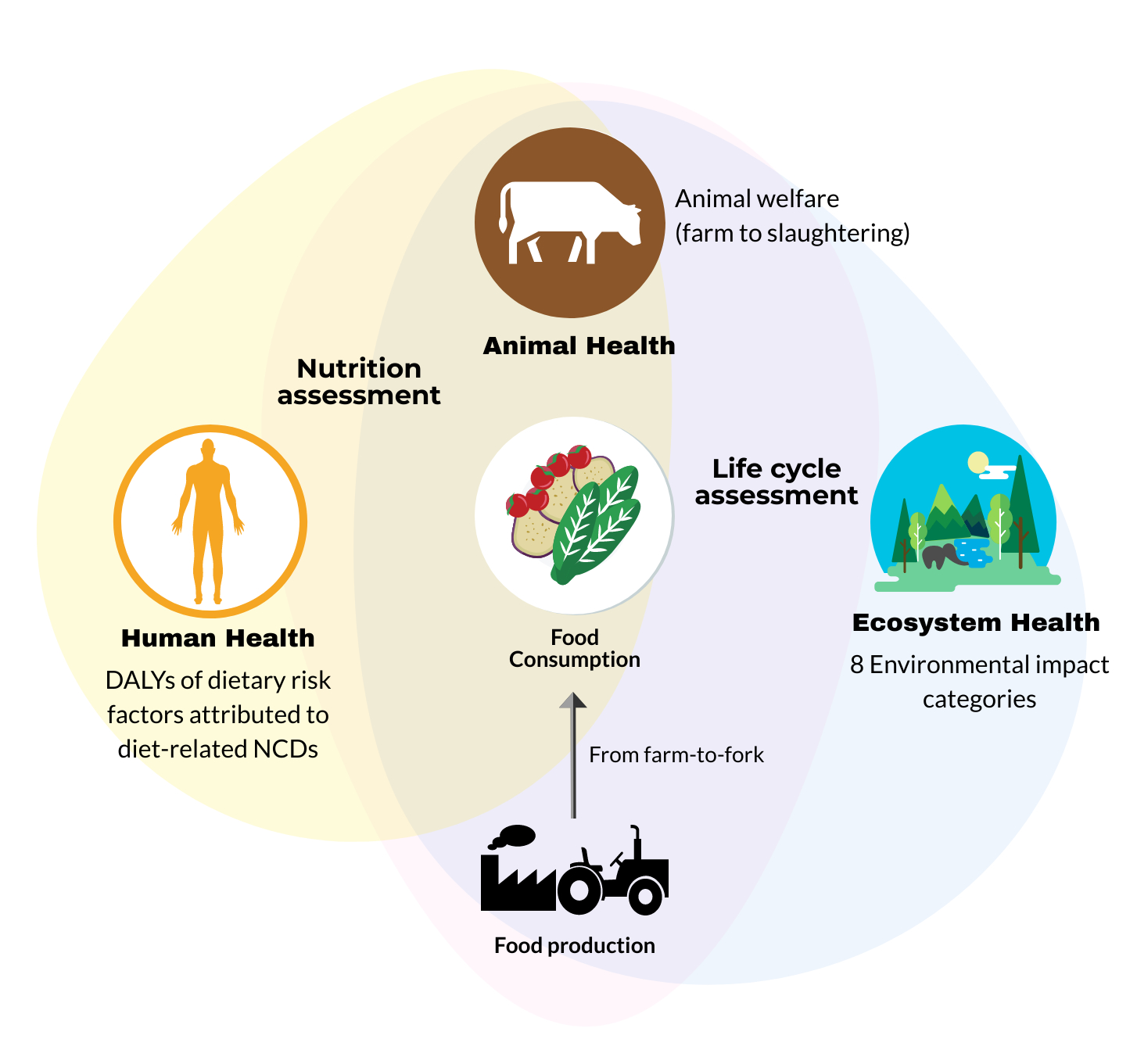 Moderately reduce meat consumption and eat more fruit, vegetables and whole grains, as recommended by the German Nutrition Society? To follow in the footsteps of our southern neighbors and eat fish and seafood more often? Or even switch completely to a vegan diet? A new study from the University of Bonn shows that the answer to these questions is not as clear-cut as one might think – depending on which effects one looks at in detail. The findings appeared in the journal Science of The Total Environment.
950 kilograms of food and drink are consumed by every citizen in the EU every year – a small mountain, as heavy as a small car. Globally, food accounts for a quarter of human greenhouse gas emissions. A large proportion of this is due to livestock farming: animals convert only a small proportion of the calories they are fed into meat. Ruminants also produce methane, which further accelerates global warming.
What we eat also has consequences for our health and animal welfare. If we want to compare diets, we should also look at these aspects. Experts also refer to the optimal health of humans, animals and the environment as the "One Health" perspective. "However, studies that apply this perspective to nutritional issues are still rare," explains Juliana Paris of the Center for Development Research (ZEF) at the University of Bonn.
Current diet compared with three alternatives
Paris, together with colleagues, has conducted an analysis that aims to fill this research gap to some extent. "To do this, we took a look at examples of what products are on the menu of people in North Rhine-Westphalia," she explains. "We then compared this reference diet with three different scenarios: a change according to the recommendations of the German Nutrition Society (DGE), a change to a Mediterranean diet with more fish and seafood, and a change to a vegan diet."
In each of these three scenarios, the foods were chosen to differ as little as possible from the reference diet. "This means, for example, that in the Mediterranean variant, we increased the amount of fish and seafood, vegetables and grain products," Paris says. In addition, the overall product selection was to contain the same nutrients in similar amounts as before. The researchers thus obtained a "food basket" for each scenario, which they then analyzed further.
"To do this, we relied on various databases," says Dr. Neus Escobar of the Institute for Applied Systems Analysis in Austria, who supervised the work. "With their help, we were able to estimate, for example, the effect of each diet on certain environmental aspects – such as the amount of climate gases produced during its production or the water consumption. We took a similar approach to assessing the effect of each diet on health." Red meat, for example, is known to increase the risk of certain cancers and cardiovascular disease.
The researchers estimated the consequences for animal welfare using several indicators. These included how many animals lose their lives as a result of consuming the food and the conditions under which they are kept. "But we also used the number of neurons or the size of the brain in relation to the body to estimate the extent to which the respective animals actually suffer as a result of their use," explains Juliana Paris.
Fish instead of steak helps the environment but harms animal welfare
Each of the three diets would be sustainably beneficial from a One Health perspective. But not under each aspect: Thus the vegan nutrition scored best in many areas. However, the production of vegan food involves increased water consumption. "In addition, vegans have to take certain nutrients separately, such as vitamin B12, vitamin D and even calcium," says Paris.
The Mediterranean diet (although healthy) also results in increased water requirements due to the high proportion of nuts and vegetables. Moreover, if – as assumed in the study – the meat consumed is completely replaced by fish, its effects on animal welfare are surprisingly negative: since fish and seafood are significantly smaller than cows or pigs, for example, considerably more animals suffer under this type of diet. Moreover, the increased consumption of honey, which requires intensive management of bee colonies, also has a negative impact.
"It would therefore be advantageous to cover less of the protein requirement overall from animal sources. In addition, many people today eat diets that are far too rich. If they reduced the amount they ate to what they really needed, that might have additional positive effects."

– Neus Escobar
According to the study, the DGE recommendations are indeed heading in the right direction. However, in terms of human health, the other two options are better. Nevertheless, the data show here, too: If you give up meat more often and instead load whole grains, vegetables and fruit onto your plate, you're not only doing something good for yourself, but also for animals and the environment.
High machine availability and easy maintenance


700 million pasta bags in 30 years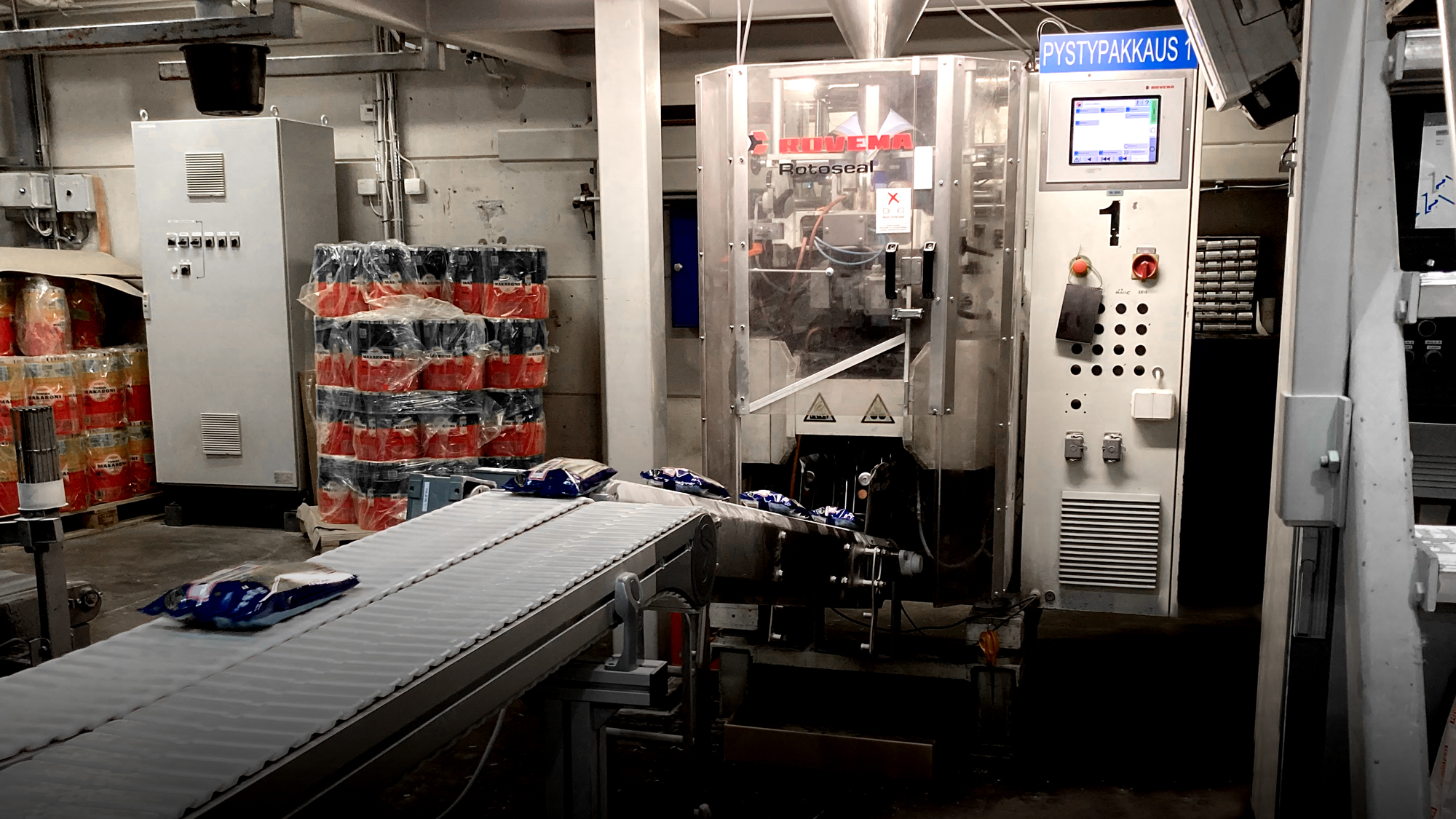 Long and short cut pasta products are popular all over the world. They were probably invented independently of each other in China and the Mediterranean region. However, a 4000-year-old pasta pot found in China in 2005 gives the Asians the honour of being the first "pasta inventors". Today, however, we associate pasta primarily with Italy. There are almost 600 types of pasta in the world, 200 of which come from Italy alone. The traditional Mediterranean food began its triumphal procession in Germany in the sixties of the last century. But pasta is also very popular further north.
Myllyn Paras is a traditional Finnish company that manufactures, markets and distributes flour, flakes, cereals and pasta as well as frozen dough and bakery products. The company was founded in 1928 and today employs about 110 people. The group's two factories are located in the city of Hyvinkää, 50 kilometers from Helsinki. In Finland, Myllyn Paras is among the best-known food brands and market leader for pasta. The group serves the Finnish market and also exports its products internationally.
For further details: www.myllynparas.com  
30 years of continuous production
Myllyn Paras has been packaging products with Rovema Form Fill and Seal machines since 1989. Recently, a special milestone was reached: the 700th millionth pasta bag exited the production line of one of these veterans. Both customer and supplier are particularly proud of this, because 30 years of almost continuous production, around the clock, is an amazing achievement and there is no end in sight. The robust Rovema Form Fill and Seal machine is serviced regularly and gets high marks for this recurring activity as well: "The maintenance work on the Rovema VFFS machines is easy and quick to carry out" confirms the Myllyn Paras team.
The basis for such a solid performance is attributed to the good cooperation between the customer, the local representative in Finland and the machine builder Rovema, which manufactures the machines at the main production site in Fernwald, Germany, tailored specifically to customer specifications.
Cooperation and service
The positive experience with the Form Fill Seal machine for pasta
was certainly one of the most important reasons for Myllyn Paras
to opt for two additional Rovema machines in 2015. Since then,
two Rovema VPI 400 with swiveling cross sealing station have
been in operation at the plant, together they have also already
produced an impressive 10 million bags of oatmeal in this short
time. In addition to the oat flakes, breadcrumbs are also packed
on the machines. Infeed is done via Rovema's SDH auger dosing
system, which doses precisely and quickly. The machines run in
2 shift operation five days a week.
The customer emphasizes that, in
addition to the positive experience
with the first machines mentioned
above, the good price-quality ratio
and easy maintenance were also
important reasons for their renewed
decision in favour of Rovema.
In addition to packing in pillow
bags, the Rovema VPI 400 also
allows the use of stand-up zip bags,
another important criterion for Myllyn Paras.
Conclusion of the customer: "To this day, the Rovema machines meet all our requirements in terms of performance, safety and comfort. The technicians who have looked after us over the years have provided advice and assistance to the local operators and continue to do so to this day."
The responsible Rovema Area Sales Manager, Lars Andersen, explains with a twinkle in his eye: "I tell many customers that unfortunately the Rovema machines all last a long time, so we often don't see each other again immediately, but only after many years. Of course, I am all the more pleased when the packaging produced by our machines contributes to the customer's success and a new investment becomes necessary due to an increase in capacity."
Alternative packaging materials
In 1989, when Rovema VFFS machines packed their first short cut pasta in Finland, environmental friendliness was not yet a priority for many people. Consequently, product safety and machinability of the packaging materials were more important than their sustainable properties in terms of recycling. Over the last three decades, the demand from end consumers and producers for recyclable packaging has grown. Today, Myllyn Paras uses a mono-material made of the polypropylene variants CPP/OPP for all three products packed on Rovema machines in Hyvinkää. Polypropylene is closely related to polyethylene (PE), but is more dimensionally stable and heat resistant. All ROVEMA Form Fill and Seal machines with heat sealing system can process polypropylene packaging materials. When changing from composite packaging materials to this mono material, usually no performance losses are to be expected. Most European countries can recycle polypropylene mono materials today; also in Finland, this is standard today. 
Sustainability through a holistic approach
Packaging, and the packaging material used, has always been an important differentiating factor. Due to the current discussion in connection with plastic and sustainability, new packaging materials have come into particular focus. Therefore, Rovema offers its customers tailor-made adaptations to alternative packaging materials. After all, the desire for alternative packaging materials does not only concern new packaging machines. Existing machines should also be able to process these new packaging materials.
Rovema's machine technology allows manufacturers the free choice of packaging materials. The focus is clearly on future proofing the machines. In close cooperation with the customer, Rovema analyzes the interaction between machine, packaging material, and product in detail and can thus repeatedly adjust to changing market requirements in the course of the machine's life. Advice to the customer is provided on an individual basis and includes both existing machines and possible new investments.
In order to provide customers with the best possible advice, Rovema set up its own technical center back in the late 1980s. Here, among other things, packaging material tests are carried out under production conditions. This gives customers the opportunity to test the properties of the new material in advance and to assess the changes to internal processes.
Close cooperation with the customer is essential for a packaging material test. Original product and the desired packaging material must be provided; the existing machine and the production conditions at the customer's site must be known. The empirical values of past packaging material tests, which have been anonymously fed into a database, often allow Rovema to suggest reference-packaging materials for the respective applications.
However, the resulting measures that have to be taken on the existing machine often vary greatly. Depending on the overall height of the frame, existing forming shoulder and properties, for example stiffness and puncture resistance of the new packaging material, the necessary machine adaptation turns out to be more or less complex. The exact assessment and the suitable test setup are therefore actually only possible with the help of the customer despite the extensive experience.
Responsible Sales Manager for Rovema GmbH machines at Orat Oy, Mr. Roni Ekebom:
"We at Orat Oy and me personally of course are delighted for the opportunity to represent Rovema GmbH machines in Finland and Estonia. This case at Myllyn Paras Oy is a perfect showcase of the reliable performance of Rovema GmbH machines. The relationship with Myllyn Paras Oy has lasted for years due to open dialogue between the parties and of course personal relationship. We at Orat Oy want to express our gratitude towards Myllyn Paras for their positive approach to share their story with the proven success with Rovema GmbH machines in their daily production."