inspect product in-air


Digital sorters for wet-end vegetable processing
Key Technology, a member of the Duravant family of operating companies, presents their most versatile Veryx belt-fed digital sorters, with specific design elements that benefit vegetable processors producing multiple products. Veryx is a belt-fed sorter that can inspect product entirely in-air with top and bottom sensors in order to detect and eliminate all foreign material (FM) and the right amount of product defects to make grade. Featuring Key's unique recipe-driven operation, along with the ideal hardware and software to sort any number of different products, Veryx can be changed over to handle a new product in seconds. With sort recipes saved to memory for quick recall, Veryx eases use and ensures repeatable results to optimize product quality and maximize yield.
"Worldwide, many vegetable processors typically handle three or more seasonal products throughout the year to fully utilize their factories. In Europe, they might handle as many as 30 seasonal products. In these high changeover environments, processors need more production flexibility. With a multitude of successful Veryx installations, our recipe-driven operation is field proven to help customers achieve consistent sort performance so product quality is guaranteed day in and day out, regardless of personnel changes and across multiple lines and locations," said Karel Van Velthoven, Advanced Inspection Systems Product Marketing Manager at Key. "Our expertise in vegetable sorting enables us to develop the most effective recipes. With a couple of taps on the touchscreen, an operator can retrieve a recipe saved to memory and accurately set Veryx to handle the next product."
For processors of both canned and frozen vegetables that are sorting a variety of wet products prior to blanching, Key tailors each belt-fed Veryx with the ideal sensors, sensor positions, lighting, ejection system, product handling and software dedicated to the processor's products and objectives. Capable of detecting color, size, shape and structural properties of every object, including the presence or absence of chlorophyll, Veryx removes insects, animal parts, paperboard, wood, rocks, plastics, glass and extraneous vegetative matter (EVM) such as weeds and other plant materials, as well as product defects. Veryx comes in different sizes to satisfy a range of production capacity requirements.
The next-generation 4-channel cameras and laser scanners available on Veryx offer twice the resolution of previous sensor technology. Optional Pixel Fusion combines pixel-level input from multiple cameras and laser sensors to produce higher contrasts and enable the most-difficult-to-detect FM and defects to be removed without false rejects. When configured with top- and bottom-mounted sensors, Veryx achieves all-sided surface inspection to maximize FM and defect detection. By positioning bottom-mounted sensors, along with light sources and backgrounds, away from product splatter, Veryx sustains full-surface inspection throughout the longest production cycles in the most demanding environments.
Essential for all processors, especially those handling a variety of different products, Key's expertise in both sorting and product handling enables them to design the ideal integrated system for each application. Every system is customized to effectively present product to the sorter's inspection zone, maximizing sort accuracy, with minimal mechanical changes. Application-specific infeeds and collection shakers can serve additional functions, like dewatering and mechanically screening out FM. Optional three-way sorting enables Veryx to optically separate good product into two grades while removing FM and defective product into a reject stream.
As the most advanced sorter on the market for data collection, Veryx can leverage Key's powerful Information Analytics software, which allows users to analyze and share big data across their enterprise via an Opcua-compliant infrastructure at the same time they sort. Data about the sort process and about each and every object flowing through the sorter, whether the data is used to make sort decisions or not, is available to reveal patterns, trends and associations. This data can help a processor better manage incoming raw materials and optimize processes upstream and downstream of the sorter to achieve the next level in operational efficiency.
Customer engagement


Datalogic delivers frictionless checkout
Datalogic is showing retailers how self-shopping delivers frictionless checkout and increases customer engagement!
News story hub


Standing Up To Covid-19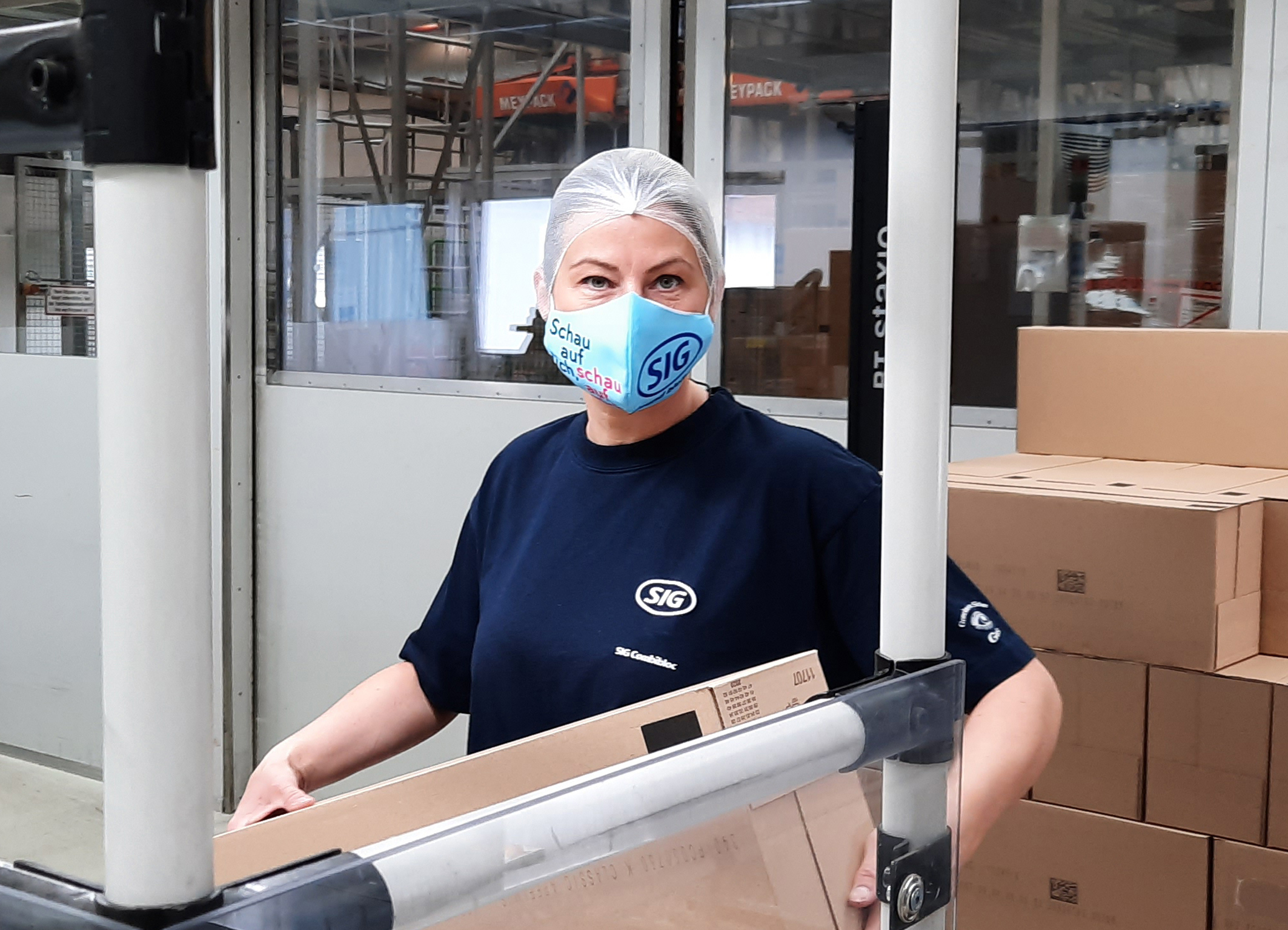 SIG has launched a new online story hub, featuring the latest activities and actions the company is taking as part of a global response to the ongoing Covid-19 pandemic. The story hub is now live at www.sig.biz and will be updated in the coming weeks and months as the company continues to act and respond to the new Covid-19 reality.
Since the start of the Covid-19 outbreak, SIG has been taking decisive action in a number of ways as individuals, communities and a global company. This has included immediate actions to protect its employees and customer supply chains, together with various community projects and donations in the regions it operates.
The new story hub has been designed to gather all these global efforts and initiatives into one easy-to-navigate platform with three main story themes: employee stories, food supply stories, and community stories.
Keeping people safe and secure
With health and safety its highest priority, SIG has been working to protect the health and wellbeing of employees across its plants, offices and facilities. This has included everything from immediately enacting a global pandemic preparedness plan and ensuring all employees adhere to the strictest hygiene guidelines, to working remotely when and where possible as well as organising social distance and online workouts.
"The safety of SIG employees is always our highest priority. Around the world, our local teams and task forces are not only following official guidance from all relevant health authorities. They're often going above and beyond to protect the health and safety of colleagues throughout our plants, offices and facilities," said Ian Wood, Chief Supply Chain Officer, and Leader of SIG's Global Corona Response Team.
Ensuring food stays safe and available
In many countries where it has production facilities, SIG is among the businesses defined as critical infrastructure. This means the company can continue providing essential services to society at a time when reliable food supply is more important than ever. And to keep up with the current demand, SIG has been operating at near full capacity to ensure its customers can deliver a continuous supply of food and beverage products to consumers.
"All over the world, businesses have had to quickly change how they work, adhering to lockdowns and social distancing," added Wood. "For those providing essential services for society, such as food and beverage companies, this has proved particularly challenging. So, at SIG, we've been doing everything we can to keep food supply running as normal."
Serving communities for the better
During Covid-19, SIG has recognised that its contribution to local communities is more important than ever. As a result, the company has been carrying out and supporting a number of additional community projects. This has included donating face masks to hospitals and medical centres, providing essential food and hygiene items to disadvantaged families, and partnering with producers to deliver food and drink products to frontline healthcare workers.
"At SIG, we know the importance of being part of a community. And now more than ever, we need to continue providing community support where and when we can – from helping our healthcare heroes on the frontline to ensuring children in need receive essential food and aid packages during this time of uncertainty," said Wood.
Read SIG's Covid-19 stories at: https://www.sig.biz/en/company/standing-up-to-covid19/
Axia Best Managed Companies


Multivac receives an award
Multivac is a winner of the Axia Best Managed Companies Award 2020, a seal of approval that is awarded by Deloitte, WirtschaftsWoche, Credit Suisse and BDI to companies, which are judged to be outstandingly well managed. Christian Traumann, Group President of Multivac, accepted the award yesterday in Munich.
 Medium-sized companies are extremely important to the German economy. The Axia Best Managed Companies Award gives recognition to those medium-sized or family-owned companies based in Germany, which are judged to have exemplary management. The participating companies were able to qualify for the award through a multi-stage process. The evaluation was based on the four core areas of Strategy, Productivity & Innovation, Culture & Commitment, and Finances & Governance. The prize winners were then selected by a jury, consisting of well-known representatives from commerce, science and the media.
"As one of the prize winners, Multivac impressed the judges with its first-class company management – thanks to its great strength of innovation, its long-term strategic aims, and its very strong governance structures. Multivac is therefore not only the benchmark for outstandingly well managed medium-sized companies, it is also emblematic of the future of Germany as a major economic centre," emphasizes Lutz Meyer, Partner and Head of the Program for Medium-Sized Enterprises at Deloitte.
"We are constantly striving to further optimise our business processes, and to align our range of products and services ever closer to the current requirements of the market and our customers," said Christian Traumann, Group President of Multivac. "The award is therefore very pleasing as confirmation of our company strategy and the efforts of all our staff."
Christian Traumann also stated, that a fundamental factor in the company's success was the wide product range, which is constantly being adapted to the needs of the marketplace, and which extends from individual machines for small handcraft companies to fully automated production lines. These include solutions for a wide spectrum of applications – from food processing and packaging through to medical products and industrial items. The success of Multivac is also founded on the international nature of the company. Thanks to its 87 subsidiaries throughout the world, Multivac is not only able to stay closer to its customers and guarantee shorter delivery times, but also compensate for economic risks in some regions with new opportunities in others. And last but not least, as Christian Traumann summarised in conclusion, the high level of in-house vertical manufacturing also makes a major contribution to the company's success.
The Axia Best Managed Companies (BMC) Program is a competition organised by Deloitte, WirtschaftsWoche, Credit Suisse and BDI in Germany, and it is a seal of approval for medium-sized companies. The vision is to build up a national and global structure of outstandingly well managed medium-sized companies. A significant and unique feature of the BMC is its international character: it was founded in the 1990's by Deloitte in Canada, and it has since been introduced successfully in more than 20 countries.