SPS IPC Drives 2018 Nuremberg


Delta Announces Partnership with Codesys
Delta, a provider of industrial automation solutions, held a press conference at SPS IPC Drives 2018 to announce its new partnership with 3S-Smart Software Solution GmbH, a member of the Codesys Group and creator of the market-leading IEC 61131-3 industrial software Codesys. The partnership will enable Delta to make its future motion control devices programmable with Codesys and offer customers across EMEA (Europe, Middle East & Africa) and Asia the opportunity to simplify the implementation of Delta's industrial automation hardware across their operations.
Andy Liu, general manager of Delta's Industrial Automation Business Group (IABG), said, "Our customers asked for Codesys, and we're delighted to give it to them. In Europe, many of the top automation players use this software platform because it is outstanding technology. Now, customers across EMEA can have Codesys in all new Delta motion systems. In addition, we can now also make Codesys available to the large Delta customer base in Asia. We also hope this partnership will ultimately open new doors to the Asian market for European industrial equipment makers."
With 69 R&D facilities around the world and dedicated industrial automation R&D facilities in Italy, Germany, the Netherlands, and Greater China, Delta operates in close proximity to its European manufacturing customers. Delta also has a comprehensive and global support network for its industrial automation hardware platforms. That network extends throughout Asia, where many of the world's factories are located.
Codesys is one of the most widely used manufacturer IEC 61131-3 development systems on the market. Codesys offers all the functionality of a modern IEC 61131-3 development tool including an integrated visualization feature with multi-client capability, integrated connection to all standard fieldbus systems, motion functionality, safety solutions, and communication interfaces.
Greater efficiency through standardization
Additional costs are generated when a manufacturer adds a new automation platform. By integrating Codesys, Delta aims to reduce the engineering costs that this involves. Patrik Hug, head of business development & product management, EMEA at Delta's IABG, said: "Switching to a different motion platform or adding a new one means you have to write new code. The goal is to reduce the initial switching time when adding a new platform. By standardizing on Codesys, we are making it much easier for customers to use Delta automation products. Instead of having different software to program each of their platforms, they will be able to write code on the same platform for all their Delta products. And the great thing about Codesys is that you have an entire community of application developers. There is a lot of expertise out there to draw from."
Delta launched its new Codesys-enabled scalable IPC, the MH2 Series at SPS IPC Drives 2018. The Codesys platform integrates the control functions of three major industrial controllers: programmable logic controllers (PLC), human machine interfaces (HMI), and motion control. This enhances the motion control capabilities of the MH2 Series, resulting in a high-speed, high-precision EtherCAT motion control solution with peripheral products. With Codesys, the MH2 Series provides a user-friendly motion control interface featuring advanced motion control functions that allow for up to 64-axes synchronous control of AC Servo Drives ASDA-A2-E Series, Standard Compact Drives MS300 Series, and Remote I/O Modules R1-EC via EtherCAT.
Sinamics G120X


New converter series specializing in infrastructure applications
Siemens showed a new converter series at the SPS IPC Drives 2018. The converters of the new Sinamics G120X series are especially suited for use in pump and fan applications in industries such as water/wastewater, building technology or also in industrial environments. With a power range of 0.75 to 630 kW, Sinamics G120X converters can be operated with any motor. The converters are at their most effective running with synchronous reluctance motors from Siemens. Sinamics G120X are configured throughout for cost-optimized and resource-saving operation across all voltages and supply networks, and their characteristic compact design saves space in the control cabinet. Although not featuring an additional output reactor, the converters enable motor cable lengths of up to 150 meters. The integrated safety functions are certified to SIL3.
Simple, reliable and efficient
The Sinamics G120X series offers outstanding ease of operation and is simple to commission using the Sinamics Smart Access Module and the IOP-2 operator panel. The converters can be selected and ordered using only a single purchase order number in the Siemens drive technology configurator. Their integrated DC link reactor enables Sinamics G120X converters to run with the utmost stability under all network conditions. This robust, drip-proof new series comes in the form of a painted module as standard, with an additional 3C3 contaminant-resistant coating as an optional extra. A high C2 (optionally C1) EMC category and a protection rating of IP20 (optionally IP21 in UL open type) ensure that the converter can be reliably used in any kind of industrial environment. Sinamics G120X converters are in compliance with all relevant EU energy-saving standards, and offer an operating efficiency level of over 98 percent. Their comprehensive range of integrated application-specific functions such as Flux Reduction for adjustment in line with the actual load, Eco Mode which ensures best possible performance and minimal losses coupled with low dynamic loads and optimized output power, or Keep Running Mode to reduce speed prior to a shutdown.
Ready for digitalization
Sinamics G120X converters can be linked to MindSphere over Sinamics Connect 300, offering users the opportunity to analyze valuable operating data gathered from the converter, the drive train and the machine using the MindSphere app Analyze MyDrives. This enables the visualization and analysis of status information, providing users with valuable data which can be used as the basis for optimizing processes and maintenance strategies.
SPS IPC Drives 2018


New flagships of Featurephone and Tablet Series
At SPS IPC Drives 2018 the Pepperl+Fuchs brand ecom presented the next generation of its groundbreaking feature phones and tablets for hazardous areas. The world premiere includes the in-house developed Ex-Handy 10 Featurephone and the Atex/IECEx Zone 1/21; Div. 1 version of the industrial tablet Tab-Ex 02.
Ex-Handy 10 – Performance, Software and Network Compatibility
The in-house developed Zone 1/21 certified 4G/LTE Featurephone Ex-Handy 10 with Android 8 operating system is the ideal enabler and companion for innovative industrial 4.0 applications in hazardous areas. The latest member of the ultra-robust Ex-Handy family, developed since 1994, enables the use of push-to-talk (PTT) solutions over 4G as well as private LTE and Wi-Fi networks. This ensures optimum network coverage in all areas and situations – with low network latency and excellent data transfer rates. Speakers positioned at the front of the mobile device provide optimal voice and sound quality – even in noisy environments. Dedicated, easy-to-use side buttons – large PTT and red emergency button – allow quick access to PTT and alarm services via one-touch.
The high-resolution, brilliant display of the Ex-Handy 10 is protected by extremely resistant and scratchproof gorilla glass. It features protection class IP68 and withstands permissible ambient temperatures from -20 °C to +60 °C in harshest industrial environments. The feature phone offers maximum planning and investment security thanks to very long availability and support (5-year lifecycle) as well as global approvals (explosion-protection, country-specific product conformity and a wide variety of radio bands). With the Android 8 operating system, continuous security updates via Fota (Firmware Over the Air) and its own software development team, the Ex-Handy 10 is future-proof. In addition, its highly developed and powerful rechargeable battery paired with advanced energy management allows operating times above average. A consistent, compatible product ecosystem with its own 3.5 mm audio jack connector fixation concept and neues ecom Radio Speaker Microphone (RSM) as innovative PTT sets, scan applications and BLE beacons complete the offer.
Industrial Tablet for Zone 1 /21
The next highlight at the trade show in Nuremberg is the Atex/IECEx Zone 1/21; Div. 1 version of the new industrial tablet Tab-Ex 02 as successor of the world's first explosion-proof Android tablet Tab-Ex 01. The Tab-Ex 02 combines highest performance with innovative applications such as augmented reality. Equipped with an Android 8 operating system, the Tab-Ex 02, based on the Samsung Galaxy Tab Active2, features a powerful Octa Core processor with 1.6 gigahertz and 3 gigabyte Ram. It is ideally suited for industry 4.0-capable applications and simplifies data exchange with Scada/DCS systems, merchandise management systems (SAP, IBM Maximo), project management systems and computer-aided system planning. The compact Tab-Ex 02 is the perfect and worldwide approved companion for various tasks, including inventory, material tracking, maintenance, supply chain and asset management up to a professional solution for lone worker protection.
Harness Synergies, increase Effectiveness and Safety
At SPS IPC Drives, Pepperl+Fuchs and ecom demonstrated how customers benefit from an end-to-end, future-proof solution and global service portfolio for hazardous areas which offers completely new possibilities along the entire supply chain in terms of industry 4.0. The interaction of the latest sensor technology, smart HMI solutions and explosion-proof mobile devices helps companies to reduce costs, increase safety and ensure more effective processes and improved asset management. In addition, employees, experts, teams or project groups can use professional industrial applications, make data available online in real time and thus collaborate more flexibly from any location. Push-to-talk or video conferencing applications offer many advantages for documentation, remote diagnosis, maintenance and repair. Experts don´t need to be in the plant or on site to make a remote diagnosis and give instructions for repairing the damage, thus no longer losing valuable time or incurring costs.
Pharmaceutical packaging


Everything from a single source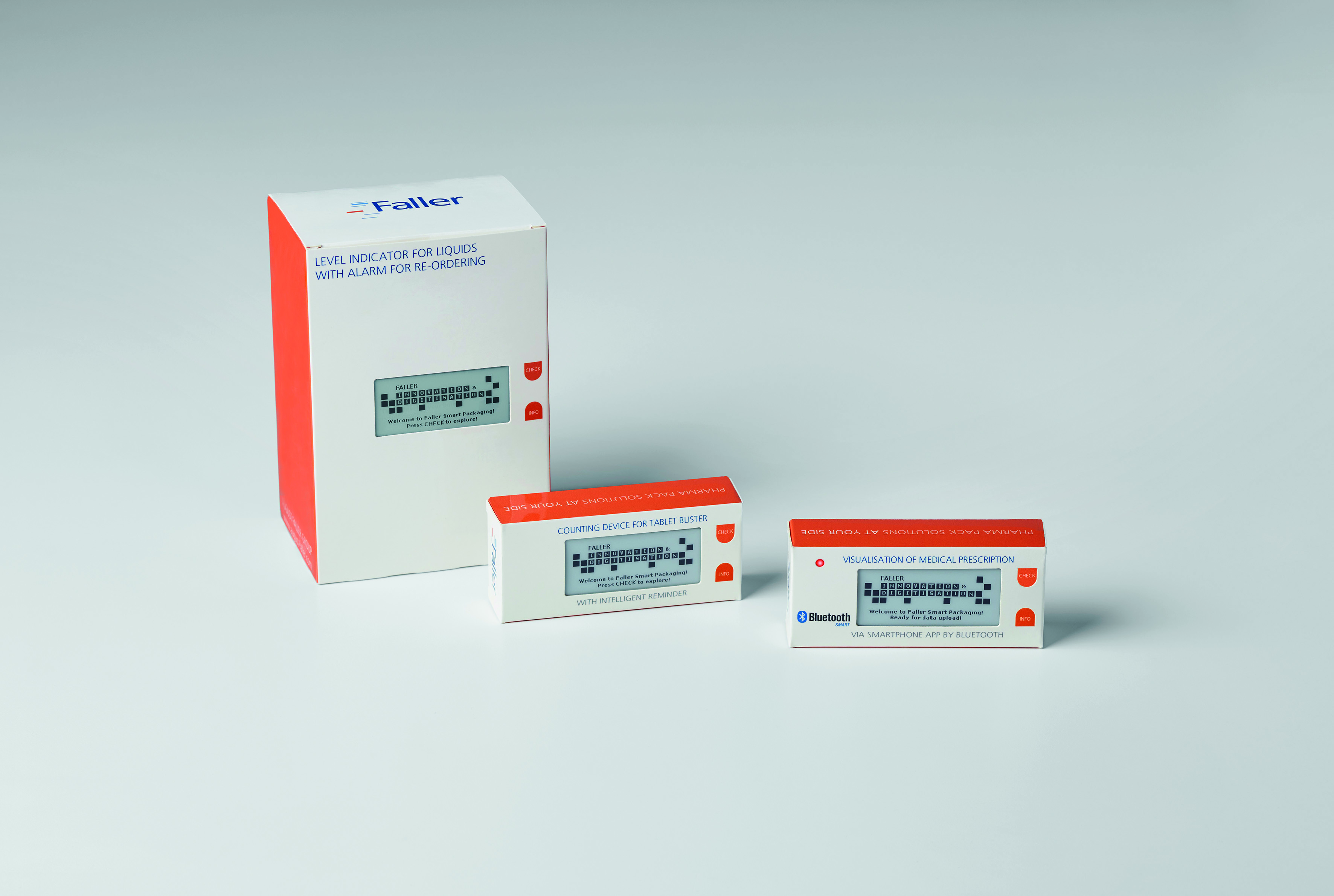 How can we further improve the functionality of pharmaceutical packaging? How can we ensure comprehensive safety? Packaging expert August Faller presents its concrete solutions to these major challenges at Pharmapack 2019 in Paris.
August Faller is known as an expert partner to the pharmaceutical industry for secondary packaging. As a system supplier, the company offers folding boxes, leaflets, adhesive labels and combined products from a single source. It also puts its decades of experience and expertise to good use in the development of customised solutions.
One of the focuses for the August Faller Group at Pharmapack 2019 is the expansion of the communication space on medication packs. An example of this is the "Zoom Box", to be presented by the company to trade fair visitors. The folding box combines most of the August Faller solution portfolio in a single product, including information carriers, multi-page adhesive labels and NFC for digital communication. This expanded communication space is advantageous for all pharmaceutical companies that have to meet information requirements while also communicating successfully with doctors, pharmacies and consumers.
The company will also present its smart packaging product range at the trade fair, using the various solutions to demonstrate the enormous potential offered by interactive and intelligent packaging. Safety, therapy adherence and success can be significantly improved in this way.
Protection of patients from counterfeit goods is another area of increasing importance for the pharmaceutical industry. Here, August Faller can offer special tamper-evident labels that prevent manipulation of folding boxes. Upon request, the company can print serialised codes on the packaging during production to ensure simple and reliable product traceability.
August Faller at Pharmapack 2019: Hall 7.2, Stand D28