Cost-effective


Compact level transmitter with intelligent processing
Siemens presents Sitrans Probe LU240, its newest ultrasonic level measurement Hart transmitter, a hardworking and rugged device that provides reliable level, volume, and flow measurements. Engineered for the challenges of the environmental industry, this transmitter is also suited for the chemical and food and beverage applications. Field-proven Process Intelligence echo processing separates true material level echoes from false, providing reliable readings while still allowing rapid response to actual changes in the material level. The device's reduced blanking distance decreases waste in applications while boosting asset utilization by providing continuously accurate readings even with high levels of material.
Sitrans Probe LU240's four-button user interface or remote configuration with Simatic PDM ensures fast and easy setup. Operators will save time and maintenance costs with Sitrans Probe LU240's transparent lid: in manual observations, users can observe values directly instead of by removing the device's lid. For those applications requiring process temperature data, Sitrans Probe LU240 now gives users both level and temperature readings. The device is also battery and solar-power friendly due to a low start-up current of 3.55 mA and minimum 10.5-volt operation.
In dirty applications or those with buildup, the transmitter's maintenance-free active face technology keeps the sensor clean and is also unaffected by wind, rain, snow or temperature changes. And for rugged applications in harsh environments, it is IP68 fully potted and encapsulated with a PVDF sensor resistant to corrosion, chemicals, and extreme shock.
Digitalization integrates critical field data into a plant's entire operations, unlocking new opportunities to analyze processes and identify areas for improvement. By connecting Sitrans Probe LU240 to a control system, operators can monitor level measurements from the comfort of the control room or on the go using a solution from the suit of Siemens automation or remote products.
Measurement technology


S8000 Chilled Mirror Hygrometer Range
In many processes moisture is a critical factor that needs to be monitored, and controlled. Chilled mirror is the technology of choice for humidity measurements to national standards in laboratories worldwide.
Chilled mirror has the highest attainable accuracy of any dew-point measurement technology, and provides excellent repeatability over a wide measurement range. It is a proven, well established and reliable measurement technique: the temperature at which condensation forms on a surface is measured directly, so there are no calculated variables that could change over time. This means chilled mirror does not suffer from drift or hysteresis.
Simotics Connect 400


Greater efficiency with connectivity module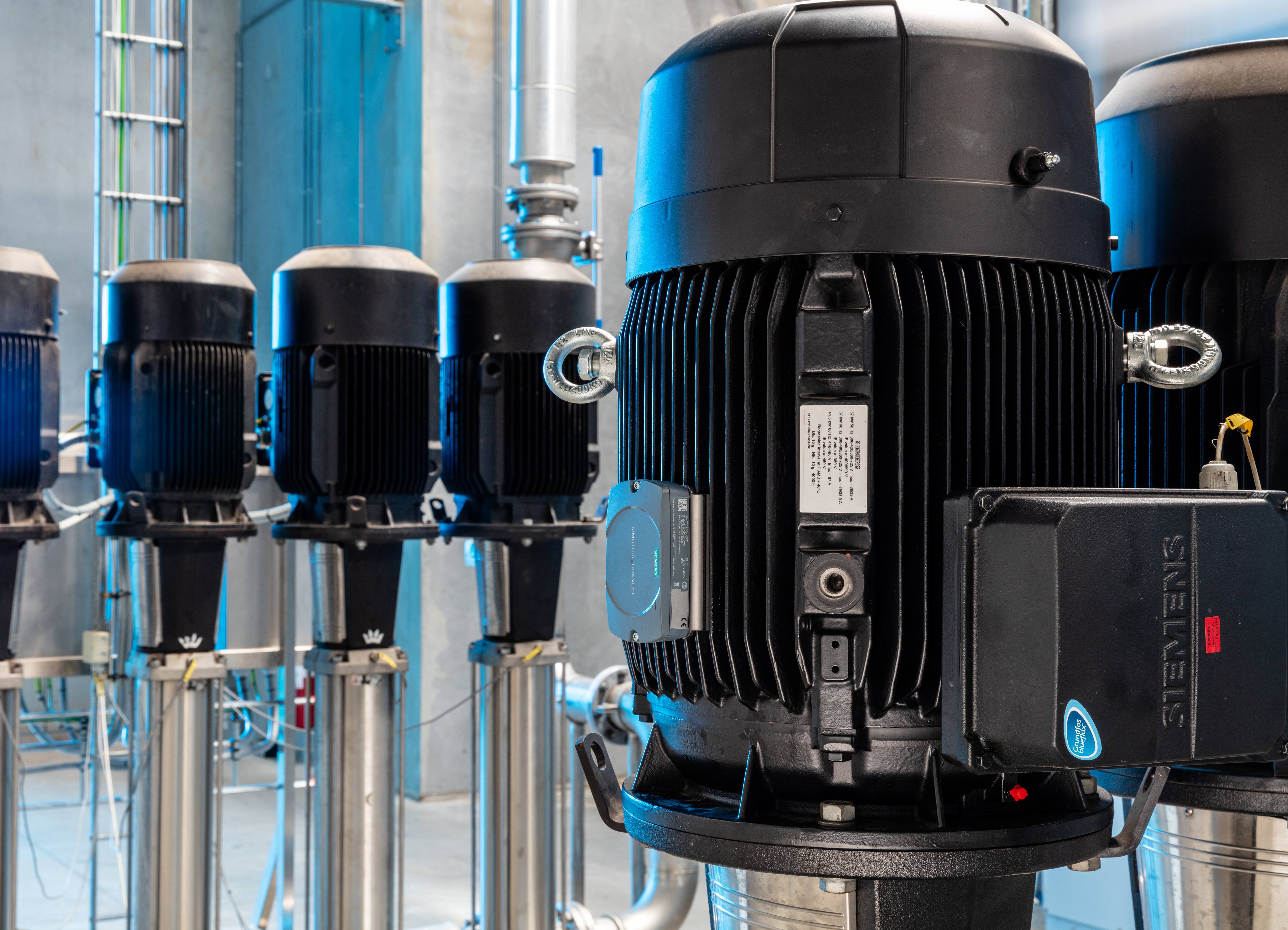 In future, it will be possible for existing motors operating in the field to be retrofitted with the Simotics Connect 400 connectivity module from Siemens. This will allow size AH100 to AH450 low-voltage motors operated directly from the mains to transmit operating data straight to the cloud-based Sidrive IQ Fleet App without the need for any structural modifications. Regular data analysis allows plant operators to quickly and efficiently oversee the operational status of their drive systems and plan a servicing schedule based on actual requirement. This not only improves efficiency, but also optimizes serviceability and extends service life. Typical applications requiring monitored low-voltage motors include pumps, fans and compressors.
At this year's Hannover Messe; Siemens will be using a brownfield application to demonstrate how plant availability can be optimized in future using Simotics Connect 400. The connectivity module comes with all the sensors required for capturing motor vibration or temperature-related data, a Wlan communication module and a battery to enable independent operation. The module processes and saves the operating data, and sends it to the Sidrive IQ Fleet App for cloud-based analysis. Special algorithms use the data to generate meaningful key performance indicators (KPIs) which describe the status of the motors, and are used to determine any concrete need for action. If required, the modules can be retrofitted to legacy motors to improve reliability and availability and boost performance.
Sidrive IQ: IoT digitalization portfolio for drive systems
Sidrive IQ is an essential component of the Siemens digitalization portfolio which opens up wide-ranging scope for IoT (Internet of Things) optimization across the entire drive train – from production through to servicing. Sidrive IQ MindSphere offers a variety of different applications and customized services. Sidrive IQ Fleet is used predominantly in process industry applications, and Analyze MyDrives is designed in the main for the discrete manufacturing industry. Both applications enable the visualization, analysis and monitoring of drive data.
The Sidrive IQ application Analyze MyDrives additionally allows the operating status of Sinamics low-voltage converters to be reliably and conveniently monitored, while gathering and analyzing their operating data. By continuously monitoring power consumption, torque and frequency and also measuring energy flows, users can identify any optimization and maintenance requirement and so initiate any necessary actions in good time. This reduces the need for fixed-interval maintenance, making for greater machine productivity and allowing energy saving potential to be identified.
As a result, plant operators benefit from improved plant availability. A range of connectivity modules for low-voltage and medium-voltage converters as well as low-voltage and high-voltage motors are available from Siemens for linking drive systems to the cloud.
Siemens at the Hannover Messe 2019: Hall 9, Stand D35
Unleashing the potential


Efficient utilization of unused device data
At the Hannover Messe 2019, Endress+Hauser will highlight the intelligent utilization of data and information from field devices and show how the vast potential hidden in plants can be unleashed. The foundation of this strategy is innovative diagnostic information generated by Heartbeat Technology, a wide selection of digital interfaces and connectivity modules, as well as the Netilion IIoT ecosystem. With this approach, the People for Process Automation are catering to companies constructing new plants, as well as the operators of existing systems.
Netilion – cloud-based IIoT ecosystem
Every user is looking for ways to carry out predictive maintenance and avoid unplanned system downtime. As a leading provider of measurement instruments for industrial applications, Endress+Hauser wants to offer current and future customers solutions that exploit the untapped potential in their field devices. While the data already exists, the Netilion applications allow users to take advantage of it. With the Netilion cloud-based ecosystem, Endress+Hauser is showcasing intelligent and connected applications for the Industrial Internet of Things (IIoT).
Heartbeat Technology – constantly feeling the pulse
Endress+Hauser offers a wide range of instruments equipped with Heartbeat, a technology that provides a high level of system availability with minimal effort. The integrated Heartbeat Technology delivers concise, standardized diagnostic notifications and monitoring data that allow users to service and maintain their systems precisely when needed. In combination with the Netilion applications, this data enables predictive maintenance. The information also provides an indication of operational reliability and process safety. Since the instruments automatically monitor their own condition, manual inspection cycles can be reduced.
Solid measurement instruments for efficiency and reliability
One of the product highlights at the Hannover Messe is the new Liquiphant FTL51B, which follows in the footsteps of the tried-and-tested tuning fork–based Liquiphant level switches. This robust point level switch is suitable for use with all liquids and now comes with the integrated Heartbeat Technology for documented proof testing without removing the instrument or interrupting the process. Another new product that is also equipped with Heartbeat Technology is the Gammapilot FMG50, a radiometric level transmitter that can be deployed where other measurement principles run up against their limits. Additional highlights that visitors can check out at the Endress+Hauser exhibit booth are the Proline 300/500 flowmeter and a new Promass A flow sensor for measuring smaller flows, which is also available in two-wire technology. And with the 113 GHz concept, Endress+Hauser is also illustrating that it offers the right frequency for every application when it comes to radar-based level measurements.
Endress+Hauser at the Hannover Messe: hall 11, stand C43