Cable management for clean rooms with sustainability aspect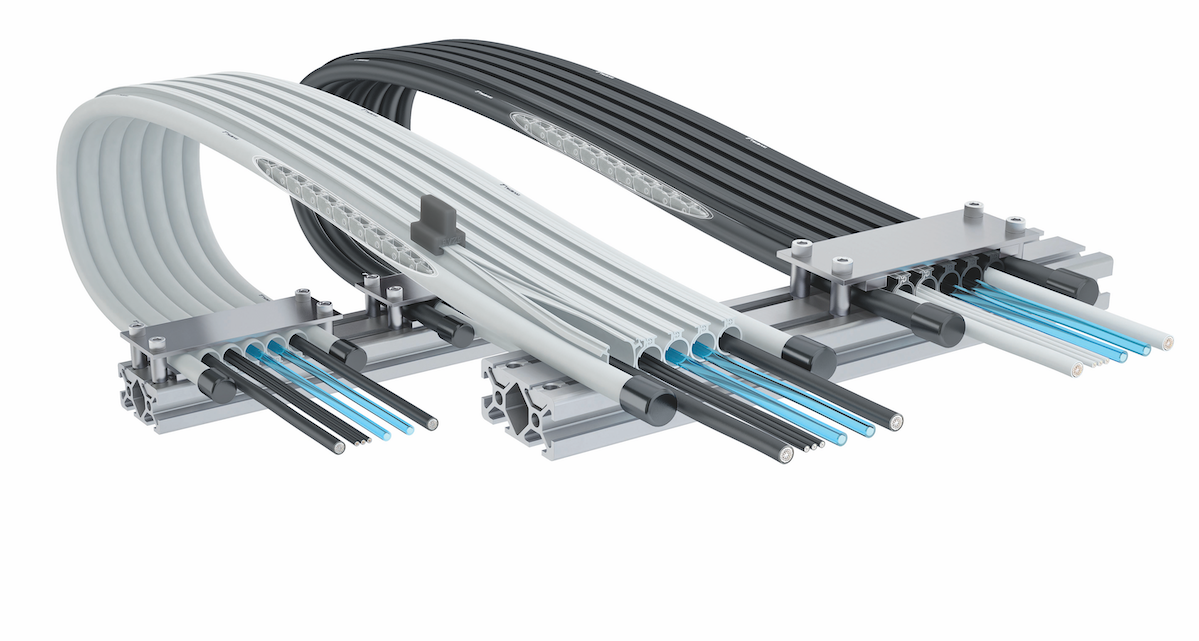 The new TSUBAKI KABELSCHLEPP solution from FLATVEYOR ZP combines the advantages of a flat cable system with the structure of a cable drag chain. Users benefit from easy replacement of cables. In addition, existing cables and hoses can be used, resulting in cost reduction and more sustainability in procurement.
The system is based on particularly durable and smooth-running hoses that can be easily opened and closed with a tool provided. This zip structure is very flexible, but does not open when moved. Replacing or using existing lines and hoses is easy and convenient thanks to this design.
The system has integrated support elements that allow linear movement at high speed. The support elements act as reliable guides that can be moved in one direction along the intended minimum bending radius, reliably guiding the cables and hoses.
The innovation is certified to ISO cleanroom class 2 and is therefore suitable for production processes in hygiene-sensitive industries where a particularly low-particle environment and technical cleanliness must be ensured – for example, in the semiconductor industry, medical technology, life sciences and pharmaceuticals.
The latest cost-effective humidity calibration package from Process Sensing Technologies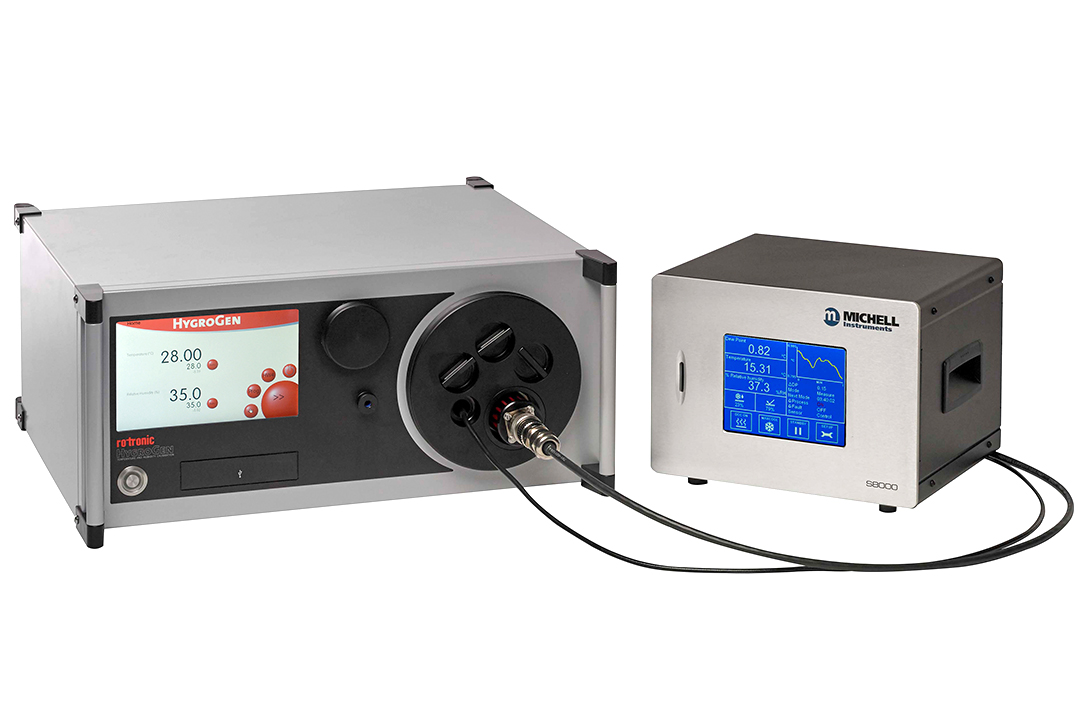 Together, Michell Instruments and Rotronic offer the most comprehensive humidity and dew-point calibration offering on the market today, including some very attractive packages of products – such as the HygroGen2 Humidity and Temperature Calibrator with the Michell S8000 Remote Chilled Mirror Reference Hygrometer.
What makes this such an attractive pairing?
The HygroGen2 satisfies the stringent demands of quality and compliance regulations with its ability to calibrate humidity and temperature instruments over their full working range. As the leading instrument in its class, it is favoured in ISO 17025 accredited humidity calibration laboratories across the world. It is also widely used in the pharmaceutical industry because it is both portable and robust, allowing it to be set up at the installation location to allow for complete system qualification.
Chilled mirror Instruments are widely acknowledged as the definitive humidity calibration reference and are used as the default transfer standard all the way up to the highest level of measurement – National Metrology Institutes, including NPL (National Physical Laboratory), NIST (National Institute of Standards & Technology), PTB, NML. The Michell S8000 Remote is a compact chilled mirror hygrometer with a remote sensor, offering a measurement range from <0.5 %rh to 100 %rh (-40 to +120 °C dew point), with a market-leading accuracy of ±0.1 °Cdp.
The S8000 Remote integrates seamlessly with the HygroGen2 software for automated calibration routines, allowing for complete calibration traceability. The S8000 Remote sensor and PRT have specially designed ports and O-rings to ensure the fit in the HygroGen2 is completely airtight.
As well as use in pharmaceutical plants and calibration laboratories the HygroGen2 and S8000 Remote calibration package is suitable for any application that requires on-site calibration of humidity and temperature instruments.
World's First Long-Reach, Single-pair Power over Ethernet (SPoE) Solutions for Smart Building and Factory Automation
Analog Devices today announced the world's first Single-pair Power over Ethernet (SPoE) Power Sourcing Equipment (PSE) and Power Device (PD) solutions to help customers drive greater levels of intelligence into smart buildings, factory automation, and other applications at the edge of traditional networks. The new offerings facilitate powered, last-mile connectivity for factory and building automation through real-time power management, telemetry, extremely low standby power consumption, and ease of installation.
"The Intelligent Edge is one of the most exciting developments of the digital era as computing power is pushed to previously inaccessible applications and locations," said Leo McHugh, Vice President of Industrial Automation at Analog Devices. "Analog Devices is committed to delivering the unrivaled technology and solutions our customers need to leverage the full potential of the Intelligent Edge in smart buildings and factories as well as many more applications in the future."
Enabling Digital Buildings of the Future
Analog Devices' new SPoE solutions, LTC4296-1 and LTC9111, address the challenges of providing power and data to devices, even in remote, difficult to access endpoint locations. Analog Devices' solutions aim to help new families of endpoint applications to be seamlessly powered and accessed across the network and used to assess local factors such as asset health, environmental conditions, security metrics, and more. The localized awareness and control they offer are the building blocks of the digital buildings of tomorrow.
Analog Devices' SPoE solutions reduce reliance on localized power and batteries by using a single twisted pair of Ethernet cables to provide efficient, reliable, easily installed power at reduced size and weight. Combined with ADI Chronous ADIN1100 and ADIN1110 10BASE-T1L, Industrial Ethernet solutions, customers can reliably transfer both power and data over one kilometer – a significant increase from previous Ethernet standards.
Interoperable Efficiency
Analog Devices' new LTC4296-1 5-port SPoE PSE with Classification and LTC9111 SPoE PD with Polarity Correction products support both SPoE and Power over Data Line (PoDL) variants of single-pair powering. SPoE augments Single Pair Ethernet (SPE) to provide more reliable, fault-tolerant, and interoperable point-to-point power solutions, delivering up to 52W. Both products are 802.3cg compliant and support Serial Communication Classification Protocol (SCCP).
Innovative object detection in confined spaces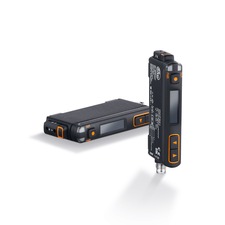 Fiber optic sensors are always the method of choice when little space is available. For such applications ifm is now launching the new fiber optic sensors of the OCF series. These can be set up intuitively, have numerous smart functions thanks to IO-Link and offer six powerful operating modes which the fiber optic amplifier selects automatically as required.
These sensors work on the same principle as conventional optoelectronic sensors. Here, however, optics and evaluation electronics are spatially separated from each other, which offers an important advantage for many applications: The fiber optics can be positioned precisely under very confined conditions and detect even very small parts there. The remote fiber optic sensor is then located in a suitable place – for example, mounted on the machine or even in a control cabinet.
The new fiber optic sensors make such applications particularly easy. The slim housings are suitable for mounting on DIN rails. There, they can be simply snapped on with a flick of the wrist. The fiber optic cables are also connected without tools thanks to the so-called fiberlocking. Since the OCF complies with the high IP65 protection class, it can also be mounted in the field, for example directly on the machine. In order to make the subsequent commissioning simple and intuitive, ifm placed great emphasis on usability during the development. The fibre optic sensor has three buttons for operation. The plain text display of the integrated OLED display facilitates the 2-point teach-in. The find-me function, in which the connected fiber flashes, also simplifies localization.
The OCF handles six different operating modes, automatically selecting the correct mode as needed. The output signal can be sent to a higher-level controller via IO-Link as well as via a fast digital output. The IO-Link interface is also used to diagnose the fiber optic sensor. For example, the degree of contamination of the fiber can be monitored; this clean-me function enables predictive maintenance in the application. Together with the new fiber optic sensors, ifm also offers a comprehensive range of matching fiber optic cables in a wide variety of designs so that the right configuration can be selected for every application.