Award


Bottrop pump specialist is now the holder of the TOP 100 seal for exemplary innovation management
"All things flow" – standing still is not an option: At SEEPEX, one of the world's leading manufacturers of progressive cavity pumps, the company claim goes far beyond the manufacture of first-class high-tech pumps. With new developments such as the holistic "Digital Solutions" concept, the medium-sized company is leading the classical field of mechanical engineering into the future in a targeted manner. Now the Bottrop-based specialist can officially count itself among the nationwide innovation elite. On June 19, SEEPEX was awarded the "Top 100 Seal" for exemplary innovation management and above-average innovation successes.
In Bottrop, the "InnovationCity Ruhr", future-oriented ideas and solutions have been developed for the past ten years with the aim to meet the challenges of climate and structural change in urban areas. And there are also companies that have successfully and for a long time already been contributing to such innovations at the heart of the Ruhr area. For almost 50 years, the family company SEEPEX in Bottrop has been developing and building progressive cavity pumps, macerators and control systems. The manufacturer has continuously developed its pumps further and introduced new pump technologies in order to constantly improve its own products and, for example, enable easy maintenance. Digital solutions for the control and monitoring of pumps have long been offering great added value; in most cases, these are developed together with key customers and tailored to their individual needs. The SEEPEX management has risen to the challenge of digital change at an early stage. In the segment of progressive cavity pumps, which conveys 'delicate cargo' such as raspberries just as gently as thick chunks of sewage sludge in the environmental technology sector, the company plays a pioneering role within the international industry with its "Digital Solutions". The holistic concept offers a portfolio of mobile and networked services, ranging from digitally supported maintenance of the pump using virtual reality, through digital pump management with simple spare parts ordering, to data-based services.
80 percent of SEEPEX products are exported worldwide. The company, which was founded in 1972, now has 18 subsidiaries and branches outside Germany, as well as distribution centers in over 70 countries. There are more than 800 employees worldwide, 423 of whom work at the company headquarters in Bottrop. This is also where the heart beats for new ideas.
For the top innovator, digitalization is the most important innovation of the past few years. Pumps can now be monitored in real time. With the SEEPEX tools, maintenance can be carried out partly by the customers themselves and even remotely. This means that customers can access, control and monitor the pumps with a mobile phone or tablet. The measured values are loaded into a cloud where they can be analyzed by customers or by SEEPEX. An internal team of data analysts deals with data mining and anomaly detection. This saves time and costs and also secures production, as malfunctions can be avoided.
In Bottrop, a dozen employees consistently oversee the digital change, while the management commits a large amount of time towards pushing innovations forward. Every year, around 200 suggestions for improvement are received from the workforce, two-thirds of which can generally be implemented. Between 2016 and 2018 alone, SEEPEX was granted 13 patents at both national and international level, plus certificates attesting to the pumps' highest standards. For example, they meet the highest hygiene standards in the food sector and are certified according to EHEDG. Even the iF Design Award for innovative industrial design has already been awarded to the SEEPEX technology SCT because besides all of its functionality, easy handling is also to the fore.
All this and much more impressed the jury of the TOP 100 competition, which was held for the 27th time this year. Innovation researcher Prof. Dr. Nikolaus Franke from the University of Vienna and his team tested around 120 parameters for the selection of the top companies on the basis of a scientific system. Here, SEEPEX was easily able to maintain its position in the league of the most innovative German medium-sized companies according to the strict criteria. An award ceremony with the mentor, science journalist Ranga Yogeshwar, has had to be cancelled this time due to the corona restrictions. In Bottrop, the management and staff are nevertheless very happy: "The same passion with which we have been working continuously for almost 50 years on the technical side to create top products also drives us to work together continuously on the future. We are proud that SEEPEX is now one of the TOP 100," says owner and CEO Ulli Seeberger.
"Innovative medium-sized companies like SEEPEX GmbH from Bottrop are not afraid of change, but see it as an opportunity. In the scientific selection process, the company impressed in the largest size category (companies with more than 200 employees) especially in the categories of "External Orientation / Open Innovation" and "Innovative Processes and Organization" according to the competition initiators. They were particularly impressed by the way the company works on new products and services: Innovations are created in a close exchange with the customers. Innovations are developed step by step and tested with the most important customers ("lead users"). "Only when the customer successfully benefits from the added value is further development – or adaptation – carried out," is how SEEPEX CTO Dr. Christian Hansen explains the procedure. "It is not uncommon for us to discover potential for improvement among the customer's processes as well – for us, this is an important approach and confirmation that we can provide our customers with greater support in this respect."
Since 1993, compamedia has been awarding the TOP 100 seal of approval for special innovative strength and above-average innovation successes to small and medium-sized companies. Since 2002, the scientific management has been in the hands of Prof. Dr. Nikolaus Franke. Franke is the founder and director of the Institute for Entrepreneurship and Innovation at the Vienna University of Economics and Business Administration. The mentor of TOP 100 is the science journalist Ranga Yogeshwar. Project partners are the Fraunhofer Society for the Promotion of Applied Research and the German Association for Small and Medium-sized Businesses (BVMW). As media partners, manager magazin, impulse and W&V provide advice and support for the company comparison. More information is available at www.top100.de.
Efficient pipetting between different vessel formats
Eppendorf expanded its line-up of Move It adjustable tip spacing pipettes with four additional variants. With adjustable cone distances, the pipettes allow scientists to accelerate and simplify their workflow when pipetting between different vessel formats such as from tubes to plates.
The new electronic models feature 8 or 12 channels and volume ranges of 1–20 μL or 5–100 μL respectively. With a minimum tip distance of 4.5 mm they are perfectly suited for the 384-well plate format.
Their unique, tubeless design results in fewer moving fragile parts which improves precision and durability. The pipettes are also autoclavable – increasing user and sample safety. With a 360° rotatable pipette head and an ideal hand balance, they are highly ergonomic and reduce operating stress in the lab.
Launched in 2020, the Move It line-up has already been acknowledged with a Wiley Analytical Science Award 2021 and one of the esteemed Scientists' Choice Awards 2021 for Best New General Lab Product of 2020. It now covers all dominant volume variants needed for different applications.
Along with the new Move It variants, Eppendorf have ramped up their production capacities for epT.I.P.S. 384 pipette tips, which are the perfect choice for 384-well pipetting and also available as filter tip.
High-end PC for mobile machinery
A high-end PC is now added to B&R´s mobile automation portfolio. The new PC offers significantly more processing power and memory, giving it plenty of resources to implement autonomous functions for agricultural and construction vehicles or self-driving transport systems.
The PC is specially designed to perform in harsh environments. The housing temperature can be between -40°C and +85°C. The PC is also highly resistant to shock and vibration.
Ideal for resource and data intensive applications
Inside the mobile PC's IP69K housing is a powerful Intel Core i7 processor. It also has 16 GB RAM and 480 GB flash memory, making it ideal for applications that are computationally intensive or involve larger volumes of data.
The increased computing power is needed for tasks such as accurate path planning in autonomous agricultural vehicles. More efficient, more precise vehicles deliver increased yield.
From the field to the cloud with OPC UA or MQTT
The PC's high performance makes it optimally suited for smart machines that communicate with each other, process data and send it to the cloud. Tractors and implements can optimize harvesting efficiency, for example, by exchanging information such as speed and load capacity. B&R supports well-established communication protocols like OPC UA and MQTT.
New connected electronic pipettes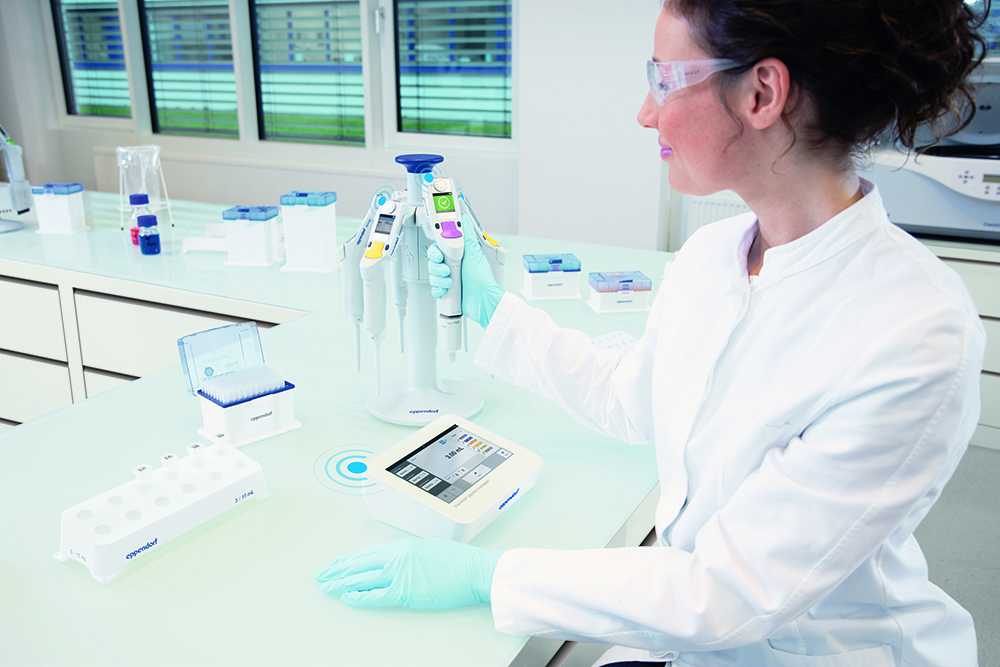 On its way towards digitalization in manual pipetting: Eppendorf has developed the brand new VisioNize® pipette manager.  The system is ideal for scientists who manage a high workload and require many intricate pipetting steps. Technology solutions are here to help scientists improve speed, accuracy, and efficiency and collaboration. This is where connectivity and the Internet-of-Things approach come in.
The new pipette manager acts as a control panel and communicates with the connected electronic pipettes from Eppendorf. It can be used to quickly enter volumes, with all the settings being immediately transferred to all the connected electronic pipettes. The integrated software provides helpful guidance to ensure accuracy when working with different liquid types. Conventional tablets can also be connected alongside the electronic pipettes to work in parallel.
Back in 1961, Eppendorf launched the world's first microliter system, the "Marburg Pipette", thus revolutionizing pipetting forever. The year 2021 marks both the 60th anniversary of this groundbreaking development and the next step Eppendorf is taking to support scientists on the way to the networked laboratory of the future.