Packaging solutions


Attractive packs for fish and crustaceans
At Seafood 2019 Multivac will be exhibiting packaging solutions, which contribute to extending the shelf life of fish and seafood as well as ensuring, that the product is presented attractively at the point of sale. In addition to concepts for producing attractive vacuum skin packs, the focus of the trade fair will also include packaging solutions, which meet the current demand for recyclability and minimisation of plastic consumption in the production of food packaging.
The MultiFresh concept from Multivac, the specialist in packaging, offers a proven process for packing food in vacuum skin packs. In addition to a wide spectrum of thermoforming packaging machines and traysealers, there is also an extensive range of skin films available, which was developed in conjunction with leading film manufacturers, and which ensures that optimum packaging results are achieved. This means that even food products with sharp edges or hard areas, such as bones or shells, as well as those with high product protrusion, can be packed securely and with a high-quality appearance. In Brussels the MultiFresh process will be demonstrated on a thermoforming packaging machine, which is capable of being configured individually, as well as on a compact, fully automatic traysealer.
The high-performance R 275 MF thermoforming packaging machine, which will be exhibited at Seafood, is designed for packing whole fish in vacuum skin packs. It enables high-quality packs to be produced for an extensive range of products, and it achieves a high level of output with maximum efficiency.
When it comes to producing MultiFresh tray packs in small to medium-sized batches, the company will be showing the space-saving.
T 300 MF entry-level model. This compact traysealer can be designed as multi-track and combined with various discharge systems. Thanks to the simple die change, the machine can quickly be converted for different pack sizes and shapes. Electric drive systems for the tray transport, lifting unit and film trim winder ensure that it has an energy-efficient method of operation.
Thanks to its PaperBoard range, the company is able to meet the rising demand for sustainable packaging solutions. "At Seafood we are expecting a high level of interest from visitors in this area in particular," explains Valeska Haux, Vice President of Corporate Marketing at Multivac. On display will be a range of concepts, which contribute to reducing the use of plastics in packaging production, as well as concepts for producing packs that meet current recycling requirements. The Multivac PaperBoard range comprises a wide variety of paper fibre-based materials, which the company has developed in conjunction with leading packaging manufacturers, and which can be used to produce MAP and vacuum skin packs on thermoforming packaging machines and traysealers.
For labelling these packs, Multivac will be exhibiting a Full-wrap labelling solution for efficient wrap-around labelling of a wide range of packs. A conveyor belt labeller is used to apply a label to the top of the pack, then over both sides and finally onto the base of the pack. In contrast to other labelling or sleeving systems, full-wrap labelling offers many benefits in terms of label quality, efficiency and presentation at the point of sale. The process is very flexible in being able to run labels made from different materials and in a wide variety of shapes, and it ensures that maximum labelling quality is achieved even with unusual pack shapes.
Suitable for a large range of applications


Grass paper labels for organic products
AstroNova, European headquarters of AstroNova Inc. responsible for Sales and Customer Service in Europe, the Middle East and Africa, is extending its Product Identification range with new approved labelling for direct foodstuff contact.
This new paper, made from grass, provides an eco-friendly label material for organic product brand owners. Environmentally friendly packaging and labelling boosts consumer confidence in both the brand and product. This high-quality adaptable label is usable on a wide range of product types (foodstuff, cosmetics, wine, pet foods) and is particularly suitable for labelling clothing.
The manufacturing process for conventional wood pulp uses 6,000 litres of water per ton – compared to a mere 1 litre used in the production of this grass-based product; known under the reference 261.
Its permanent adhesive is perfect for small surfaces on a variety of substrates. This general-purpose adhesive is approved for direct foodstuff contact and has been awarded ISEGA Institute certification. As an option, AstroNova can also provide an acrylic dispersion adhesive, which is removable without leaving residue, from a variety of substrates.
The light brown colour of Grass paper means that a vintage-style label (popular for the labelling of wines and spirits) can be achieved without the need for additional processing.
AstroNova is the perfect partner for brands, which print in-house: they offer expert advice, customer-specific materials, colour label printers, software and inks/toners, after-sales service, a permanent stock of spare parts and support through the company's in-house Service & Support Department. AstroNova offers a complete solution – everything from a single source.
The new labelling material, together with its suitable printer, the QL‑300, will be presented for the first time at the Empack in Dortmund from 8th – 9th May 2019 at Stand G19.
New system solution


Sustainable MAP packaging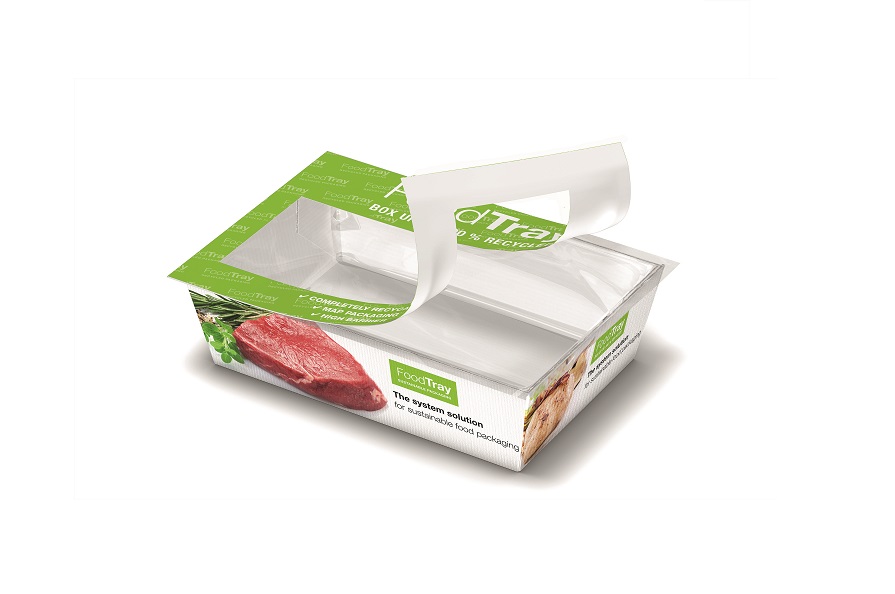 Gea presented a new combined solution for sustainable food packaging at IFFA 2019 in Frankfurt. The new packaging law, which came into force in Germany on January 1, 2019, requires significantly higher recycling rates for plastic packaging and will have far-reaching consequences for industry. Together with partner companies, Gea developed an ecological carton/film composite solution, known as FoodTray. The two components, which are assembled on a Gea thermoforming packaging machine, can be easily separated later by the consumer in a single motion.
Supplying a growing world population with fresh food only works with the support of safe and secure packaging. The challenge is the consumption of resources, which is constantly rising and yet must be minimized. The German packaging law stipulates recycling quotas which, for example, requires 63 percent for plastics by 2022. "The question is what the packaging industry can do to meet these requirements and how it can ultimately replace plastic," says Hans-Günter Donges, who is responsible for overarching developments in process technology at Gea.
Bundled know-how for greater efficiency and sustainability
As a result, food manufacturers are making challenging demands on machine technology. The company has offered a proven alternative to pure plastic packaging for years with a carton/film composite solution, which has now been further adapted to market requirements and guarantees maximum flexibility. Initially, the concept focused on creating a tray from corrugated board that could also meet the requirements of modern food packaging. Thanks to the cooperation with diverse specialists from the corrugated cardboard, film and mechanical engineering sectors, including the Roba Group, Schur Flexibles Germany and Van de Velde Packaging, the requirements could now be met. FoodTray is a system packaging that combines the criteria of product claim, haptics, safety, sustainability and industrial production processes.
Composite packaging solution, yet still separable
FoodTray is a packaging solution made from the basic materials: corrugated cardboard and film. Corrugated cardboard is the most widely used packaging material worldwide and is made almost entirely of natural raw or recycled material. The film provides an outstanding barrier, helping extend food shelf life.
The FoodTray system consists of corrugated cardboard carton with film on the inside, combining the advantages of both cardboard and plastic. "We've reduced film content by up to 70 percent," explains Donges. "At FoodTray, fossil-based raw materials are replaced with fibers from renewable raw materials; the recycled content is more than 80 percent. At the same time, we make no compromises in terms of stability. Likewise, the cardboard and film can be easily separated and recycled by the consumer."
The film is thermoformed and sealed directly to the inside of the corrugated cardboard box. After this, the customerspecific packaging process can take place. "The investment costs are low and the result is ecologically sustainable packaging," summarizes Donges. MAP packaging heights range from 20 to 60 mm and skin versions up to 20 mm, with corrugated cardboard used on the outer box.
The brand information can be printed over the entire surface, enables high-quality product presentation and meets increasing product labeling demands. Likewise, companies have the opportunity to demonstrate their commitment to using resources more mindfully by investing in this sustainable solution. "At our production site in Wallau, Germany, we have put a sample system into operation where diverse customer-specific solutions can be tested," concludes Donges invitingly.
Beumer Group


Packaging System for Palletised Organic Products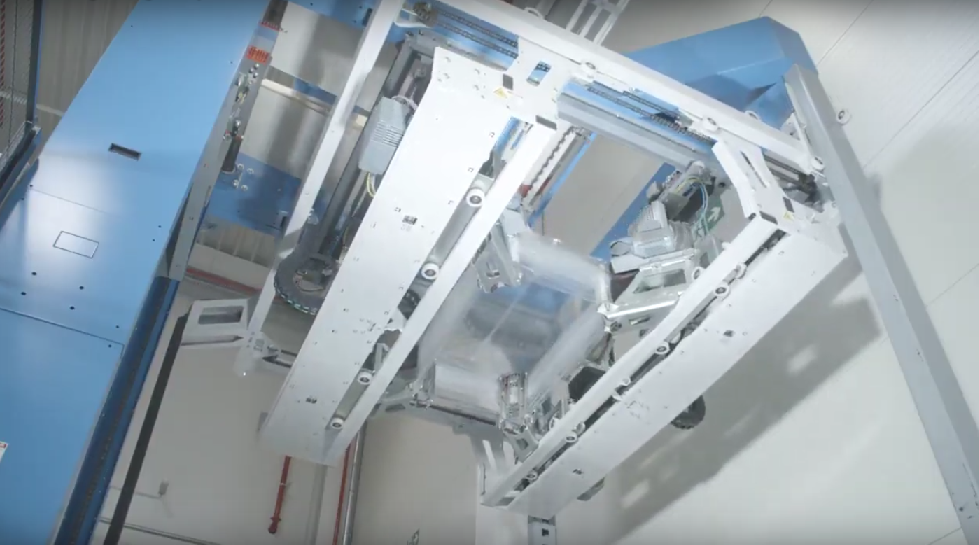 The Beumer stretch hood A packages organic foods on different sized pallets in Ascheberg, a town in North Rhine-Westphalia, not far from our headquarters in Beckum. The client Davert supplies major customers like supermarkets, but also delivers to end customers directly. From cereal to muesli and chia seeds: the Beumer stretch hood A packages the bags and bundles of food efficiently and safely. Once the picked pallets are covered with stretch film, they are transported to high-bay storage or to shipping where they are driven on trucks to the customer's site.