SoFormTM of the Thermylene brand


Asahi Kasei introduces new engineered resin series
Asahi Kasei Plastics North America (APNA) introduces SoFormTM, a new engineered resin series as part of their diverse Thermylene® family – Asahi Kasei's portfolio of specialty chemically coupled glass fiber reinforced polypropyl-enes. SoFormTM is a cost- and process-optimized material for automotive interior sur-faces and industrial durable goods.
SoFormTM features excellent scratch resistance with haptic surface feel and improved durability compared to competitors. It also offers key benefits such as low gloss, low emissions, chemical re-sistance, and structural performance. "Durability coupled with low gloss and improved haptic surface feel are key to interior performance and customer end use criteria now more than ever; SoFormTM provides an attractive solution to meet these demanding requirements" states Jane Horal, Marketing and Business Development Manager at APNA. The material is available in 10%, 15%, 20% and 25% glass fiber filled grades. All are commercial-ized and available in either natural or pre-colored for injection molding.
Automotive application areas for these novel grades include, but are not limited to, instrument panels, door panels and associated touch points (map pockets, console sides, mirror surrounds and seat trim). SoFormTM also excels in the industrial segment with applications such as furniture armrests and durable wear surfaces. The durability and haptic surface finish enable both automotive and industrial segments to provide customers with improved longevity and luxury.
"SoFormTM has unique performance compared to traditional talc reinforced thermoplastic elastomers due to the increased scratch and mar properties" says Todd Glogovsky, VP of Sales and Technology at APNA. "For applications that have higher durability requirements, SoForm will be a key product".
Currently, soft touch paint, over-molding or a foam in place with skin has been required to meet these customer demands. SoFormTM is an alternative to improve the design, manufacture, logistics and value chain of the production process. As the material eliminates the needs to paint, over-mold or foam in place, it can provide additional cost-savings and eco-friendly options for the manufacturer.
Leybold offers a dry claw pump for robust rough vacuum applications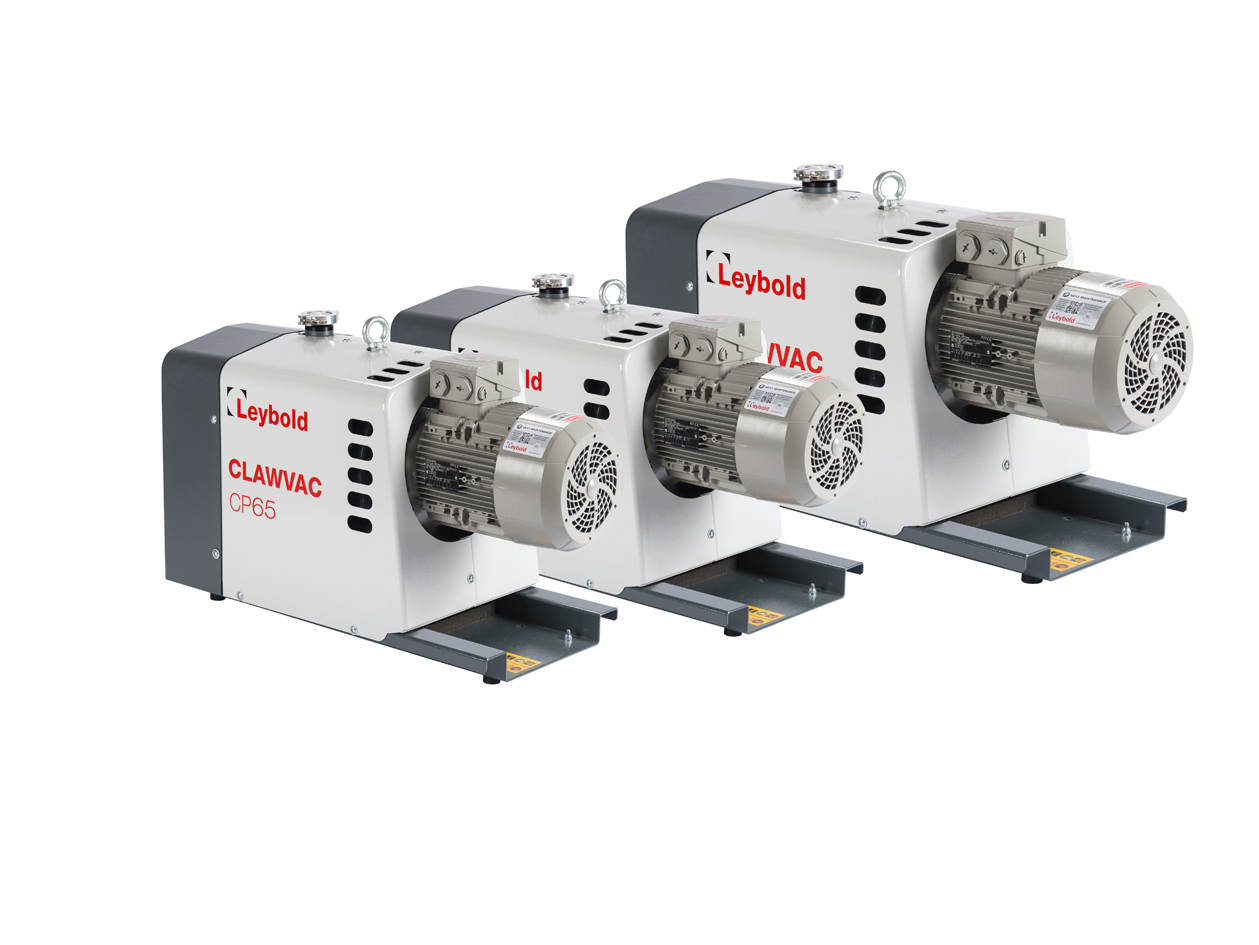 Especially for rough industrial processes Leybold introduces the uncomplicated, dry rough vacuum CLAWVAC pump. Besides food processing, packaging and environmental technology applications, it is suitable for drying and sterilization processes. The pump, which is offered in three pumping speed classes, is specially designed for continuous operation at every working pressures. Additionally the special pump design avoids that oil comes into contact with pumped gases, what allows higher Oxygen applications. At the same moment, Leybold also offers with the CLAWVAC System series a new multiple pump system. These systems are based on CLAWVAC and offer a redundant plug-and-play solution.
Uncomplicated handling
The daily use is uncomplicated: Thanks to the self-supporting construction, the vacuum generator is easily accessible. What allows to directly clean the pump on-site. The simple handling of the robust pump can also be attributed to its operating principle: A pair of claw rotors rotating in the pump stator completely free of contact and wear. It also distinguishes itself from standard claw pumps on the market by the choice of materials. Rotors made of stainless steel and a corrosion-resistant coated vacuum chamber, it proves its worth even under harsh process conditions. This makes an important contribution to reliable operation.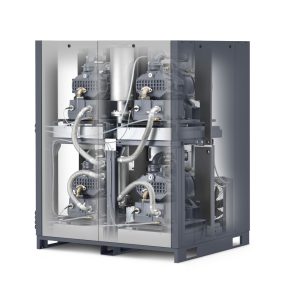 Disassembly in a few minutes
The modular pump design allows a quickly dismantling, opening and cleaning of the pump essentials as the pumping chamber and the silencer. For a mechanic these steps can be done in a few minutes and the frequency is purely depending on the hardness of the process. Except the 20 000 hr oil & lipseal replacement, no further regular maintenance is required and additionally it is independent of the application. "Thanks to this pump characteristic, we have reduced the amount of servicing required and improved the environmental balance," explains Niels Gorrebeeck, Product Manager Rough Vacuum, Leybold, Cologne.
Minimal downtimes
The design allows the user to disassemble and clean the claws quickly and easily as the rotors can be removed without having to readjust the synchronization. This primarily relieves customers with rough & dirty processes, whose pumps previously needed a synchronization at the manufacturer side. The set-up is based on a quick component replacement, which has to ensure a minimal downtime and low service costs.
Wide range of applications
On the basis of CLAWVAC, Leybold also has a new multiple pump system in its program, a powerful plug-and-play solution. Especially for packaging plants, pneumatic conveying lines or clamping devices of CNC machines the multi claw pumps are a reliable solution. This also applies to plastics processing machines, drying processes and central vacuum supplies.
Low energy consumption, low CO2 output
Depending on the required flow rate, the systems contain two to four CLAWVAC pumps in one housing. "The robust, long-life pumps operate in an intelligent controlled dry and air-cooled solution" summarizes Niels Gorrebeeck. "On top of that, CLAWVAC System only delivers the required vacuum." One pump is speed-controlled, that allows the exact adjustment of the generated vacuum. The intelligent control activates or disactivate the other fixed speed pumps based on the vacuum need. This speed control reduces the necessary energy consumption and CO2   emissions.
A constant & redundant vacuum supply
"During the design we strongly focused on the customer needs as a high redundancy level, minimal maintenance needs and stable vacuum supple even in harsh environments" explains Niels Gorrebeeck. The earlier mentioned constant vacuum level guarantees the customer product quality in all conditions, the same intelligent control equalizes the running hours of the fix speed pumps. The control principle is even as such developed that your CLAWVAC System keeps on running, even with half of it pumps active. CLAWVAC Systems clearly meets all its targets.
Housing reduces noise and heat
With this multiple pump system, Leybold brings all necessary components under one acoustic enclosure and offers at the same way a compact, intelligent system solution. The robust housing protects the pumps, reduces noise and heat and combines all the technology necessary for operation in one box.
Choose with CLAWVAC System for an innovative and effective vacuum solution, which has a positive effect on your overall performance. Leybold offers these space-saving systems with pumping speeds between 604 and 1144 m3/h. As with the individual claw pumps, the system also allows a ultimate pressure up to 140 mbar absolute.
New belt press range for the environment industry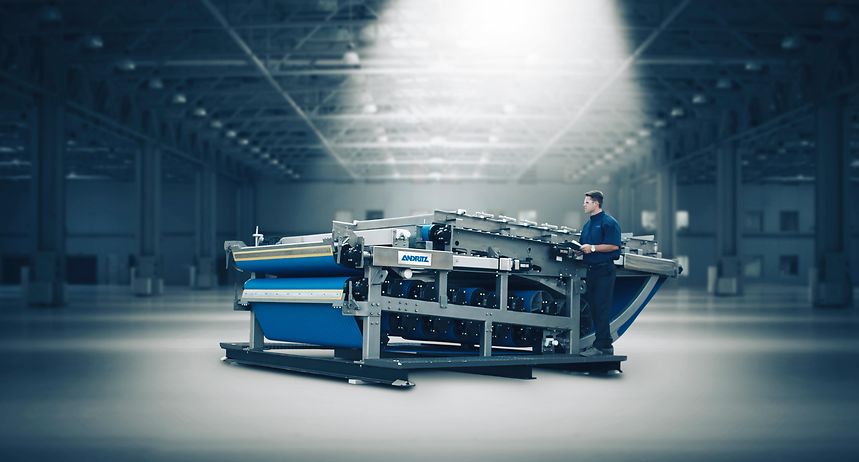 International technology group ANDRITZ presents the SME-Q and the SMX-Q, the new belt presses for the environment industry reflecting the very latest state of the art. Due to their low-profile components, they are extremely operator-friendly and feature high quality design with low maintenance needs, thus ensuring maximum performance in terms of dryness and throughput.
Different Models for a wide range of requirements
The medium-pressure belt filter presses in the new SME-Q range are suitable primarily for standard and medium duty performance levels, while the high-pressure belt presses in the SMX-Q series were developed for medium to heavy-duty performance levels where each individual machine must achieve high throughputs. The two machines include the same features in terms of design and have an extra-long thickening zone, a camber wedge for a steady, optimized pressure increase, a low profile, and an open, stainless steel frame structure for easy access. Both models will provide excellent operating availability and reliability in operation.
Investement versus throughput and perfomance
Compared to the SMX-Q, the medium-pressure belt press SME-Q provides a smaller footprint at lower investment cost and has been specifically developed for small to medium-sized sewage treatment plants and for industrial applications. The investment costs are low due to its optimized structural weight. In addition, the innovative design of the belt press makes it possible to dismantle parts of the machine quickly and easily so that it can be transported in conventional containers or on standard-size trucks.
The high-pressure belt press SMX-Q delivers highest throughputs thanks to its large filtration and pressing area. Its robust frame structure generates high belt tension and high pressure on the sludge to provide the best dewatering performance for a belt press. The specific features of the SMX-Q enable this machine to be adapted to almost any application – even with the most challenging dewatering requirements.
Among the advantages of the new ANDRITZ belt presses are the lower investment costs (SME-Q) compared to other products currently available on the market, perfect dewatering results, highest throughputs, and lowest residual moisture. They offer the right technical solution for municipal and industrial sludge treatment plants, for thickening and dewatering in a single stage (thanks to the efficient thickening zone or combination with a gravity table) and for achieving high efficiency in specific applications such as pulp and paper, manure, biogas, slaughterhouse and chemical sludges.
ANDRITZ SEPARATION
Provides mechanical and thermal technologies and services for solid/liquid separation, serving the chemical, environmental, food, mining and minerals industries. The customized, innovative solutions focus on minimizing the use of resources and achieving highest process efficiency, thus making a substantial contribution towards sustainable environmental protection. In addition, the business area offers technologies and services for the production of animal feed and biomass pellets.
Energy Leader


Merck's DOZN Green Chemistry Tool Named Top Product of the Year
Merck announced that it won a Top Product of the Year award from Environment + Energy Leader for its DOZN system, a quantitative tool that evaluates the relative greenness of chemicals and chemical processes against the 12 Principles of Green Chemistry.
"Our DOZN™ system is enabling the global scientific community to make data-driven decisions to increase the environmental sustainability of the sector," said Jeffrey Whitford,  head of sustainability and social business innovation and branding at the Life Science business of Merck. "This recognition further confirms the importance of quantitative tools that make data actionable."
The Environment + Energy Leader Awards celebrates excellence in environmental, sustainability and energy management. The win is an indication that the program's judges consider Merck's DOZN™ tool a top example of the exemplary work being done in the environmental management field.
Merck's DOZN™ system has more than 300 active, registered users representing some of the most prestigious names in the academic world, government institutions and business-to-consumer companies. The tool has been cited in 17 papers since its May 2019 launch.
Chemists and scientists look for sustainable options in the lab, such as recycling gloves and using greener packaging. However, they may not think about the impact of green chemistry and often face the challenge of evaluating the sustainability of a chemical or process. Merck's DOZN™ tool provides a consistent and reliable framework for measuring the greenness of chemicals and processes. It also raises awareness for scientists and communicates the environmental improvements for products labelled as greener alternatives. Products receive an aggregate score based on a scale of zero to 100, with zero being the most desired.
The DOZN™ system instructs customers how to calculate scores for products that the company does not offer and allows customers to  carry out meaningful research while positively contributing to their own environmental impact goals.
Merck plans to expand the applications of the tool, including the implementation into curricula at academic institutions to further increase the adoption of quantitative metrics in green chemistry.