Adaptable and user-friendly
The independent refrigeration and air conditioning specialist Bitzer has expanded its range of condensing units to include a new series. The seven air cooled Ecolite models have been designed for low and medium temperature applications and are available in an attractive housing.
The three Ecolite LHL3E condensing units with one fan and the four LHL5E models with two fans open up a wide range of applications, from 1.5 kW to 5 kW in the low temperature refrigeration range and from 3.5 kW to 16 kW in the medium temperature range. All seven models in the new series have been designed as standard for a wide range of both low and medium temperature applications – for example, in cold stores, display counters and small shops. Their compact, low sound design and the use of efficient components in combination with the capacity control of the semi-hermetic compressors make them exceptionally adaptable.
Flexible and compact
Thanks to the Varistep mechanical capacity control, all Ecolite condensing units offer stepless capacity adjustment in a range from 50 to 100 per cent. The LHL5E models enable flexible capacity control between 10 and 100 per cent as an optional feature. Ecolite has also been specially developed for low sound operation and features a robust and corrosion-resistant housing for outdoor use. Thanks to their compact construction, the condensing units can also be easily integrated even when space is limited. Another advantage of the series is the low refrigerant charge required thanks to efficient mini-channel condensers with a high heat transfer rate. The company has also integrated proprietary components optimised for the system as well as its Ecolite reciprocating compressors into the Ecolite series.
Future-proof and sustainable
Ecolite condensing units are easy to use, have control software developed by Bitzer and work very reliably thanks to the well-known development and production work at Bitzer. Users benefit from the fact that all components are precisely matched to one another. The entire series is Ecodesign-compliant and has been designed for use with common refrigerants, including those with a low global warming potential such as HFO blends. The extensive equipment and plug-and-play concept make installing and commissioning the condensing units very quick and easy.
Intuitive and convenient
All the components of the Ecolite condensing units are easily accessible, whilst its controller offers intuitive operation and enables use of the Bitzer Electronics Service Tool (BEST). BEST assures a user-friendly overview of parameters and the operating status and also offers support via a data logging function and the convenient setting of parameters. And with their optional accessories, the Ecolite condensing units show their practical side too: for example, a second capacity control for the LHL5E models, an oil separator with check valve and a temperature sensor for operation based on room temperature are available.
Milestone of sustainability


New compact and green freezer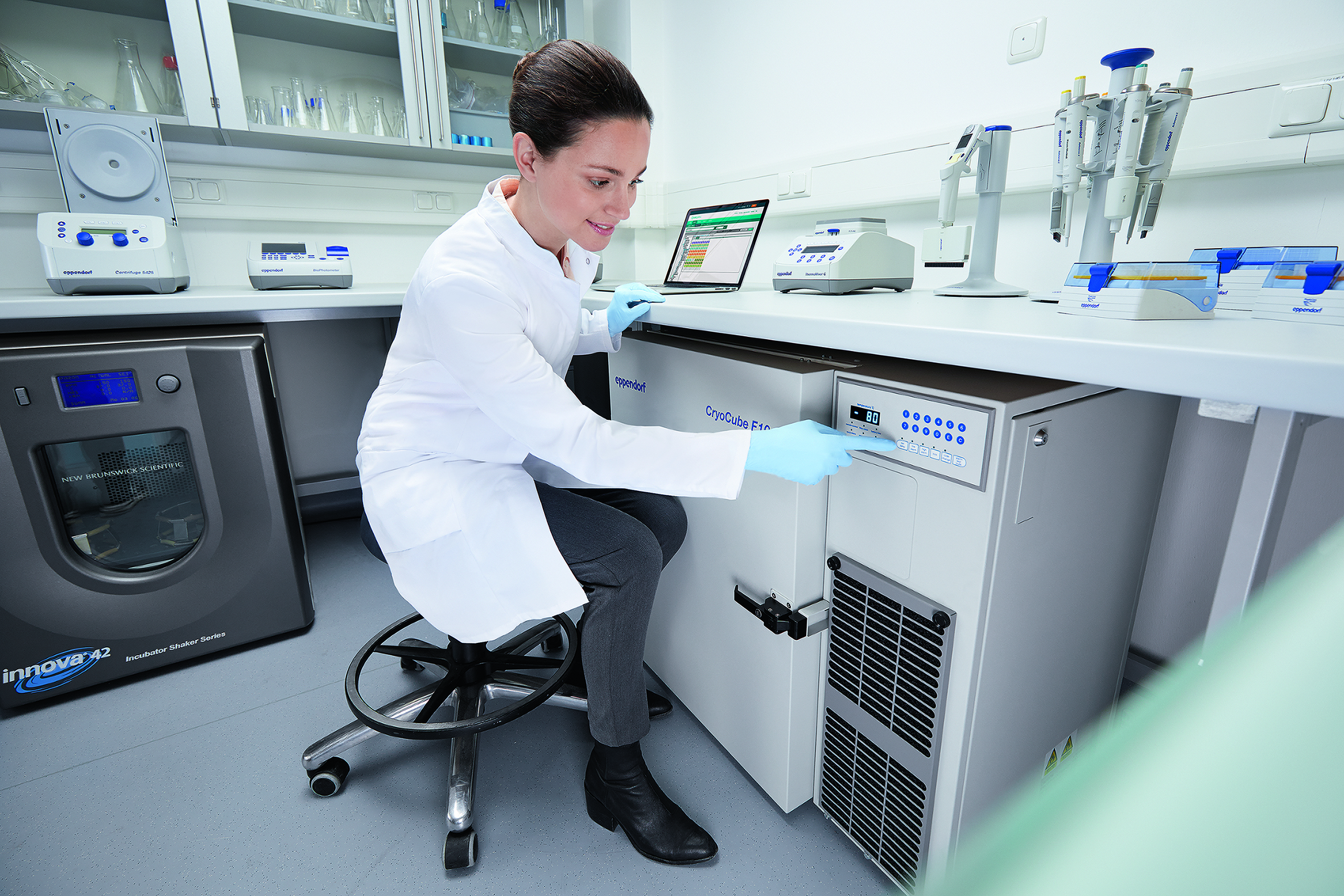 Eppendorf reached a further milestone of sustainability by re-designing the compact ultra-low temperature (ULT) freezer CryoCube F101h (230 V) on future-proof green cooling liquids and green insulation foam.
By combining longevity and quality with sustainability aspects, the CryoCube F101h is the personal below-the-bench ULT freezer. 101 L of -80°C can be filled with up to 60 freezer storage boxes. Compared to its precursor, the F101h saves up to 17% of power.
This is a further building block in a longer green Eppendorf story. Eppendorf now has more than 10 years of experience in research and development, production, logistics, and service in the field of green ULT freezers.
The CryoCube F101h, the new members of the CryoCube F740 series, VisioNize user interface and lab connectivity applications as well as the eLABInventory sample management software are further new building blocks for a smart cryo-solution of valuable samples.
Filtech 2019


Visit the trade show for filtration and separation technology
Filtration and separation techniques are among the most important basic procedural operations in all process industries. Most raw materials and products are mixtures of substances and must therefore be filtered or separated for further processing. Filter solutions play also an important role in achieving hygienic production environments, as required in the pharmaceutical and other process industries.
International Trade Show for Filtration and Separation
At the Filtech show, which takes place from 22 to 24 October 2019 in the Cologne trade fair, filter and separation solutions will take center stage. Due to this trade fair, Cologne will once again become the meeting point of the global filtration and separation industry with experts, users and suppliers from all relevant sectors. The organizer expects more than 400 exhibitors on 14,000 square meters of exhibition space. The Filtech Fair is the largest event in the world that focuses entirely on all aspects of filtration and separation
The exhibitors from all around the world will present the entire range of relevant products. Filter materials, media and auxiliaries such as textiles, cloths and mats, bags and tubes, metal mesh, glass fiber, activated carbon, paper and sieves form the basis. These are supplemented by filter elements, housings, plates, frames and other components. Users will also find manufacturers of complete filter systems for all media, as well as dryers and centrifuges. Machines for the production of filters complete the offer.
The Filtech trade show will take place this year from October 22 to 24, 2019, on the grounds of Koelnmesse in the district of Cologne-Deutz. The humble beginnings of the fair with 6,200 visitors in 2011 are now far behind. Last year, 14,000 people attended the event, more than half of whom came from abroad. The organizer Filtech Exhibitions expects that the number of visitors will increase again this year. The exhibition organizers are expecting more than 400 exhibitors this year and have significantly increased their exhibition space by expanding to the second level of Hall 11 of Koelnmesse.
In addition to the actual fair, Filtech offers a range of accompanying events. An extensive conference program will take place on all three days of the fair. For this program, the organizers were able to win prominent experts from academia and industry. In addition to top-class keynotes, workshops and lectures on a variety of relevant topics are offered.
The fair also offers one-day courses on selected topics. This year, short courses for solid / liquid separation and fine dust separation will be offered on October 31st.
Visitors of the fair can pre-register on the website of the fair. https://filtech.de/exhibition/visitor-registration . One-day tickets cost € 20.00, two-day tickets € 25.00, and one ticket for all three days € 30.00,
Modular temperature assemblies


Temperature assemblies for Oil, Gas and Chemical
I-Therm Modu-Line TM101, TM111, TM121, TM131: Endress+Hauser introduces a new range of innovative modular temperature assemblies for general and demanding applications in the Oil & Gas, Chemical, Power & Energy industries that require excellent measurement performance and reliability. Designed to comply with international standards and help reduce costs, increase safety and maximize plant availability. Easy configuration, commissioning and operation and maintenance. Global availability with short delivery times and expert application support guarantee that you can keep your process up and running.