Features of a bottle


A sustainable choice for responsible consumers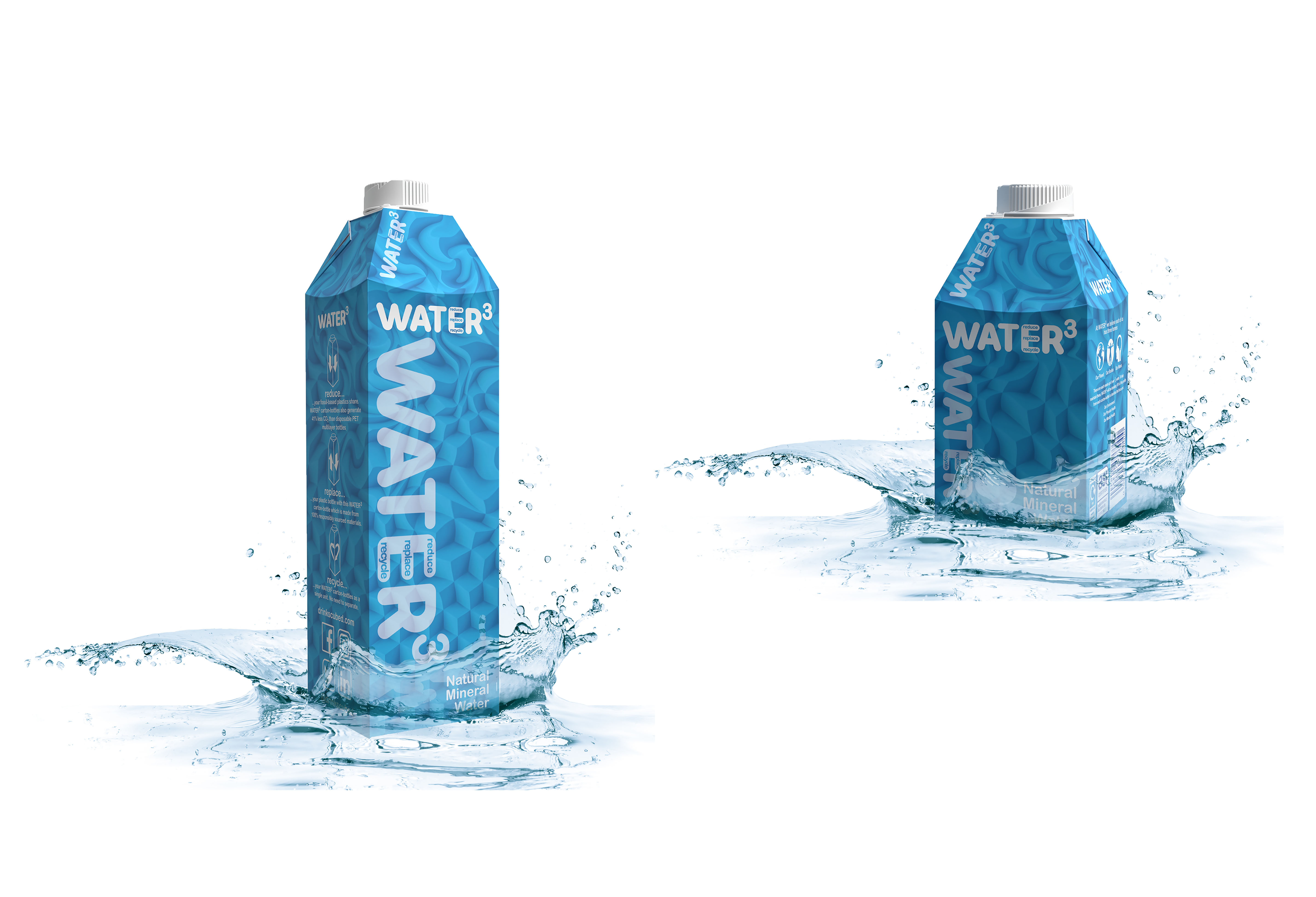 To help achieve its goal of becoming the UK's lowest carbon footprint drinks brand by 2022, start-up Drinks3 (Drinks Cubed) has launched its new premium mineral water in SIG's unique combidome carton bottle with Signature packaging material.
Water3 (Water Cubed) is a pure mineral water product sourced from the valleys of Lower Saxony in Germany. The water is packaged in SIG's carton bottle combidome, which combines the best features of a carton pack with the best features of a bottle, is fully recyclable, primarily made from FSC-certified paperboard, and provides the best CO2 performance compared to other beverage packaging solutions on the market. Water3 is therefore a fantastic alternative to what would usually be plastic packaging.
Water3 also uses SIG's Signature packaging material, meaning most of the used polymers are linked to wood-based renewable materials through a process called mass balancing. Added to this is an ultra-thin aluminium foil certified to the Aluminium Stewardship Initiative (ASI) standard.
Drinks3 aims to lower its carbon footprint through using plant-based and responsible materials that generate significantly less CO2 than other beverage packaging, and by supporting efficient transport and distribution to reduce emissions even further. The brand also plans to help reduce the use of single-use plastics by actively encouraging consumers to choose products with packaging offering environmental benefits and to recycle them.
"At Drinks3 we know that consumers around the world are seeking more natural and ethically-produced products, which is why we believe in providing products that are good for the mind, body and planet," said Ravinder Sandhu, Co-Founder at Drinks3. "Choosing the carton bottle for our new Water3 therefore was a natural choice – offering consumers responsible product packaging that's innovative within the premium mineral water market."
Through SIG's combidome with Signature packaging material, Drinks3 is catering to the demands of modern eco-conscious consumers while offering a high level of convenience and differentiation. The unique carton bottle enables the product to stand out on retail shelves while guaranteeing a smooth pouring action and making drinking straight out of the carton easy. Together, these packaging properties are an ideal fit for the growing water and near-water trend with consumers seeking tasty and healthy refreshment even when on the move.
"Working together with Drinks3 , we are proud to launch an innovative water product in a sustainably-driven packaging solution that will make a real difference for both consumers and the planet," said Norman Gierow, Head of Marketing Europe at SIG. "Our cooperation with start-up brand Drinks3 supports our longer terms goals of giving more to society and the environment than we take out, and always acting sustainably and responsibly."
In partnering with SIG, Drinks3 is leveraging the potential of SIG's Product Innovation and Differentiation platform – a drive to deliver innovative product and packaging solutions that enable businesses to satisfy ever-changing needs.
More convenience


Carton pack that stands out
SIG continues to innovate and address consumers' ever-changing needs with the launch of its unique combistyle carton pack. Featuring a distinctively shaped corner to ensure on-shelf differentiation, combistyle offers instant consumer appeal, added functionality and more convenience.
Stand out on the shelf
In the increasingly competitive retail environment, combistyle brings a fresh and distinctive look to often crowded drink aisles – helping beverage manufacturers stand out while making it easier for consumers to find what they need. A stylish corner panel provides a comfortable and safe grip, while allowing brand owners to effectively communicate key messages with eye-catching designs.
"combistyle offers our customers a future packaging concept that will instantly intrigue busy shoppers to find out more," said Heike Klein, Global Product Manager at SIG. "The shaped corner not only stands out on the shelf, but also offers exciting branding opportunities to effectively communicate your brand image and key messages."
Leverage existing investment
SIG's customers will benefit from the low investment needed to upgrade to combistyle on existing CFA810 and CF812 filling machines, which also can fill combiblocMidi and combifitMidi, the original packs for these lines. This offers manufacturers the best shape flexibility for different product types and the ability to adapt to changing market demands, as three carton formats can be filled on a single line.
"As only limited investment is needed to upgrade existing filling machines, combistyle provides the perfect opportunity for beverage manufacturers to utilize and enhance existing equipment," said Klein. "Upgrading will not only maintain efficiency on the original line, but also help to bring new and exciting beverages to market in a faster time period."
Offer consumers a new level of convenience
The combistyle carton pack's distinctively shaped corner provides a more comfortable and safer grip. In addition, combistyle features SIG's new combiMaxx closure, which is fully resealable and leak-proof, allows for easier opening and better pouring, and offers an eco-friendly design. combistyle is available in a 1 liter format and a 500ml size will be added soon.
Combistyle exemplifies SIG's commitment to deliver innovative, differentiated product and packaging solutions that help businesses satisfy ever-changing needs.
Subsidiary offers sales, service and support


New Branch Office in France
On October 01, 2019 Viscotec opened a new branch in Mérignac, Bordeaux. The office in France is already the fifth Viscotec subsidiary worldwide.
It is planned to be a sales, service and support organization that will distribute and support both ViscoTec and preeflow products. VT France pursues essential goals: On the one hand, the presence of Viscotec in Europe is to be strengthened, the European sales structure is to be expanded and the French market is to be opened up. But also, the proximity to the customer and the direct contact to the end user are important factors. Viscotec also sees great potential in the French market and wants to exploit it as much as possible. Important sectors the subsidiary will focus on are – amongst others – the cosmetics, automotive and aerospace industry.
The branch manager and local contact is Christophe Lalanne, who has known Viscotec for many years and is very familiar with the products. Christophe has a technical degree with a focus on chemistry and specialization in bonding and adhesives. Christophe is also a "European Bonding Specialist". From 2007 to 2011 he worked in sales and primarily focused on applications and solutions in the field of bonding. Since 2011 he has been employed as product manager for applications in the adhesives sector and thus also got to know the dispensers from Viscotec.
"We have known Christophe for a long time, and we trust him. We are sure that he will be able to bring Viscotec to the top in France and establish ViscoTec as a synonym for dispensing technology there," says Georg Senftl, Managing Director of Viscotec .
Multivac cooperates with Bell-Mark
With immediate effect Multivac has the exclusive rights to market the Inteli Jet HD series of printing solutions from the US manufacturer Bell-Mark Sales Co. The inkjet printers are based on the piezo technology, and their main features include a large print area and excellent print quality on a wide range of materials. They can either be integrated into new packaging lines or retrofitted to existing ones.
"Bell-Mark is a leading manufacturer of digital printing systems for packaging machines, and the company has established itself as a reliable partner with many of our customers," says Luc van de Vel, Vice President of the MCP (Medical, Cosmetics and Pharmaceuticals) Business Unit, explaining the reasons behind this strategic step. "Thanks to this cooperation, we can now offer high-performance digital printers for challenging requirements within the packaging process, particularly in the sectors of medical products, pharmaceuticals and cosmetics."
The Inteli Jet HD series of printers are drop-on-demand digital printers, which can be configured for either one or two colours or even the full CMYK colour scale. In contrast to CIJ (Continuous Ink Jet) printers, which produce a continuous jet of ink, the nozzles of DoD printers only supply the ink drops that are actually required for the print. This is very efficient and therefore particularly cost-effective.
Thanks to its print resolution of up to 600 x 600 dpi and a printing speed of up to 150 metres per minute, the technology enables texts, logos, variable data and various codes to be printed precisely and cost-effectively on a wide range of materials such as paper, Tyvek, film or aluminium. The high-quality UV inks dry very quickly with state-of-the-art UV LED lights, and the ink spread remains very small even with the coarse-fibred Tyvek material, so that even small icons and text can be reproduced perfectly. The Inteli Jet HD printers are designed for a large print area and can print films either completely or partially with a high level of accuracy. The modules can be fitted with up to twelve printing heads, so that a complete blank film with a width of up to 630 millimetres can be printed.
Companies in the medical and pharmaceutical industries in particular benefit from the printing system's high degree of flexibility, which is becoming increasingly important in view of the requirements of the UDI Regulations as well as serialisation.
All Bell-Mark models can be integrated into Multivac packaging lines. Customers also have the opportunity of having their existing lines retrofitted with the printing system by Multivac.
The printers and the corresponding consumable materials will be marketed by the more than 80 subsidiaries within the Multivac Group. Multivac is the exclusive sales partner of Bell-Mark for all regions worldwide – with the exception of the USA, Canada, Mexico, Puerto Rico and the Dominican Republic. The specialists at Multivac Marking & Inspection will undertake the complete after-sales service as well as the supply of spare parts, consumables and user training. Thanks to their many years of experience in printing with a wide range of technologies, they can ensure that the maximum reliability and durability of all installed solutions is achieved.