Celebrate


40 years of Atex pumps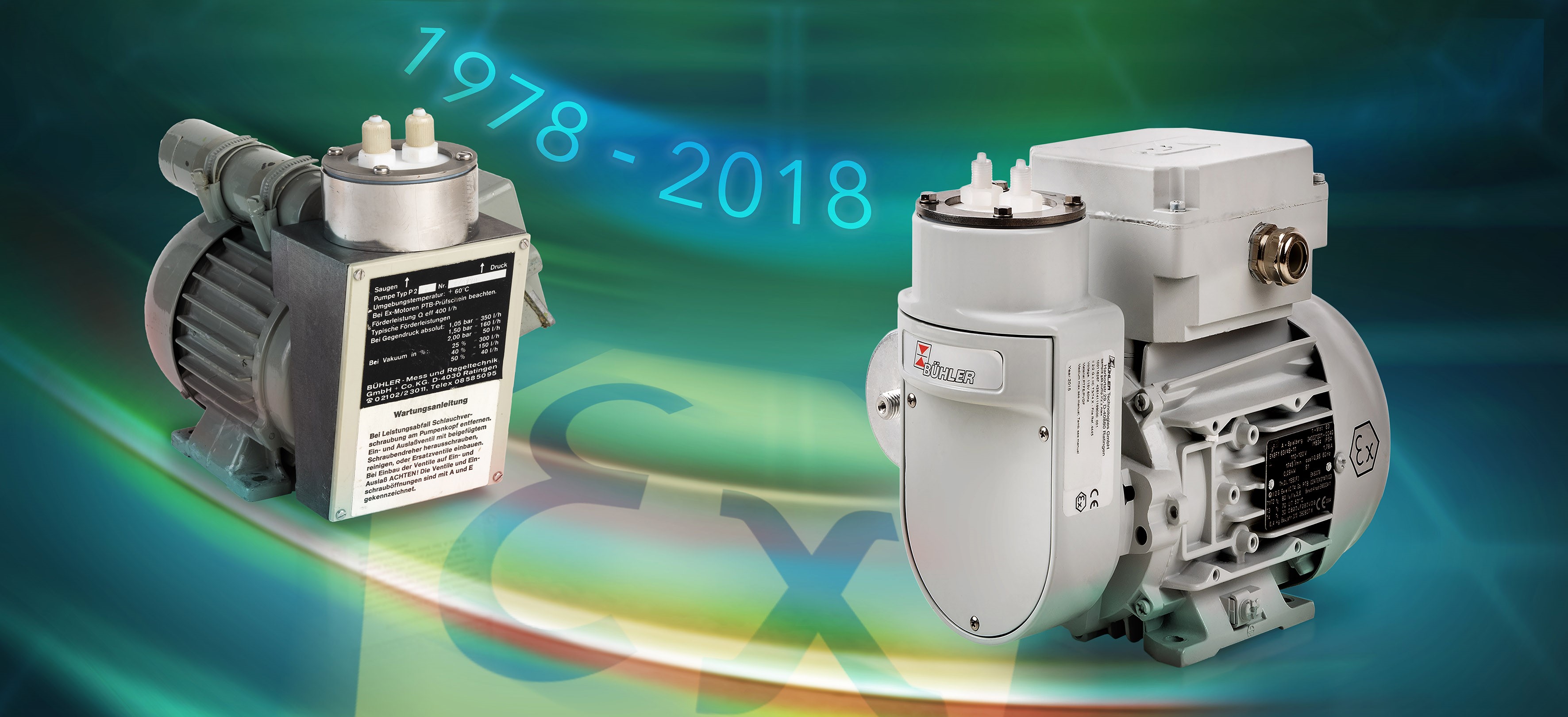 Quality is once again making history at Bühler Technologies: Bühler Technologies has now been a pioneering distributing and developing Atex certified sample gas pumps for 40 years. A good time to highlight the successful development in this product segment and introduce the sample gas pump P 2.2 Atex.
"Whilst taking inventory of a customer system our field engineers recently came across an Atex sample gas pump which has been in service since 1979. This discovery made us extremely proud. It's impressive testimony we have always met our responsibility for maximum quality in the sensitive Atex field."

Markus Beck, Sales Manager at Bühler Technologies
The same year the guidelines on explosion protection, applicable for all of Europe, had just been introduced by the Council of the European Community in 1979, "Bühler" started selling a product model which complied with the latest Ex requirements. The model would still meet the regulations 15 years later, known as the "Atext directive" since 1994 – although by then it had long been part of a separate product line.
AT stands for "Atmosphère" and EX for "Explosible". The Atex directives apply to companies developing and using products for potentially explosive industry sectors. These directives define the health and safety requirements which must be observed to protect all persons which come into contact with explosive areas of industrial systems. The Atex products, classified by the danger level, are a significant contribution to prevent explosive gases, dusts, mists, or even explosions, in industrial systems. Gas analysis by extracting and conditioning the sample gas are key for safe and efficient system operation in processes or monitoring emissions in the chemical industry, petrochemistry or biochemistry as well as power stations.
Klosterfrau


Filling and Capping machine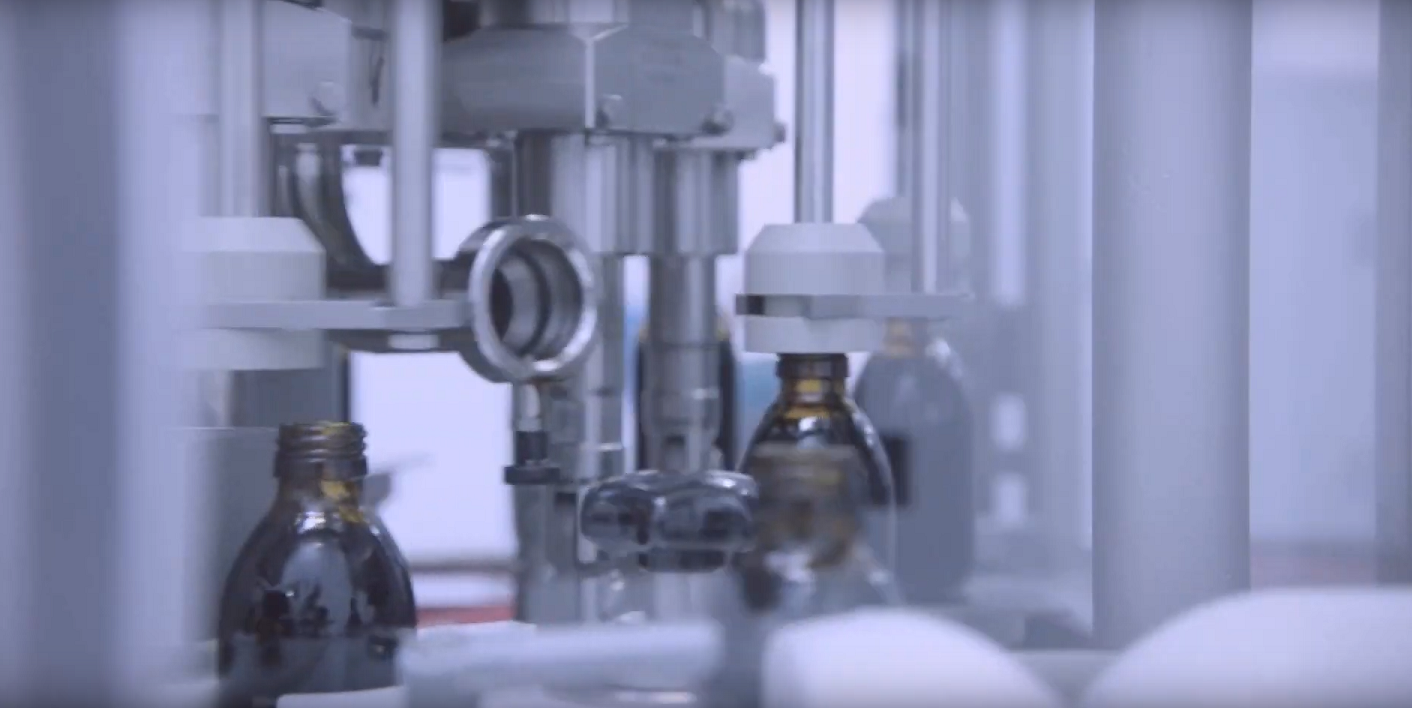 Flexible filling and capping line to bottle various liquid and viscous medicines in glass bottles ready for oral consumption at Company Klosterfrau.
In just a few seconds directly at the machine


Service support using Argos
With 2,700 technicians at more than 100 international facilities, Krones is well equipped worldwide to provide fast assistance to beverage producers in terms of maintenance and spare-part replacement or in the event of a complete line standstill. But the coronavirus pandemic has proved a stumbling block for this service set-up: flight cancellations, quarantine regulations or even entry bans are rendering it almost impossible to maintain rapid-response service support when it's necessary. And this in a time when above all the demand for packaged water, but also for healthy beverages is rising perceptibly – and supplies to consumers still have to be assured.
In order to provide its clients with direct assistance, Krones offers a choice of support packages. To complement the existing round-the-clock support via telephone and remote service, Krones has since the end of 2018 already been offering the Argos Augmented Reality Support – and this is in such exceptional times more in demand than ever before. The ingenious bit about it is this: thanks to what are called smart glasses, the operator at the machine receives immediate assistance from a Krones support specialist – without the latter having to do any travelling.
Realtime support using smart glasses
The biggest advantage here is that if a problem occurs during ongoing production, the service specialist from Krones is thanks to Argos directly on site immediately. Using live video and audio transmission, the Krones expert is in the midst of the line within just a few seconds, enabling him to instruct the operator and to support him directly and unerringly in terms of trouble-shooting or performing urgently needed work, thus bringing production back on line as quickly as possible. If a supporter detects a critical situation, he can visually alert the wearer of the smart glasses.
The Argos basic package includes not only the smart glasses, but also all associated licences. On request, these can be extended to enable the system to be utilised by the beverage producer himself with other vendors of his own. What's more, an option has recently been introduced for using not only the smart glasses provided by Krones, but also self-chosen models or even certain mobile phones and tablets. This enables the service support to be integrated even more effectively into the plant's existing infrastructure.
Artificial Intelligence


Bilfinger to become a DFKI shareholder
Bilfinger, through its subsidiary Bilfinger Digital Next, is joining the group of shareholders of the German Research Center for Artificial Intelligence (DFKI). The DFKI is an industry-focused research institute in the field of innovative software technologies incorporating artificial intelligence (AI) and is considered one of the most important "Centers of Excellence" in the international scientific community. The purpose of the stake is to develop innovative solutions based on AI for the process industry. Bilfinger is the first industrial services provider in the DFKI shareholder group, which also includes companies like Google, Microsoft and SAP. Franz Braun, CEO of Bilfinger Digital Next: "Artificial intelligence technologies give companies in the process industry groundbreaking new opportunities to manage and maintain their plants with a greater degree of efficiency and effectiveness. Plant operators can generate substantial competitive advantages using AI. We want to demonstrate these possibilities to our customers and support them with future-oriented solutions based on the broad range of advantages delivered by artificial intelligence".
Prof. Dr. Antonio Krüger, CEO and Chairman of the DFKI Management Board: "We are pleased to be taking the next step towards a lasting partnership on the basis of the success we have enjoyed in our joint project work to date. Bilfinger's commitment attests to our cooperation and underscores the industrial relevance of the work DFKI researchers are doing. DFKI's circle of shareholders will be strengthened by the addition of an ambitious industrial services provider, with whom we plan to continue implementing the results of AI research into products and solutions for the process industry".
Bilfinger has been collaborating successfully with the DFKI for some time on the development of digital solutions for the process industry. Joint developments that have been launched on the market include PIDGraph, a software for the digitalization of plant documentation. Through the application of AI methods, the software is able to digitalize piping and instrument flow diagrams (P&I diagrams) that are only available in paper or PDF formats. The symbols, texts and lines of the diagrams are converted into a digital format with the help of neural networks trained to recognize patterns. The software records the corrections made by the user and thus continuously improves itself. The digital formats created by PIDGraph can be processed by any modern engineering and asset management system, thereby forming the basis for creating "digital twins" of industrial plants, for example. The digitalization of P&I diagrams is not only significantly cheaper with PIDGraph, but also much faster than conventional methods.
"The AI algorithms recognize the complex elements in the plant diagrams, analyze them, assign them semantically, making them readable for the computer. PIDGraph shows how mature AI methods can comprehend complex corporate knowledge and make it available for digital use," says Prof. Dr. Andreas Dengel, who started the cooperation with Bilfinger and leads the research area Smart Data & Knowledge Services at the DFKI.